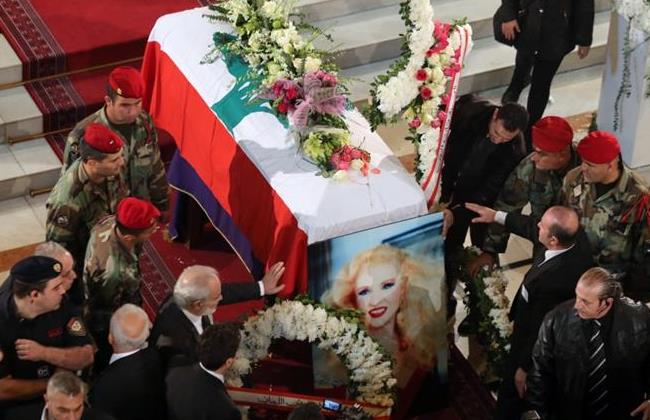 Thousands bid farewell to Lebanese diva Sabah


Nizar Hassan/ The Daily Star
Nov. 30, 2014
BEIRUT: Thousands poured onto the streets Sunday to bid farewell to musical legend Sabah, who will not only be remembered for her huge contributions to the arts, but hailed for her humility despite achieving international acclaim.
Song and dance shattered the usual Sunday quiet in Downtown Beirut, with citizens, musicians, public figures, former colleagues of the diva and her relatives celebrating the life of figure whose impact transcended borders.
The mood inside Saint George Church where her funeral mass was more toned down, with a sermon by Maronite Patriarch Beshara Rai.
Sabah's coffin arrived in a white hearse covered with white flowers, which led a convoy of five black hearses carrying the wreaths that had the names of nearly all of Lebanon's most known figures. Among the names were those of former prime minister Saad Hariri, Speaker Nabih Berri, Free Patriotic leader Michel Aoun, Lebanese Forces leader Samir Geagea, and Army Commander Gen. Jean Kahwagi.
Perhaps the most touching of all tags was the one written by the other legendary icon of Lebanese art, Fairouz.
"Your sun never sets," she wrote.
Prime Minister Tammam Salam also carried a wreath for her at the funeral, after many of his Cabinet ministers arrived to pay their respects.
"It is just normal that a person, who filled the hearts of all the Lebanese with joy and life, is remembered by all these people in her final day," MP Elie Keyrouz, observing the huge line of wreaths and reading their tags, told The Daily Star. "But it's unfortunate that Lebanon is incomplete at this moment. It's sad that there is no president to tell her goodbye."
Trying to fight back tears with smiles, Alia, a 70-year-old long-time fan of the artist, nicknamed Sabbouha, found it difficult to find words to express her emotions.
"More than anyone in the whole world, Sabah brought happiness to the hearts of every single person who heard her songs," she said. "I, and millions like me, would have not enjoyed our youth so much if not for her."
But not only those who had the chance to grow up in Sabah's golden years were influenced by her. Many youths rushed down with their parents to Downtown Beirut, sang her songs and threw flowers on her convoy.
The glory of the moment eclipsed its sadness, which left space for each to manifest it in their own way.
Dabke dancers jolted with the sound of her music; singers recited parts of her most notable songs for TV reporters, while the Army brought its orchestra to play the her music in remarkable precedent.
Dressed in black from head to toe and wearing shoes with wooden heels, a woman surprised the crowd when she started performing a flamenco dance in harmonious rhythm.
Sabbouha's coffin, draped with a Lebanese flag and covered with white flowers, was carried into the hall of the Saint George Church, where the Patriarch Rai prepared to lead mass.
The church was packed with hundreds of admirers, some of whom watched from the high balconies.
Sabah's portraits showing her charming smile occupied every corner of the church, from its gates, to the walls of its outdoor hall, to the pins so proudly displayed by her fans.
"She should be remembered every day, in every home, and by everyone who appreciates what she gave us," Darine Hadchiti, a Lebanese celebrity and singer, told The Daily Star.
For Hadchiti, Lebanon's modern singers and actresses have a very important lesson to learn from Shahroura, another nickname, meaning singing bird in Arabic.
"It's all about modesty," she said. "If Sabah's character was not so extraordinarily modest, you wouldn't have seen all these people coming here just to express how much respect they have for her."
The funeral convoy carrying Sabah's coffin had departed around noon from her residence in the Comfort Hotel in Hazmieh, where hundreds of her neighbors flooded the streets to say their goodbyes.
Born Jeanette Feghali in Bdadoun, a town in Aley, the star who passed away at the age 87 was the first Arab singer to perform at Olympia in Paris, Carnegie Hall in New York, Piccadilly Theater in London and the Sydney Opera House in Australia.
She has starred in 83 films (Lebanese and Egyptian) and 27 Lebanese plays. Sabah also has over 3,000 Lebanese and Egyptian songs. She received many awards during her lengthy career, including one from The Dubai International Film Festival and another by former Lebanese President Michel Sleiman at the Beiteddine Art Festival. She was also honored by the Egyptian Cinema in Cairo in Beirut with a statue.
She is survived by her son, Dr. Sabah Shammas, from her first marriage to Najib Shammas, and her daughter Howeida, from her marriage to Egyptian violinist Anwar Mansi.