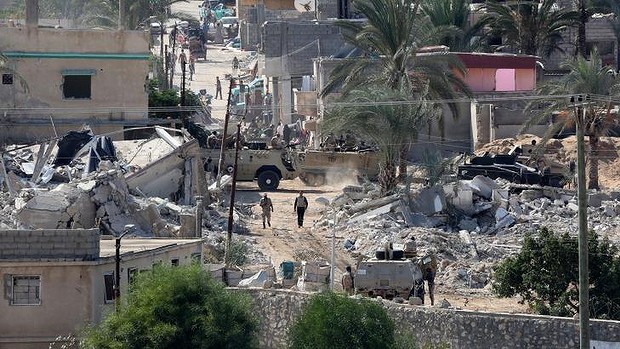 Egypt starts destroying homes to create Gaza buffer zone
October 30, 2014/AFP, Reuters
http://www.smh.com.au/world/egypt-starts-destroying-homes-to-create-gaza-buffer-zone-20141030-11e2my.html
 Cairo: Egypt has begun demolishing houses along its border with Gaza to set up a buffer zone to prevent militant infiltration and arms smuggling following a wave of deadly attacks. The move, which will result in about 800 homes being razed, comes after a suicide bomber killed 30 soldiers in Egypt's Sinai Peninsula, which borders the Palestinian territory, last Friday. It also comes two days after President Abdel Fattah al-Sisi enacted a decree allowing military trials for civilians suspected of attacking state infrastructure, as he promised a tough response to what he called the "existential threat" posed by the militants. "The president is monitoring the area along the border … especially the area that is being evacuated for eliminating terrorist hideouts and to prevent any infiltration of terrorists that will threaten national security," his office said. The authorities want to establish a 500-metre wide buffer zone along the 10-kilometre long border with Gaza. Prime Minister Ibrahim Mahlab issued a decree on Wednesday formally ordering the establishment of the buffer zone. "If any resident of the area earmarked to be closed off does not move out voluntarily, his property will be confiscated," said the decree, carried by state news agency MENA. In the town of Rafah, which straddles the Egypt-Gaza border, witnesses reported seeing dozens of families leaving homes on the Egyptian side, their furniture piled into trucks. Bulldozers began razing abandoned houses along the border as military helicopters hovered overhead. The authorities said those whose homes were demolished would receive compensation, but not all residents were convinced. "We are for national and border security, but not at the cost of our homes and interests," said Wissam al-Agha, a Rafah doctor, whose house lies within the area earmarked for the buffer zone. North Sinai governor Abdel Fattah Harhur said emergency assistance would be provided to everyone affected, with families receiving 900 Egyptian pounds ($140) to cover rent for three months. One resident said people in the area had been given three options: money to compensate for their property, an apartment in a nearby village or a plot of land on which to build. Analysts said the buffer zone marked a major shift in Egypt's strategy against the militants. "It is an operation to isolate terrorists in an area empty of people, in turn facilitating targeting of terrorists and also reducing civilian casualties," said Eman Ragad, an expert on regional security at Al-Ahram Centre for Political and Strategic Studies.