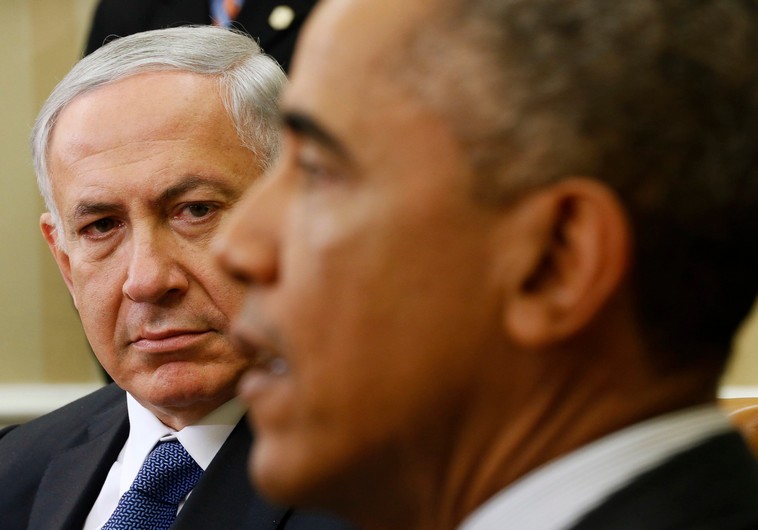 US-Israel tensions confirmed, with some exceptions, after Goldberg report
By MICHAEL WILNER/10/29/2014 /J.Post
Senior Obama administration officials respond to article in 'Atlantic' after one US aide quoted calling Prime Minister Netanyahu "chickensh**t."
WASHINGTON — Tensions between the United States and Israel have simmered for months and are now beginning to "spill over" into the public, several Obama administration officials acknowledged to The Jerusalem Post on Tuesday night.
Those tensions have been on full display in spats between aides of US President Barack Obama and Prime Minister Benjamin Netanyahu over the treatment of their deputies, including Defense Minister Moshe Ya'alon during his visit to Washington last week, and over a steady stream of continued settlement activity, including Netanyahu's approval of 1,060 units in east Jerusalem on Monday.
National Security Council spokesperson Alistair Baskey publicly rejected a new column by Jeffrey Goldberg, a prominent columnist on matters concerning the Israeli and American Jewish communities, on Tuesday night, suggesting Goldberg's assertion in the piece that relations are in "crisis" is a simplification."We do not believe there is a crisis in the relationship," Baskey said in an e-mail. "The relationship remains as strong as ever and the ties between our nations are unshakable."
"However, there are times," he continued, "when we disagree with actions of the Israeli government and we must raise our concerns, such as our concerns about Israel's settlement policy. We raise these concerns as a partner who is deeply concerned about Israel's future and wants to see Israel living side by side in peace and security with its neighbors."But US officials confirm to the Post that the frustrations behind Goldberg's article are real. Whether Goldberg accurately depicted the policy implications of those tensions is another matter.
In the piece featured in the Atlantic, Goldberg wrote that the Obama administration "may actually withdraw diplomatic cover for Israel at the United Nations."The US holds permanent veto power on the UN Security Council, and in that position, has historically blocked efforts from the Palestinian Authority to circumvent peace talks with Israel for recognition as an independent state, or to prosecute Israel for alleged war crimes. Corresponding by e-mail on Tuesday night, one senior administration official suggested that is not the case.
"We're not going to get ahead of actions that have not yet been taken," the official said. "But our views remain firm. We strongly believe that the preferred course of action is for the parties to reach an agreement on final status issues directly."
Whether there will be administrative policy consequences for frustrating Israeli behavior has been a question for months, and one that officials say is "too soon" to ponder in a strained relationship just short of a crisis.
But on one major topic of concern to both governments— Iran— the Obama administration has questioned Netanyahu's commitment to a peaceful solution to concerns over its nuclear program.
According to Goldberg's reporting, US officials believe the Israeli government has missed its window of opportunity to conduct a successful strike against Iran's nuclear facilities unilaterally.
Despite US lobbying efforts to prevent such a strike— including assurances that it would provide all American means required to stop Iran's nuclearization itself— one source of Goldberg's called Netanyahu a "chickens**t… coward."
On this insult to the premier's leadership and character, senior officials declined to comment.
US official: Netanyahu is a 'coward' on Iran
Ynetnews/Published: 10.28.14
In damning report on crisis in US-Israel ties, senior Obama administration officials tell the Atlantic's Jeffrey Goldberg of 'red-hot anger' towards Netanyahu. As the crisis between Israel and the US deepens, senior American officials continue to express "red-hot anger" at Prime Minister Benjamin Netanyahu and his administration. "The thing about Bibi is, he's chickenshit," said one US official to the Atlantic's Jeffrey Goldberg in a damning report published Tuesday. Goldberg writes that over the years Washington officials have described Netanyahu as recalcitrant, myopic, reactionary, obtuse, blustering, and pompous – but none of these insults were as surprising, he says, as "chickenshit." One official told Goldberg that the Israeli leader was a "coward" on Iran and that the Obama administration no longer believes Netanyahu's threats of a preemptive airstrike on Tehran's nuclear facilities. "It's too late for him to do anything. Two, three years ago, this was a possibility. But ultimately he couldn't bring himself to pull the trigger. It was a combination of our pressure and his own unwillingness to do anything dramatic. Now it's too late," the official said in the Atlantic report. Goldberg writes that in the two recent US election cycles, the Obama administration was concerned that Netanyahu would follow through on his threat of a strike. But, the official told the Atlantic, "The feeling is now that Bibi's bluffing." "He's not Begin at Osirak," added the official, referencing the 1981 air strike by former prime minister Menachem Begin on an Iraqi nuclear reactor. Goldberg further writes that both former and current administration officials have at times told him that Netanyahu leads as if he is the mayor of Jerusalem. One senior US official stressed to Goldberg that, unlike many of Israel's iconic leaders, Netanyahu was afraid of taking action. "The only thing he's interested in is protecting himself from political defeat. He's not (Yitzhak) Rabin, he's not (Ariel) Sharon, he's certainly no (Menachem) Begin. He's got no guts." The official emphasized to the Atlantic journalist that "the good thing about Netanyahu is that he's scared to launch wars," but that – in opposition to the Obama administration's goals in the Middle East – " the bad thing about him is that he won't do anything to reach an accommodation with the Palestinians or with the Sunni Arab states.