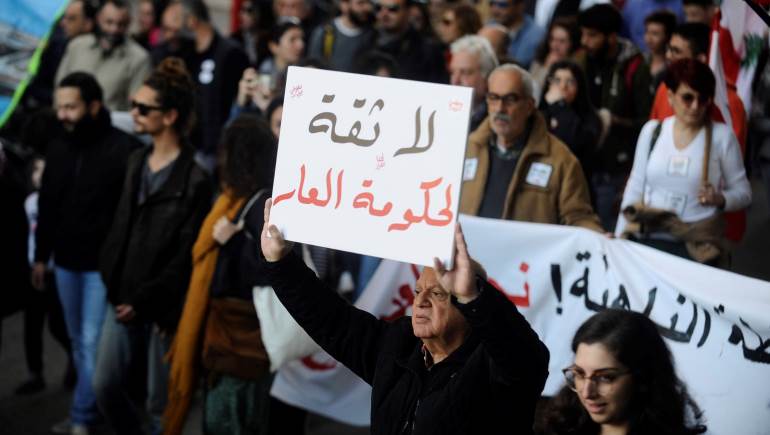 A Bundle Of English Reports, News and Editorials For 19-20/2020 Addressing the On Going Mass Demonstrations & Sit In-ins In Iranian Occupied Lebanon in its 126th Day
Compiled By: Elias Bejjani
February 20/2020
Titles For The Latest English LCCC Lebanese & Lebanese Related News & Editorials published on February 19-20/20
Report: Unemployment Hits 40% in Crisis-Hit Lebanon
Aoun Won't Sign 2020 Budget over 'Violation'
Berri Meets Greek FM, Says Debt Restructuring is Best Solution
Greek Foreign Minister Meets Senior Officials in Beirut
Diab meets with ABL delegation over Eurobond issue
Hitti welcomes Greek counterpart, listens to Greece's experience in overcoming difficult circumstances
Report: Lebanon Invites 8 Firms to Bid to Provide Financial Advice
Lorimer: Time for Urgent Action for the New Government
Hariri Says Bassil's Remarks Prove He's 'Shadow President'
Najm Orders Expansion of Probe in Suspicious Capital Flight
ABL Urges Eurobond Negotiations with Bond Holders
Fahmi meets Rampling, Abu Faour, Heads of UN missions
Minister of Information tackles sector laws with delegation of Editors Syndicate
Shraim chairs meeting for Displaced Fund: To close this file entirely
Moucharafieh meets ILO delegation, UNICEF Representative
UNICEF provides cash support to more than 40,000 Lebanese children in context of current crisis
Fahmi Says Ready to Authorize Accountability for Corrupt
Lebanon 'Kick Queen' Protest Icon to Face Trial
France Steps Up Probe into Ghosn's Versailles Wedding
Lebanon: 'One-Sided Government' to Resolve Issue of Syrian Displaced
Lebanon Speaker Nabih Berri calls for restructuring Eurobond as 'best solution'
Iran's Larijani in Lebanon viewed as signal of Beirut's pivot toward Iran axis/Abby Sewell, Al Arabiya English/Wednesday, 19 February 2020
Trump's peace plan rejected by Lebanese parties, Palestinian groups in Lebanon/Abby Sewell, Al Arabiya English/Wednesday, 19 February 2020
Statue Of Qassem Soleimani Put Up By Hizbullah In South Lebanon Sparks Criticism: It Is An Expression Of Iran's Patronage Over Lebanon/MEMRI/February 19, 2020
Iran's Larijani in Lebanon viewed as signal of Beirut's pivot toward Iran axis/Abby Sewell, Al Arabiya English/Wednesday, 19 February 2020
Why Shouldn't the Kataeb and Communist Parties Meet?/Hazem Saghieh/Asharq Al Awsat/February 19/2020
What Does Saad al-Hariri's Political Shift Mean?/Eyad Abu Shakra/Asharq Al Awsat/February 19/2020
Full-blown economic crisis will plunge quarter of Lebanese below poverty line/Georgi Azar/Annahar/February 19/2020
Iran, Hezbollah operating with impunity in Yemen/Fatima Abo Alasrar/Arab News/February 20/2020
The Latest English LCCC Lebanese & Lebanese Related News & Editorials published on February 19-20/2020
Report: Unemployment Hits 40% in Crisis-Hit Lebanon
Naharnet/February 19/2020
Unemployment rate in Lebanon has hit dangerous levels with 300 thousand individuals left jobless amid an unprecedented economic crisis sweeping the country since October. An-Nahar daily on Wednesday said the numbers reflect a "tragic" situation in Lebanon where unemployment figures have reached 40%, and around two million Lebanese will live below the poverty line. The daily said that 785 restaurants and cafes closed down between September 2019 and February 2020, 25 thousand employees were expelled from restaurants and hotels. 120 establishments closed down in Sidon. Jewelry stores moved their merchandise from malls to safer shops, and some returned them to their parent companies abroad. Moreover, dozens of troubled institutions slashed salaries to a half. Banks imposed (illegitimate) capital controls on funds, with the possibility of deducting parts of the deposits in a "haircut" procedure, it added. In view of these facts, the visit of the International Monetary Fund delegation does not provide much hope for solutions to Lebanon's chronic problems, said the daily. Tony el-Ramy, president of Syndicate of Owners of Restaurants, Cafés, Night-Clubs and Pastries in Lebanon, revealed to the daily the latest figures saying 785 institutions dealing with food and drinks closed down between September 2019 and February 2020. Since the start of the crisis, the number of unemployed reached 160 thousand people, according to an Infopro study. "The number of unemployed people includes discharged employees and disguised unemployment, which in this case cuts part of the employees' wages to low levels that affect people's capability to live a decent life," said economist Professor Jassim Ajjaqa. Former Minister of Social Affairs Richard Kouymjian sounded the alarm saying: "Two million Lebanese will live below the poverty line in 2020 if the new government does not give special attention to this issue. The situation has reached dangerous levels in Lebanon."
Aoun Won't Sign 2020 Budget over 'Violation'
Naharnet/February 19/2020
President Michel Aoun will not sign the 2020 state budget because it "does not include a final account for the year 2018," his adviser Salim Jreissati said on Wednesday. "This is considered a violation and the President rejects it," Jreissati told MTV. "The President will wait for the one-month deadline to expire and the budget will automatically enter into force without him granting it his signature, in line with Article 57 of the Constitution," Jreissati noted. The budget was approved by parliament on November 27 last year.
Berri Meets Greek FM, Says Debt Restructuring is Best Solution
Naharnet/February 19/2020
Parliament Speaker Nabih Berri on Wednesday held talks with visiting Greek Foreign Minister Nikos Dendias and discussed with him the bilateral ties, the situation in Lebanon and the region, and means to boost cooperation between the two countries. Separately, Berri told MPs during the weekly Ain el-Tineh meeting that restructuring Lebanon's debt is the "best solution" for the country's dire financial and economic crisis. "The electricity file should be tackled next to lay out a complete and comprehensive solution for it, seeing as half of the public debt and the annual deficit come from this file," the Speaker added.
"The situation in Lebanon, especially at the financial and economic levels, cannot withstand an agitation of political bickering," Berri warned, urging "the unification of all efforts in order to cooperate for the sake of the national interest and the historic responsibility."Berri also stressed that it is unacceptable to oblige citizens to pay the price for the financial, economic and banking crisis through "humiliating them and subjecting them to an organized deduction of their deposits and lifelong savings and through the uncontrolled hike of the prices of commodities and essential goods."
Greek Foreign Minister Meets Senior Officials in Beirut
Naharnet/February 19/2020
Greek Foreign Minister Nikos Dendias led a delegation to Beirut on Wednesday to hold talks with President Michel Aoun, Speaker Nabih Berri, Prime Minister Hassan Diab, and Foreign Minister Nassif Hitti, the National News Agency reported on Wednesday. Dendias first held talks with Aoun at the Presidential Palace in Baabda, said NNA. The two reportedly broached cooperation ties between Lebanon and Greece. Dendias later met with his Lebanese counterpart Nasif Hitti after which they held a joint press conference. He will wind up his Lebanon visit in a lunch and meeting with Prime Minister Hassan Diab. Dendias and his accompanying delegation were received at Beirut's Rafik Hariri International Airport by the Director of Protocols at the Ministry of Foreign Affairs, Ambassador Najla Assaker, and other ministry diplomats, as well as by a delegation from the Greek Embassy in Lebanon. The Greek minister will discuss with Lebanese officials a number of issues that will be presented during the tripartite summit between Greece, Cyprus, and Lebanon, to be held in March 2020 in Cyprus. The tripartite summit is planned to discuss tourism, archeology, security, economy, trade, and other matters that are of interest to the three countries. Several agreements are expected to be signed during the aforementioned meeting, concluded NNA.
Diab meets with ABL delegation over Eurobond issue
NNA/February 19/2020
Prime Minister, Dr. Hassan Diab, met this afternoon at the Grand Serail a delegation of the Association of Banks in Lebanon (ABL), chaired by Salim Sfeir, in the presence of Chairman of Executive Committee of the Union of Arab Banks (UAB) Dr. Joseph Torbey
On emerging, Sfeir said that they discussed with the Premier the issue of "Eurobond" dues estimated at $2.5 billion Eurobonds in 2020, including $1.2 billion Eurobond maturing in March. He stressed ABL's stance that if the government intends to opt for debt rescheduling, this must take place in an orderly manner through negotiations with bondholders "especially investment funds abroad that have so far shown readiness to negotiate on this basis."
He affirmed that the aim of the Association has been and shall remain the preservation of the proper functioning of public facilities, as well as the preservation of bank deposits. Sfeir relayed the Premier's keenness on the safety and continuity of the banking sector in a manner that preserves the rights of depositors and regulates the relationship between banks and customers.
This afternoon, Premier Diab welcomed Greek Foreign Minister Nikos Dendias, and his accompanying delegation, with whom he discussed the means to bolster bilateral relations, as well as most recent developments.
Hitti welcomes Greek counterpart, listens to Greece's experience in overcoming difficult circumstances
NNA/February 19/2020
Minister of Foreign Affairs and Emigrants Nassif Hitti held talks this Wednesday with his Greek counterpart Nikos Dundas, followed by a ten-minute retreat. After the meeting, Hitti and his counterpart held a joint press conference, where the former started by welcoming "the foreign minister of a neighboring and friendly country that enjoys historic relations with Lebanon." "This visit reflects the good ties that exist between the two countries and the Greek and Lebanese peoples. We have a common history that brings us together, next to our Mediterranean and our many common traditions. The most important values that draw us together, though, are determination, love of life, love of individual initiative, and compulsion towards work and innovation. (…) Phoenician and Greek boats have carried our people, our civilization and our culture to the most remote corners of the globe," Hitti said.
"Today, the dialogue between friends has focused on economic cooperation between our two countries, in light of the difficult conditions we are presently undergoing in Lebanon. We heard from our friend, the minister, about his country's experience in this context, and how it managed to face the difficult circumstances it went through. Perhaps this will be a useful lesson for us, especially since Greece has managed to recover," the minister added, pointing out that "discussions have dealt with the necessity of enhancing trade exchange between the two countries by encouraging Lebanese agricultural and industrial exports.""Greece is a main country in the European Union, and this is another very important entrance towards the European Union; geographical proximity contributes a lot in this field.""We also tackled the issue of strengthening the tourism sector, namely traditional and cultural tourism, and all kinds of productive tourism, which can bolster ties between the two countries in several fields. (…) Our main concern today is economic, and we will do what we can in Lebanon to rescue the productive sectors and maintain jobs," Hitti stressed.
He added: "We also broached the oil and gas sectors in the two countries as we must share expertise and knowledge to ensure the largest quantity is extracted at the lowest possible cost. Greece has preceded us and has thus gained a pioneering experience in this field from which we can largely benefit."
"The conversation also dealt with developments in the region; there is an agreement on respecting and activating the rules of international law and the principles of the United Nations and its relevant resolutions which should be the reference in settling any conflict or dispute in the region. As you know, Lebanon, Greece and Cyprus are preparing for a tripartite summit in late March, so it was only natural for us to discuss the agenda, review the issues and topics on it, and follow up on the preparations," the Lebanese Foreign Minister went on to say.
In turn, Greece's Dundas addressed Hitti by saying: "It gives me great pleasure to congratulate you today, and wish you success in your new tasks. The relationship between us is based on solid foundations, friendship and mutual respect; this was confirmed in the talks that we held today, where we agreed to find ways to sustain political, economic and cultural ties, be it on the bilateral or the tripartite level with Cyprus. This tripartite cooperation has borne fruit so far."Emphasizing "Greece's constructive role in pushing Lebanon's relations with the European Union forward," he said "we have expressed our support for the agenda of reforms laid out by the government. We have exchanged views on the regional situation, and we underscore our support for political solutions under the United Nations umbrella, whether in Libya, Syria, or other countries of the world."
"I listened to the viewpoints of Lebanese officials on the situation in Syria, and we expressed our admiration for the great efforts made by Lebanon towards the displaced people. This [issue] is of great importance to both countries, as Greece is the gate to the continent of Europe. We also discussed the situation in Libya and the latest decision by the Foreign Affairs Council on Lebanon. We support the efforts of UN envoy Ghassan Salameh," the Greek minister added.
"Based on the Memorandum of Understanding between Ankara and Mr. Siraj, I reiterate our view: although this memorandum is null and void, being outside the framework of international law (…) it ignites civil war and constitutes an attempt to impose foreign powers on Libya. In addition to that, it gives the conflict an international character by violating the sovereign rights of Greece and thereby threatening peace and stability in the eastern Mediterranean. I must say, after the meetings I held with Greek partners in the Arab League, I have the impression that Turkey's efforts to expand its influence over the areas that were previously part of the Ottoman Sultanate form a source of concern and are rejected by those parties," he concluded.
Report: Lebanon Invites 8 Firms to Bid to Provide Financial Advice
Naharnet/February 19/2020
Lebanon plans to invite eight firms to compete on providing financial advice on whether it should pay or default on its $1.2 billion Eurobond debt, which matures next month, media reports said on Wednesday. According to reports, the firms were identified as Rothschild & Co, Guggenheim Partners, Citibank, Lazard, JP Morgan, PJT Partners , Moelis & Company and Houlihan Lokey. Lebanon has the world's third-highest debt-to-GDP ratio and has been sliding towards default in recent months, with tight capital controls and a currency devaluation already hitting purchasing power. Lebanon is expected to decide whether to pay $1.2 billion in Eurobonds that reach maturity on March 9 or to default on its debt.
Lorimer: Time for Urgent Action for the New Government
Naharnet/February 19/2020
The UK's Defence Senior Adviser to the Middle East and North Africa, Lieutenant General John Lorimer urged Lebanon's new government for quick action to counter its economic crisis, a statement released by the UK embassy said on Wednesday. General Lorimer ended a one day visit to Lebanon on 18 February and held high level meetings with Lebanese officials, accompanied by British Ambassador Chris Rampling and Defence Attaché, Lieutenant Colonel Alex Hilton. His meetings included discussions with President Michel Aoun, Parliamentary Speaker Nabih Berri, Deputy Prime Minister and Defence Minister Zeina Akar, and Lebanese Army Commander General Joseph Aoun. General Lorimer discussed the current situation in Lebanon, and the role of the Lebanese Army and Security Forces in maintaining security and stability as the sole legitimate defender of Lebanon.
At the end of his visit, General Lorimer said: 'This is a crucial time for Lebanon and its new government as it tackles huge economic challenges. Urgent action is needed. I held constructive meetings with Lebanese officials and reaffirmed UK's support to the Lebanese Armed Forces who are key to Lebanon's security, stability and sovereignty. Our partnership and friendship between our armed forces continues. For his part Ambassador Chris Rampling said: 'There should now be no delay on the detailed economic plan the government has promised, the necessary decisions, and urgent implementation. Time is running out. This crisis needs an inclusive and urgent response to the legitimate demands, with calm and clear judgement on what lies ahead.'
Hariri Says Bassil's Remarks Prove He's 'Shadow President'
Naharnet/February 19/2020
Al-Mustaqbal Movement leader ex-PM Saad Hariri said recent remarks by Free Patriotic Movement chief MP Jebran Bassil prove that he is the country's "shadow president.""If he is the one who decides when I would return (to power), this proves what I said about him being the shadow president," Hariri told reporters when asked about Bassil's remarks. He was speaking after a meeting for Mustaqbal's Central Council. "We will not evade responsibility; we will rather bear it," Hariri said. He noted that "the incidents at the banks and the attack on the central bank governor reflect the people's pain," but decried that "some parties are distorting the facts as to why we reached this state."Responding to those who lament that Lebanon's economy is a rentier one, Hariri said: "Banks have borrowed the private sector $55 billion, is this a rentier economy?""The main problem in the country is that over the past 15 years, half of Lebanon's debt was for providing electricity. Why did we have to borrow money for electricity? Here lies the responsibility," Hariri added. "I'm not like others. I don't evade my responsibility like those who are saying that Hariri bears the political responsibility," he went on to say.
As for the calls for rescheduling Lebanon's public debt, Hariri said: "If there is a plan, anything can be done, but what's important is the plan."Hariri also dismissed media reports claiming that his relation with Saudi Arabia is not good.
Najm Orders Expansion of Probe in Suspicious Capital Flight
Naharnet/February 19/2020
Justice Minister Marie-Claude Najm on Wednesday asked State Prosecutor Ghassan Oueidat to expand investigations into all "suspicious" transfers to foreign banks. The National News Agency said Najm called on Oueidat to request that the central bank's Special Investigation Commission provide him with "all the information it has about all the money transfers from Lebanon to foreign banks and not to limit the information to the money that was transferred to Switzerland." The minister also said that the probe must tackle all the transfers made as of July 2019 – three months prior to the eruption of the popular uprising. Lebanon has moved to combat "capital flight" after it emerged that $1 billion has already been transferred out of the country despite restrictions on withdrawals. In January, Central Bank Governor Riad Salameh confirmed that $1 billion had been transferred out of the country despite tight restrictions on withdrawals. Salameh's comments came amid suspicions of politically motivated capital flight that are the subject of a probe launched in late December. "Of the $1.6 billion that was withdrawn (from the Lebanese banking sector) between October 17 and the end of the year… one billion dollars were transferred abroad by Lebanese," Salameh said in an interview with the France 24 TV news channel. Since October 17, Lebanon has been rocked by an unprecedented protest movement against an entrenched political class seen as corrupt and incompetent. The protests coincided with an increasingly crippling shortage of dollars, prompting banks to impose tight restrictions on withdrawals and transfers overseas. Protesters have accused bankers of complicity with the political class and suspect politicians of transferring funds abroad despite the restrictions and a prolonged local bank closure when protests first broke out.
Salameh said the central bank's investigation "would focus on the $1 billion," but that it would "take some time."The other $600,000 that were taken out of Lebanese banks during the period in question were capital deposits held by foreign banks, he added. He noted there had been reports of "politicians, senior civil servants and bank owners" involved in capital flight, but said a probe is necessary to identify those responsible. A report by the Carnegie think tank in November said that nearly $800 million left Lebanon between October 15 and November 7, when most citizens could not access their funds because banks were closed due to protests.
ABL Urges Eurobond Negotiations with Bond Holders
Naharnet/February 19/2020
The Association of Banks in Lebanon on Wednesday called for negotiations with the holders of Lebanon's Eurobonds regarding the March 9 payment. "We stressed to Mr. Premier ABL's stance that if the government is inclined to reschedule the debt, this rescheduling must happen in an organized manner, which means through negotiations with bond holders, especially that the foreign investment funds have so far showed readiness to negotiate on this basis," ABL chief Salim Sfeir said after meeting PM Hassan Diab along with a delegation from the Association. "We emphasize that ABL's objective has been and is still to safeguard the continuity of public facilities and to preserve the deposits with which the banks are entrusted," Sfeir added. "I remind that any decision regarding the Eurobond issue is for the government to take exclusively in light of what it sees appropriate for Lebanon," Sfeir went on to say, noting that Diab "expressed his keenness on the safety and continuity of the banking sector in a manner that preserves depositors' rights and regulates banks' relation with client." Lebanon has the world's third-highest debt-to-GDP ratio and has been sliding towards default in recent months, with tight capital controls and a currency devaluation already hitting purchasing power. An International Monetary Fund delegation will arrive in Beirut Thursday to provide advice on the nation's economic policies. Diab's government won parliament's confidence only last week, and the state immediately requested the IMF's advice on tackling the economic crisis. Lebanon is expected to decide whether to pay $1.2 billion in Eurobonds that reach maturity on March 9 or to default on its debt. Lebanon has requested help from the IMF to assess the measures needed to rebuild the economy but has not yet asked for financial assistance.
Fahmi meets Rampling, Abu Faour, Heads of UN missions
NNA/February 19/2020
Minister of Interior and Municipalities, Mohammad Fahmi, on Wednesday reviewed with MP Wael Abu Faour, most recent developments on the local arena. Minister Fahmi also met with Heads of missions, bodies, and programs of the United Nations, chaired by UN Resident Coordinator for Lebanon, Philippe Lazzarini, where they emphasized the importance to continue working and assisting the displaced Syrians and host communities, especially in these difficult economic conditions. The Minister highlighted the importance of permanent coordination with the United Nations in the interest of Lebanon.
On the other hand, Minister Fahmi met with British Ambassador to Lebanon, Chris Rampling, with whom he discussed UK aids to Lebanon and the importance of ongoing support in this regard.
Minister of Information tackles sector laws with delegation of Editors Syndicate
NNA/February 19/2020
Minister of Information Manal Abdel Samad welcomed at her office in the Ministry a delegation from the Editors Syndicate headed by Syndicate Head Joseph Al-Qossaifi, who delivered a speech in which he first congratulated the minister on her assuming the Information portfolio "amid these dreadful circumstances under which weight the country is writhing."
"We are here to support the workshop awaiting the press and media sector on which calamities have befallen, leaving Lebanon at the bottom of the list of countries whose media can still maintain the mere survival necessities and the sheer ability to keep pace with the present times and provide decent means of living for workers in this profession," he said.
Praising the minister's "desire to leave the direly-needed imprint by the much-troubled Lebanese media," Qossaifi paid tribute to those whom he labelled "the victims of the press and the media" for sharing in their employers' suffering and thus incurring major financial losses.
"The laws regulating the media sector are outdated and lack the sense of modernity. (…) Lebanon has become at the bottom of the list; it has lost its leadership and avant-garde role at the media level. It is lagging behind, compared to what we are witnessing in many countries that used to follow in our footsteps," he said regrettably.
He noted that the Editors Syndicate had presented proposals years ago, "and with your predecessor, Minister Melhem Riachy, we reached a draft law to organize the union's work, which allows it to open the door for workers in audio-visual media and e-press; a project that accommodates everyone and achieves unity is the media family. It included the establishment of two funds: a mutual and a pension fund to protect colleagues socially and healthily, especially in the retirement phase. It would also achieve the independence of the Editors Syndicate, unshackling it from outmoded laws and restrictions. This bill is still locked in the drawers of the Council of Ministers, and we demand that it be referred to the Parliament for discussion and approval as soon as possible."
"We will stand by your side in this workshop, and are certain that you are on our side in defending colleagues who are subjected to violence when carrying out their professional duty, and who face the sword of being sued before unspecialized courts. (…) Likewise, you are on our side against the mistreatment that affects media personnel's livelihood, at the hand of institutions who are failing to pay employees their salaries, or cutting more than 50% of wages, or failing to pay compensation for unfair dismissals, in light of the unhurried court proceedings in such cases," Qossaifi concluded.
Shraim chairs meeting for Displaced Fund: To close this file entirely
NNA/February 19/2020
Minister of the Displaced Ghada Shraim welcomed this Wednesday the Norwegian Ambassador to Lebanon, Leni Stenseth, and discussed with her the latest developments and the overall situation in Lebanon, with emphasis on the need to strengthen bilateral relations, especially in the field of rural development. Minister Shraim also convened with representatives of the Central Fund for the Displaced, whereby conferees discussed the proposed plans to finalize the return of displaced people. The Minister stressed the "necessity to continue coordination and integration between the ministry and the fund at all levels, and work together to accomplish this task, within the available financial capabilities, in the hopes of closing this file in full."
Moucharafieh meets ILO delegation, UNICEF Representative
NNA/February 19/2020
Social Affairs Minister, Professor Ramzi Moucharafieh, welcomed on Wednesday in his office at the Ministry International Labor Organization 's Regional Director for Arab States, Dr. Ruba Jaradat, along with a delegation from the Organization. Discussions reportedly touched on the Organization's activities related to intensive employment and social protection programs in cooperation with the Ministry. Minister Moucharafieh also met with the Representative of the UN Children's Fund (UNICEF) in Lebanon, Yukie Mokuo, with talks reportedly touching on joint projects between UNICEF and the Ministry with regard to protecting children from early employment and violence.
UNICEF provides cash support to more than 40,000 Lebanese children in context of current crisis
NNA/February 19/2020
Lebanon's deteriorating economic situation is threatening the livelihoods of the most vulnerable Lebanese households, putting children and young people's education, protection and health at risk. UNICEF with partners have activated a cash assistance programme to support approximately 40,000 children from 15,000 Lebanese families.Working with the National Poverty Targeting Program (NPTP), the Ministry of Social Affairs (MOSA), the Prime Minister's Office and the World Food Programme (WFP), UNICEF is targeting the poorest Lebanese households to receive a cash grant of between 160,000 LBP and 640,000 LBP. The grant is provided according to the number of children in the household, from zero up to six, supporting therefore more than 40,000 Lebanese children at risk due to the ongoing harsh economic conditions. "Children are now most vulnerable, in the midst of the current economic crisis in Lebanon," said Yukie Mokuo, UNICEF Representative to Lebanon. "As prices rise and people lose their jobs, everyone is affected, particularly in the poorest communities. While we continue to support the Government to develop a National Social Protection Policy, we also wanted to act fast and provide immediate support, as far as our resources would allow, to some of the poorest households in the country". Families are being informed of the cash assistance programme through the available communication channels including mobile phone messages, the NPTP call centre, and engagements at Social Development Centres across the country. This cash support to Lebanese households comes on top of UNICEF's existing programmes that support the most vulnerable Lebanese, Syrian and Palestinian children and young people across the country with basic services, including education, social assistance, child protection, youth development, health and nutrition, and water and sanitation.–UNICEF Press Release
Fahmi Says Ready to Authorize Accountability for Corrupt
Naharnet/February 19/2020
Interior Minister Mohammed Fahmi expressed readiness to authorize accountability mechanisms for any corrupt mayors or employees in Lebanon's municipalities, LBCI TV said on Wednesday. The TV station said Fahmi has contacted Financial Prosecutor, Judge Ali Ibrahim affirming readiness to sign permits to pursue mayors and employees on charges of bribery and squandering of public funds. The Minister had earlier expressed determination to fight corruption and counter all kinds of challenges he might face in his ministry.
Lebanon 'Kick Queen' Protest Icon to Face Trial
Agence France Presse/Naharnet/February 19/2020
A woman whose kick to the groin of a Lebanese ministerial bodyguard made her an instant protest icon was summoned to court Wednesday and will face trial in November. On October 17 last year, the day unprecedented cross-sectarian protests demanding a radical overhaul of the political system erupted across the country, she kicked the gun-wielding bodyguard whose minister was being confronted by demonstrators. The moment she delivered her side kick was caught on video, fast becoming a viral meme and a symbol of the kind of message protesters wanted to send their rulers. Malak Alawiye, against whom charges were brought last year over the kick, was summoned to a military court on Wednesday, a judicial source told AFP. She will face trial in November for bodily harm and insulting the security forces. The protest movement was ignited in October by a tax on voice calls made with WhatsApp and other messaging apps. It has since grown into the biggest challenge yet to the patriarchal, sectarian and nepotistic political system that has governed the country for decades. Earlier this month, Human Rights Watch criticized Lebanon for resorting to military courts to try several other civilians involved in the protest movement. "Military courts have no business trying civilians," the watchdog said in a statement. "Lebanon's parliament should end this troubling practice by passing a law to remove civilians from the military court's jurisdiction entirely," it added.

France Steps Up Probe into Ghosn's Versailles Wedding
Agence France Presse/Naharnet/February 19/2020
French investigators said Wednesday they were stepping up their investigation into two parties thrown by fallen auto titan Carlos Ghosn at the Palace of Versailles, including his lavish 2016 wedding. The prosecutor's office in the Paris suburb of Nanterre, which had been leading the probe, said it had been handed to an investigating magistrate, which means that Ghosn — who jumped bail in Japan in December — could soon face charges in France. The big-spending former chief of Japan's Nissan and France's Renault is suspected of wrongly obtaining use of the sumptuous home of 17th century "Sun King" Louis XIV in exchange for a sponsorship deal between the state-owned palace and Renault. The first party, on March 9, 2014, was officially held to celebrate the alliance between Nissan and Renault, which had turned 15. But it also happened to coincide with Ghosn's 60th birthday and most of the guests were friends and family of the businessman, leading to suspicions that it was, in fact, a birthday bash. Ghosn, 65, returned to Versailles in October 2016 to exchange vows with his wife Carole. Versailles waived the usual 50,000-euro rental fee for the Marie Antoinette-themed wedding in what could amount to a further misuse of company resources. He is also being investigated by France's tax fraud office over suspicious financial transactions between Renault and its distributor in the Gulf state of Oman, as well as over contracts signed by Renault's and Nissan's Dutch subsidiary RNBV. The car industry was left reeling after Ghosn was arrested in Tokyo in November 2018 on charges of financial misconduct at Nissan. He spent 130 days in detention in Japan before being placed under house arrest, but slipped past police out of the country, back to his native Lebanon. The tycoon has denied all the charges against him and vowed to take Renault to court to claim millions of euros in unpaid pension and retirement pay.
Lebanon: 'One-Sided Government' to Resolve Issue of Syrian Displaced
Beirut- Paula Astih/Asharq Al-Awsat/Wednesday, 19 February, 2020
President Michel Aoun is counting on the new government to speed up the birth of a solution for the return of the Syrian displaced to their homeland, after internal disagreements in the former government had hindered a solution to the file. In remarks to Asharq Al-Awsat, a parliamentary source in the Free Patriotic Movement said that Prime Minister Hassan Diab's government might be able to finally implement a plan for the safe return of the displaced. "Perhaps some people's description of the current government as 'one-sided' could help resolve the displaced issue, which put great burdens on the Lebanese economy," he noted. Former Minister for the Displaced, Saleh al-Gharib – who is close to the head of the Democratic Gathering party Talal Arslan – was working on a plan that faced opposition from some other members of the former government. The ministry was dissolved, and its work was put under the framework of the Ministry of Social Affairs, which is now headed by Minister Ramzi Msharafieh, who is also close to Arslan. According to available information, the team, which was working on the plan under Gharib, has maintained the same role, but this time within the Social Affairs ministry. "Implementing the plan has become easier for the new government, given its line-up, which gives it the opportunity to work away from political bickering," the parliamentary sources told Asharq Al-Awsat. Aoun links the economic and financial crises that beset the country to the influx of displaced. He said last week that the cost of the Syrian displacement crisis in Lebanon amounted to $25 billion, according to estimates by the International Monetary Fund and the World Bank.
Lebanon Speaker Nabih Berri calls for restructuring Eurobond as 'best solution'
Reuters/Wednesday, 19 February 2020
Lebanon's Parliament Speaker Nabih Berri sees debt restructuring as the "best solution" for the country's Eurobond maturities, which include one on March 9, an MP from Berri's Shia Amal Movement said after a weekly meeting on Wednesday. His comments came on the day a source familiar with the matter said that Lebanon will invite eight firms to bid to be its financial adviser as it studies all options on its sovereign debt. Berri's comments on Monday were the first by a top-level leader publicly urging restructuring, one the eve of talks between a team of IMF experts and Lebanese authorities. Previously, Berri said he believes Lebanon needs technical help from the IMF to draw up an economic rescue plan and a decision on whether to pay a Eurobond maturing in March should be taken based on IMF advice, according to sources on Tuesday. Berri also believes Lebanon cannot "surrender" itself to the IMF "because of its "incapacity to bear its conditions," said the government source, who spoke to Reuters on condition of anonymity, and an-Nahar, quoting Berri's visitors.
Iran's Larijani in Lebanon viewed as signal of Beirut's pivot toward Iran axis
Abby Sewell, Al Arabiya English/Wednesday, 19 February 2020
Iranian Speaker of Parliament Ali Larijani's visit to Lebanon has sent a signal that Tehran is seeking to drag Lebanon closer to the Iranian axis, but his offer of Iranian money to help Lebanon's struggling economy has been dismissed by experts as untrue. The first foreign official to visit Beirut since new Prime Minister Hassan Diab formed a government, Larijani said Tehran is ready to help Lebanon through its current economic and currency crises. Diab's government was selected exclusively by parties from the Iran-backed Hezbollah-allied bloc, previously known as the March 8 coalition.
Larijani's visit has therefore been seen as Iran attempting to boost its influence in Lebanon with the new government. In Beirut, Larijani met with Lebanese officials, including President Michel Aoun, Speaker of Parliament Nabih Berri, Prime Minister Diab, and Hezbollah head Hassan Nasrallah, who does not hold any official position in government. Speaking at a press conference Monday, Larijani said, "Lebanon is going through a sensitive stage, and we hope that the new government headed by Hassan Diab will be able to overcome all difficulties, and we are fully prepared to cooperate with the Lebanese government in all areas."Iran's Parliament Speaker Ali Larijani meets with Lebanese President Michel Aoun. (Twitter)
Trump's peace plan rejected by Lebanese parties, Palestinian groups in Lebanon
Abby Sewell, Al Arabiya English/Wednesday, 19 February 2020
A group representing the major Lebanese political parties and Palestinian factions in Lebanon rejected on Wednesday US President Donald Trump's plan to solve the Israel-Palestine conflict, known as the so-called "Deal of the Century."
While the US plan was immediately embraced by Israeli Prime Minister Benjamin Netanyahu and his election rival Benny Gantz, it has been rejected by much of the international community, including Palestinian and Arab leaders. The Lebanese-Palestinian Dialogue Committee (LPDC), a body set up by the Lebanese government to oversee issues related to Palestinian refugees, is the latest organization to reject the deal with a joint statement issued by its Palestinian and Lebanese working groups after a meeting in Beirut's Grand Serail.
The US plan "poses risks not only to the refugees and the Palestinian cause, but also to all countries and entities of the Arab region, specifically Lebanon," said LPDC Chairman Hassan Mneymneh.
"This 'deal' aims specifically to abolish the identity and existence of the Palestinian people and their national rights … and to settle them in the host countries, including Lebanon," he added.
No right of return, no UNRWA
The LPDC groups criticized the plan's provisions that would curtail the right of return for Palestinian refugees and abolish the United Nations Relief and Works Agency (UNRWA) for Palestinian refugees.
Under the proposed deal, there would be no right for Palestinian refugees to return to areas in what is now Israel, and applications to return to the Palestinian territory could also be rejected for security or other reasons. The deal envisions those unable to return to Palestine being absorbed into their host countries.
More than 470,000 Palestinian refugees are registered with UNRWA in Lebanon, although due to immigration, the actual number living in the country is believed to be much lower. A census conducted in all of Lebanon's Palestinian camps and gatherings in 2017 counted only 174,000 Palestinian refugees.
Mneymneh told Al Arabiya English after the meeting, "The Arab community, the Arab countries, must meet and work seriously to provide the possibility to cancel this deal, through strong and effective diplomatic maneuvers, through increasing support for the Palestinian people, increasing support for UNRWA."
The end of UNRWA in Lebanon, he said, "would be a complete disaster, because Lebanon is not able to take on the cost" of providing the needed services to the refugees.
Plans to take action
The working group statement also outlined plans to lobby to advocate for the Palestinians and counter the proposed plan.
On the international level, it pledged to lobby for a "two-state solution and the right of return of refugees based on relevant international resolutions" and for ongoing support for UNRWA.
Regionally, the group confirmed its "commitment to the Arab peace initiative in dealing with the continued Israeli aggression and [that of] its American ally against the Palestinian people and their rights."
Within Palestine and Lebanon, it pledged to resolve conflicts between factions and "expand the scope of civil resistance in occupied Palestine; and at the Lebanese level to coordinate steps to confront the deal with the Arab League, the Palestinians, and the international community."
Fathi Abu al-Ardat, secretary of the Palestinian Liberation Organization (PLO) in Lebanon, told Al Arabiya English, "The most important thing is that there should be a unified stance from all groups: Palestinians and Lebanese and Arabs, that there is a refusal of the Deal of the Century … Today there is a shared stance by Lebanese, Palestinians, Christians and Muslims. We are all speaking in one language."
Renewed focus on Palestinians in Lebanon
The group statement also committed to working to "improve the conditions of Palestinian refugees in Lebanon, thereby strengthening their resilience until their return to their homeland."
Palestinians have had a contentious status in Lebanon, where they have limited rights with regards to work and property ownership in the country. Last year, mass protests erupted in the country's Palestinian camps after the Ministry of Labor began cracking down on businesses employing non-Lebanese workers – including Palestinian refugees – without work permits.
Abu al-Ardat said he is hoping that now, with the newly formed government in place, Lebanese officials will return to the question of Palestinians' rights and living conditions.
"In the past period there has been October 17 and the popular movements, but we need to find space to open the Palestinian case," he said.
"Today the Palestinian is living in difficult circumstances in the camps. There is unemployment, there are no work opportunities – it's a miserable situation …We need solutions, and this is the responsibility of UNRWA and the Lebanese state and the international community and the PLO factions," he added.
Statue Of Qassem Soleimani Put Up By Hizbullah In South Lebanon Sparks Criticism: It Is An Expression Of Iran's Patronage Over Lebanon
MEMRI/February 19, 2020
On February 15, 2020, Hizbullah unveiled in the village of Maroun Al-Ras in South Lebanon a large statue of Qassem Soleimani, the commander of the Qods Force in the Iranian Revolutionary Guards Corps who was killed in an American airstrike on January 3, 2020 in Baghdad. The statue, which stands near the Lebanon-Israel border, shows Soleimani pointing towards Israel while a Palestinian flag flies behind him. The unveiling ceremony was attended by Soleimani's children and by many Hizbullah officials and supporters.[1]
Hizbullah's erection of the statue sparked considerable criticism from Lebanese public figures, politicians, journalists and citizens, who described it as yet another expression of Iran's patronage over Lebanon by means of its proxy, Hizbullah. They accused this organization of being Iranian rather than Lebanese and of ignoring the existence of the state. Some also criticized the Lebanese leaders, who they said allow Hizbullah to do as it wishes in Lebanon and never hold it to account.
In response to the criticism, a Hizbullah MP defended the decision to erect the statue, and asked why Beirut could have streets named after French WWI generals, yet a statue of the fighter Soleimani sparks objection.
It should be noted that this is not the first time Hizbullah has honored Iranian officials and Hizbullah commanders who were involved in terrorism by memorializing them in public places in Lebanon. The previous instances likewise sparked public criticism.
This report presents translated excerpts from some of the reactions to the statue of Soleimani.
Lebanese Politicians: This Confirms Iran's Patronage Over Lebanon
Politician and journalist May Chidiac, former minister of Administrative Development and member of Samir Geagea's Lebanese Forces party, who is known for her tough stance against Hizbullah, tweeted angrily: "Are we in Lebanon or in Iran? After naming the road to the [Beirut] airport after [Ayatollah] Khomeini [in February 2019], Hizbullah has now celebrated the unveiling of a statue of Soleimani in the South! Why this insistence on changing the identity of Lebanon and involving it in the struggle between the axes[?]! Where is [the policy] of disassociating [Lebanon from conflicts]?[2] Every day Hizbullah confirms that it is a branch of the Iranian Revolutionary Guards Corps and of the [Iranian Rule of the] Jurisprudent, rather than a Lebanese body!"[3]
Georges Hayak, also from the Lebanese Forces party, tweeted: "I might have understood if they had erected a statue of a late Hizbullah leader on the Lebanese border, even without the consent of all Lebanese. But putting up a statue of an Iranian military figure such as Qassem Soleimani [only] confirms what is said about Lebanon being under Iranian control. It is also an affront to the will of the entire Lebanese people."[4]
Former justice minister Ashraf Rifi tweeted: "The erection of a monument to Soleimani in South [Lebanon] has nothing to do with the conflict with Israel, but is merely confirmation of Iran's patronage of Lebanon. [Soleimani's] Qods Force did not fight for Jerusalem, but devastated Syria and Iraq and turned Lebanon into a failed state. Iran's patronage makes our economic crisis worse. This is a matter for the Lebanese president, prime minister and [other] officials to address.[5]
Diana Mukalled, a columnist for the Lebanese Al-Hayat daily, tweeted: "A statue of Qassem Soleimani has been erected in South Lebanon… As usual, [these are] useless and contemptible attempts to give this criminal murderer a false halo of sanctity."[6]
Former Lebanese prime minister Fouad Al-Siniora said that the roads were public spaces and that no faction was entitled to put up statues there without at least consulting the Lebanese government. "The country has no shortage [of problems], and the erection of this statue is an unhelpful and imprudent move," he added.[7]
Criticism Of The Authorities: The State Has No Presence; Its Officials Ignore The Iranian Occupation
Some former politicians directed their criticism at the authorities and current officials, who allow Hizbullah to do as it pleases. Antoine Zahra, a former MP from Samir Geagea's Lebanese Forces party, wondered: "Are statues not considered idols? As far as I know, [Hizbullah] does not believe in idols and regards statues [as a form of] paganism and heresy… The problem is that the state does not seem to exist, [and its heads] think it wise to refrain from asking [Hizbullah] any questions, as though this can distance them from any problems. [Hizbullah members] recognizes the existence of the state only when they need it, and circumvent it when they do not need it. When they start wars in the region without asking anyone, Nasrallah expects us to come to an agreement and support the government, [warning that otherwise] the roof might collapse over our heads. How can we hold these people to account?… Hizbullah tries to impose a certain way of behavior, so that the Lebanese become used to refraining from asking questions, protesting or holding it to account for its illegal actions. This organization thinks the law applies to others, but not to itself."[8]
Former MP Fares Souaid also directed harsh criticism at the Lebanese officials, who allow the Iranian occupation, as he called it. He tweeted: "The criticism voiced by some over the erection of the statue of Qassem Soleimani is absurd. Lebanon is under Iranian occupation, [but] nobody has the honesty to admits it. Moreover, [even] some [state officials] are okay with it, on the pretext of being 'pragmatic.' You [officials] sit with representatives of the Iranian occupation in the municipal councils, in parliament, in the government and in [other] administrative bodies, and voice no objection. And you make muscles when it comes to a statue? Remove Iran's patronage [from Lebanon]."[9]
Lebanese Twitter Users: How Would Hizbullah Respond If We Put Up A Statue Of An American Or A Saudi?
Criticism of Hizbullah for putting up the statue was also voiced by Lebanese users on Twitter. Paula Nawfal, who writes in the Al-Nahar daily, tweeted: "A statue of Soleimani on the Lebanese border [with Israel]. What do you think? Imagine it: how would [Hizbullah's] respond if we put up a statue of some American or Saudi figure?"[10]
Lebanese user Walid Ghanem tweeted: "What did Qassem Soleimani do for Lebanon to deserve having his statue [put up] in Maroun Al-Ras? Who is more important, Qassem Soleimani, or the martyrs of the Lebanese army who sacrificed their lives to liberate the land? Only they deserve a statue [in their honor]."[11]
Many Lebanese also tweeted under the hashtag "Lebanon is greater than your Soleimani." Among them was user Abu Rimas, who tweeted: "The Lebanese will pay the price for Lebanon melting into Hizbullah's mini-state and its joining of the Iranian axis. Sadly, we will pay very dearly."[12]
Hizbullah Official: Iran Came To Lebanon's Aid; Putting Up The Statue Is Legitimate
In response to the criticism, Hizbullah MP Anwar Jum'a said: "There are several streets in the capital Beirut named after enemies of Lebanon. Let's replace the names of the streets named after the [French] generals Foch and Gouraud, who conquered Lebanon."[13] He condemned what he called the ceaseless attacks on Iran, "which always extends aid to Lebanon when the Americans are throttling us. We have placed the monument in front of the [Israeli] occupier who [once] humiliated us and today does not dare to glance in our direction…"[14]
Highway Named After Khomeini; Street Named After Senior Hizbullah Member Accused Of Assassinating Al-Hariri
This is not the first time that Hizbullah has chosen to memorialize Iranian leaders and its own senior commanders in public places in Lebanon, and especially in the Dahiya, its stronghold in Beirut.
In February 2019, the Lebanese were surprised to discover a sign indicating that the highway leading out of Beirut international airport was now called Imam Khomeini Avenue, after the founder of the Islamic regime in Iran. This aroused many angry reactions among Lebanese who wondered, "Why does the name of the imam Khomeini meet us just as we leave the airport? Are we in Beirut or in Teheran?" Others accused Hizbullah of attempting to transform Lebanon into an Iranian province, to change its identity, and to take over its culture.[15]
In response to the criticism, the mayor of the town of Al-Ghobeiry, which is part of the Dahiya, said that the town had decided to name the highway after Khomeini already in 2002, and that the interior ministry had approved this, but that implementation of the decision had been delayed.[16]
Imam Khomeini Avenue at the exit from Beirut airport (Source: Lebanondebate.com, March 1, 2019)
Furthermore, in September 2018, the Al- Ghobeiry municipality announced that it had named a road in the town after Hizbullah official Mustafa Badr Al-Din, who was killed in Syria in 2016 and who was identified by the Special Tribunal for Lebanon as one of the main suspects in the assassination of Rafiq Al-Hariri. Then-interior minister Nohad Al Machnouk stated that the ministry had not approved the naming of the street after Badr Al-Din and demanded the removal of the sign, since the matter was politically controversial and was likely to disrupt public order in the country.[17] Other political figures and journalists agreed with the criticism, while Hizbullah members justified the naming of the street after Badr Al-Din.[18]
Street named after "the martyr Mustafa Badr Al-Din" (Source: Al-Nahar, Lebanon, September 19, 2019)
[1] Raialyoum.com, February 16, 2020.
[2] In August 2011, following UNSC discussions on the events in Syria, Lebanon – at the time headed by the administration of prime minister Najib Mikati comprising primarily allies of Syria, and also at the time a member of the UNSC – took an official position of "disassociating itself from" events in Syria. The UNSC passed, 14 to 1 (Lebanon), a Presidential Statement condemning Syria. Lebanon "cut itself off" from the consensus, thus refraining from criticizing Syria, but also not thwarting the UNSC's condemnation. Since then, every Lebanese government has defined its policy as one of "disassociating itself" from events in Syria and from the disputes in the region – meaning also from the Saudi-Iranian dispute. This solution, which is essentially refraining from taking a stand at all, has successfully bridged the tremendous gaps between the pro-Saudi camp in the country led by Prime Minister Sa'd Al-Hariri and the pro-Iran camp led by Hizbullah.
[3] Twitter.com/may_chidiac, February 16, 2020.
[4] Twitter.com/georgeshayak712, February 15, 2020.
[5] Twitter.com/Ashraf_Rifi, February 16, 2020.
[6] Twitter.com/dianamoukalled, February 16, 2020.
[7] Al-Jumhouriyya (Lebanon), February 17, 2020.
[8] Al-Jumhouriyya (Lebanon), February 17, 2020.
[9] Twitter.com/FaresSouaid, February 17, 2020.
[10] Twitter.com/paulanawfal, February 15, 2020.
[11] Twitter.com/walidghanem, February 15, 2020.
[12] Twitter.com/mufrh1, February 16, 2020.
[13] Henri Gouraud was a high-rankling French general in World War I and the first French High Commissioner in Syria and Lebanon after the war. On September 1, 1920 he declared the creation of the Greater State of Lebanon. Ferdinand Foch was also a French general, who served as the Supreme Allied Commander in World War I. In 1983 a destroyer named after him helped the French forces that were posted in Lebanon as part of a multinational force.
[14] Al-Jumhouriyya (Lebanon), February 17, 2020.
[15] Almodon.com, February 21, 2019.
[16] Lebanondebate.com, March 1, 2019; Lebanon24.com, February 23, 2019.
[17] Al-Sharq Al-Awsat (London), September 19, 2018.
[18] Al-Nahar (Lebanon), Al-Quds Al-Arabi (London), Al-Akhbar (Lebanon), September 19, 2018; Arabipress.org, September 24, 2018.
Iran's Larijani in Lebanon viewed as signal of Beirut's pivot toward Iran axis
Abby Sewell, Al Arabiya English/Wednesday, 19 February 2020
Iranian Speaker of Parliament Ali Larijani's visit to Lebanon has sent a signal that Tehran is seeking to drag Lebanon closer to the Iranian axis, but his offer of Iranian money to help Lebanon's struggling economy has been dismissed by experts as untrue. The first foreign official to visit Beirut since new Prime Minister Hassan Diab formed a government, Larijani said Tehran is ready to help Lebanon through its current economic and currency crises. Diab's government was selected exclusively by parties from the Iran-backed Hezbollah-allied bloc, previously known as the March 8 coalition.
Larijani's visit has therefore been seen as Iran attempting to boost its influence in Lebanon with the new government. In Beirut, Larijani met with Lebanese officials, including President Michel Aoun, Speaker of Parliament Nabih Berri, Prime Minister Diab, and Hezbollah head Hassan Nasrallah, who does not hold any official position in government. Speaking at a press conference Monday, Larijani said, "Lebanon is going through a sensitive stage, and we hope that the new government headed by Hassan Diab will be able to overcome all difficulties, and we are fully prepared to cooperate with the Lebanese government in all areas."
Iran unable to offer much
Larijani "called for promoting Tehran-Beirut relations and expressed his country's readiness for helping Lebanon in the economic, trade, industrial, pharmaceutical, scientific, cultural, agricultural, and military arenas," according to Iran's official Islamic Republic News Agency. He noted specifically that Iran might be able to help Lebanon with their chronic electricity problem by providing technological support. However, he did not specify how much aid was on offer, or what form it would take, making some observers skeptical. "What the Iranians are capable of providing I would imagine to be fairly limited, given their dire financial situation," said Firas Maksad, a Washington-based consultant on Middle East policy and adjunct professor at George Washington University's Elliot School for International Affairs. Iran had, in the past, offered to provide Lebanon with more affordable, Iranian-made medications – which could help in the current situation in which Lebanon could face shortages of imported drugs due to the lack of dollars in the country – noted Maksad. Already, Lebanon has had to ration dialysis supplies and some medical equipment is in short supply.
Iran has also offered military aid to the Lebanese Armed Forces, he said, but accepting such assistance could lead to the US cutting its military aid.
Surprise visit drew critical responses
Larijani's had not been invited and his visit came as a surprise to many Lebanese officials, said Maksad.
"It caught Lebanese officials off guard and put them in a difficult situation politically," Maksad said, given how the visit was likely to be perceived by Western countries, which have already been wary of the new Lebanese government. Larijani also praised Hezbollah and advocated for Lebanon to turn away from the US and Saudi Arabia, saying that if Lebanese officials "hold out their hand for help to the US and Saudi Arabia, their crisis will remain unresolved." Larijani's visit and Lebanon's apparent move toward Iran more generally have been criticized by political leaders in the camp opposed to Hezbollah, formerly known as the March 14 coalition. Former Prime Minister Saad Hariri, who resigned in November, said Friday, on the anniversary of the 2005 assassination of his father, former Prime Minister Rafic Hariri, that the promise of Iranian money "solves a party crisis, not the country's crisis."
Ashraf Rifi, a former Minister of Justice and sometime political rival of Hariri within the Sunni community, wrote on Twitter following Larijani's visit, "Mr. Larijani must know that Lebanon is an independent country, not an Iranian governate, and that illegal weapons will not change its identity."
Lebanese citizens, whatever their political alliances, are largely eager for the country to stay out of larger geopolitical conflicts. Abed, a warehouse worker in Beirut who was relaxing on the corniche Tuesday afternoon, told Al Arabiya English that he wants to see Lebanon remain neutral.
"We are a small country, a very small country," he said. "We don't want to take sides with anyone – not with Iran, not with Saudi [Arabia], not with England, not with America. We need to be friends with all of them." As to the proffered Iranian aid, he said, "If someone wants to come to the country and wants to be a friend to the country, he's welcome. But if someone wants to come and push his politics, the politics of the country he's coming from, here, I don't think that's right."
US Ambassador meets Diab
The day after Larijani's visit on Monday, Diab received the US Ambassador to Lebanon, Elizabeth Richard, a potential signal that the new government does not want to entirely pivot away from the West. On Wednesday, Greek Foreign Minister Nikos Dendias arrived in Beirut.
According to the state National News Agency, the meeting "focused on the most recent developments in Lebanon and the region. The pair also discussed the best means to boost US-Lebanese bilateral ties."
The embassy declined to give a statement following the meeting.
Why Shouldn't the Kataeb and Communist Parties Meet?
Hazem Saghieh/Asharq Al Awsat/February 19/2020
Two weeks ago, delegations from the Lebanese Kataeb party and the Lebanese Communist Party met to hold discussions and "dialogue". The meeting, as became known later, was not the first of its kind, but it was the first of its magnitude. There are two reasons for this: it was announced, and it was held in the midst of the revolution's atmosphere. This was followed up by another one that brought together a delegation from the Kataeb with a delegation from the "Communist action organization".
The event took social media websites by storm, accompanied by many positive and negative reactions. However, what was remarkable was the prominence of hardline voices within what is supposedly the Communists' environment, which is led by Hezbollah and, behind it, the Syrian and Iranian regimes.
These hardliners condemned the communists and disavowed their "deed".
Actually, many justifications and explanations can be offered for this meeting. For the two parties held similar positions during the revolution, and their opposition to the ruling establishment links them to one another in the first place. The Kataeb, under Samy Gemayel's leadership, is different to what it had been before it: it seems determined to appear more modern and in touch with the changes brought about by the passage of time. It boycotted government (though not the regime) through its three deputies' non participation in the session held to give it parliament's confidence. Most importantly, the party transformed its headquarters in Saifi, Beirut, into one of the revolutions' centers, offering first aid and urgent treatment to the revolutionaries.
The Communist Party, or some of it at least, has changed as well. After a long period of being ignored by its allies during the Pax Syriana period (1990-2005) and after the murder of several of their major figures and intellectuals at the hands of men linked to Hezbollah, the October 17 revolution put the party at a crossroads that it is difficult to overlook: are we to support the socio-economic demands being made by the vast majority of Lebanese, which is supposedly our raison d'être, or should we support the regime that includes Hezbollah?
In southern Lebanon, in Nabatieh, Kfar Rumman and Tyre communists and ex-communists beat their party to solving this contradiction as they favored the revolution. Thus, Hezbollah and its ally, the Amal movement, went about repressing it more than once.
Looking back on major historical turning points, one can add other instances to this rapprochement: the two parties were brought to life in almost the same geographical region, and their histories have witnessed few junctures at which their positions intersected, though there are many junctures at which they collided. Some of their agreements include the battle for independence in 1943 and Fuad Chehab's rule in the sixties, which they both supported, though from different positions.
Why then, should the Kataeb and the communists not meet and hold discussions?
The most prominent justification, if not the only one, which the meetings' critics hold on to, starts with the 1975 war, also known as the Two Year War. That is because the Kataeb fought against the Palestinian resistance, which the Communist Party had been allied with. This conflict with the Palestinian militants, then with the Syrian hegemony, established Kataebist-Israeli relations that culminated in 1982 with the Bashir Gemayel's arrival to the presidency in the midst of the Israeli invasion.
However, while many Lebanese see departure from a supposed Lebanese consensus in this issue, is there not a similar number of Lebanese who see in the Communist Party's support of the Palestinian resistance against the Lebanese state the same departure from the supposed Lebanese consensus?
Let us agree, then, that the real issue is one of building a new national Lebanese consensus, or that this is what should be hoped for in a country where the meanings of nationhood and patriotism, and many other notions as well, have been contentious for a long time. If this assumption is correct, then it would be valid to say that the October 17 revolution is an attempt to establish new meanings for patriotism and nationhood that break with the divisions inherited from the civil war. In this sense, we ought to welcome the step taken by the Kataeb and the communists, and other similar steps that may be taken by other parties that had been in conflict.
This is precisely where those who condemned this meeting see the problem to be: they do not want a Lebanese patriotism to take form, preferring the country to remain an arena in which regional issues are contested. Their memory is stuck in 1975 and their world is that of the civil war. This position cannot but be sectarian: for what is being said about the Kataeb could, with the same rationale, also be said about the Lebanese Forces and even about the Aounists before they joined the Assad camp.
In other words: a view that prioritizes regional conflict inevitably translates to isolating Christians, not just the Kataeb, as was said in 1975. The least that could be said about this sectarian stance is that it relies purely on outdated rhetoric and consciousness. Whoever doubts this ought to go over the concerns and slogans that dominated the Lebanese revolution and that also dominated the other Arab revolutions, which prioritized the national over the regional and the nation over the "arena".
However, and for this reason, those who incited against the two parties' meeting have nothing but animosity for the revolution. It is a new national event, and they are old sectarians. Supporting it dictates the encouragement of any rapprochement among its forces and those sympathetic to it, while those who oppose the revolution oppose the convergence among those forces, suggesting that the communists should continue to support Hezbollah instead. After all, isn't the latter exonerated from sectarianism, which is monopolized by the Kataeb?
What Does Saad al-Hariri's Political Shift Mean?
Eyad Abu Shakra/Asharq Al Awsat/February 19/2020
It was truly dramatic how Lebanon's ex-Prime Minister Saad al-Hariri announced the 'end of the road' for the 'Presidential Settlement' of 2016, which resulted in electing General Michel Aoun as President, and him taking over as Prime Minister.
The 'settlement' that now seems dead was then seen by many Lebanese as an illogical deal with no justification but gaining time, while Lebanon was under the burden of an effective regional occupation armed that was too powerful for the Lebanese to end.
Several considerations led to this catastrophic deal, which – at least on paper – gave the armed occupation the legitimacy it has always lacked. Among these considerations were:
1- The animosity of Aoun – as well as his Christian sectarian base – towards the 'Taif Accords; and subsequently the Sunni leadership built by the late Rafic al-Hariri, made him in February 2006 enter an alliance with Hezbollah, the strongest theocratic Shi'ite organization. Indeed, Hezbollah, and those behind it in Iran, were never less hateful to 'political Sunnism' than Aoun and his followers.
2- The Aoun – Hezbollah alliance has been the main beneficiary from Washington's 'soft' stance and its silence towards it. The alliance has done even better, as the Middle East policies of former US President Barack Obama showed that the White House was not only willing to co-exist with the Iranian regime, but actually accepted Tehran's de facto hegemony over most of the Middle East.
3- As the survival of the Assad regime in Syria was secured, thanks to strong Iranian and Russian support, the lukewarm international position developed into an intentional letting down of the Syrian Uprising, under the pretext of 'confronting terrorism and extremism'. This situation had its own repercussions in Lebanon, where Hezbollah was one of the primary military backers of Assad's regime, while Aoun and his pro-Iran Shiite ally used "saving Lebanon from ISIS" as an excuse to resurrect the old 'Coalition of Minorites' against 'Political Sunnism' after accusing the Sunnis of being a 'fertile ground' for terrorism and extremism.
4- The international community's betrayal of the Syrian Uprising, which both almost killed it off, and helped besiege the Lebanese Sunnis politically, convinced many Lebanese Christian that Aoun's gamble on Hezbollah was perhaps a wise bet, that reflected the 'General''s wisdom and his good understanding of global politics. This feeling within the Christian community pushed Aoun's opponents and critics into a corner; thus pushing the 'Lebanese Forces' party, Aoun's strongest Christian opponents, to turn the page and sign an agreement with Aoun's Free Patriotic Movement (FPM) in 2016. This agreement, according to which the LF would support the election of Aoun as President, became known as the 'Mi'rab Agreement'; noting that Mi'rab is the village where Dr. Samir Geagea, the LF leader, resides.
5- The agreement between the FPM and the LF – the two largest Christian parties – to nominate Aoun deprived Saad al-Hariri (the strongest Sunni leader) and Walid Jumblatt (the foremost leader of the Druze) of any excuse to oppose their old foe Aoun; as the latter now enjoyed the widest possible Christian support to fill the highest post constitutionally reserved for the Christian Maronite community.
The above-mentioned five considerations, in addition to the regional and international positions, allowed the election of Aoun in 2016, although he was for years the declared candidate of Hezbollah. In fact, in order to force his election Hezbollah disrupted Lebanon's political life on several occasions.
This achievement secured Iran's 'occupation' (through Hezbollah) a political 'legitimacy' the Iranians were keen to cement. This goal required two more steps while Hezbollah keeps its arms and its security, financial, and political structures.
The First was to adopt an electoral law that suits Iran and ensures the election of a pliant pro-Tehran parliament where Hezbollah and its allies would win a majority of seats thanks to its exclusive arms' advantage.
The second was to undermine the 'Taif Accords' – whose text was now enshrined in the Lebanese Constitution – through disabling and nullifying it by marginalizing the Prime Minister, diminishing his powers, and overruling him in favor of the President.
From the standpoint of 'consociationalism' (or factional consensus), whereby major sects are represented by its strongest representative leaders, this was the major advantage for Aoun. However, in order to complete the 'scenario' the most representative Sunni had to be co-opted, albeit temporarily, in a masterplan he was supposed to understand where it would lead to.
Saad al-Hariri, given his deep knowledge of Aoun's political history, and the history and aims of Hezbollah, was expected to be aware that he would be used to destroy the 'Taif Accords', and cover Iran's hegemony through Hezbollah. This would lead to the collapse of his credibility within his own sectarian power base.
Thus, when al-Hariri spoke on the 15th anniversary of his father's assassination and announced the demise of the Presidential settlement', he candidly declared that there were strong attempts to bringing Lebanon back to the pre-1989 period; i.e., attempts to finish off the 'Taif Accords' and bring down 'Harirism'!
He also talked about the mentality of 'Wars of Elimination' which "one time wanted to eliminate the Progressive Socialist Party and its leader Jumblatt, another wanted to eliminate the 'Lebanese Forces' even after Mi'rab, a third wanted to eliminate the Popular Uprising, and now its wants to eliminate Harirism and the Future Movement". Defending why he still went ahead with the said settlement, Hariri explained: "I was trying to ensure stability to the relationship between the Presidency and the Prime Minister's office; first, because stability merits endurance and patience, and second because disagreement would only lead to disabled institutions".
Well, this is a noble thing to say; however, politically it is both ill-timed and useless. Regarding the issue of time, the Lebanese economic situation is so critical that people do not believe their political leaders can rally their supporters through stirring up familiar tribal affinities anymore.
As for the issue of uselessness, Hariri's mistake in going through with what proved to be a 'suicidal settlement' was so huge that he failed to convince even some of his most loyal advisors. Those have since moved away from him, and relations soured between him and many of his allies, although some of them would still give him the benefit of the doubt. Furthermore, what happened has happened, whether regarding the barely constitutional electoral law that has been implanted under the shadow of Hezbollah's arsenal, or the election of a president who wanted to be a foe and an arbiter at the same time.
Thus, Hariri's 'uprising' is necessary but insufficient, in the absence of a serious political vision that can reassure a hungry, worried, and frustrated population that there is a light at the end of the tunnel, and are trustworthy alternatives in the political elite.
Full-blown economic crisis will plunge quarter of Lebanese below poverty line
Georgi Azar/Annahar/February 19/2020
Data from the World Bank in 2018 had set the poverty rate at 32 percent and unemployment between 35 and 38 percent.
BEIRUT: Almost two million people will drop below the poverty line while unemployment skyrockets to above 40 percent, setting the stage for one of the worst economic downturns in Lebanon's history.
"Two million Lebanese will live below the poverty line in 2020 if the new government does not emphasize social protection," former minister of Social Affairs Richard Kouyoumjian told Annahar. A person living below the poverty threshold in Lebanon earns less than $8.6 a day.
Data from the World Bank in 2018 had set the poverty rate at 32 percent and unemployment between 35 and 38 percent.
"My concern is that will jump to over 50 percent," Kouyoumjian said. Austerity measures are in full effect across the board, with the Ministry of Education slashing public school hours. Students will be let go early on Wednesdays, according to a statement obtained by Annahar.
Drops in school funding mean cuts that affect school inputs, from teacher salaries to student resources; they also "have significant impacts on critical outcomes such as student achievement", according to the Center for American Progress.
Youth unemployment is also projected to reach 50 percent as Lebanese graduates find it increasingly difficult to secure jobs while dozens of businesses slash their salaries in half.
The food and beverage industry has taken the hardest hit, with 785 restaurants and cafes closing between September 2019 and February 2020, leading to 25,000 employees being laid off, Tony Ramy, the head of the Syndicate of Owners of Restaurants and Cafés, told Annahar.
With the lack of an effective social safety net, Lebanese lives will be put in jeopardy by the disintegration of what was once one of the Middle East's more prosperous economies.
240 F&B businesses closed shop in January alone with the majority of them (54.6 percent) located in Mount Lebanon, followed by Beirut (29.4%), North Lebanon (6.7%), South Lebanon (6.6%) and Bekaa (2.5%), Ramy said.
With Lebanese' purchasing power taking a massive hit as a result of inflation and the local currency losing more than 50 percent of its value, sales have decreased by more than 75 percent.
This has prompted hospitality establishments to halve salaries or shifting full-time workers to a part-time basis, he said.
Lebanese families are now finding it extremely difficult to secure basic foods, as even essential commodities have seen their prices increase given the lack of governmental oversight coupled with the lack of dollar liquidity.
"We've had to ration our food expenses after my paycheck was reduced by more than 30," Ibrahim, a father of four told Annahar.
"We used to allocate 50,000 LBP per week for groceries, and now $50 is not even enough. If things persist, I won't be able to enroll my children next year in school or I'll will have to move them to public schools," he said.
Jad Radwan, a local grocery shop owner, laid the blame at the feet of the soaring black market dollar rate as banks have overwhelmingly halted lending.
"People come here and complain that prices are increasing. We have no choice. If we keep prices at the 1,500 rate, then we lose money. If we increase prices, we're still losing money," he said.
A number of NGOs have sprouted in recent months in attempt to provide relief to struggling families while others have ramped up their efforts. Foodblessed, a local hunger-relief initiative founded in 2012 is sending out food assistance package or boxes to feed families of four for a month.
"We help anyone in need regardless of race, nationality or sex and focus on the neediest all across Lebanon. We help Lebanese, Syrian refugees, migrant workers, orphans, the elderly and vulnerable communities," Maya Terro, Co-founder and Executive Director at FoodBlessed told Annahar.
The economic slump has also caused a substantial spike in immigration.
Brain drain has always been a Lebanese distinction, given that the output of graduates far outweighs the local market's capacities.
Lebanon has one of the best-educated populations in the Middle East. The literacy rate is among the region's highest, universities are among the best ranked, and according to UN's Human Development Report (HDR) from 2013, 43 percent continue on universities or technical institutes after finishing high school.
In the leadup to the nationwide protests that broke out in late last year, however, immigration has almost increased two-folds.
According to Information International, a leading research and consultancy firm in Beirut, 61,924 Lebanese sought pastures news abroad between January and November 2019, up from 41,766 during the same period in 2018.
Mohamed Shams El-Din, a researcher at the firm, told Al-Nahar that "82 percent of them were less than 40 years old."
Google searches from within Lebanon of the term "immigration" rose during the same period, hitting a five-year peak between November and December, according to Google Trends.
Iran, Hezbollah operating with impunity in Yemen
Fatima Abo Alasrar/Arab News/February 20/2020
Four Hezbollah military operatives working alongside the Iran-backed Houthi militia east of the Yemeni capital Sanaa were killed by Saudi-led coalition airstrikes last week. The operatives were in Al-Jawf and Nihm, areas that witnessed intense fighting at the start of the year. These locations, known to be heavily tribal, are strongly aligned with Yemen's government and the majority of them are under its authority. Hezbollah's involvement and cooperation with the Houthis in these areas point to Iran's overall interest in sustaining violence in Yemen and increasing the Houthis' territorial gains, as it relies on its proxies to bolster its overall position in its current standoff with the US.
This increased appetite for violence and expansion is at odds with the Houthis' rhetoric of de-escalation, which it signaled in September last year. The activity points to a renewed calculus in Yemen's war, dictated to a large extent by Iran's interest in the region, especially since the death of Islamic Revolutionary Guard Corps (IRGC) member Qassem Soleimani, who was the commander of Iran's expeditionary Quds Force that specializes in unconventional warfare outside of Iran's borders.
Evidence to support Iran or Hezbollah's military involvement in Yemen was challenging to come by at the beginning of the conflict. But this involvement has been uncovered gradually throughout the years, showing a series of sophisticated covert operations and military support that elevated the Houthis' capability. IRGC operatives thrived in Yemen and were able to enter the country and travel freely using Yemeni passports issued to them by the Houthis, according to local sources. Abdul Reza Shahlai, the deputy commander of the Quds Force, was recently targeted by the US in Yemen. Shahlai and his comrades have been focused on external operations that would serve Iran's overall regional interests, including hampering the Saudi-led coalition's actions in Yemen and attacking the Kingdom's oil and military installations.
Iran, through its IRGC operatives and Hezbollah strategists, has set an agenda in parallel to the Houthis' in order to reach its objectives in the region. Within this context, Iran helped the Houthis expand to achieve Tehran's broader regional vision, which extends well beyond the scope and capacity of the Houthi group. Through the "Axis of Resistance" network, which the Houthis openly flaunt their membership of, extremist Shiite groups are uniting under Iran as a rival to Saudi Arabia, choosing destruction and violence as their methods of resistance.
Iran's investment in nurturing the Houthis' ability is not as recent as many may think. A video that was uncovered in a Saudi raid in Saada in early 2016 showed a Lebanese Hezbollah operative training several Houthi militiamen, citing examples of how Hezbollah helped the Houthis hide in water tankers in 2013 as they attacked the religious institute of Dammaj. This demonstrated the Houthis' level of coordination with Hezbollah, which predates the current devastating nationwide conflict.
When in doubt about the relationship between the Houthis and Iran's proxies, one should look for evidence from the Houthis' leadership positions, statements or actions. In one instance last year, the Houthis organized a fundraiser to "pay back" Hezbollah for their "initial" support in the war. Add to this the several Houthi delegations that have been dispatched to Lebanon and Iran, openly flaunting their alliance with Hezbollah and the Iranian leadership.
The Houthis' direct relationship with Iran needs to be assessed on its own, because it will have consequences for Yemen's peace process. Undermining this aspect will lead to further miscalculations.
Of course, aside from moral support, there is an immaterial and ideological component that has rarely been assessed in understanding the Houthis' relationship with Iran's proxies, such as Hezbollah's media support before and during the conflict. Hezbollah's main television channel, Al-Manar, has been giving the Houthis a voice throughout Yemen's conflict by broadcasting their messages. Al-Maseera, the Houthis' main channel, has also aired messages of solidarity with Iran, Hezbollah, Bashar Assad, and all actors within the Axis of Resistance.
Moreover, material support to the Houthis from Hezbollah and Iran has continued unabated. Last week, the US Navy confirmed seizing a dhow with weapons that were being smuggled to the Houthis. The UN panel of experts report released in early February also mentioned that some of the weapons used by the Houthis "have technical characteristics similar to arms manufactured in the Islamic Republic of Iran." This evidence, on top of other UN reports and fuel and arms smuggling from Iran, shows Tehran's consistency in helping the Houthis maintain and increase their power.
Overlooking the relationship between Hezbollah and the Houthis has led to many erroneous assumptions about Yemen's conflict; chief among them being the one that emphasizes the Houthis as an independent actor with a modest strategic and military capability and that rejects any foreign interference. This view is considered a "moderate" one among many Western analysts and Houthi sympathizers, allowing Iran and Hezbollah to operate with impunity in Yemen.
The Houthis are, of course, perfectly capable of making decisions on their own. Still, their decision-making capacity needs to be critically questioned when it goes against their self-interest or their stated objectives to de-escalate. For example, they falsely claimed to have attacked Saudi Aramco facilities in May last year, within days of their stated commitments of peace and good engagement in Hodeidah, which the UN had praised. The Houthis also falsely claimed to have attacked the Abqaiq and Khurais oil installations in September last year, completely covering up for Iran. Moreover, they have escalated in Al-Jawf, Marib and Al-Dali provinces despite issuing verbal commitments to peace in September last year. Focusing on the Houthis' rhetoric and ignoring their actions is no longer useful if anyone is serious about the pursuit of peace in Yemen.
The Houthis' direct relationship with Iran's transnational Shiite network needs to be assessed on its own, because it will have consequences for Yemen's peace process. Undermining this aspect will lead to further policy miscalculations, which up until now have completely underestimated the level of Iran's dictation of policymaking by the Houthis, who continue to operate with significant latitude in Yemen. Stronger critical thinking into the Houthis' behavior and prompt actions regarding their violations are needed if a settlement for Yemen is to be achieved.
*Fatima Abo Alasrar is a Non-Resident Scholar at the Middle East Institute. Twitter: @YemeniFatima