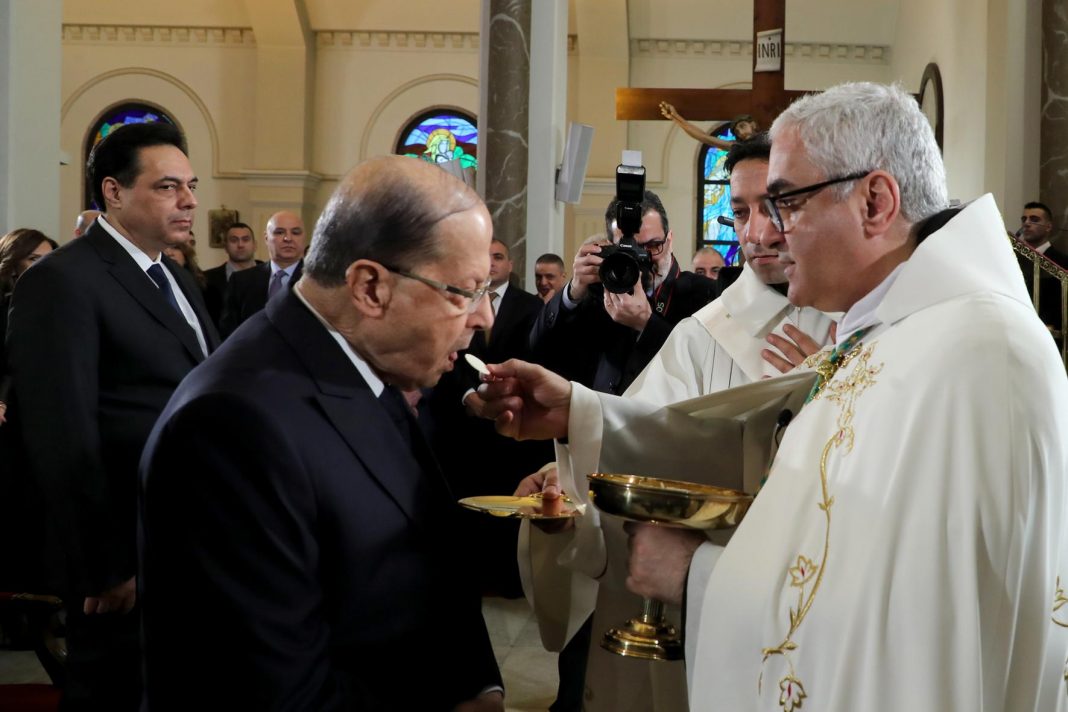 A Bundle Of English Reports, News and Editorials For 09-10/2020 Addressing the On Going Mass Demonstrations & Sit In-ins In Iranian Occupied Lebanon in its 116th Day
Compiled By: Elias Bejjani
February 10/2020
Titles For The Latest English LCCC Lebanese & Lebanese Related News & Editorials published on February 09-10/2020
Maronite Archbishop: True Leader is One who Resists Naturalization of Refugees
Abdul-Sater calls on officials to work closely with real rebels
Aoun says a number of states expressed desire to help Lebanon
Presidency Information Office issues a clarification statement
Rahi: We pray that the youth uprising remains a torch in the conscience of officials
3 Troops Killed, 3 Hurt in Raid to Arrest Hermel Fugitive
Fahmi: Any attack against the Army is an attack against all the Lebanese
Diab Says Attack on Army an Attack on Stability, All Lebanese
Kataeb Party Chief, MP Sami Gemayel, says his Party will be on the side of the uprising people
Ministry Says Berri Daughter's Qatar Job 'Not a Deal with Bassil'
Hasan Says Woman Coming from China Quarantined 'at Her Request'
Fire extinguished in former Virgin Mega Store building in Central Beirut
Raad: Trust is gained gradually with every step that is achieved with integrity and transparency
Abu Faour: We will give the government a chance, and we are not leading a campaign to bring down the covenant
Will Hezbollah impose its foreign policy on Lebanon?/Rami Rayess/The Arab Weekly/February 09/2020
MP Chamel Roukoz to Asharq Al-Awsat: New Lebanese Govt. is Not Independent/Paula Astih/Asharq Al-Awsat/February 09/2020
Natural cosmetics mark their presence in Lebanon/Perla Kantarjian/Annahar/February 09/2020
The Latest English LCCC Lebanese & Lebanese Related News & Editorials published on February 09-10/2020
Maronite Archbishop: True Leader is One who Resists Naturalization of Refugees
Naharnet/February 09/2020
Maronite Archbishop of Beirut Boulos Abdul Sater on Sunday noted that "a true leader is one who resists the naturalization (of refugees) and one who chooses to leave rather than disappoint or harm his people."
"A true leader is not one who believes that the country is a property for him and for his children after him or one who monopolizes power and aggrieves those who placed their confidence in him," Abdul Sater said in a sermon marking Saint Maron's Day. The mass celebrating the occasion was attended by President Michel Aoun, Speaker Nabih Berri and Prime Minister Hassan Diab. "Don't the tens of thousands of Lebanese who elected you deserve that you fix the flaws in the political, economic and financial performance and that you work night and day with the true revolutionaries on securing what provides decent living to every citizen? Otherwise, resignation would be more honorable," the archbishop added, addressing Lebanon's politicians.
"What are you waiting for?" he asked.

Abdul-Sater calls on officials to work closely with real rebels
NNA/February 09/2020 
Lebanese political and security leaders gathered Sunday at the Mar Maroun Church in Ashrafieh's Gemmayzeh for a Mass led by Beirut Maronite Archbishop, Boulos Abdul-Sater, to mark St. Maroun's Day. "Don't the tens of thousands of Lebanese who elected you deserve that the political, economic and financial imbalances be addressed?" Abdul-Sater asked the officials during the sermon, underscoring the necessity to work day and night with the real rebels, otherwise resignation is "more honorable". The Mass was attended by President Michel Aoun, House Speaker Nabih Berri, Prime Minister Hassan Diab, in addition to various political, security, social and religious leaders. Abdul-Sater also prayed for "all Lebanese officials so they could leave behind a good legacy after a long life, and remember that authority is a service." "A genuine leader is the one who resists resettlement and naturalization," he concluded.

Aoun says a number of states expressed desire to help Lebanon
Reuters/Daily Star/February 09/2020
BEIRUT: President Michel Aoun said Saturday that foreign states, particularly France, had expressed a desire to help Lebanon emerge from a severe economic crisis. As the country grapples with its worst economic and financial strains in decades, foreign donors have said they will only help if the government enacts long-stalled reforms. Aoun said he had a phone call with French President Emmanuel Macron and the two would speak again in the next few days. "A number of states have expressed their desire to help Lebanon, with France at their forefront," Aoun's office quoted him as saying Saturday in an interview with French magazine Valeurs Actuelles. It did not elaborate. The new Lebanese government has approved a rescue plan that envisages seeking foreign help, calls for interest rate cuts, and warns some "painful steps" will be necessary, according to a copy seen Thursday. The policy statement will be presented to parliament next week for a vote of confidence. Prime Minister Hassan Diab's cabinet was formed last month with the support of the Iran-backed Hezbollah movement and its political allies, which hold a parliamentary majority. The government must contend with a liquidity crunch, shattered confidence in banks, a weakened Lebanese pound and soaring inflation. It took office some three months after Saad al-Hariri's government resigned under pressure from nationwide protests against a ruling elite accused of corruption.
Presidency Information Office issues a clarification statement
NNA/February 09/2020 
The Presidency Information Office clarified, in an issued statement today, that "the Directorate of Protocols at the Republic Presidency has nothing to do with the call to the Mass that was held today on the occasion of St. Maroun's Day, the patron saint of the Maronite community, because said invitations have always been the responsibility of the Maronite Diocese of Beirut." The statement added that the Presidency of the Republic has no knowledge, in advance, of the invitees' names since the occasion is religious and participation in it is usually open to the public.

Rahi: We pray that the youth uprising remains a torch in the conscience of officials
NNA/February 09/2020
Maronite Patriarch, Cardinal Beshara Boutros Rahi, presided over Saint Maroun Mass service at the Pontifical Maronite Institute in Rome, in the presence of the Lebanese Ambassador to the Vatican, Farid Al-Khazen, and several diplomatic figures. Rahi prayed for Lebanon so that this country would emerge from its serious political, social and economic crises, through the hands of those with good intentions. Finally, he expressed hope that the youth uprising will remain a torch in the conscience of officials.

3 Troops Killed, 3 Hurt in Raid to Arrest Hermel Fugitive
Agence France Presse/Naharnet/Web sites/February 09/2020
Three army troops were killed and three others wounded in a raid to arrest a fugitive in the Hermel area of Ras al-Assi on Sunday. The fugitive, identified as Kh.A.D., was also killed in the operation. TV networks added that there was a chase and that an army force was encircling the region. An army statement said the troops were pursuing a stolen vehicle when the gunfight erupted. The army patrol giving chase "was ambushed and came under fire," the statement said. It said one gunman was killed and the driver of the vehicle was arrested, without providing additional details. Prime Minister Hassan Diab condemned the ambush, saying an attack on the army is an attack on all Lebanese. "What is required at this moment is to speed up the arrest of the attackers," he said, without identifying those responsible, in a statement carried by state-run National News Agency.

Fahmi: Any attack against the Army is an attack against all the Lebanese
NNA/February 09/2020 
Interior and Municipalities Minister Mohamad Fahmi denounced via Twitter this evening the attack against the Lebanese Army, expressing his deepest condolences to the families of the hero martyrs. "Any attack against the Lebanese Army is an attack against Lebanon as a whole," underlined Fahmi, while stressing that "the entire military forces remain the safety valve of the nation."

Diab Says Attack on Army an Attack on Stability, All Lebanese
Naharnet/February 09/2020
Prime Minister Hassan Diab on Sunday condemned an ambush that resulted in the death of two army troops and the wounding of three others. "The ambush that the Lebanese Army patrol came under targets stability, which the Lebanese Army has played an essential role in protecting," Diab said. "The Lebanese Army remains the country's security valve and any attack on it is an attack on the Lebanese with all their categories and regions," the PM added. "That's why it is required at this moment to speed up the arrest of the attackers and instigators to deter anyone who dares target the state's prestige," Diab went on to say.

Kataeb Party Chief, MP Sami Gemayel, says his Party will be on the side of the uprising people
NNA/February 09/2020 
Kataeb Party Chief, MP Sami Gemayel, considered that attending Tuesday's confidence session would denote giving legislation to the previous government approach, thus declaring that his Party will be on the side of the uprising people. In a press conference held at the Kataeb Party headquarters in Saifi this afternoon, Gemayel deemed that the "separation between the state and the people is not new in the history of the world…Rather what is new in Lebanon is that its people have decided to revolt against this separation since the authority must be in the image of the people."
Gemayel reiterated that shortening the parliament's mandate has become the basic demand at this stage, noting that his Party has already submitted a law proposal to this effect. The MP affirmed that the Kataeb will remain besides the people, and will continue to support their uprising in rejecting the same failure approach that has been adopted throughout the past period.

Ministry Says Berri Daughter's Qatar Job 'Not a Deal with Bassil'
Naharnet/February 09/2020
The Foreign Ministry on Sunday denied an al-Akhbar newspaper report claiming that the appointment of Ambassador Farah Berri as acting charge d'affaires at Lebanon's embassy in Qatar was a "political deal between ex-minister Jebran Bassil and Speaker Nabih Berri at the expense of the treasury."Farah Berri is the parliament speaker's daughter. The Ministry clarified that the ambassador was tasked with her new mission after an embezzlement operation was unveiled at the Lebanese embassy in Qatar. "Lebanon's ambassador to Qatar was summoned pending the end of investigations and the identification of the culprits, and seeing as (Farah Berri) serves at the central administration, she was chosen to head the mission in Qatar pending the end of investigations and the carrying out of diplomatic appointments in the coming period," the Ministry said. "Her appointment does not put further burdens on the treasury but rather cuts costs seeing as her daily salary will be lower than the ambassador's monthly salary," the Ministry added. It also lamented that "it is regrettable to mislead the public opinion with claims about deals at the expense of public administrations instead of focusing on the process of combating the theft of public funds and what the Ministry did in this regard, from referring the file to the competent judicial authorities to putting those accused in this case on trial."

Hasan Says Woman Coming from China Quarantined 'at Her Request'
Naharnet/February 09/2020
Health Minister Hamad Hasan announced Sunday that a Lebanese young woman who arrived from China in recent days has been quarantined at the Rafik Hariri state-run hospital "at her own request."The woman had appeared in a viral video in which she criticized the ministry's precautionary measures at Beirut's airport and said the country lacks test kits that can verify whether or not a person is carrying the novel coronavirus (2019-nCoV). "Thermal detection systems only diagnose the clinical state and the Ministry's Prevention and Monitoring Department is following up on those who arrive from China at their homes where they are being quarantined. The testing and quarantine at the Rafik Hariri hospital are only available for confirmed cases exclusively!" Hasan tweeted. "According to the directions of the World Health Organization, persons arriving from China and showing no symptoms are to be quarantined at their homes or remote places for two weeks, while quarantine (at hospitals) is to be implemented for persons showing disease symptoms or coming from the city of the outbreak," the minister added. He clarified that the ministry had been communicating with the young woman since her arrival in Lebanon.
"It sent a medical team to her house and it turned out that she was not showing symptoms of being infected with the coronavirus, contrary to what is being rumored," the minister added.
"At her own request, she was quarantined at the Rafik Hariri hospital for the rest of the theoretical virus incubation period to assess her health situation," Hasan went on to say. MP Ibrahim Kanaan of Northern Metn meanwhile said that the ministry acted "at our request and at the request of the municipality and residents" despite "the absence of the coronavirus symptoms," thanking the minister and the medical team. On Wednesday, Hamad had announced that a male Lebanese student who arrived from China was being quarantined at the Rafik Hariri hospital despite being "in good health" and showing no symptoms of being infected. The minister had recently announced that the Rafik Hariri hospital has the ability to quarantine up to four people infected or suspected of being infected with the coronavirus. LBCI TV said the student had been evacuated from China aboard an Iranian plane that carried him to Damascus airport after which he was transferred in a Lebanese Red Cross ambulance to the hospital in Beirut. The new coronavirus that emerged in central China at the end of last year has killed more than 800 people and spread around the world. The latest figures from China show there are nearly 37,200 people infected in the country. Outside mainland China, there have been more than 350 infections reported in nearly 30 other places. There have also been two deaths, one in the Philippines and the other in Hong Kong.

Fire extinguished in former Virgin Mega Store building in Central Beirut
NNA/February 09/2020 
A fire broke out in the former Virgin Mega Store building in Martyrs' Square in downtown Beirut today, which Beirut's fire brigade and civil defense units immediately worked to put out, while the cause of the fire was not confirmed as some believed it was the result of electric contact, NNA correspondent reported.

Raad: Trust is gained gradually with every step that is achieved with integrity and transparency
NNA/February 09/2020 
"We directly give work to this government, but trust is gained gradually with every step that responds to a popular demand, and is achieved with complete integrity and transparency, which increases people's confidence in this government," said Loyalty to the Resistance Parliamentary Bloc Head, MP Mohamed Raad, on Sunday. "We hope that this trust will increase, as well as the confidence of the citizen in the state, and that the citizen finds a state that accords attention to his interests, and works to achieve them," added Raad. "We are ready to cooperate with this government to the fullest, as long as it wants to take serious rescue steps away from personal opportunism in accomplishing some necessary projects in this country," he underlined. Raad's words came during a memorial service held by Hezbollah in the southern town of al-Tairi this morning.
Abu Faour: We will give the government a chance, and we are not leading a campaign to bring down the covenant
NNA/February 09/2020
Member of the "Democratic Gathering" Parliamentary Bloc, MP Wael Abu Faour, said Sunday that the Bloc will accord the new government a chance, while denying that they are leading a campaign to bring down the current mandate. "We will attend the confidence session, discuss and state our opinion, and we will give the government a chance," he said. "We are proud of Manal Abdel Samad, but no one has consulted us regarding her name," clarified Abu Faour in an interview with "LBC" Channel earlier today. "We are ready to be positive towards the government on the economic level, and it must make the decision to succeed and its first step would be political integrity," he asserted. "There is a huge anger across the Lebanese public opinion regarding the credibility of all political structures, and people want a change in political performance, but accountability must be objective, not random and generalized," Abu Faour explained. "There is a need to restore the legitimacy of all constitutional institutions starting with the parliament on the basis of a new electoral law," the MP went on, adding, "If the prevailing logic in the country does not change, then the owner of this logic must change, but we are not leading a campaign to bring down the covenant." "The basic dossiers remain in the custody of the parties themselves, and the electricity plan remains the same," said Abu Faour. "If they return to deals and steamers in the electricity dossier, then where would the change be?" he questioned, adding, "This matter will cause great controversy in the cabinet, as well as in the parliament." "PM Diab should know that there is a distance of integrity that he must take from the presidency and from the approach that prevailed in the country, and this is the main test for both himself and the government," deemed Abu Faour.
Asked about the relationship with the "Future Movement", the MP affirmed that "the calamity did not unite us… for the calamity had already befallen the country and we live in a poisoned political logic that has destroyed the state…Our problem is with the notion of the strong Christian, the strong Shiite and the strong Sunnite; our problem is with this logic that has led us to the damned presidential settlement!" As for the relation with the House Speaker, he stressed that "the relationship with Speaker Nabih Berri is one of joint historical struggle, and a great common denominator between us is the Taif Agreement, though there is not necessarily a convergence in positions."Regarding the relationship with Hezbollah, Abu Faour said: "We agreed to organize our dispute, and this matter is satisfactory to both Hezbollah and the Progressive Socialist Party." On the relations with the Lebanese Forces, Abu Faour described them as "good and normal", noting that "the idea of returning to the March 14th coalition is not on our minds, neither on the minds of LF, Future nor the Kataeb." On PSP's outside relations, Abu Faour confirmed the continuation of contacts between the Party and the Kingdom of Saudi Arabia. He considered that "the solution lies in restoring Lebanon's Arab relations," declaring that "soon there will be a visit by Walid Jumblatt to Moscow, as the relationship between PSP and Russia is historical despite the difference in views on the Syrian dossier."
Will Hezbollah impose its foreign policy on Lebanon?
Rami Rayess/The Arab Weekly/February 09/2020
Normalising relations with Damascus now seems to be a top priority for Hezbollah.
Despite marginal support, Lebanon's new cabinet headed by Prime Minister Hassan Diab is expected to gain parliament's vote of confidence. Four major political parties initially refrained from supporting Diab's nomination and they are not expected to extend their confidence.
The Future Movement, Progressive Socialist Party, Lebanese Forces and the Kataeb Party have a total of 47 deputies, not enough to block the parliamentary vote of confidence. It is even worse in the cabinet given that it is made up entirely of ministers supported by Hezbollah, the Free Patriotic Movement and their allies. With the traditional balance of power in Lebanese politics upset in favour of Hezbollah and its allies, fears are mounting regarding Hezbollah's ability to impose its agenda on the country's foreign policy. Hezbollah Secretary-General Hassan Nasrallah has repeatedly expressed, with pride, his commitment to the Iranian agenda, including an emphasis on Hezbollah's role in the so-called regional "axis of resistance."
Hezbollah's power has grown tremendously in Lebanon in the past few years. It gained additional leverage on the local front from its 14-year alliance with Lebanese President Michel Aoun and through an uninterrupted flow of financial and military support from Tehran.
These two basic reasons partially explain Hezbollah's mushrooming power. Iranian support is instrumental not only to ensure Hezbollah's continued existence but also for sustaining its supporters amid Lebanon's growing economic and financial crisis. Nasrallah recently boasted that Hezbollah's supporters have been the least affected by Lebanon's economic crisis.
In terms of foreign policy, the new cabinet platform seems to adopt the same old version of previous cabinets. The tripartite formula of the state, people and the resistance uniting to confront external — particularly Israeli — threats has outlived several presidents and cabinets and still survives.
Aoun, formerly a staunch opponent of Hezbollah and the Syrian regime, flip-flopped to secure his election as president in 2016. Before parliamentary elections in May 2018, he publicly promised to call for a national discussion on Lebanon's national security strategy which is somehow supposed to incorporate Hezbollah's arms within the state's apparatus. He retreated from that pledge after the elections, saying such a discussion was no longer necessary.
During the period that Aoun's son-in-law, Gebran Bassil, served as foreign minister, there was almost total similitude between the so-called official state position and that of Hezbollah. With the new cabinet enjoying the full support of Hezbollah and its allies, this position is not expected to drastically change.
Another complicated issue in Lebanon's foreign policy is relations with the government of Syrian President Bashar Assad, given that its forces have regained control over nearly all the country thanks to the support of Moscow and the so-called "axis of resistance," which includes Hezbollah.
Normalising relations with Damascus now seems to be a top priority for Hezbollah after leaked information appears to show that Diab is in favour of such a step.
Arguments that this rapprochement is much needed in Lebanon's economic crisis are being employed by Hezbollah and its allies as an introduction of what is yet to come. Progressive Socialist Party leader Walid Jumblatt warned several times that he senses a Syrian comeback; one of its early indicators is the new cabinet and some of its symbols. Lebanon is at a crossroads, as it has always been, but the question remains: Will it be the battlefield one more time?
MP Chamel Roukoz to Asharq Al-Awsat: New Lebanese Govt. is Not Independent
Paula Astih/Asharq Al-Awsat/February 09/2020
MP Chamel Roukoz, formerly of the Lebanon Strong parliamentary bloc, has not yet decided whether he will take part in Tuesday's contentious parliament session aimed at discussing the new government's policy statement. The meeting will also witness a vote to grant Prime Minister Hassan Diab's cabinet confidence. Anti-government protesters are expected to mobilize and thwart the lawmakers from making it to parliament. Lebanon has been rocked by protests since October 17 demanding a complete overhaul of a political class which is seen as inept, corrupt and motivated by personal gain. Many protesters have rejected the new cabinet and accuse the ruling elite of ignoring demands which include an independent government and an end to corruption. "Diab's government is not independent, but its ministers have political interests," Roukoz remarked. The MP said that the protesters were clear in saying they opposed Tuesday's meeting, revealing that he enjoys contacts with the activists and communicates with them to take decisions. Late last year, Roukoz, who is President Michel Aoun's son-in-law, quit the Strong Lebanon bloc, headed by Aoun's other son-in-law and former Foreign Minister Gebran Bassil. He criticized the new policy statement, saying it does not tackle pressing demands, such as the excessive spending of treasury funds, tax evasion, customs issues and illegal border crossings, all of which are a major burden on the state's finances.
The government's work and productivity will be tested when it addresses the electricity and telecommunications files, Roukoz told Asharq Al-Awsat.
Unfortunately, the policy statement did not offer a new approach on these issues and others, he remarked. Addressing his relationship with Aoun, he described it as "normal and good", saying he does not oppose the presidential term, but the government. Governments, not individuals, should be held to account, he explained. On his relations with Bassil and his Free Patriotic Movement, he said nothing new has developed in the ties. He revealed that he does meet with his fellow MPs from the FPM, but at the end of the day "we each have our own views and opinions about issues."
Turning to the general situation in Lebanon, Roukoz described it as "tragic and difficult on all levels.""We are on the verge of collapse. The situation will become more difficult if we do not receive foreign aid. This does not mean we should give up, but we should work on tackling our problems ourselves to save the people and country," he stressed.
This can be done through living with the crisis and managing it properly, he suggested. "This can be achieved through regaining the people and the international community's trust."Lebanon is facing the worst economic crisis since its 1975-90 civil war, rooted in decades of state corruption and bad governance that have landed the country with one of the world's heaviest public debt burdens. Reflecting a hard currency shortage, commercial banks have gradually reduced the amount of dollars customers can withdraw since October. For most, the cap is now a few hundred dollars a week.
Roukoz said he was closely following the bank measures against depositors, saying most of them were "illegal and implemented randomly and selectively."He questioned the central bank and Association of Banks in Lebanon for seeking to adopt new measures that will impact the interests and deposits of the people. The only legal authority that can address this issue is parliament in its capacity as representative of the people, declared Roukoz. "Parliament is the right place to address the crisis through the urgent ratification of laws. The central bank, ministries and concerned agencies can then implement the parliament's decisions," he explained.
Natural cosmetics mark their presence in Lebanon
Perla Kantarjian/Annahar/February 09/2020
In the present climate, many of cosmetics enthusiasts are no longer only checking the price of a product before buying it, but also its ingredients.
BEIRUT: With the increased awareness about environmentally and health-friendly products, the global cosmetics industry is welcoming natural, organic, and cruelty-free alternatives, and Lebanon is joining in on that cosmetic venture.The avant-garde Lebanese mindset that holds personal grooming in high esteem has always kept the cosmetic industry of Lebanon stimulated, and according to a 2018 report by the Ministry of Economy and Trade, among the country's top exports list.
The active cosmetic industry of Lebanon encloses many of the country's most dynamic businesses, many of which are expanding their markets by including "green" and "clean" beauty products which are both healthy and eco-friendly.
"The modern consumer is becoming more discerning, knowledgeable, and demanding in his/her pursuit for healthier living," Lynn Khoury Sabra from Lynn's Apothecary told Annahar.
She added that the increasing interest in natural beauty is a continuation of "this true shift in lifestyle," and that consumer access to knowledge will make it harder for mainstream brands to use green-washing as a selling point without truly reforming their products composition.
In the present climate, many of cosmetics enthusiasts are no longer only checking the price of a product before buying it, but also its ingredients.
Khoury Sabra explained that in genuinely clean and natural makeup, the brands use certified organic ingredients that are often food grade, such as coconut oil, cocoa butter, buriti oil, shea butter, jojoba seed oil, rosehip oil, and Vitamin E.
On the other hand, conventional makeup contains a combination of numerous ingredients, including emulsifiers, thickeners, and artificial ingredients like paraben. "Natural makeup, alternatively, gravitate towards organic ingredients that protect and nourish the skin," makeup artist Anna Mekhitarian told Annahar, adding that even though the effect is not as long-lasting as that of traditional beauty products, "you can always retouch and reapply." Mekhitarian believes that if awareness is raised about the health risks and dangers that come with conventional makeup, every cosmetic enthusiast will go "all natural."
"Paraben, for instance, prolongs a product's shelf life," she said, "but it is known to disrupt hormone function."
A large percentage of natural and organic makeup brands are also promoting the principle of anti-cruelty by not testing their products on animals, a phenomenon that leads to the worldwide death of animals in millions.
Jean Claude Tarchichi, operations manager at Lush Lebanon, told Annahar that the international handmade cosmetics company has been against animal testing since they were first established in 1995.
"Cosmetics do not require animal testing," Tarchichi said, explaining that if ingredients aren't safe to use on humans, searching for alternatives makes much more sense than to "keep testing on animals till they are."
According to Tarchichi, "our skin is used to what exists in nature and reacts well to it," as opposed to its reaction to products loaded with inorganic and unnatural ingredients which "may last indefinitely, but surely tire the skin."
A local cosmetics brand that also follows the cruelty-free principle is Koa, a newly founded natural nail polish brand.
As its founder Eddy Karam told Annahar, healthy nail polish prevents skin irritations and allergic reactions to dangerous ingredients of regular nail polish like formaldehyde, parabens, gluten, and acetone.
"Most nontoxic nail polishes are 3-free, meaning they do not contain formaldehyde, toluene, and dibutyl phthalate. However, natural polishes can go as far as being 7-free, 10-free, and even 14-free," he explained, adding that using "toxic ingredients" doesn't mean a better product or better results.
"Natural products are used with superior ingredients, and we can definitely get the best outcome using healthy elements," he added. "All what people need is more awareness to go more natural, more organic, and use high-quality products whose constituents won't irritate their skin."
Natural cosmetics are also penetrating the online business market. Nissrine Baaklini, owner of Slow Beauty Middle East, an online shop for natural, organic, vegan, cruelty-free and eco-friendly skincare and beauty products, launched her business in 2018 after noticing the need to develop this market locally.
"Back then, I was pregnant and wanted to use the safest cosmetics available, and had to use natural products all the way from France," Baaklini said.
She explained that the shift to natural cosmetics occurs when we are "aware that all the toxins and chemicals used in regular cosmetics enter our bodies."
Similarly, Karen Feghali made the shift to natural living when she quit the world of corporate advertising after noticing that she was "promoting unethical brands."
She founded thegoodgoodshop.com, a local online shop that promotes ethical and healthy products that also include skincare and beauty brands.
According to a Grand View Research, Inc. report, the global natural cosmetics market size is expected to reach a value of USD 48.04 billion by 2025, at a Compound Annual Growth Rate of 5.01% from 2019 to 2025.