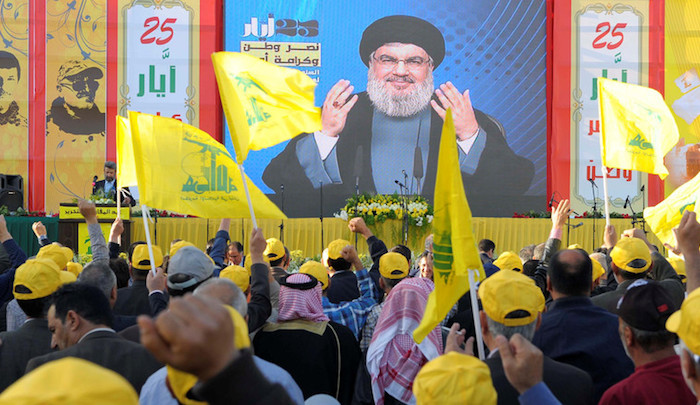 Hezbollah Reign Of Terror From Beirut & Beyond
Charles Bybelezer/The Media Line/Jerusalum Post/January 21/18
Foreign governments continue to pursue inconsistent policies towards Lebanese leaders, thanks to Hezbollah's participation in the country's government.
The trial of two Hezbollah operatives accused of blowing up an Israeli tour bus in 2012, killing five Israelis and the Bulgarian driver, kicked off this week in Sofia. The suspects, Meliad Farah and Hassan El Hajj Hassan, are being tried in absentia after fleeing to Lebanon, which refuses to extradite them despite Interpol warrants for their arrest.
This comes against the backdrop of US Attorney General Jeff Sessions' announcement last week of the formation of a new task force to combat Hezbollah's vast drug trafficking and money laundering empire, worth an estimated $1 billion annually. That decision followed a Politico report claiming that the Obama administration interfered with a Drug Enforcement Agency initiative—code-named Project Cassandra—to crack down on the Iranian-sponsored Shi'ite organization's illicit activities for fear of jeopardizing the nuclear deal with Iran.
Concurrently, the British House of Commons is slated on January 25 to discuss fully blacklisting Hezbollah, whose so-called "political arm" has until now been allowed to fundraise and recruit in major European capitals in a successful attempt to bifurcate the terrorist organization into legitimate civic and martial elements. While Israel, the US and, most recently, the Arab League have listed Hezbollah, in its entirety, as a terror group, the European Union, like the UK, banned only the organization's "military wing" in the wake of the Burgas attack.
"While European governments have outlawed Hezbollah's armed body, this has no distinction because, as Hezbollah itself says, it is a monolithic organization," Benjamin Weinthal, a Fellow at the Washington-based Foundation For Defense of Democracies, explained to The Media Line. "In this respect, the Europeans have engaged in a sort of savvy appeasement of Hezbollah because they are afraid of it."
Hezbollah was created by the Iranian regime in the early 1980s, foremost to counter Israel's presence at the time in southern Lebanon. However, its hatred for the West quickly manifested in the 1983 attack on American military barracks in Beirut which killed 241 US Marines and 58 French peacekeepers. In the ensuing decades,Hezbollah has effectively taken control of the Lebanese government while developing into one of the Middle East's most powerful military forces, currently engaged in the wars in Syria, Iraq and Yemen
According to Professor Efraim Inbar, President of the Jerusalem Institute for Strategic Studies, "Hezbollah uses Arab communities abroad to make inroads not only in the Middle East, but also in Europe, South America and even Asia. They are there to establish cells that will eventually attack Jewish and Israeli targets," he told The Media Line, while noting that "Hezbollah's Islamic ideological underpinnings also motivate its expansion." Inbar further explained that while Hezbollah's overarching policies are coordinated by Iran, its local branches maintain freedom of action.
"Unit 133, for example, primarily focuses on the West Bank where it recruits local Palestinians, transfers them funds and then provides online training [on how to conduct attacks]," Yaakov Lappin, an Associate Researcher at Israel's Begin-Sadat Center for Strategic Studies, told The Media Line. "It also has links to Sinai and Jordan and, [more broadly], has cells across the Middle East which promote terrorism against Israeli targets. The unit is a major concern of the Israeli intelligence community," he expounded, "and also is reportedly involved in drug trafficking, [which is] a source of financing."
In Germany, there are an estimated 1,000 Hezbollah members currently operating, with reports suggesting that additional combatants have been infiltrating the country by posing as Mideast refugees. This is part and parcel of Iran's attempt to further penetrate the continent, with German police this week having conducted wide-scale raids targeting members of the Revolutionary Guard Corps' elite Quds [Jerusalem] Force, who were reportedly conducting surveillance on Israeli and Jewish targets.
Weinthal traces these developments to 1992, when Iranian and Hezbollah agents killed four Kurdish dissidents in a Berlin restaurant. While German authorities accused the highest levels of the Iranian government of complicity in the attack, the two countries reportedly reached a quid pro quo deal in which Tehran and Hezbollah would cease perpetrating violent attacks on German soil in exchange for being permitted to freely operate in the country.
Another contributing factor, Weinthal noted, is that "Europeans are so invested in the Iran nuclear deal that they do not want to act against its wholly owned subsidiary, Hezbollah. This is similar to why the Obama administration turned a blind eye to Hezbollah's illicit activities."
To this end, terror group is actively engaged in drug trafficking throughout the Americas, from the Tri-Border Area where Brazil, Argentina and Paraguay converge, to Mexico, where it cooperates with local drug cartels. Using these funds along with those generated from sophisticated money laundering schemes, Hezbollah and, as a corollary, its patron Tehran, have been able to buy political influence throughout the region.
This was made evident by the previous Argentine government's attempted cover-up of the 1994 bombing of the Jewish AMIA community center in Buenos Aires, which followed the bombing of the Israeli Embassy two years earlier. An investigation into the attacks, which together killed over 100 people, was stymied for decades until, in 2015, federal prosecutor Alberto Nisman was slated to testify before a congressional panel that then-president Cristina Fernandez de Kirchner had concealed facts about Iran's and Hezbollah's involvement. Hours before Nisman was set to reveal his findings—including that in exchange for Kirchner's compliance, the Islamic Republic would supply her government with a steady stream of cheap oil—he was found shot to death in his apartment in what was first ruled a suicide but eventually reclassified as a murder.
The apparent assassination garnered global headlines and "caused a growing awareness in the West of Hezbollah's negative actions," Inbar stated, before qualifying to The Media Line that "there remains a big gap between existing legal frameworks, which place an emphasis on upholding human rights, and the [steps required] to crack down on terrorist groups."
For his part, US President Donald Trump appears committed to bridging this gap by pressing Congress to pass stronger sanctions on Hezbollah. The American administration also directed the Treasury Department to place multi-million-dollar bounties on senior Hezbollah leaders, in a bid to hamper its illegal infrastructure.
However, many analysts point to an apparent contradiction in Washington's strategy, which includes firm backing for the Lebanese government and more than one hundred million dollars in annual military aid. This, despite Hezbollah's domination over Beirut and that sophisticated American weaponry provided to the Lebanese Armed Forces has found its way into the terror group's hands. It is a reality encapsulated by Lebanese President Michel Aoun's recent assertion about his ally: namely, that "Hezbollah represents the people…[and is] an essential part of Lebanon's defense."
Nasrallah Warns Israel Against Continued Construction Of Border Wall
Jerusalem Post/January 21/18
Hezbollah Secretary General Hassan Nasrallah has warned Israel against continued construction of a wall along its border with Lebanon, after Beirut said the project was undermining peace.
"After liberating the Lebanese occupied territories from the Zionist enemy in 2000, the UN demarcation of the national border with the Palestinian territories left 13 controversial positions, and the Lebanese government informed the UNIFIL about its rejection for any Israeli measure in this concern," Nasrallah was quoted by Hezbollah website al-Manar as saying.
"The Islamic Resistance backs the Lebanese government and army, and the Zionists must take Lebanon's warning seriously," he continued. On Friday, Lebanese President Michel Aoun met in Beirut with UNIFIL Head of Mission and Force Commander Maj.-Gen. Michael Beary and stressed that a border fence within the demarcated Blue Line "isn't compatible with the efforts that [UNIFIL] is exerting in cooperation with the Lebanese Army to preserve security and stability along the southern border."
Israel and Hezbollah fought a deadly 33-day war in 2006 that ended under UN Security Council Resolution 1701, which called for the disarmament of Hezbollah, withdrawal of the Israeli Army from Lebanon, deployment of the Lebanese Army and an enlarged UN force in the south.
According to Aoun, "Lebanon doesn't consider the Blue Line to be the final border. It is a temporary measure that was used following [Lebanon's] liberation in 2000 and Israel's withdrawal.""The army has deployed an additional troop to maintain stability and help implement resolution 1701, at the time that Israel persists its incessant violations against the country's sovereignty," he added.
Beary also met with Lebanese Prime Minister Saad Hariri and Speaker of Parliament Nabih Berri and told Berri that Israel had stopped construction on the border wall pending tripartite meetings scheduled for February, the London-based Asharq Al-Awsat reported.
Tripartite meetings have been held regularly under the auspices of UNIFIL since the end of the 2006 war as an essential conflict-management mechanism between the two parties. The IDF on Sunday denied it had stopped construction on the fence, telling The Jerusalem Post that work was continuing as normal.
The border area with Lebanon has seen nine infiltrations since 2009, and has been flagged by the IDF as being vulnerable to enemy infiltrations. It is feared that during the next war with Hezbollah, the terrorist group could try to infiltrate Israeli communities in the area in order to inflict significant civilian and military casualties.
Significant efforts over the past several years have gone into creating obstacles, such as artificial cliffs and high concrete barriers, to help prevent any such ground attacks by Hezbollah.
The border fence with Lebanon was originally built in the 1980s and has been upgraded several times. Last year, a 29-km. stretch was upgraded with reinforced concrete panels, concrete blocks and fortified watchtowers. Despite those improvements, the barrier is said to be in poor condition. In May, Israel began upgrading two sections of the fence: between Rosh Hanikra on the northern Mediterranean coast and the kibbutz of Misgav Am near Kiryat Shmona, and from Rosh Hanikra to Hanita, northeast of Nahariya.
The steel and barbed wire fence will be similar to the "smart fence" along Israel's border with Egypt and along some 30 km. of its border with Jordan. The barrier will be six meters tall, several kilometers in length and have information collection centers and warning systems at an estimated cost of NIS 120 million