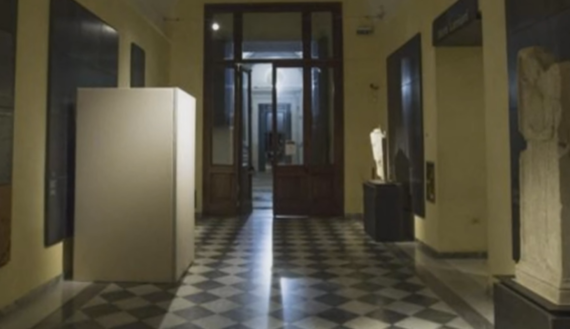 Rome's nude cover-up remains mystery


Arash Karami/Al-Monitor/January 28/16
The recent meeting between Iranian President Hassan Rouhani and Pope Francis at the Vatican was a historic moment. It was the first time an Iranian president, a Muslim and Shiite cleric, had met with the leader of the world's 1.2 billion Catholics in 16 years. However, the meeting was overshadowed online and by journalists more concerned with a set of nude statues covered with boxes during Rouhani's meeting with Italian Prime Minister Matteo Renzi at the Capitoline Museums in Rome.According to Italy's ANSA news agency, "The move was apparently made as a gesture for Iranian culture." The news agency reported also that wine was not served at the ceremonies.
Italian Culture Minister Dario Franceschini denied that he or Renzi made the decision to cover the statues.
At a press conference Jan. 27 before leaving for France, Rouhani also denied being involved in the decision to cover the statues.
"This is a media issue and journalists want to write about this," Rouhani said. "I have nothing specific to say about this, and I did not have talks about this with anyone. But I know this: The people of Italy are very hospitable and want their guests to enjoy themselves."
Regardless of who made the decision, Italy, which was one of Iran's largest trading partners before the nuclear sanctions that crippled Iran's economy, has been eager to resume economic ties with Iran. The two countries signed deals reportedly worth $18 billion.
When asked by Iranian reporters how he views future ties with Europe, Rouhani said, "Not only will the relationship return to what it used to be, it will be better."
At the press conference, Rouhani was also asked about tensions with regional rival Saudi Arabia. He said Iran and Saudi Arabia have had issues in the past but the recent execution of Shiite cleric Nimr al-Nimr was "very unfortunate and condemnable." About the attack on the Saudi Embassy in Tehran that resulted in Saudi Arabia cutting diplomatic ties with Tehran, Rouhani said, "This act is to be condemned, and I was the first person to condemn this, [just] hours after it happened."
Since the early January attack on the embassy, there have been 100 arrests, including a cleric linked to Ansar-e Hezbollah. Rouhani said that in identifying and arresting the individuals behind the attack, Iran has fulfilled its obligations. "Our work is done," he said. "We are not after conflict with Saudi Arabia and every new difference makes our work more difficult."
Rouhani said Saudi Arabia's current anger has more to do with its regional failures in Syria, Iraq and Lebanon and a 10-month bombing campaign in Yemen that has not been successful.
When told by a reporter that a Saudi official is seeking Iran's apology, Rouhani asked if Iran should have apologized "when they beheaded Sheikh Nimr."
"When they help terrorists in the region, should we apologize? When they killed thousands of pilgrims with mismanagement on the hajj, should we have apologized?"
Without mentioning names, Rouhani said there are countries in the region that are attempting to mediate between Iran and Saudi Arabia.