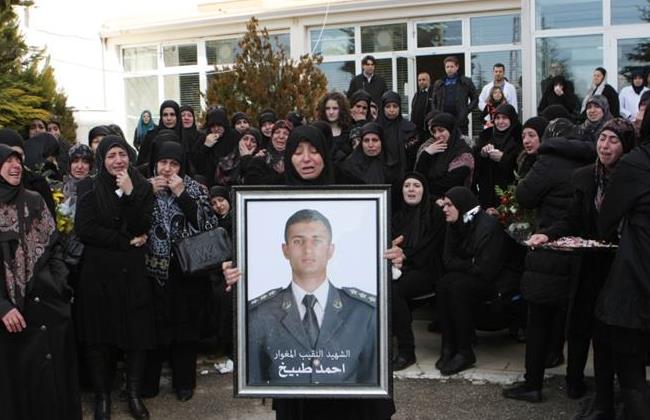 Lebanon buries soldiers killed in jihadi border battle


Nidal al-Solh/Mohammed Zaatari/The Daily Star/Jan. 24, 2015
BAALBEK/MAJDEL SELEM/BEIRUT, Lebanon: Hundreds of relatives, friends and sympathizers of five of the eight Lebanese soldiers killed in Friday's battle with ISIS militants on the border with Syria mourned their deaths in funerals across the country Saturday.
The body of 1st Lt. Ahmad Mahmoud Tabikh, 28, was carried out of Dar al-Amal University Hospital in the eastern Bekaa Valley town of Baalbek, where fellow soldiers waited to begin the ceremony to honor their fallen comrade.
Some soldiers played snare drums as others carried the Lebanese-draped coffin to a vehicle that departed to the soldier's nearby hometown of Douris.
The soldier's mother, dressed in black from head to toe, wept over a man carrying a large portrait of her son, who was killed in a jihadi attack on an Army outpost on the outskirts of Ras Baalbek Friday.
The attack sparked 16 hours of fighting between the military and ISIS. Seven other soldiers and more than 40 militants were killed in the battle.
In addition to Tabikh, the Army announced the deaths of Sgt. Mohammad Niazi Nasreddine, 32, soldier Bilal Khodor Ahmad, 29, soldier Mohammad Ali Alaaeddine, 20, and soldier Hasan Ramadan Deeb, 23, in a statement Friday night.
Nasreddine's body was carried in an Army parade from the Batoul Hospital in Hermel before being moved to his hometown of al-Mansoura, also in east Lebanon.
Alaaeddine and Deeb were honored in a ceremony outside the Military Hospital in Badaro, Beirut. Each of the soldiers' bodies was then moved to their hometowns of the southern village of Majdel Selem and northern town of Takrit, respectively, for burying ceremonies.
A similar but separate ceremony was also held for Ahmad in Badaro before his body was moved to his hometown village of Shan in the northern Akkar district.
Unable to understand that her brother was gone, the 5-month-old Fatima, Alaaeddine's sister, held a picture of her brother with an innocent smile as she was carried by her sister among the crowd of mourners in the southern village.
"My nephew fell a martyr to defend Lebanon with all its sects, and to defend the Lebanese Army," Alaaeddine's aunt said while kissing the Lebanese flag that wrapped his coffin.
"I sacrifice my son to this country, and I feel proud that the martyrs of yesterday were from all of Lebanon's sects," the soldier's father said.
"O, takfiris and terrorists, as long as we have women to bare and give birth to children, we will always fight you," he said.
Alaaeddine's mother stood shocked and devastated next to the coffin, as friends of the 20-year-old fired their guns in the air.
In the northern village of Takrit, the puffy-eyed sister of Deeb remained defiant vowed to exact revenge.
"We hope the terrorists get crushed under the feet of the Lebanese Army," she told television reporters while waiting for her brother's body to arrive from Beirut to the Akkar village.
The Army also revealed the names of the three soldiers whose bodies were found Saturday morning in the battlefield.
They were identified as Ahmad Dana, 27, Hasan Wehbe, 24, and Mujtaba Amhaz, 22.
8 soldiers dead, 22 wounded as Lebanon border battle ends


The Daily Star/Jan. 24, 2015
BEIRUT: The Army discovered three more bodies Saturday of soldiers killed during intense fighting with jihadi militants the day before, bringing its death toll to eight, a security source said.
Another 22 soldiers were wounded in the day-long clashes with ISIS militants. More than 40 militants were also discovered in the rugged outskirts of Ras Baalbek, most of whom were killed in Army airstrikes on a vehicle convoy. The Army fought for more than 16 hours Friday, using heavy artillery and helicopter gunships to ward off a surprise attack by militants who briefly overran the Tallet al-Hamra military post in an early-morning ambush. The military announced later in the day that it had taken control of the area as it pounded militant gatherings and roads they were using to retreat further into the outskirts.
In a late-Friday statement, the Army announced the deaths of five soldiers. Three more were discovered overnight after the clashes ended. The Army confirmed the death of the soldiers discovered Saturday in an afternoon statement. The Army was continuing to comb the area Saturday.
Friday's clashes were the Army's deadliest since a four-day battle with militants in Tripoli and other parts of the north in October, which killed 11 soldiers, eight civilians and 23 gunmen. The Army also clashed with militants near the site of Friday's attack early last month after militants ambushed a military convoy, killing six soldiers and wounding one.
– See more at: http://www.dailystar.com.lb/News/Lebanon-News/2015/Jan-24/285195-lebanon-army-finds-3-more-bodies-of-soldiers-as-guns-fall-silent.ashx#sthash.BtHpjQcK.dpuf