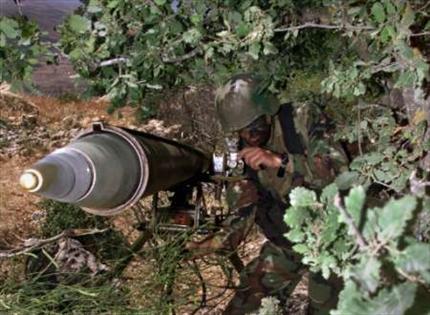 VIDEO: Hezbollah operating near Syrian Golan


Roi Kais/Ynetnews/Published:01.24.15/Israel News
Lebanese media outlets release rare video showing Hezbollah, Syrian army cooperate to ambush Jabhat al-Nusra fighters.
Less than a week after a strike attributed to Israel killed senior Hezbollah officers, a Lebanese television channel published on Saturday an unusual video allegedly showing cooperation between the Syrian military and the Lebanese terror group.
The combined forces are seen setting an ambush for Jabhat al-Nusra, al-Qaeda's affiliate in Syria. According to media reports, some 30 rebel fighters were killed and dozens wounded in the incident.
According to the Al Jadeed report, the ambush was set on Friday afternoon. The video was also released on Al-Manar, Hezbollah's official channel. The Lebanese channels claimed the ambush occurred on the road between Damascus and Sweida in southwestern Syria.
Al-Manar initially quoted Al Jadeed, but eventually featured the same pictures and claimed the ambush was initiated by the Syrian military – not mentioning Hezbollah's involvement or the word "Golan" as mentioned by the unaffiliated Lebanese channel.
The footage was exceptional as Hezbollah has made significant efforts that its activities in southern Syria were not reported and documented by Lebanese media outlets, likely as it has attempted to play down its involvement in the hotspots on the southern front, near Israel.
In line with that policy, Hezbollah chief Hassan Nasrallah said – a mere three days before the strike in Quneitra –his activists do not operate directly in the Golan Heights. Now, however, after the assassination of the Hezbollah officers near the border, the policy of denial will likely change.
Last Sunday an aerial vehicle fired two missiles which hit vehicles driving near the Israeli border on the Syrian Golan. Six Hezbollah members were killed in the strike, including Jihad Mughniyeh, as well as an Iranian general.
Arab media outlets attributed the strike to the Israeli Air Force, but no official response has been issued by Jerusalem.