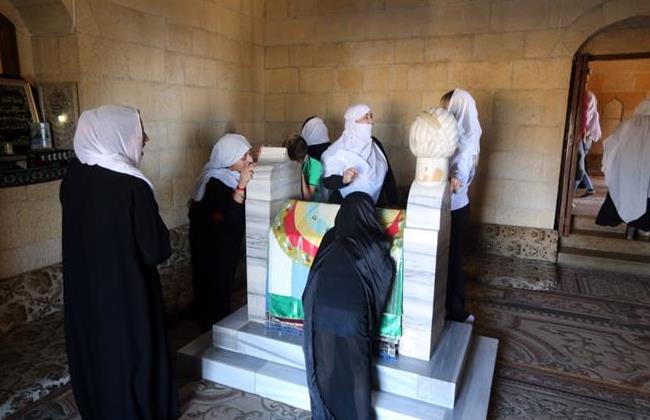 Lebanon's Druze community fearful as Syria's war moves closer


Nov. 09, 2014
Laila Bassam/Sylvia Westall/Reuters/Daily Star
 RASHAYA, Lebanon: On mountains close to the Syrian border, members of Lebanon's minority Druze sect say they are ready to defend their towns and villages with arms if the civil war next raging door gets much nearer.
"Here in the east, the danger has become very close to us, it is right in our faces and in our lives," said Ali Fayik, a regional official speaking in the predominantly Druze town of Rashaya, set in steep mountains with a panorama over the region.
The town is in a sensitive area close to the Israeli-occupied Golan Heights and home to various religious communities which fought one another in Lebanon's own 1975-90 civil war.
On the other side of the mountain range, Sunni Islamist fighters linked to al Qaeda and hostile to groups including the Druze, are battling Syria's army as well as other insurgents.
Fresh battles over the border late last week killed at least 31 members of pro-government forces and around 14 insurgents, the Syrian Observatory for Human Rights monitoring group said on Saturday.
The Lebanese army, its resources stretched, has struggled to secure the border with Syria, in some places giving rise to security patrols by local volunteers.
 Militants from Syria crossed into the Lebanese Sunni border town of Arsal in August further north, killing and capturing dozens of soldiers and demanding the release of their fellow fighters held in Lebanon. Since then the army has said it has captured people it suspects of wanting to carry out more attacks
Also in August, Druze villagers opened fire on a bus carrying Syrians after it failed to stop at an army checkpoint at Ein Atta outside Rashaya, according to local officials, who said one Syrian was killed and two were wounded.
The villagers thought the bus was transporting Sunni Islamist militants but they turned out to be Syrian refugees.
War weariness in Lebanon makes a return to all-out civil conflict a remote prospect, but the onset of winter is heightening fears of more clashes if insurgents seek to create supply routes across the frontier ahead of winter snowfall.
With most Druze and Christian parts of Lebanon spared violence from Syria's three-and-a-half-year conflict that has hit other areas, Druze leaders on a national level have urged communities to avoid acting independently from the army.
"The Ein Atta incident was unfortunate, and it means there needs to be more involvement by the army," in safeguarding security, said cleric Jamal Eddine in Rashaya, dressed in the distinctive black shirt, trousers and white cap of the Druze community.
A member of the local Druze religious council, he said events in Syria and the wider Middle East had made local people worry about their future and said it would be natural for the community to protect itself.
People in Rashaya said they still saw the army as the first line of defence but they were ready to back it up if there was an incursion. The army draws its members from all of Lebanon's communities.
The Druze, whose faith draws its roots from Islam but is influenced by ancient Greek and Indian philosophy, are spread across the region. They have survived waves of persecution throughout history.
Although one of Lebanon's smaller sects, they formed a powerful fighting force in the country's own civil war where they also suffered heavy losses. The group remains influential in national politics.
Like other minority groups, their kinsmen in Syria largely support President Bashar al-Assad, seeing him as a bulwark against extremists. Syrian Druze have occasionally clashed with insurgents in areas close to the border with Lebanon.
Their involvment has been nowhere near the scale of Lebanese Shi'ite group Hezbollah, which has sent thousands of fighters to back up government forces in Syria. Hezbollah has also fought with al Qaeda's Nusra Front on Lebanese soil when the group attacked its bases in a large assault early last month.
GUNS IN EVERY HOME
Some suspected Syrian fighters have also appeared in the Rashaya area, according to the Lebanese army.
In a statement late last month, it said intelligence and security services had arrested 12 Syrians on suspicion of belonging to groups fighting the army further north in Arsal. It said they had entered Lebanon illegally, without giving details.
Some in Rashaya worry that the nearby town of Shebaa, which sits on a well-trodden smuggling route near Israel, could become a refuge for Nusra Front, like other Sunni towns in northern Lebanon that are hosting refugees that have fled the violence.
Keen to prevent strife, Druze leader Walid Jumblatt, the head of the Progressive Socialist Party (PSP), has urged the community to leave security to the state. In a visit to Ein Atta after the bus shooting, he condemned any attack on Syrian refugees, local media said.
Despite support among the Druze for Assad, Jumblatt has said the Syrian president should step down. However, he has drawn closer to Assad's ally Hezbollah in recent months.
 To bulk up security, the PSP has proposed strengthening municipal police to monitor villages to report any suspicious activity to the army, said party spokesman Rami al-Rayess.
"We are against any security measures that would be taken independently from the state apparatus," he said.
But preventing an armed response may prove difficult in areas where residents say there is a gun in nearly every home, like in many other parts of Lebanon.
"We do not commit aggression against one who would assault us, but we will stand up to him – the response is in the mouth of the gun," said registrar Riaf Ferhat, speaking in Rashaya's old market where vendors displayed goods in wood-fronted shops.
"We have dug a big trap here and we shall bury anyone who attacks us," he said, speaking about defences metaphorically.
Fayik, the other local official, agreed. He said it was a natural response now the fight had been brought to their door.
"We will not leave from here and when somebody threatens me…and I mean my life is threatened, it would make no sense for me to avoid using all means to hold ground and preserve the nation," he said.
Officials in Rashaya are quick to point out that the Druze have no organised militia like other Lebanese communities and say they have discouraged such movements.
Though the PSP says it has no militia, as recently as 2008 its supporters displayed significant firepower during fierce battles with Iranian-backed Hezbollah.
"Of course, it is a natural phenomenon in Lebanon that people have private arms, but we do not have a dedicated, organised force," said Asaad Serhal, a Druze council cleric.
"There are arms found in each house to defend ourselves and our dignity, but they are not visible in the streets."
He was less worried about the risk of a spillover than other local people, saying militants would struggle to make their way over the border in large numbers because of the rugged landscape, which has so far acted as a natural barrier.
Rashaya lies just below a mountain known by locals as Jebel al-Sheikh and also referred to as Mount Hermon. Some residents said militants could make their way over the mountain passes if they have 4X4 cars and seize higher ground.
"There is concern and fear," PSP's Rayess said. "But it is not restricted to the citizens in this area, but in all the villages in Lebanon."