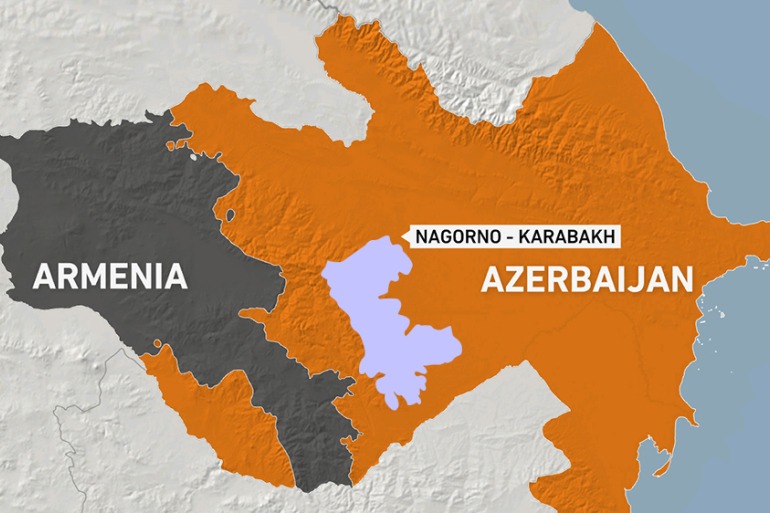 Western countries are watching with a dead conscious a new massacre committed against the Armenian people in Nagorno-Karabakh




Elias Bejjani/September 30, 2023
What a disgrace, and hypocrisy is unfolding.
The Western countries that laud civilization, Freedom, human right, democracy and take pride in raising the banners of the international covenant of human rights, have lost everything that is humanity, conscience, self respect, credibility and morals.
These countries, due to their secularism, selfishness, atheism, ingratitude, and regression to the original sinful human nature, have become completely estranged from all their values, history, national and humanitarian obligations and commitments.
Yes, unfortunately, all these countries, cloaked satanic competition, corrupt and secularism, have sunk up to their ears in everything that sadistic and commercial priorities. They have abandoned their previous conception and assessment of everything that is human, faith-filled and of eternal values.
These countries, led by Russia are stupidly, dead in their conscience, faith, and hope, are watching a new massacre of a horrific ethnic cleansing committed by Azerbaijan and its ally, Turkey, against the Armenian people in Nagorno-Karabakh
The Armenian people in Nagorno-Karabakh are killed, abused, tortured, displaced from the land of their ancestors, uprooted from their history roots by force, and ethnically cleansed.
Meanwhile Russia in particular, and the countries of the West in general, without a single exception, are not lifting a finger, but rather blessing the massacre, allying themselves with its perpetrators, and cheering for them.
What a shame, these satanic secular regimes are worshiping earthly riches, abandoning all values, principles, human rights and the Armenians' destiny of freedom.
What is sad and painful at the same time, is that the Armenian people, whom the Turkish Ottoman Empire exposed to the most horrific crime in history between the years 1914-1915, have once again been left prey to the predatory human monsters represented by Azerbaijan's dictator Ilham Aliyevnt, and his Islamic fundamentalist Turkish ally, President Erdogan, who are both drowning in the mire of hatred, fanaticism, historical hatred and deeply rooted sickening grudges.
What is totally condemned is this ungrateful West has allowed the Azerbaijan's corrupt, blustering dictator Ilham Aliyev, and his ally, the traitorous and hateful Turkish, President Erdogan, to repeat the brutal massacres committed by their Ottoman ancestors against the Armenian people.
In conclusion, the West has blessed Aliyev's – Erdogan's brutality, and their thirst to shed Armenian blood, despite the fact that Turkey is a member of the NATO alliance, that is supposed to protect peace, freedoms and democracy.
It remains that the West's satanic and inhumane shameful silence in regards to the massacres perpetrated against the Armenians in Nagorno-Karabakh is fully denounced and condemned
Background
The Armenian Genocide, Armenian Massacres, or Armenian Holocaust (Armenian: Հայոց Ցեղասպանութիւն) (Turkish: Ermeni Soykırımı) was the systematic mass killing and expulsion of Armenians that took place in the territories of the Ottoman Empire by the government of the Society of Union and Progress during World War I. Although separate massacres have been committed against Armenians since the middle of the year 1914 AD, it is agreed that the date of the beginning of the genocide is April 24, 1915 AD, which is the day on which the Ottoman authorities gathered hundreds of Armenian intellectuals and notables, arrested them, and deported them from Constantinople (Istanbul today) to the province of Ankara, where they were killed. Most of them died.
 History repeats Itself
The Armenian Genocide, Armenian Massacres, or Armenian Holocaust (Armenian: Հայոց Ցեղասպանութիւն) (Turkish: Ermeni Soykırımı) was the systematic mass killing and expulsion of Armenians that took place in the territories of the Ottoman Empire by the government of the Society of Union and Progress during World War I. Although separate massacres have been committed against Armenians since the middle of the year 1914 AD, it is agreed that the date of the beginning of the genocide is April 24, 1915 AD, which is the day on which the Ottoman authorities gathered hundreds of Armenian intellectuals and notables, arrested them, and deported them from Constantinople (Istanbul today) to the province of Ankara, where they were killed. Most of them died.
*Elias Bejjani
Canadian-Lebanese Human Rights activist, journalist and political commentator
Email phoenicia@hotmail.com & media.lccc@gmail.com
Web sites http://www.eliasbejjaninews.com & http://www.10452lccc.com & http://www.clhrf.com
Twitter https://twitter.com/phoeniciaelias
Face Book https://www.facebook.com/groups/128479277182033
Face Book https://www.facebook.com/elias.y.bejjani
Instagram https://www.instagram.com/eliasyoussefbejjani/
Linkedin https://www.linkedin.com/in/elias-bejjani-7b737713b/
Youtube: https://www.youtube.com/channel/UCAOOSioLh1GE3C1hp63Camw
Telegram https://t.me/EliasBejjaniMediaChannel
Threads link. https://www.threads.net/@eliasyoussefbejjani
Background




The fall of 'Artsakh' stuns Armenians in Lebanon and around the world




Naharnet//September 30, 2023


The swift fall of the Armenian-majority enclave of Nagorno-Karabakh to Azerbaijani troops and exodus of much of its population has stunned the large Armenian diaspora around the world. Traumatized by genocide a century ago, they now fear the erasure of what they consider a central and beloved part of their historic homeland.
The separatist ethnic Armenian government in Nagorno-Karabakh on Thursday announced that it was dissolving and that the unrecognized republic will cease to exist by year's end – a seeming death knell for its 30-year de-facto independence.
Azerbaijan, which routed the region's Armenian forces in a lightning offensive last week, has pledged to respect the rights of the territory's Armenian community. But by Thursday morning, 74,400 people – over 60% of Nagorno-Karabakh's population — had fled to Armenia, and the influx continues, according to Armenian officials.
Many in Armenia and the diaspora fear a centuries-long community in the territory they call Artsakh will disappear in what they call a new wave of ethnic cleansing. They accuse European countries, Russia and the United States – and the government of Armenia itself – of failing to protect ethnic Armenians during months of blockade of the territory by Azerbaijan's military and in the lightning blitz earlier this month that defeated separatist forces.
Armenians say the loss is a historic blow. Outside the modern country of Armenia itself, the mountainous land was one of the only surviving parts of a heartland that centuries ago stretched across what is now eastern Turkey, into the Caucasus region and western Iran.
Many in the diaspora had pinned dreams on it gaining independence or being joined to Armenia. Nagorno-Karabakh was "a page of hope in Armenian history," Narod Seroujian, a Lebanese-Armenian university instructor in Beirut, said Thursday.
"It showed us that there is hope to gain back a land that is rightfully ours … For the diaspora, Nagorno-Karabakh was already part of Armenia."
Hundreds of Lebanese Armenians on Thursday protested outside the Azerbajani Embassy in Beirut. They waved flags of Armenia and Nagorno-Karabakh and burned pictures of the Azerbaijani and Turkish presidents. Riot police lobbed tear gas when they threw firecrackers at the embassy.
Ethnic Armenians have communities around Europe and the Middle East and in the United States. Lebanon is home to one of the largest, with an estimated 120,000 of Armenian origin, 4% of the population.
Most are descendants of those who fled the 1915 campaign by Ottoman Turks in which some 1.5 million Armenians died in massacres, deportations and forced marches. The atrocities, which emptied many ethnic Armenian areas in eastern Turkey, are widely viewed by historians as genocide. Turkey rejects the description of genocide, saying the toll has been inflated and that those killed were victims of civil war and unrest during World War I. In Bourj Hammoud, the main Armenian district in the capital Beirut, memories are still raw, with anti-Turkey graffiti common on the walls. The red-blue-and-orange Armenian flag flies from many buildings.
"This is the last migration for Armenians," said Harout Bshidikian, 55, sitting in front of an Armenian flag in a Bourj Hammoud cafe. "There is no other place left for us to migrate from."Azerbaijan says it is reuniting its territory, pointing out that even Armenia's prime minister recognized that Nagorno-Karabakh is part of Azerbaijan. Though its population has been predominantly ethnic Armenian Christians, Turkish Muslim Azeris also have communities and cultural ties to the territory as well, particularly the city of Shusha, famed as a cradle of Azeri poetry.
Nagorno-Karabakh came under control of ethnic Armenian forces backed by the Armenian military in separatist fighting that ended in 1994. Azerbaijan took parts of the area in a 2020 war. Now after this month's defeat, separatist authorities surrendered their weapons and are holding talks with Azerbaijan on reintegration of the territory into Azerbaijan.
Thomas de Waal, a senior fellow at the Carnegie Europe think tank, said Nagorno-Karabakh had become "a kind of new cause" for an Armenian diaspora whose forebearers had suffered the genocide.
"It was a kind of new Armenian state, new Armenian land being born, which they projected lots of hopes on. Very unrealistic hopes, I would say," he said, adding that it encouraged Karabakh Armenians to hold out against Azerbaijan despite the lack of international recognition for their separatist government.
Armenians see the territory as a cradle of their culture, with monasteries dating back more than a millennium.
"Artsakh or Nagorno-Karabakh has been a land for Armenians for hundreds of years," said Lebanese legislator Hagop Pakradounian, head of Lebanon's largest Armenian group, the Armenian Revolutionary Federation. "The people of Artsakh are being subjected to a new genocide, the first genocide in the 21st Century."
The fall of Nagorno-Karabakh is not just a reminder of the genocide, "it's reliving it," said Diran Guiliguian, an Armenian activist who is based in Madrid but holds Armenian, Lebanese and French citizenship.
He said his grandmother used to tell him stories of how she fled in 1915. The genocide "is actually not a thing of the past. It's not a thing that is a century old. It's actually still the case," he said.
Seroujian, the instructor in Beirut, said her great-grandparents were genocide survivors, and that stories of the atrocities and dispersal were talked about at home, school and in the community as she grew up, as was the cause of Nagorno-Karabakh.
She visited the territory several times, most recently in 2017. "We've grown with these ideas, whether they were romantic or not, of the country. We've grown to love it even when we didn't see it," she said. "I never thought about it as something separate" from Armenia the country.
A diaspora group called Europeans for Artsakh plans a rally in Brussels next week in front of European Union buildings to denounce what they say are ethnic cleansing and human rights abuses by Azerbaijan and to call for EU sanctions on Azerbaijani officials. The rally is timed ahead of a summit of European leaders in Spain on Oct. 5, where the Armenian prime minister and Azerbaijani president are scheduled to hold talks mediated by the French president, German chancellor and European Council president.
In the United States, the Armenian community in the Los Angeles area – one of the world's largest – has staged several protests trying to draw attention to the situation. On Sept. 19, they used a trailer truck to block a major freeway for several hours, causing major traffic jams.
Kim Kardashian, perhaps the most well known Armenian-American today, went on social media to urge President Joe Biden "to Stop Another Armenian Genocide."
Several groups in the diaspora are collecting money for Karabakh Armenians fleeing their home. But Seroujian said many feel helpless.
"There are moments where personally, the family, or among friends we just feel hopeless," she said. "And when we talk to each other we sort of lose our minds."
Gradually And Then Suddenly: Artsakh's Lessons For Potential Victims And Victimizers
Amb. Alberto M. Fernandez/MEMRI/September 28, 2023
South Caucasus | MEMRI Daily Brief No. 527
It would be easy to say that Azerbaijan's corrupt, blustering dictator Ilham Aliyev has outsmarted and outplayed the Biden Administration and the leadership of the European Union. But that is not the whole truth. The truth is that they wanted to be played when it came to the inconvenient existence of the Armenians of Nagorno-Karabakh. It is a problem they wished would go away. An ancient Christian people living for centuries in their mountainous homeland, they were placed within the borders of the Azerbaijan Soviet Socialist Republic by then Soviet Commissar for Nationalities Joseph Stalin in 1923.[1] Once the Soviet Union cracked up, those borders were largely treated as sacrosanct by the international community. As of late September 2023, it seems that the survival of the Armenians of Artsakh (as they called their homeland) has been extinguished by the Aliyev regime after nine months of increasing hunger and suffering followed by a short but bloody invasion.
But beyond the very real ethnic cleansing of Karabakh's Armenians, under the very noses of the US, EU and UN, what are the implications going ahead beyond the confines of that immediate conflict?
It seems clear that going ahead, in many cases, territorial lines on a map will matter more than the fate of the people, often vulnerable ethnic or religious minorities, within those borders. In many situations, we will see a return to the old reality where territorial sovereignty matters most and where the rhetoric of human rights and responsibility to protect will remain just that – rhetoric, posturing, and nothing more. As Michael Rubin noted recently, China can make the case now that Taiwan is just as much theirs as Karabakh is an integral part of Azerbaijan.[2]
Of course, there does seem to be places where borders don't matter. Karabakh Armenians or Uyghurs or Rohingya are to be crushed by the regimes that control those populations within their borders. The great exception to this new rise of sovereignty is the West itself – the borders of the United States of America and the European Union, those borders seem quite permeable, unlike the eleven kilometers that separated the starving besieged Armenians of Artsakh from Armenia proper through the Lachin Corridor for almost a year. You can get to Lampedusa by the tens of thousands with impunity but you couldn't get wheat flour to Stepanakert.
The situation in Nagorno-Karabakh, a tiny area the size of the US state of Rhode Island, was watched closely elsewhere, far beyond the Caucasus, as a model and a template on how to carry out ethnic cleansing and get away with it. It helped to have Azerbaijan's cash to bribe foreigners, of course, but even more significant was the combination of racist rhetoric used to mobilize your own population, economic blockade of the adversary, and in the end rapid military action carried out while seemingly "discussing peace" with your adversaries and with the gullible West. We see some inkling or echo of this in efforts by the Republic of Kosovo to somehow try to rid itself of its unruly Serbian Christian minority, efforts that are likely to accelerate now.[3]
But also watching very closely the situation in the Caucasus – the combination of effective Turkish/Azeri duplicity and blatant American/European ineptness – were populations in the Middle East. As one Lebanese observer noted, what happened to Karabakh's Armenians is likely to happen to Mount Lebanon in a decade or two. He meant that region's Christian and Druze population, vulnerable to a slow motion and then sudden ethnic cleansing by an increasingly assertive and heavily armed Shia Muslim population – led by Hezbollah and Amal – and abetted by Assad's Syria. This is ethnic policy modeled after that famous Hemingway quote from "The Sun Also Rises": "How did you go bankrupt?" "Two ways." "Gradually and then suddenly." "Diversity" is a ubiquitous Western buzzword. In the East, it is something to be eliminated.
While Lebanon has mixed populations in many areas, there still remain relatively homogenous ethnic pockets of Christians, toward the North, and Druze, toward the South, in what once was the old Mutasarrifate of Mount Lebanon.[4] For Hezbollah, both are problems. The Druze block the contiguous flow of a Shia majority zone stretching from Beirut's Dahiye to the South. Lebanon's Christians cannot be fully crushed as long as they maintain a tenuous hold on a compact Christian heartland, as tiny as it is. There is always the fear, unlikely as that seems, that they might once again find a foreign patron to take up their cause, as both France and Israel did at different times in the past, to the detriment of Hezbollah/Iranian hegemony in the region. And the possibility that a tiny, but free, Lebanese Christian zone would flourish next door to totalitarian Syria and "Hezbollahistan" is something to be avoided at all costs.
If the crushing of Karabakh's Armenians is an object lesson for Lebanon's Christians and Druze, the same is true of the Kurds of Syria and Iraq currently living in relatively autonomous regions. Both are highly susceptible to machinations against them directed from Damascus and Baghdad, and ironically, such moves would likely be with the acquiescence of Turkey, which, of course, has been a key supporter of Azerbaijan in its anti-Armenian campaigns. Turkey already ethnically cleansed the Syrian Kurdish region of Afrin, beginning in 2018, with Western indifference.[5] Turkey would love to control a Kurdish-free border zone along the entirety of its frontier with Syria but would likely settle for a future where it holds on to its current gains while Assad pushes out the American-supported Kurds who rule in the so-called Autonomous Administration of North and East Syria (AANES). If the West was indifferent in 2018 when Afrin was taken, it is likely to be more so in the near future given the obsession with power politics against Russia and China. This is particularly true if the Biden Administration is successful in securing some sort of new understanding with the regime in Iran.
The hard lesson for Lebanon's Christians and Druze, and for the Kurds, is to plan now for the even more difficult eventuality ahead. This means building foreign ties as much as possible, while at the same time recognizing that these foreign ties may amount to nothing at the time of crisis and that you will be left, as Karabakh's Armenians were in the end, with only your own economic and security resources to try to survive and endure. This is a terrifying possibility but one that cannot be ignored.

*Alberto M. Fernandez is Vice President of MEMRI.
[1] Rferl.org/a/30893222.html, October 14, 2020.
[2] Aei.org/op-eds/did-biden-just-greenlight-world-war-iii, September 25, 2023.
[3] B92.net/eng/news/politics.php?nav_id=116617, September 15, 2023.
[4] Washingtoninstitute.org/policy-analysis/preserving-unity-lebanon-federating-its-political-system, April 20, 2023.
[5] Nybooks.com/online/2018/04/11/how-turkeys-campaign-in-afrin-is-stoking-syrian-hatreds, April 11, 2018.
https://www.memri.org/reports/gradually-and-then-suddenly-artsakhs-lessons-potential-victims-and-victimizers