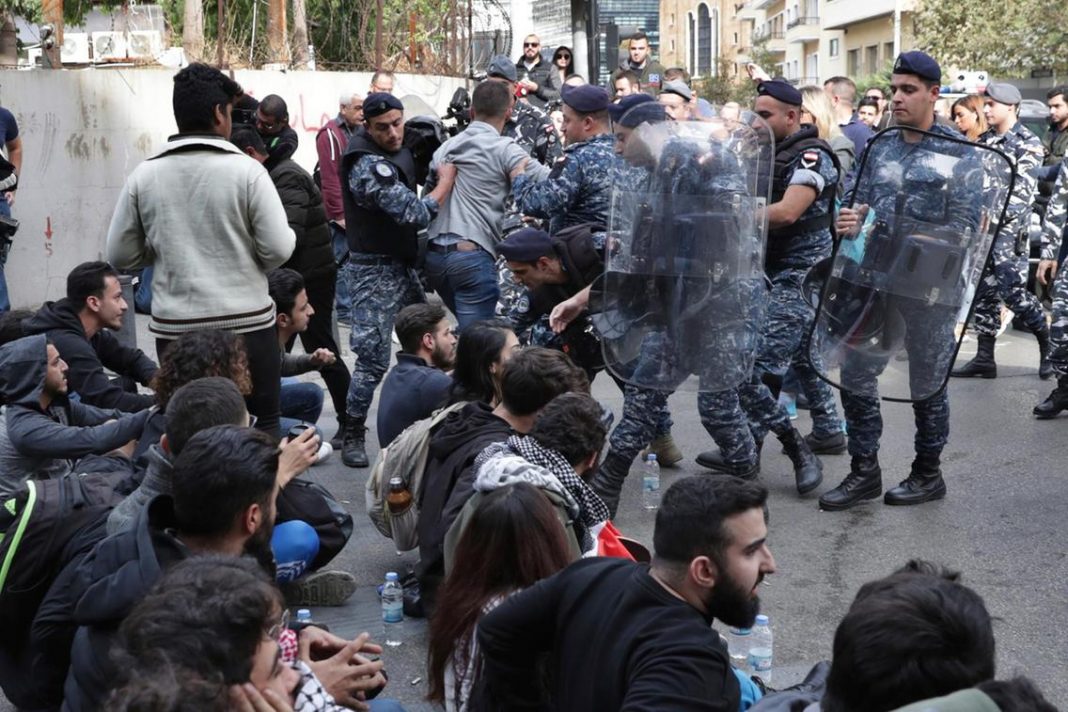 A Bundle Of English Reports, News and Editorials For November 26-27/2019 Addressing the On Going Mass Demonstrations & Sit In-ins In Iranian Occupied Lebanon in its 41th Day
Compiled By: Elias Bejjani
November 26-27/2019
Titles For The Latest English LCCC Lebanese & Lebanese Related News published on November 26-26/2019
U.N. Experts, Amnesty Decry Force, Violence against Lebanese Protesters
Saad Hariri rules himself out as next Lebanese prime minister
Hariri refuses to head new Lebanon government as tensions rise
Lebanon: Hariri Takes 'Decisive' Decision Not to Be PM
Hariri Announces He Doesn't Want to Head New Govt.
PM Candidate Khatib Says Ready to Form Govt. if 'Consensus' Reached
Report: 'Shadow Government' Could Be Formed to Speak for Protesters
Consultations to Name PM to be Held 'Thursday', Govt. Won't be 'Confrontational'
Confrontation between FPM, Kataeb Supporters in Bikfaya
FPM Supporters Scuffle with Protesters in Baabda as Baalbek Protest Site Attacked
10 Lebanese hurt in clashes between supporters of Aoun, Kateb
Protesters in Tyre Defiant Despite Attack
Report: Army Determined to Ban Road Blockages after Clashes
Jabaq Warns Health Sector at Threat over Dollar Shortage
Lebanese Businessman buys Nazi items; plans to donate to Jewish group
Lebanon Clashes Threaten to Crack Open Fault Lines
The Latest English LCCC Lebanese & Lebanese Related News published on November 26-27/2019
U.N. Experts, Amnesty Decry Force, Violence against Lebanese Protesters
Agence France Presse/Associated Press/Naharnet/November 26/2019
Lebanon's security forces have reportedly used "excessive force and failed to adequately protect protesters from violent attacks by others," despite the overwhelmingly peaceful nature of the past month's demonstrations across the country, U.N. human rights experts have said.
"The State is responsible under international law to protect peaceful protesters and ensure a safe and enabling environment for people to exercise their freedom of expression and peaceful assembly," said the experts. "Even where roadblocks are used as a means of protest, which may in rare cases warrant dispersal of protesters, only the minimum use of force necessary should be used and only if less intrusive and discriminatory means of managing the situation have failed," they added. The experts held that "although the overall response by security forces appears to have been largely proportionate and responsible, actions by the authorities raise several areas of concern.""Lebanon's Internal Security Forces and the Lebanese Armed Forces have reportedly used live ammunition, rubber bullets and large quantities of tear gas to disperse protesters, and have at times hit, kicked and beaten protesters with batons while making arrests. Some protesters are alleged to have been ill-treated while being taken to police stations and some have been released bearing marks of abuse," they said. The experts said Security forces have reportedly failed to intervene to protect peaceful protesters or arrest perpetrators on at least six occasions in Beirut, Bint Jbeil, Nabatieh and Tyre. "They have also reportedly attempted to stop protesters and journalists from filming their actions, including by force, arrest, or confiscating equipment," the experts said. The Lebanese Red Cross and Lebanese Civil Defense reported treating 1,790 people for protest-related injuries, including at least six members of the security forces, between 17 to 30 October. The experts have written to the Lebanese authorities to register their concerns, and called on the Government to explain the measures it has taken to "ensure the use of force is exercised in compliance with international law; investigate allegations of excessive use of force and ill-treatment of protesters; and identify the measures it has taken to address the root causes of protests and longstanding socioeconomic grievances."Meanwhile, international rights group Amnesty International has called on authorities to do more to protect protesters, warning that the attacks of the past two days "could well signal a dangerous escalation.""The past two days' seemingly coordinated attacks could well signal a dangerous escalation. The authorities must act immediately to protect protesters and uphold the right to peaceful assembly," said Lynn Maalouf, Amnesty's Middle East research head. "The images of the men carrying flags of two of the political parties in government, Hizbullah and AMAL, armed with steel batons, knives and stones, chasing and beating protesters in alleyways, setting alight tents and destroying private property in the past two days are extremely worrying and warrant the authorities' firm and immediate action," Maalouf added.
Saad Hariri rules himself out as next Lebanese prime minister
The National/November 26/2019
Parties no closer to forming new administration weeks after government resigned in face of mass rallies
Caretaker Prime Minister Saad Hariri on Tuesday again ruled himself out as Lebanon's next head of government, as the month-long protest movement faced threats of violence.Mr Hariri resigned on October 29 during nationwide protests against Lebanon's ruling elite.
His decision ended a coalition government including the powerful, Iran-backed Hezbollah, which opposed his decision. Lebanon's main parties have since been locked in talks and unable to agree on a new government despite the worst economic crisis since the 1975-1990 civil war."I am sticking by the rule 'not me, rather someone else', to form a government that addresses the aspirations of the young men and women," Mr Hariri said. "I have full hope and confidence, after announcing this clear and decisive decision, that the president of the republic will immediately call the binding parliamentary consultations" to decide on a new prime minister.
Mr Hariri warned his former colleagues that "denial by political leadership is more dangerous than Lebanon's political and economic crisis".
President Michel Aoun has reportedly finally scheduled talks with political parties at Baabda Palace for Thursday, to begin consultations on a prime minister to form the next government. But with no names put forward who could calm anger on the streets and appease political parties, it is unclear if there will be a development that can avert the impending financial collapse.Throwing further doubt on the possible outcome of the talks, reports in Lebanese media said that Speaker Nabih Berri, leader of the Amal Movement, was no longer set on Mr Hariri's return.
Mr Berri told told visitors that he supported no one in particular and that his priority was to find someone who would protect the country. Over Monday night, hundreds of Hezbollah and allied Amal Movement supporters took to the streets in mass convoys waving the parties' flags.
Men shot into the air and one man fired a rocket-propelled grenade into the sky. The sudden development was reportedly sparked by the deaths of two people when their car hit metal barriers being used to block roads near Beirut.
Hussein and Jundi Chalhoub were killed when their car hit the debris, spun out of control, hit a concrete barrier and caught fire.
In Downtown Beirut, some protesters who have been camped out in the capital since October 17 fled but others arrived with steel bars and bats to defend themselves. Until now the protest movement has been largely peaceful, so the latest developments have caused concerns.
The UN Security Council on Monday called on "all actors to conduct intensive national dialogue and maintain the peaceful character of the protests by avoiding violence and respecting the right to peaceful assembly in protest".red is a dangerous path that could lead to confrontation and conflict #Lebanon
But on Tuesday, the Internal Security Forces intervened near the Presidential Palace to break up scuffles between supporters of Mr Aoun and protesters. More business groups and unions have backed a general strike, threatening to increase the protests' pressure on officials. The Lebanese Economic Bodies group, which includes industrialists and bankers, called for the closure of private institutions from Thursday to Saturday to push major parties to form a new government and avert further economic damage. "The political forces have not assumed their national responsibilities and have not shown the seriousness necessary to produce solutions to the current crisis," the group said. The Order of Nurses also threatened an open-ended strike, saying its members had not been paid and were overworked.Their demands echoed the main issues for many protesters – poor government services and underfunding by the state.
Hariri refuses to head new Lebanon government as tensions rise
Najia Houssari/November 26/2019
BEIRUT: Lebanon's caretaker Prime Minister Saad Hariri on Tuesday struck his name off a list of candidates to head a new Lebanese government. Hariri, who recently resigned as premier under pressure from protesters, said he refused "to be falsely held responsible for delaying the formation of the new government."His sudden announcement will come as a blow to President Michel Aoun, Hezbollah and the Amal Movement, which together were pinning their hopes on having Hariri's support to help establish a techno-political administration in the country. The former PM's decision came as national protests throughout Lebanon against the political elite entered their 41st day and followed rioting in Beirut between anti-government demonstrators and Hezbollah and Amal supporters. Russia pledged its support for the Lebanese state during the current "delicate" period, while the UN Security Council called on "all actors to conduct intensive national dialogue."In a statement, Hariri said he was "sticking to the rule 'not me, but someone else' to form a government that meets the aspirations of young men and women. The state of chronic denial seemed to use my positions and proposals of solutions as a pretext to continue its intransigence and maneuvers and its refusal to listen to the people's voices and their rightful demands."He reiterated his commitment to a government of technocrats to end "the severe economic crisis" gripping Lebanon and urged Aoun to "immediately call for binding parliamentary consultations, to designate a new prime minister to form a new government."
Lebanon: Hariri Takes 'Decisive' Decision Not to Be PM
Beirut- Asharq Al-Awsat/Tuesday, 26 November, 2019
Lebanon's Saad al-Hariri said on Tuesday he did not want to be prime minister of a new government, calling his decision "decisive" and saying he was confident President Michel Aoun would convene consultations to designate someone else. Hariri resigned on Oct. 29 in the face of nationwide protests against Lebanon's ruling elite. His decision toppled a coalition government including the powerful, Iran-backed Shiite Muslim group Hezbollah, which opposed the decision. Since then, Lebanon's main parties have been locked in talks and unable to agree on a new government despite the worst economic crisis since the 1975-90 civil war. "I am sticking by the rule 'not me, rather someone else' to form a government that addresses the aspirations of the young men and women," Hariri, Lebanon's leading Sunni Muslim politician, said in a statement. "I have full hope and confidence, after announcing this clear and decisive decision, that the president of the republic….will immediately call the binding parliamentary consultations" to designate a new prime minister, he said. The prime minister must be a Sunni Muslim according to Lebanon's sectarian power-sharing system. Hariri said: "It is clear that what is more dangerous than the major national crisis and sharp economic crisis our country is passing through – and which is preventing us from dealing with these two intertwined crises – is the state of chronic denial being expressed on several occasions over the past few weeks."
Hariri Announces He Doesn't Want to Head New Govt.
Associated Press/Naharnet/Agence France Presse/Naharnet/November 26/2019
Caretaker Prime Minister Saad Hariri openly declared Tuesday that he is withdrawing his candidacy for the premiership. In response to the "irresponsible practices" of political leaders, Hariri said he felt compelled to make his intentions known. "I announce to the Lebanese people that I strongly adhere to the rule of 'not me, but someone else,'" he said in a written statement. Hariri did not name an alternative candidate, but said his decision aims to "open doors to a solution" to the political deadlock. He hoped President Michel Aoun would "immediately call for binding parliamentary consultations to appoint a new premier."Hariri also insisted that a new government made up of experts is needed to get Lebanon out of its crisis. The announcement comes nearly a month after he resigned amid ongoing protests as well as a severe economic and financial crisis. The nationwide anti-government protests erupted on October 17 and have since targeted corruption and mismanagement by the country's ruling elite. Hariri's press office later issued a statement in response to reports on some news websites and social media accounts, which suggested that the caretaker PM "has proposed a number of premiership candidates.""With all his due respect to all the reported names, PM Hariri's choice will be announced in a statement following the call for the binding parliamentary consultations," the office said. "Any other suggestions are mere attempts at dropping certain candidates or promoting others," the office added.
PM Candidate Khatib Says Ready to Form Govt. if 'Consensus' Reached
Naharnet/November 26/2019
Samir Khatib, whose name emerged Tuesday as a strong candidate for the PM post, has announced that he is willing to form the new government should there be "consensus" on his nomination. "I'm ready to assume the mission of forming and leading a government and to serve the country amid these extraordinary circumstances and I will try to rescue the country should there be consensus on my nomination and if the various parties intend to rescue the country," Khatib, the director general of the Khatib & Alami engineering firm, said in remarks to MTV. He added: "I have been contacted by the various parties in order to be tasked with forming the government seeing as I'm unbiased and noncontroversial and because I run a successful firm in which I succeeded thanks to my competence."Khatib also noted that he is a "secular man," adding that he has a "special personal relation" with caretaker Prime Minister Saad Hariri. Earlier in the day, Hariri had announced that he will not head the next government, a move he said aims to expedite the formation a new cabinet in the protest-hit country. Hariri had submitted his administration's resignation on October 29, bowing to popular pressure from a nationwide street movement demanding a complete government haul. Hariri did not name an alternative candidate, but said his decision aims to "open doors to a solution."He hoped President Michel Aoun would "immediately call for binding parliamentary consultations to appoint a new premier."
Presidential palace sources meanwhile told reporters that the consultations will likely be held on Thursday, although an official statement is yet to be released. Officials from the Free Patriotic Movement, the party founded by Aoun, have accused Hariri of delaying the process by refusing to accept any other candidate for the premiership, a charge Hariri has denied. The United States, Britain, France, the U.N., World Bank and credit rating agencies have all urged officials to streamline the process in the wake of a twin political and economic crisis gripping the country. A former finance minister, Mohammed Safadi, had been considered to replace Hariri but withdrew his bid after more protests. Aoun's powers include initiating the required parliamentary consultations to appoint a new premier. The president has said he was open to a government that would include technocrats and representatives of the popular movement, both key demands of the protesters. However, the demonstrators say they will reject any government that consists of representatives of the established parties.
Report: 'Shadow Government' Could Be Formed to Speak for Protesters
Naharnet/November 26/2019
Lebanon's protesters are reportedly inclined to form a "revolutionary government" to manage the affairs of the popular movement if President Michel Aoun fails to initiate the binding parliamentary consultations by the end of this week, the Kuwaiti al-Anbaa daily reported on Tuesday.
Asked if the "revolutionary government" was meant to rebel against the constitutional authority, a senior source told the daily: "It is a shadow government, similar to the youth shadow government proposed by An-Nahar Editor-in-Chief Jebran Tueni before his assassination."
He said: "A decree was issued by the Cabinet in 2006 and two were formed between 2007 and 2008. It consisted of university students and people of competence. "A revolutionary shadow government will not have a president, and will be the mouthpiece of the movement to negotiate with the authorities and all parties," added the source who refused to be named. Outgoing Prime Minister Saad Hariri resigned on October 29, nearly two weeks into the unprecedented nationwide protests demanding the wholesale removal of a ruling elite seen as corrupt and incompetent. President Michel Aoun has said he will support the formation of a government including technocrats but he has not yet announced consultations over a new line-up.
Consultations to Name PM to be Held 'Thursday', Govt. Won't be 'Confrontational'
Naharnet/November 26/2019
The binding parliamentary consultations to name a new premier will be held on Thursday and the new government will not be a "confrontation government," Baabda sources said on Tuesday. "We will seek to agree with caretaker PM Saad Hariri on an alternative candidate and we prefer this option, or else we will go to parliamentary consultations and we are holding talks over several candidates," the sources told LBCI television. "The government will not be a confrontation government — except against corruption and the economic and social crises. It will not be a confrontation government against PM Saad Hariri or against the international community and it will not be one-sided," the sources added. "The government will be in charge of major files and it will be a salvation, reformist government," the sources said. The remarks come shortly after Hariri issued a statement in which he openly announced that he does not want to head the new government. The Baabda sources did not express relief over Hariri's statement but said they were still hoping that the caretaker PM "will facilitate the mission of finding a candidate to replace him."As for the international community's response to the formation of a government not led by Hariri, the sources said: "There is international consent on the formation of a techno-political government not led by Saad Hariri.""Their main concern is Lebanon's economic, security and political stability," the sources added. The privately-owned Central News Agency meanwhile said that the engineer Samir Khatib, the director general of the Khatib & Alami engineering firm, could be nominated for the premiership. OTV meanwhile reported that contacts will be intensified over the next 36 hours to reach an agreement on a candidate. Prominent ministerial source meanwhile told MTV that "there is no agreement so far on a premiership candidate" and that Hariri's statement "increases the ambiguity of the situation."The TV network also said that President Michel Aoun will not officially call for the consultations on Tuesday.
Confrontation between FPM, Kataeb Supporters in Bikfaya
Naharnet/November 26/2019
A confrontation erupted Tuesday evening between supporters of the Free Patriotic Movement and the Kataeb Party in the Northern Metn town of Bikfaya. The standoff started after a pro-FPM convoy comprised of dozens of cars arrived outside the residence of former president and Kataeb leader Amin Gemayel. Bikfaya residents and Kataeb supporters later blocked the town's entrance to prevent the entry of the convoy, asking the FPM supporters to take the Dahr al-Sowwan-Baabdat road. Kataeb supporters later attacked the cars and pelted them with stones, wounding a female FPM supporter in the head.
Video footage showed a number of cars with smashed windows and supporters of the two parties chanting rival slogans. The army intervened quickly and separated between the two groups. The National News Agency meanwhile said that the army was negotiating with the two parties in order to end the standoff.
Bikfaya is a stronghold of Kataeb and the hometown of its founder Pierre Gemayel. Media reports said the FPM supporters accused ex-president Amin Gemayel of corruption in the files of the Dbaye marina and the Puma aircraft controversy.
FPM Supporters Scuffle with Protesters in Baabda as Baalbek Protest Site Attacked
Naharnet/November 26/2019
Supporters of the Free Patriotic Movement on Tuesday briefly scuffled with protesters near the presidential palace in Baabda, as backers of Hizbullah and the AMAL Movement attacked the main protest site in the eastern city of Baalbek. The civil society protesters in Baabda were led by groups from the Sabaa Party. The FPM supporters sought to prevent protesters from chanting against President Michel Aoun before the scuffles erupted. Security forces quickly intervened to contain the situation and the army has since reinforced its presence in the area. Elsewhere, Hizbullah and AMAL supporters attacked the protest site at the Khalil Mutran Square in Baalbek and vandalized the encampment. Tensions have surged across the country since Sunday night, when supporters of the two political parties attacked protesters in central Beirut. A deadly car crash near a protest roadblock on Jiye's highway has aggravated the already high tensions.
10 Lebanese hurt in clashes between supporters of Aoun, Kateb
Staff writer, Al Arabiya English/Wednesday, 27 November 2019
Clashes erupted on Tuesday between supporters of the Free Patriotic Movement (FPM) and supporters of the Kataeb Party in the town of Bikfaya, near the residence of former President Amine Gemayel, in Mount Lebanon. The clashes started when a convoy of President Michel Aoun's Free Patriotic Movement supporters attempted to drive through the area which is historically known as a stronghold of the Gemayel family. According to local Lebanese media the Army intervened to push back local residents as the convoy of the FPM supporters was trying to drive through and supporters of the Kataeb started criticizing President Aoun. The Lebanese Red Cross reported that 10 people were injured in the clashes, five were transferred to a hospital for treatment. Lebanon's Defense Minister Elias Bou Saab told a local Lebanese TV that the scuffle was unfortunate, and that Lebanese people should rely on the army. Earlier in the day, supporters of Shia groups Hezbollah and Amal attacked anti-government protesters in a public square in Baalbek city, east of Lebanon, destroying tents used as a gathering place by the protesters and chanting religious slogans. Also a convoy of cars carrying Hezbollah flag fired gun shots in the air which resulted in injuries to 15 people. Late on Monday night, clashes erupted between supporters of Lebanon's caretaker Prime Minister Saad Hariri, and Shia groups Hezbollah and Amal in Beirut late on Monday, state news agency NNA reported. The clashes marked the second consecutive night of violence linked to Lebanon's political crisis, threatening to tip largely peaceful demonstrations directed at the country's ruling elite in a more bloody direction.
Protesters in Tyre Defiant Despite Attack
Naharnet/November 26/2019
Protesters in the southern city of Tyre remained defiant on Tuesday and returned to their encampments smashed the day before by supporters of Hizbullah and AMAL Movement. Late on Tuesday, supporters of the two main Shiite groups torched the tents of demonstrators in al-Alam Square in the Shiite majority city of Tyre. Demonstrators demanding a complete government overhaul have stayed mobilised from north to south Lebanon since protests began on October 17. But a bitterly divided political class has yet to find a way forward.
Frustrated by the stalemate, protesters had called for roadblocks and a general strike on Monday, but an attack by Hizbullah and Amal supporters on Sunday night weakened the turnout. They also attacked demonstrators at a flyover near the Beirut's main protest camp, and ravaged an encampment in Beirut's Riad al-solh and Martyr Square tearing down tents and damaging storefronts in their most serious assault on protesters so far.
Report: Army Determined to Ban Road Blockages after Clashes
Naharnet/November 26/2019
Following Monday's violence between Lebanese protesters and supporters of Hizbullah, the security and military forces are "determined" to ban road blockages in order to spare Lebanon from a "worst-case scenario," al-Joumhouria daily reported on Tuesday.
A prominent security source disclosed that during recent security meetings, discussions have focused on this scenario considering it the "most dangerous because congestion will generate a blast and road blockages will end with clashes," he told the daily. The violence began on Sunday when supporters of Hizbullah and AMAL Movement attacked protesters who had blocked a main Beirut thoroughfare known as the Ring Road — a move the protesters said was aimed at exerting pressure on politicians to form a new government after Prime Minister Saad Hariri offered his resignation Oct. 29.
"Security and military engagement will be different in the next stage, hitting with an iron fist will be the policy to adopt in the coming phase after we saw the street sliding off limits. The decision has been made to strictly ban road blockages from now on, and the military will be decisive in this regard," affirmed the source who spoke on condition of anonymity. On Monday evening, Army troops and security forces quickly intervened after Hizbullah and AMAL supporters arrived at Beirut's Martyrs Square on scooters and hurled insults and a few rocks at protesters who have an encampment in the area. Later on Monday, gunfire erupted in the Beirut area of Cola after convoys of motorcycles passed in the area. The convoys had roamed several streets in Beirut and its suburbs. Supporters of al-Mustaqbal Movement had earlier blocked the Qasqas road in Beirut after Hizbullah and AMAL supporters passed in the area on motorbikes and shouted slogans. MTV said gunshots were also fired in the air there. The army quickly intervened and deployed in the area.
Jabaq Warns Health Sector at Threat over Dollar Shortage
Agence France PresseNaharnet/November 26/2019
Caretaker Health Minister Jamil Jabaq on Tuesday urged the central bank to release U.S. dollars over a hard currency shortage limiting medical imports to the protest-hit country. "The sector is under serious threat," Jabaq, who is close to Hizbullah, told a news conference.
"A hospital without medical supplies cannot operate."The Lebanese pound has been pegged to the greenback at around 1,500 for two decades and the currencies are used interchangeably in daily life. But amid a deepening economic crisis, banks have gradually been reducing access to dollars in recent months, forcing importers to resort to money changers offering a higher exchange rate and sparking price hikes. On the open market, the dollar has been selling for 2,000 pounds. Jabak said the central bank was ready to supply medical equipment importers with only half the dollars they need at the official rate.
He urged the banking institution to provide all necessary dollars at this rate avoid hospitals raising their prices and patients footing the bill. "We hope all those concerned — especially the central bank governor — release these funds," he said. "I don't think the Lebanese people, with everything they are going through, can put up with their medical bills being increased." Importers warned on Sunday that the country's stock would only last weeks, as dialysis filters, heart valves and supplies for respirators had already started to run low. Lebanon has been gripped since October 17 by unprecedented anti-government protests over a wide variety of issues, including a crumbling economy. The government stepped down less than two weeks into the nationwide demonstrations, but a new cabinet has not been formed. Earlier this month, hospitals threatened to close to all but emergency patients for a day if the central bank did not release the key dollars for medical imports. Last month, before the protests, the central bank said it would facilitate access to dollars for importers of petroleum products, wheat and medicine. A group representing companies in the private sector have called for a general strike on Thursday, Friday and Saturday.

Lebanese Businessman buys Nazi items; plans to donate to Jewish group
The Associated Press, Berlin/Monday, 25 November 2019
A Lebanese-born Swiss real estate mogul said on Monday that he had purchased Adolf Hitler's top hat and other Nazi memorabilia from a German auction in order to keep them out of the hands of neo-Nazis, and has agreed to donate them to a Jewish group. Abdallah Chatila, a Lebanese Christian who has lived in Switzerland for decades, told The Associated Press he paid some 600,000 euros ($660,000) for the items at the Munich auction last week, intending to destroy them after reading of Jewish groups' objections to the sale. "I wanted to make sure that these pieces wouldn't fall into bad hands, to the wrong side of the story, so I decided to buy them," he said in a telephone interview. Shortly before the auction, however, he decided it would be better to donate them to a Jewish organization, and got in touch with the Keren Hayesod-United Israel Appeal group. Chatila is never going to even see the items – which also include a silver-plated edition of Hitler's "Mein Kampf" and a typewriter used by the dictator's secretary – that will be sent directly to the group, he said. "I have no direct interest whatsoever, I just thought it was the right thing to do," he said. Neither Keren Hayesod nor the Hermann Historica auction house responded to requests for comment. Keren Hayesod's European director told France's Le Point magazine, however, that while no final decision had been made on what to do with the items, they'd likely be sent to Israel's Yad Vashem memorial which has a selection of Nazi artifacts. The European Jewish Association, which had led the campaign against the auction going ahead, applauded Chatila for stepping in. "Such a conscience, such an act of selfless generosity to do something that you feel strongly about is the equivalent of finding a precious diamond in an Everest of coal," EJA chairman Rabbi Menachem Margolin wrote Chatila in a letter provided to the AP."You have set an example for the world to follow when it comes to this macabre and sickening trade in Nazi trinkets."
Lebanon Clashes Threaten to Crack Open Fault Lines
Associated Press/Naharnet/November 26/2019
Clashes between Lebanese protesters and supporters of Hizbullah group are putting Lebanon's military and security forces in a delicate position, threatening to crack open the country's dangerous fault lines amid a political deadlock.
For weeks, the Lebanese security forces have taken pains to protect anti-government protesters, in stark contrast to Iraq, where police have killed more than 340 people over the past month in a bloody response to similar protests.
The overnight violence — some of the worst since protests against the country's ruling elite began last month — gave a preview into a worst-case scenario for Lebanon's crisis, with the country's U.S.-trained military increasingly in the middle between pro- and anti-Hizbullah factions.
By attacking protesters Sunday night, Hizbullah sent a message that it is willing to use force to protect its political power. Confronting the powerful Iranian-backed Hizbullah, however, is out of the question for the military as doing so would wreck the neutral position it seeks to maintain and could split its ranks.
"The army is in a difficult position facing multiple challenges and moving cautiously between the lines," said Fadia Kiwan, professor of political science at Saint Joseph University in Beirut.
She said the military has sought to protect the protesters and freedom of expression but is increasingly grappling with how to deal with road closures and violence. The U.N. Security Council urged all actors in Lebanon on Monday to engage in "intensive national dialogue and to maintain the peaceful character of the protests" by respecting the right to peaceful assembly and protest.
Calling this "a very critical time for Lebanon," the U.N.'s most powerful body also commended Lebanon's armed forces and state security institutions for their role in protecting the right to peaceful assembly and protest.
Sunday night's clashes brought into full display the political and sectarian divisions that protesters have said they want to end.
"Shiite, Shiite, Shiite!" Hizbullah supporters waving the group's yellow flag shouted, taunting the protesters, many of them Christians. The protesters chanted back, "This is Lebanon, not Iran," and "Terrorist, terrorist, Hizbullah is a terrorist" — the first time they have used such a chant.
The violence began when supporters of Hizbullah and the other main Shiite faction, Amal, attacked protesters who had blocked a main Beirut thoroughfare known as the Ring Road — a move the protesters said was aimed at exerting pressure on politicians to form a new government after Prime Minister Saad Hariri offered his resignation Oct. 29.
Carrying clubs and metal rods, the Hizbullah followers arrived on scooters, chanting pro-Hizbullah slogans. They beat up several protesters. Both sides chanted insults, then threw stones at each other for hours.
Security forces stood between them but did little to stop the fighting. Finally, after several hours, they fired tear gas at both sides to disperse them. The road was eventually opened before daybreak Monday.
By that time, protesters' tents were destroyed in areas close to the Ring Road. The windshields of cars parked near Riad Solh Square and Martyrs Square — the central hubs of the protests — were smashed as were the windows of some shops. The nationwide protests have so far been overwhelmingly peaceful since they started Oct. 17. Politicians have failed to agree on a new Cabinet since Hariri's government resigned Oct. 29. Hizbullah and Amal insist Hariri form a new government made up of technocrats and politicians, but Hariri — echoing protester demands — says it must be made up only of experts who would focus on Lebanon's economic crisis.
As the deadlock drags on, tempers are rising.
"The situation is moving toward a dangerous phase because after 40 days of protests, people are beginning to get tired and frustrated and might resort to actions that are out of control," Kiwan said.
One person has been killed by security forces during the protests, while six have died in incidents related to the demonstrations. In the latest, a man and his sister-in-law burned to death Monday after their car hit a metal barricade erected by protesters on a highway linking Beirut with the country's south.
Hizbullah issued a blistering statement Monday condemning the road closure, painting the protests as a danger to the country. It called the deaths the result of "a militia attack carried out by groups of bandits who practice the ugliest methods of humiliation and terrorism against people."
In the increasingly tense atmosphere, "the role of the army is getting bigger," Kiwan said. The army is one of the few state institutions that enjoy wide support and respect among the public as it is seen as a unifying force in the deeply divided country. It has for the most part worked to defuse tensions and protect protesters, though on two occasions it allowed Hizbullah and Amal supporters to wreck tents at the main protest site in downtown Beirut.
Hisham Jaber, a retired Lebanese general who heads the Middle East Center for Studies and Political Research, said the army is in a "delicate" position and could not have done more than it did Sunday night.
The military is already at the center of a debate in U.S. policy-making circles. The Trump administration is now withholding more than $100 million in U.S. military assistance to Lebanon that has been approved by Congress, without providing an explanation for the hold.
That has raised concerns among some in the U.S. security community who see the aid — largely used to buy U.S.-made military equipment — as key to countering Iran's influence in Lebanon. Others, however, including pro-Israel lawmakers in Congress, have sought to defund the military, arguing it has been compromised by Hizbullah, which the U.S. designates as a terrorist organization.
U.S. administrations have long believed that a strong Lebanese army could be a counter to Hizbullah's weapons and could deprive the militants of the excuse to keep their arms.
The 70,000-strong force split along sectarian lines during Lebanon's 1975-90 civil war. Since then, it has largely succeeded in achieving a level of stability by maintaining a tough balancing act that includes coordinating with Hizbullah on security matters.
Jaber said it is impossible for the security forces to clash with Hizbullah because "this will lead to divisions within the army."
"Hizbullah is a main part of the Lebanese people," he said. "Getting the army into a battle with them would lead to pulling away part of the Lebanese army, and this could be followed by other groups splitting from the army."
"The Lebanese army is the pole of the tent. If the pole collapses, the whole country will collapse. It is the duty of the army to protect state institutions."
Titles For The Latest Lebanese LCCC English analysis & editorials from miscellaneous sources published on November 26-27/2019
Analysis/In Lebanon, Hezbollah flexes in bid to sectarianize a non-partisan movement/James Haines-Young/The National/November 26/2019
Containing Hezbollah a long-term process/Dr. Dania Koleilat Khatib/Arab News/November 26/2019
Hariri withdraws candidacy as parliamentary consultations set for Thursday/Georgi Azar/Annahar/November 26/2019
The sectarianization of Lebanon and smearing a revolution/Georgi Azar/Annahar/November 26/2019
Moral Leadership and the Lebanese Military/Aram Nerguizian/Carnegie MEC/November 26/2019
Is the Lebanese miracle dead?/Ishac Diwan/Annahar/November 26/2019
A reading in Lebanon's current financial crisis/Mohammad Ibrahim Fheili/Annahar/November 26/2019
Student Protest Against Dollarisation of tuition fees/Fatima Dia/Annahar /November 26/2019
The Latest Lebanese LCCC English analysis & editorials from miscellaneous sources published on November 26-27/2019
Analysis/In Lebanon, Hezbollah flexes in bid to sectarianize a non-partisan movement
James Haines-Young/The National/November 26/2019
The latest incursion from the Shiite party seeks to push the political narrative onto old ground A man fired hundreds of rounds into the air from a rifle as another stood in the middle of a street, took aim, and fired a rocket-propelled grenade into the sky.
Convoys of men on mopeds circled the Lebanese capital of Beirut, gunfire echoed through several neighbourhoods around the country and tents in the south were pulled down and set on fire. On Monday night, it seemed as though the gathering momentum of Lebanon's month-long protest had finally hit the most worrying roadblock in its demand for a competent, non-sectarian government – Hezbollah and its arms. But protesters picked up the pieces on Tuesday and while the mood was more muted than it has been in recent days, it was far from defeated.
Since October 17, near-daily rallies have paralysed Lebanon, eventually forcing Prime Minister Saad Hariri to announce his resignation on October 29, collapsing government. Since then, politicians have been deadlocked and there remains no sign of a new administration – either one representing the political parties, as sought by many of parliament's blocs, or the non-political leadership demanded by the streets.
In mid-October, Hezbollah leader Hassan Nasrallah warned that if he orders his supporters to mobilise they would not leave without results. His comments were both an attempt to belittle the mass rallies that have regularly gathered tens or hundreds of thousands in a country of just 4.5 million but also a warning that Hezbollah too could show the strength of its popular support.
While Monday's actions – just the latest by Hezbollah and its allied Amal Movement – stopped short of a mass Hezbollah mobilisation, they are an attempt to sectarianize a broadly non-sectarian movement. Sami Nader, the Director of Levant Institute for Strategic Affairs in Beirut, told The National that the incident was not a counter-revolution but a way to reframe the protests in terms that Lebanese leaders have long used. "It's like a systematic attempt to drag the revolution onto the sectarian turf because it's obvious that a revolution that doesn't carry any political slogan or any sectarian slogans was a huge challenge for them [Hezbollah and politicians] to deal with," he said. For decades, before and after the 1975-1990 civil war, much of the political debate in Lebanon has been framed around confession and sect. Each party maintains support by playing the role of protectors of their respective faith.
"The current forces including Hezbollah [want to bend the] curve to where they can be masters of the game and play on the sectarian feeling that 'we are threatened and we must defend the Shiite rights,'" Mr Nader said.But the current protests have rejected the well-trodden verse and are demanding a new Lebanon. Mr Nader said he was confident the latest incidents would not derail the movement. "This will boost the revolution, it will not back down," he said. "Most of the people who are on the streets don't have anything to lose and they are claiming their right."Farah Merhi, an accountant in Beirut, had her car set ablaze in Monday night's chaos. But on Tuesday, she took to social media to share a picture of herself smiling through the burned wreckage. "You burnt my car," she wrote. "But you will never burn my smile… this too shall pass."
Containing Hezbollah a long-term process
Dr. Dania Koleilat Khatib/Arab News/November 26/2019
Jeffrey Feltman, the former US ambassador to Lebanon last week testified before the House Subcommittee on the Middle East, North Africa and International Terrorism on the prospects for Lebanon. (AFP)
Jeffrey Feltman, the former US ambassador to Lebanon and John C. Whitehead visiting fellow at the Brookings Institution, last week testified before the House Subcommittee on the Middle East, North Africa and International Terrorism on the prospects for Lebanon. He explicitly said that the current demonstrations coincide with the US interest, as the protests target the entire political configuration, including US archenemy Hezbollah.
Feltman's testimony rendered Hezbollah nervous, especially when he compared the situation to 2005. Following the assassination of Prime Minister Rafik Hariri, mass demonstrations erupted against the Syrian presence in Lebanon. Feltman said that, if it were not for the US and French position, then the Syrians would not have left Lebanon and they would have repressed the demonstrations brutally. Hence the US should take a firm stand and support the Lebanese protesters who are demanding "kellun yaani kellun" — meaning they want to get rid of the entire political elite, including Hezbollah. Of course, the US should support the Lebanese people; however, it should be realistic in its expectations. Feltman missed one difference in his comparison: Hezbollah is indigenous, Bashar Assad's forces were not. Hezbollah will not disappear or leave like Assad's forces did in 2005. At best, it can be contained.
However, in order to be contained, Hezbollah should be offered a proper exit. A graceful exit would minimize the "resistance's" aversion to the organic changes the country is witnessing and prevent Lebanon from descending into violence. While Feltman rightly signaled that fewer and fewer Lebanese listen to Nasrallah and that he is losing his grip on the Shiite population, it is important to note that he still has an audience. There is no guarantee that the Shiite Lebanese will abandon Hezbollah if early elections are held. The US should not forget that Hezbollah has — for more than 30 years — been providing services to the Shiite population that the Lebanese state has not, from education to health care and job opportunities. Feltman said that Hezbollah's resistance narrative is faltering and, if it attacks the protesters as it did in 2008, the pretext will totally "evaporate."
However, a confrontation with Israel can revive the resistance narrative. Such a confrontation would definitely not be in Lebanon or the US' interest. Hence Hezbollah should not get desperate to the point where it would venture into a war that would lead to the destruction of the country. This was the scenario in 2005, which led to Tel Aviv's war on Lebanon in 2006. When fingers started to be pointed at Hezbollah following the murder of Hariri and the group felt cornered, war with Israel offered the proper distraction. It has been getting stronger ever since then.
In the absence of real, in-depth reforms, the country is going to crash and no one is going to bail out the current configuration.
Today, Hezbollah is opposed to a government of technocrats. It is scared to lose the current understanding through which it is allowed to operate freely. Pro-Hezbollah Member of Parliament Jamil Al-Sayyed said in September: "You have your corruption and we have our arms. There is a quid pro quo in the current political system where Hezbollah accepts and gives cover for other factions' corruption and they turn a blind eye to its arsenal. Every ministerial statement affirms an almost sacred trilogy: "Army, people, resistance." A government of technocrats might not preserve this balance. This is why we see Nasrallah clinging on to people like Saad Hariri and Gebran Bassil. The devil you know is better than the one you don't. But, in the absence of real, in-depth reforms, the country is going to crash and no one is going to bail out the current configuration, which has lost the trust of the Lebanese people and the international community. In this respect, Hezbollah might be willing to negotiate and accept a technocrat government if it is offered some face-saving measures.
Feltman has a deep understanding of the Lebanese case and said clearly that the calls in Washington to push the Lebanese Armed Forces (LAF) to confront Hezbollah are counterproductive. A confrontation between Hezbollah and the LAF would lead to civil war and the chaos created by such a conflict would favor Iran and Sunni extremists. However, Feltman did not elaborate further. Not pressuring the LAF to disarm Hezbollah by force is not enough to prevent an internal conflict in Lebanon. Hezbollah needs a face-saving exit, otherwise it might fight back — something it has done in the past.
The American ambassador has an overly optimistic view of the situation. He thinks that early electoral elections would strip Hezbollah of the political partners that give it a multiplier effect. However, if elections were held today, the results would not be substantially different for the simple reason that the protesters do not have a structure or enough maturity to present viable alternatives. Early elections might even "reaffirm" Hezbollah's legitimacy. Containing Hezbollah is a long-term process.
In this respect, the US should be realistic and pragmatic. Washington's objective should be to support the Lebanese people's desire to have a clean government of technocrats that enjoys transparency, provides basic services and conducts reforms. In such an environment, Hezbollah's narrative would not be popular, nor would its services be needed. As Feltman stated, the US should think long term.
• Dr. Dania Koleilat Khatib is a specialist in US-Arab relations with a focus on lobbying. She holds a PhD in politics from the University of Exeter and is an affiliated scholar with the Issam Fares Institute for Public Policy and International Affairs at the American University of Beirut.
Hariri withdraws candidacy as parliamentary consultations set for Thursday
Georgi Azar/Annahar/November 26/2019
Saad Hariri resigned on October 29 in the wake of a popular uprising against the ruling elite, which has governed over Lebanon for the past 30 years. BEIRUT: Caretaker Prime Minister Saad Hariri has taken himself out of the running to head the next government, urging President Michel Aoun to begin parliamentary consultations to appoint a new premier. Hariri accused his rivals of being in a "state of chronic denial" and refusing to acknowledge the dire economic threats facing Lebanon. "It is clear that what's more dangerous than the severe economic crisis Lebanon is going through is the state of chronic denial that has been expressed on many occasions over the past weeks," Hariri said in a statement issued Tuesday.
Hariri announced that he is steadfast in "the belief centered around not me, but someone else," in reference to reports that he was hindering the formation of the Cabinet. The embattled prime minister had faced severe opposition to form a Cabinet comprised solely of independent technocrats, which he says is the "only solution moving forward to the severe economic crisis."Hariri resigned on October 29 in the wake of a popular uprising against the ruling elite, which has governed over Lebanon for the past 30 years. Sources also told Annahar that Aoun will kick off binding parliamentary consultations on Thursday, maintaining that any government will be tasked solely with tackling the many ailments currently facing Lebanon.  The Cabinet will include both technocrats and political figures, the sources said, signaling that Hariri's approval of the future premier is still being sought. The Free Patriotic Movement, along with their Shiite allies Hezbollah, have rejected the formation of a completely independent government, seeking instead a "techno-political" Cabinet. Sources say Hezbollah's tight grip on the Cabinet and its determination to be included stems from fear of a potential isolation and a scheme to remove its military arsenal.
The sectarianization of Lebanon and smearing a revolution
Georgi Azar/Annahar/November 26/2019
Hezbollah and Amal supporters, as we have become accustomed to seeing, are front and center in these latest clashes.
BEIRUT: For 40 days, Lebanese from all walks of life have demonstrated a sense of responsibility rarely witnessed in today's hypersensitive world. They have risked their own freedom to achieve freedom for all, putting aside differences that had divided them for so long. Religion, sect and class had become second fiddle, paving the way for a clear set of demands: a government by the people, for the people. 40 days later and our elected parliamentarians and president have yet to appoint to a new Prime Minister. A number of theories for the delay have been presented, yet it begs the question as to whether this signals a consorted effort by some to pit Lebanese against one another in a bid to buy time. After 40 days of peaceful civil disobedience, Lebanon has now been dragged to the cusp of civil strife, bordering the outbreak of war.Hezbollah and Amal supporters, as we have become accustomed to seeing, are front and center in these latest clashes. They have attacked peaceful demonstrators in Beirut and Sour, destroying both public and private properties while flexing their militia-like muscles.
The lawlessness that has swiped over parts of the country is astoundingly conspicuous and eye-opening. The army and various law enforcement, which have been swift to arrest peaceful demonstrators for far less egregious crimes, have shown an extreme reluctance to address the issue.
No arrests have been made and no official has condemned the violence exhibited by these Hezbollah and Amal affiliates. Instead, Amal leader Nabih Berri placed the blame at the feet of the peaceful protestors, warning of the dangers of roadblocks. These men could even be heard chanting for a rerun of the May 7, 2008 armed clashes which resulted in 12 deaths and brought Lebanon to the brink of war. Chants of "Shia, Shia, Shia," echoed through Beirut's cross-sectarian neighborhoods as hundreds of thugs descended on their trademark minibikes. They had seemingly taken offense to the Ring Bridge being closed Sunday night and yet lashed out at nearby residents' belongings. Cars were destroyed and set on fire. Windows bashed and threats spray-painted on walls. Hours later, protesters' tents in Sour were trashed and burned. The resistance, for all its previous glory, is being sullied and its reputation dragged through the mud.An armed scuffle also broke out between Hezbollah and Future Movement supporters in the Cola neighborhood of Beirut, holding a mirror to the broader Shia-Sunni struggle in the region. Hezbollah, which now finds itself backed into a corner as popular support and foreign funding wanes, is seemingly resorting to scare tactics. Wise Lebanese should be wary of falling into the trap, as history is filled with plots that have highjacked a peaceful political revolution. The intervention of these tribal-minded aggressors in what had been a nonviolent revolution will surely add a combustible new dimension to the uprising in Lebanon. It is our duty, and that of the armed forces, to ensure that history doesn't repeat itself.
Moral Leadership and the Lebanese Military
Aram Nerguizian/Carnegie MEC/November 26/2019
After more than a month of protests targeting Lebanon's sectarian postwar political order, pressure has increased on the Lebanese armed forces to maintain internal stability and civil peace. To that end, the military and its leadership have avoided engaging in major public statements or press appearances, preserving the institution's neutrality and avoiding the politicization of the armed forces. However, both the protest movement and the sectarian political elites they oppose continue to struggle with deciphering the military's intentions, priorities, and objectives.
The protest movement remains uncertain about the role of the military as protests enter their sixth week. Social media is littered with protestors' comments that range from praise for the military's efforts to uphold civil peace to acrimony over the absence or heavy-handedness of military personnel. Discussions with protest organizers often contrast the deployment in force of elite units to clear roadblocks, at times by force, and a far less aggressive posture by units when Hezbollah and Amal supporters recently destroyed the protestors' encampments in Beirut's central district.
In discussions, Lebanon's sectarian political leaders show growing frustration with the military's perceived inability or unwillingness to bring the protest movement to heel. Partisans of the predominantly Christian Lebanese Forces and Kataeb parties, which claim to support the protests, point to the vigorous lifting of roadblocks in the Metn district as proof that the military is not "on their side." Protestors in the country's predominantly Sunni north increasingly accuse the military of being "Aounists"—a reference to the officers promoted under President Michel Aoun when he was still commander of the armed forces. By contrast, there are persistent tensions between the leadership of the Free Patriotic Movement and the military, and the former are aghast at how the armed forces have sought to negotiate and mitigate road closures.
Meanwhile, Lebanon's principal Shi'a factions, Hezbollah and Amal, are increasingly interpreting the actions of the Lebanese military as complicit with the pro-Western March 14 forces, going so far as to insinuate that the military and military intelligence are siding with the protest movement.
If the military is to counteract such accusations, it must address three challenges: first, it must proactively articulate strategic guidelines to clarify its intent; second, it must adopt modern best practices tied to strategic communication; and third, it must actively track and correct instances where individual military personnel or units act out of step with the guidelines set by headquarters.
For the military to clarify its strategic and tactical objectives is arguably the most critical challenge. Early on, the military tried to make plain its mission priorities: protecting the public and key government institutions and standing for and with the protestors. However, this did little to articulate for the public at large what those priorities meant in the real world. Discussions with Lebanese military officials indicate that the military's strategic objective is simply to buy time and maintain civil peace long enough to allow for a suitable political settlement to be found to the country's political crisis. Allowing protests in Beirut and Tripoli to go on unabated falls under those objectives. By contrast, lifting roadblocks are meant to be limited timebound tactical actions that seek to accommodate the demands of Lebanon's caretaker government. Contrary to the assumptions of some in the protest movement and the political class, they are not a strategic effort to deal a death blow to one manifestation of the protest movement.
The next challenge is addressing the military's inability thus far to communicate this nuance to the public. The military's Orientation Directorate is tasked with public engagement, the posting of official bulletins, and keeping the public informed on non-sensitive military affairs. However, the directorate has largely failed to adapt quickly or decisively enough to the realities of this age of social networks, citizen journalism, and alternative and fake news. Like other militaries around the world, the Lebanese military will have to rapidly adapt its existing public diplomacy capabilities to proactively and persistently engage, educate, and react to the public at large.
In the longer term, this may mean establishing a new communications directorate (a "J-9" in military parlance). However, in the short term it can mean dusting off and expanding on the strategic communication lessons learned during the 2017 Fajr al-Jurud campaign against the Islamic State and tasking a timebound strategic communications cell until the military can adapt structurally.
If the military can address its intent and how to signal it, the next challenge will be to strictly ensure that all units adhere to that intent in practice. The military will have to pay close attention to how it deploys units with varying levels of experience with public order actions in support of stabilization operations, while also working to show the public that it is acting fairly and consistently across Lebanon. This means carefully calibrating how the military uses its regular and elite units at roadblocks and in places such as Beirut's central district to reassure protesters and deter potential aggressive elements on either side of Lebanon's sectarian political dividing lines.
No less important are the perceived actions of non-combat units such as the Directorate of Military Intelligence, which have regular and recurring contact with both protesters and political factions on the ground. Establishing and maintaining uniformity across the force in terms of actions and intent become even more important as telltale signs of fatigue, stress, and lapses of judgment become increasingly apparent after more than a month of protests.
On November 17, the army commander, General Joseph Aoun, publicly restated the military's objectives and priorities, emphasizing both the protestors' right to freedom of assembly and the tactical imperative of keeping major roads open. This first major public statement went in the right direction to try and educate the public about what the military was doing and why. Whether such public engagement was enough, or succeeded in communicating with a youth-driven protest movement, was debatable. However, the military must adapt accordingly. Be that as it may, the address communicated a fundamental belief that the Lebanese military was not, as one officer put it, a "hope killer."
As the crisis persists and more Lebanese look to the armed forces for leadership, addressing intent, signaling it, and then ensuring it is uniform will be critical. And none of this can be accomplished by a military merely reacting to events. It must seize the initiative. The military must work to ensure it is not increasingly perceived as "the military of the regime," as one officer put it. It must also strive to remain "the military of the nation."To that end, how the Lebanese military engages with and channels the demands of the protest movement as well as the needs of the country's leading sectarian forces will determine whether it can stake out a position for itself allowing it to control the moral high ground.
Is the Lebanese miracle dead?
Ishac Diwan/Annahar/November 26/2019
The revolutionaries in the street aspire to build their country rather than be forced to leave it. They believe that it is way below its potential and that they can do much better with their collective energy and skills.
Our economic and political elites want us to believe that once we get through the rough spot of the moment, it should be possible to revive the Lebanese Miracle economy. A more sober diagnostic is that the ongoing financial difficulties do not reflect a passing liquidity problem, but, instead, the sure signs of the bankruptcy of the post-civil-war model. These signs preceded the October 17 revolution and were actually its driver. How to transition to a new model, without killing the patient, should now be our central concern.
Exports of goods and services in the past few years have been annually around $5 billion, and imports around $20 billion. The difference – which Lebanon needs to pay for all its imports – has been financed by external inflows of capital, largely into the country's banks, at the tune of 20% of GDP on average over the past two decades. Lebanon has become dependent on capital inflows like rentier-countries depend on oil sales, and like a heart depends on blood flow.
But depositors count on their bank to invest their assets prudently. Instead, our banks have invested massively in public debt, and this ended up being a bad investment, as it is now clear that the economy will be unable to outgrow its debt burden. The Central Bank adopted a Ponzi-like scheme to attract more capital, but this too has run out of steam. New inflows into the system have now dried up – worse, bank depositors are looking for the exits.
To continue with the medical metaphor, the sudden stop of capital inflows resembles a heart attack. To repair Lebanon's heart, it will be necessary to remove the fat blocking the arteries – in effect, to clean up the banks' balance sheets so they become solvent again, which will require the recapitalization of banks and the much-dreaded haircut on deposits.
To keep heart attacks from recurring, there is also a need to stop producing so much fat, in other words, to normalize Lebanon's metabolism. The recurrent external deficits reflect an excess of spending over income. Not only the state, but also the business sector, and many households have been spending more than they earn, year after year. The country needs to consume less of its income and work harder. For consumption to rise over time, the country will need to invest its savings more judiciously.
This requires, in turn, that Lebanon rebuild its productive capacities like a healthy body needs to build up solid muscles. Economic growth is now close to zero. This was partly due to external reasons. Tourism and exports were hit by political instability, and remittances are down with the region-wide fall in oil revenues. But instead of working harder to face the challenging environment, the old model has atrophied our muscles. The artificial rise in wealth has pushed up real wages, making foreign goods cheaper. Displaced from the tradable sectors, more youths had to seek employment abroad. Corruption and poor infrastructure have further increased the cost of doing business. To grow again, Lebanon's productive muscles need to be rebuilt.
But there can be no healthy body in the absence of a well-functioning brain – a Polity where decisions about the country's future are made. The massive capital inflows have distorted the country's governance system. The borrowing spree has deepened inequality, producing an economic elite that earns high return on its capital without having to take risks and innovate, because of the high-interest rates policy. It has also allowed a sectarian political elite to get entrenched by building its legitimacy on patronage and clientelism, rather than on performance.
The large rents that the political elites drew by milking the public sector, and an increasingly cronystic private sector, have allowed for the formation of an overgrown ruling coalition. This may have delivered some political stability in the midst of a chaotic region. But the coalition has been too unwieldy to be able to even collect garbage or provide electricity effectively, let alone to address the long-term national challenges facing the economy. Now that the regional chaos is subsiding, it is high time to come back to a more competitive political system where ruling parties are disciplined by an active opposition.
To move forward effectively, it is essential that we first convince ourselves that the old model cannot be fixed. Its core functions have broken down. The banking sector will not be able to attract large external deposits anymore. Oil prices will not recover their earlier peaks. GCC jobs will not be as plentiful as in the past, and assistance from oil producers will be scarcer. The international community will not offer support if the system is not fixed. But more importantly, the public itself has now irreversibly rejected the old model. The street is denouncing loudly its sectarianism and corruption, its weak state, and its artificial economy.
The revolutionaries in the street aspire to build their country rather than be forced to leave it. They believe that it is way below its potential and that they can do much better with their collective energy and skills. They want a state that serves society and business. They want performance to replace corruption, and meritocracy to replace connections. In addition to tourism and finance, they aspire to build a vibrant high-tech industry, an environmentally conscious agriculture, a cultural production powerhouse, and to connect in more synergetic ways with their successful diaspora. They want social justice, not rising inequality.
What is increasingly clear, however, is that the Lebanese will inherit a country in near ruin – over-indebted, with an inefficient state, a weak banking sector, and an economy that no longer allows for the importation of even the basic necessities. The birth of the Third Republic will be painful, but revolutionaries rarely inherit a well-functioning country.
The magnitude of the needed transition is similar to what Greece went through recently, and the danger along the current path resembles the present situation in Venezuela. It might take a decade before a full recovery is achieved if the full battery of reforms that are by now well known are implemented successfully. In the immediate future, the remaining reserves at the Central Bank need to be carefully rationed to protect the import of basic necessities until exports pick up. To smooth the transition, Lebanon also needs all the external help it can get.
In the coming months, not only will private wealth go down as balance sheet losses are distributed, but incomes will also have to fall to constrain imports, and wages to increase exports. The main challenge will be to build up enough social cohesion to avoid getting locked in a destructive distributive fight. The real Lebanese miracle will come to life when the country, starting from a lower-income base, will get solidly onto a rising path that can increasingly fulfill its newly rediscovered creative potential.
*Ishac Diwan is a professor of economics at the Ecole Normale Supérieure in Paris.
A reading in Lebanon's current financial crisis
Mohammad Ibrahim Fheili/Annahar/November 26/2019
Everyone who benefited from the imperfections of recent months and years must contribute to the rescue efforts.
The struggle to prevent a total collapse continues, and the crisis lingers. A key policy mistake, which led to the current financial crisis in Lebanon, is that corrective and preventive actions were not taken sooner. There is a need for collective effort by the management of Banks operating in Lebanon, their clients, and the Central Bank to rectify the situation. There is a collective responsibility here due to the failure to act in due time.
At least until now, the current financial crisis is neither a crisis of default nor total insolvency; instead, it's that of liquidity! In recent months, banks confronted nagging demands:
● To secure resources to absorb losses incurred from deteriorating loan quality; since 2015, banks have been aggressively expensing their income to allocate provisions for loan loss reserves
● To extend credit to struggling local businesses trying to survive the steep economic downturn
● To refrain from paying dividends (including the current year 2019) and to retain the profits as instructed by the Central Bank of Lebanon.
● To meet the panic-driven depositors' demand for withdrawals, be it in cash or transfers outside of Lebanon. Banks have been meeting clients' demands in full, provided it's in checks (not in cash) of the same currency, and transfers outside Lebanon are excluded except when it's for humanitarian needs – to cover child support living outside Lebanon, the imports of pharmaceutical products, wheat, and oil, just to name a few.
At the root cause of this crisis we find:
a) Commercial banks paid more attention to the growth and health of their uses of funds (i.e., assets – loans, holding of government securities, deposits at the Central Bank, and deposits at other financial institutions mostly correspondent banks) and setting aside enough provisions to absorb any anticipated losses from deteriorations in the quality of their assets, excluding government securities.
b) Liquidity Concerns didn't get the much-needed attention from the board of directors, nor did chief risk officers make a proper assessment of it through stress testing plausible scenarios considering the state of the economy, the political chaos, and the fate of the uses of funds.
c) In the situation as of late 2017, banks:
I. used all they were permitted to use, in regulation, out of their required reserves (i.e. technically used up their deposit cushion) to fund their appetite to extend housing and other types of subsidized loans;
II. noticeably reduced their holding of excess reserves and locked this excess liquidity in deposits at the central bank (BDL), which, in turn, used it to bail out an ailing fiscal government rendering the asset of the bank illiquid;
III. favored investing their available liquidity with the troubled Central government over investing it with the private sector. Under the circumstances, both are non-liquid forms of usage of funds.
To add insult to injury, the Central Bank of Lebanon used most of its available liquidity to finance the mounting government deficits and helped in meeting the hard-to-satisfy spending appetite of the corrupt members of the government.
To sum up, banks concentrated the majority of their uses of funds in relatively non-liquid assets; and the central bank deployed a significant portion of its available funds with the central government. Consequently, the financial community watched helplessly the emerging of the worst version of a liquidity crisis to date.However, the crisis didn't hit all financial institutions evenly. The severity of the crisis had to do with each financial institution's appetite for risk-taking behavior. As bad as it is, this is not the end of life in banking as we know it. The crisis is still manageable; rescue efforts remain possible; and complete recovery is, given time, possible.
The focus now should be on preserving the integrity and stability of the entire financial community in Lebanon and refrain from treating individual financial institutions as endangered species and in need of protection at any cost. Those who polluted the banking sector with their bad decisions and un-satiated risk-taking behavior must pay. Losing one, two, three or even more financial institutions is manageable – I dare say somewhat desirable! Institutions that stand strong and survive the crisis will be able to absorb losses and safeguard all depositors in failing institutions from any potential loss.
Everyone who benefited from the imperfections of recent months and years must contribute to the rescue efforts.
Who are they?
▪ Politicians who never had to worry about responsible government spending. Today is the time to wise up and act responsibly!
▪ Depositors who enjoyed the excessively high-interest rates on their deposits combined with unrestricted access to their deposit funds be it in time and/or demand deposits. It is time to change these rules of engagement!
▪ Borrowers, households and business owners, who exploited the subsidized loanable fund market, and uncontrollably expanded their credit obligations to include exposures to banks and to shadow banks. Now is the time for abstinence!
▪ Banks that enjoyed loose regulatory enforcement and, to a greater extent, a laissez-faire banking landscape. It has been obvious that banks have been chaperoned, not regulated as they should be, by the Central Bank of Lebanon. It's time for some whipping! The Central Bank of Lebanon needs to stop being so accommodating and to hold banks accountable for non-compliance with financial regulations. The regulator is a whip, not a chaperone!
Major efforts have been undertaken by commercial banks to protect, not to control, depositors' funds, and to delay or completely avoid a total collapse by introducing some controls:
● Withdrawals of deposited funds outside the banking system.
● Changing the currency denomination of deposit balances from Lebanese Pound to US Dollars.
● The transfer of funds outside Lebanon.
These are controls, with well-defined boundaries, and don't qualify as capital controls because they are not legislated; they are set and implemented at the discretion of the management of each individual bank based on its own demand for and availability of liquidity; they are circumstantial and easily revoked. Restrictions on capital flows, on the other hand, should they prove necessary, perpetuate external imbalances, and undermine trust.
Any policy measure that undermines the credibility of these controls runs the risk of triggering a depositor runs. On the other hand, rumors about a haircut inflict harm and create fear; it's unlikely to happen! However, if it happens, it's unlikely for it to target small depositors.
*Mohammad Ibrahim Fheili is a risk & capacity building expert.
Student Protest Against Dollarisation of tuition fees
Fatima Dia/Annahar /November 26/2019
Students carried a banner in front of college hall, saying "We will not pay the price," referring tot he politicians' mistake which led to the current economic state of the country.
BEIRUT: Students at the American University of Beirut gathered in front of College Hall on the Beirut campus, in protest against the policy of dollarisation of tuition fees, today, on Nov. 26.
This policy means students are not allowed to pay their tuition with Lebanese Pounds, only with dollars. The main issue with this restriction lies in the fluctuating exchange rate between the Lebanese pound and the American dollar— the country is in the mid of an economic crisis, where the national debt of Lebanon is at $91.97 billion US in 2019, according to a study on statica.com.
Students carried a banner in front of college hall, saying "We will not pay the price," referring tot he politicians' mistake which led to the current economic state of the country.
It's bad, that's a common consensus, especially now, in this crumbling economy where everything is uncertain," said AUB student Karine Ballout. "Personally, my parents are struggling to pay tuition, because their salaries are in lira [Lebanese Pounds], our bank accounts are in lira."
Hassan Chehaitly, another AUB student, expressed discontent in the fact that the university is asking for dollars, when people are unable to even withdraw from banks and ATMs. Chehaitly described the situation as having become "theft, and a bourgeoisie."
Students were not the only ones present in the protest, with staff and faculty present in support of the students' demands. AUB professor from the faculty of Agriculture, Jad Chaaban, said it was unfair of the university to price the tuition in a foreign currency, specially when there's a huge risk on that currency.
"The university should let students on Lebanese soil pay in Lebanese pounds," he added. "It's only fair to the students and their parents, who actually make most of their income in Lebanese pounds."
Haitham Khoury, another professor, at the Olayan School of Business, echoed Chaaban's sentiment, adding that they're supportive out of a "sense of justice and what's right." Khoury added that the way to have access to the cross section of the Lebanese society, is by removing the dollarisation policy— and protesting the way the students were, "is the way to do it."
The protests against dollarisation were not confined to the AUB campus; Lebanese American University students showed solidarity at their own campus with chants and banners. In addition to solidarity, the students do not want LAU to take the same measures.
"It's our right to pay with our national currency," said Lea Fakih. "And what's going to happen when the price of the [Lebanese pound] drops with the inflation that's happening in the country, is that people are not going to afford to study at LAU or AUB, because of the conversion rate. We can't afford to do that."According to the protesting students, another key issue that arises with the dollarisation of tuition fee is a direction of inaccessibility and non-inclusivity in both AUB and LAU.
"[AUB] is already less accessible and less inclusive, you live in such a privileged environment here, and when you get out into the world you see it's completely different, and with the dollarisation it's also making it harder on people with financial aid," said ballout.
In addition to the increased classification of the environment in these universities, students claim it is not their responsibility to pay the price, echoing the message from the banner held during the protest.
"It's not our responsibility to pay the price of the economic problems of the country," said Fakih. "It's becoming more inaccessible and more non-inclusive, and they're basically forcing us to pay the price of the economic deterioration that was caused by the politicians who we do not identify with. They have robbed us, and completely benefited from this. A lot of people won't be able to graduate, myself included."
Annahar contacted AUB regarding the student-led protest, but received no response.