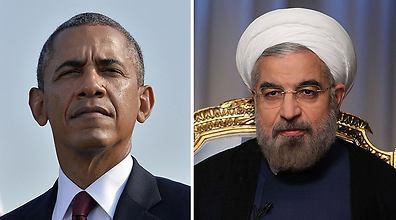 U.S. officials report first Iranian airstrikes against ISIS in Iraq


Agencies/Dec. 04, 2014
WASHINGTON / BRUSSELS: Iranian jets have carried out airstrikes in Iraq against ISIS militants in recent days, U.S. officials and independent analysts say.
It has long been known that Iranian troops and advisers have been fighting alongside Iraqi forces against ISIS but until this week there had been no confirmation of Iranian air activity. The timing and nature of the strikes aren't clear, but U.S. officials say some involved American-made F-4 Phantoms, twin-engine fighter-bombers that were sold to Iran's U.S.-backed shah in the 1970s, and were last produced by McDonnell Aircraft Corp. in 1981.
Al-Jazeera filmed a jet flying over Iraq on Nov. 30 that was identified by magazine Jane's Defense Weekly as an Iranian Phantom.
The Pentagon said Wednesday that the airstrikes had taken place in an eastern region where U.S. warplanes do not operate.
"It was in eastern Diyala province," Pentagon spokesman Col. Steven Warren said. "We have not had any air activity there."
The bombing run marked the first time the Iranian air force had flown its F-4 fighters in a combat mission against ISIS, U.S. officials said.
"This is the first time we've seen it," Warren told reporters. Iranian Foreign Ministry spokeswoman Marzieh Afkham denied that Iran had cooperated with the U.S.-led coalition, but she neither confirmed nor denied the news.
The news came as top officials from 60 countries met in Brussels to hold the first high-level meeting to discuss the international campaign against ISIS.
Secretary of State John Kerry said that Iranian attacks would represent a positive development.
"I think it's self-evident that if Iran is taking on ISIL in some particular place, and it's confined to taking on ISIL, and it has an impact, its net effect is positive," Kerry told reporters, using another acronym for the group. "But that's not something we're coordinating."
Iraq's Prime Minister, Haider al-Abadi told reporters, "I'm not aware there were Iranian airstrikes."
Abadi also announced that Iraq would formally ask NATO to help improve its military capacities, NATO spokesperson Oana Lungescu said. The request will have to be reviewed by representatives of NATO's 28 member nations, she said.
Most experts believe that even if there is no direct military coordination between historic foes Iran and the United States, some degree of information sharing must be in place – most likely via the Iraqi authorities.
Pentagon spokesman John Kirby hinted as much.
"We are flying missions over Iraq. We coordinate with the Iraqi government as we conduct those. It's up to the Iraqi government to de-conflict that air space," Kirby told reporters.
"Nothing has changed about our policy of not coordinating military activity with the Iranians."
The administration's very different approaches to the situation in Iraq and Syria, where ISIS holds territory, remain an obstacle to bringing along countries such as Turkey into the coalition. Ankara is demanding that Washington commit to toppling the regime of Syrian President Bashar Assad.
Speaking at a business roundtable in Washington, U.S. President Barack Obama commented that he was confident the coalition would be able to push back ISIS in Iraq, but called Syria a more difficult, long-term problem.
For his part, Assad criticized the Western and Arab airstrikes for having no effect. "You can't end terrorism with aerial strikes. Troops on the ground that know the land and can react are essential," he said in this week's edition of French magazine Paris Match.
"That is why there haven't been any tangible results in the two months of strikes led by the coalition. They would of course have helped had they been serious and efficient."