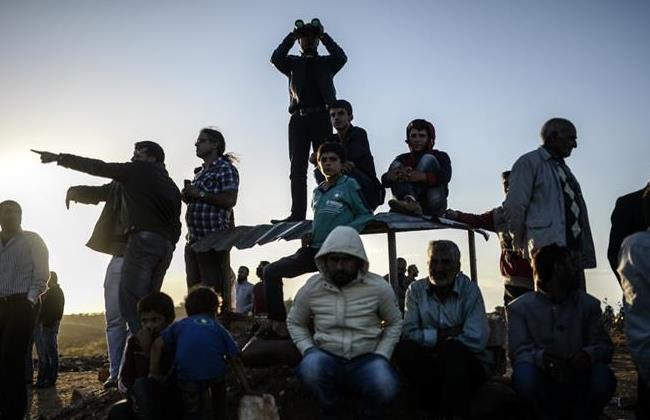 US prods Turkey over inaction against ISIS
Published October 08, 2014
FoxNews.com
A Pentagon official signaled Wednesday that the U.S. is pressing the Turkish government to intervene in support of Kurdish forces desperately battling to keep the Syrian border town of Kobani from falling into Islamic State hands.
Pentagon spokesman Rear Adm. John Kirby told Fox News that U.S. officials are talking with the Turks about "what they can or will or may do here."
He added: "This is a decision the Turkish government has to make. We can't make it for them."
But The New York Times reported earlier that the White House is growing frustrated with Turkish inaction as the situation next door in Kobani gets worse.
Kirby also stressed the "limits of airpower" and said the U.S. needs more help on the ground.
"There's just so much you can do from the air," he told Fox News. "You've got to have willing partners on the ground. You've got to have ground forces."
The New York Times quoted a senior administration official who slammed the Ankara government for "dragging its feet to act to prevent a massacre less than a mile from its border."
"After all the fulminating about Syria's humanitarian catastrophe, they're inventing reasons not to act to avoid another catastrophe," the official continued. "This isn't how a NATO ally acts while hell is unfolding a stone's throw from their border."
The Times reported that Secretary of State John Kerry had spoken with his Turkish counterpart Mevlut Cavusoglu and Prime Minister Ahmet Davutoglu multiple times over the prior 72 hours in an effort to resolve tensions between the two sides.
Turkish President Recep Tayyip Erdogan said the U.S.-led coalition's air campaign launched last month would not be enough to halt the Islamic State group's advance. Turkish troops have been massed near the border since the assault on Kobani began, but have so far not taken an offensive posture.
"Kobani is about to fall," Erdogan told Syrian refugees in the Turkish border town of Gaziantep, according to The Associated Press. The Turkish president called for greater cooperation with the Syrian opposition, which is fighting both the extremists and forces loyal to Syrian President Bashar Assad.
"We asked for three things: one, for a no-fly zone to be created; two, for a secure zone parallel to the region to be declared; and for the moderate opposition in Syria and Iraq to be trained and equipped."
The Times reported that President Obama prefers that Erdogan not tether the fight against Islamic State, commonly known as ISIS, to the effort to overthrow Assad. U.S. officials also tell the paper that Erdogan's demand for a no-fly zone against the Syrian Air Force is meaningless on the grounds that the airstrikes have created a no-fly zone in all but name.
On Wednesday, Fox News reported that machine gun and small arms fire could be heard and seen near Kobani, indicating street fighting at close quarters. Artillery fire could also be heard at the center of town. The minaret of the town's mosque was destroyed by ISIS fire.
U.S. Central Command said Tuesday that five airstrikes on ISIS positions had been carried out near Kobani. A Fox News crew witnessed at least two airstrikes. One strike hit an ISIS tank on a hillside overlooking the town, while another two tanks appeared to be hit to the town's southwest.
While it is thought that supply lines for ISIS might have been disrupted by the stepped up attacks, enough ISIS fighters have entered the town with heavy arms back-up to wage a serious fight.
On Tuesday, the United Nations envoy for Syria issued a call for "concrete action" to prevent "humanitarian tragedies."
"The world has seen with its own eyes the images of what happens when a city in Syria or in Iraq is overtaken by the terrorist group called ISIS or Da'esh: massacres, humanitarian tragedies, rapes, horrific violence," Staffan De Mistura said. "The international community cannot sustain another city falling under ISIS.
"The world, all of us, will regret deeply if ISIS is able to take over a city which has defended itself with courage but is close to not being able to do so," De Mistura added. "We need to act now."
Fox News' Greg Palkot contributed to this report.