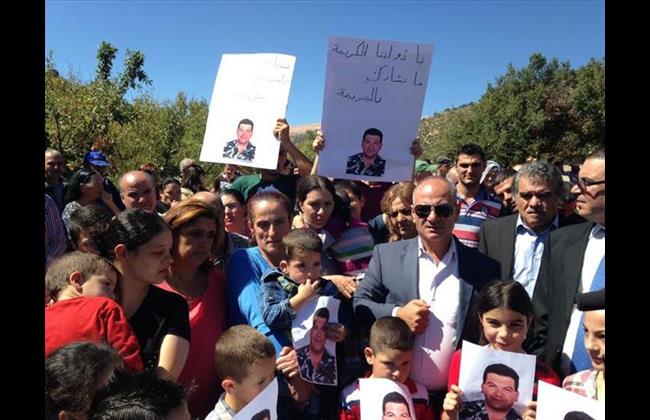 Relatives of Arsal hostage threaten to block airport road
The Daily Star/Oct. 05, 2014
BEIRUT: Relatives of the captive Lebanese policeman Pierre Geagea blocked a Bekaa Valley road Sunday and threatened to shut down Beirut's vital airport road over the government's failure to secure his release.
"Today we closed the Barqa road and tomorrow we will close [those] of the airport and the port," Geagea's wife told reporters from their protest near the Bekaa town of Deir al-Ahmar.
"We will demonstrate there and erect tents too," Nazha Geagea added, accusing the government of not working hard enough to free her husband.
Closing the airport road often leaves travellers stranded by blocking access to the country's only international airport.
"Our government is the one abducting Pierre Geagea and not the Nusra Front," she said, "and it is because of our government's negligence that we reached this situation."
Other family members said they have been collaborating with their relatives of other captives to block roads, saying their unity cannot be hampered by sectarian affiliation.
The Barqa road is not as essential at the Dahr al-Baidar highway linking Beirut to the Bekaa Valley, which has been blocked by the families of the captives since September 24. At least 21 servicemen remain in captivity.
Speaking at the protests, Barqa's mayor said he supported the families' actions, and critized the government for their "weak efforts." to secure their release.
"We as people of Barqa and Deir al-Ahmar will escalate this movement to block the biggest roads possible," he said, "and will remain on the streets until Pierre comes back."
Geagea's family said they had received a recording from their son Saturday in which he said he was doing well but called on his relatives to take wider action for the sake of his release.
Geagea was kidnapped along with more than 30 other servicemen by militants from the Nusra Front and ISIS during the August clashes with the Lebanese Army in Arsal.
The Nusra Front has so far released seven servicemen and executed one, while ISIS has beheaded two.
A stone dealer from the Chouf village of Barouk was released Thursday by ISIS, who kidnapped him the day before, as he explained, in an attempt to collect information on the Army's movements around Arsal's entrances.
He told The Daily Star on Friday that at least eight troops were held in a small farmhouse one hour outside of Arsal, where 10 ISIS fighters guard a cabin containing 50 other hostages.