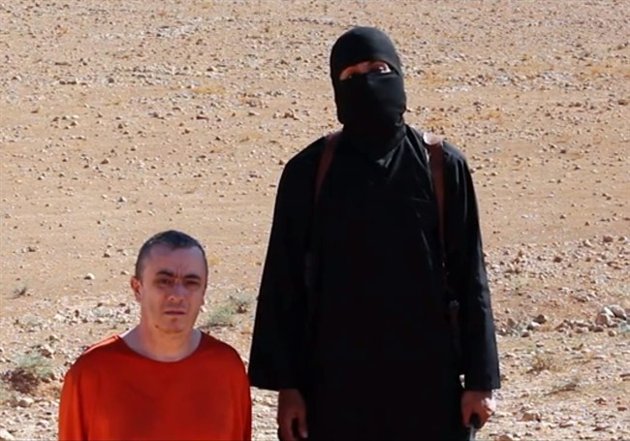 Internet video purports to show Islamic State group beheading British hostage Alan Henning
The Canadian PressBy Jon Gambrell And Jill Lawless, The Associated Press The Canadian Press –October 04/14
CAIRO – An Internet video released Friday purports to show an Islamic State group fighter beheading British hostage Alan Henning, the fourth such killing carried out by the extremist group now targeted in U.S.-led airstrikes.
The video mirrored other beheading videos shot by the Islamic State group, which now holds territory along the border of Syria and Iraq, and ended with a militant threatening a man they identified as an American named Peter Kassig.
"Obama, you have started your aerial bombardment of Shams (Syria), which keeps on striking our people, so it is only right that we continue to strike the neck of your people," the masked militant in the video said.
Two U.S. officials, who spoke on condition of anonymity out of concerns of not having permission to release the information, confirmed that Kassig was being held by Islamic State militants. The officials declined to elaborate.
The Associated Press could not immediately verify the video's authenticity, though it was released in the same manner as other Islamic State group videos and the masked militant sounded similar to the one who carried out the other slayings.
In a statement, the British Foreign Office said it was working to verify the video.
"If true, this is a further disgusting murder," the statement read. "We are offering the family every support possible; they ask to be left alone at this time."
Britain has been supporting U.S. military efforts against the Islamic State group by using British forces to help with logistics and intelligence gathering, as well as recently taking part in airstrikes in Iraq. The Internet video released Friday begins with a news clip announcing British strikes against the Islamic State group.
British Prime Minister David Cameron said Henning's apparent slaying showed "how barbaric and repulsive these terrorists are."
"Alan had gone to Syria to help get aid to people of all faiths in their hour of need," Cameron said in a statement. "The fact that he was taken hostage when trying to help others and now murdered demonstrates that there are no limits to the depravity of these … terrorists.
"We will do all we can to hunt down these murderers and bring them to justice."
U.S. President Barack Obama's counterterrorism adviser, Lisa Monaco, said the U.S. had seen the video and was evaluating it.
"This is again yet another just very clear example of the brutality of this group, and why the president has articulated and is moving out in a comprehensive way to degrade and destroy ISIL," Monaco said, using an acronym for the group. "Our hearts go out to the British aid worker who we believe is in that video, and to the remaining hostages and to their families."
This is the fourth such video released by the Islamic State group. The full beheadings are not shown in the videos, but the British-accented, English-speaking militant holds a long knife and appears to begin cutting his victims, who include American reporter James Foley, American-Israeli journalist Steven Sotloff, British aid worker David Haines and now Henning.
FBI Director James Comey has said American officials believe they know the identity of the masked militant, though he's declined to name the man or reveal his nationality.
Kassig, a 26 year-old American now threatened by the Islamic State group, enlisted in the Army in 2004, and became a Ranger, ultimately serving in the 75th Ranger Regiment, an Army special operations unit.
According to his military record, Kassig trained at Fort Benning, Georgia in 2006, and deployed to Iraq from April to July 2007. He was medically discharged at the rank of private first class in September 2007. His home of record at the time of his enlistment was Indianapolis, Indiana.
Henning, 47, nicknamed "Gadget," had joined an aid convoy and was taken captive on Dec. 26, shortly after crossing the border between Turkey and Syria. Earlier this week, Henning's wife Barbara Henning asked the militants in a televised plea: "Please release him. We need him back home."
Dozens of Muslim leaders in Britain have urged the Islamic State group to release Henning. His wife had said she had been given hope by "the outcry across the world" over her husband's imprisonment.
Mohammed Shafiq, chief executive of the Ramadhan Foundation, a Muslim charity, called Henning "a British hero."
His "barbaric killing is an attack against all decent people around the world," Shafiq said.
The Islamic State group has its roots in al-Qaida's Iraqi affiliate but was expelled from the global terror network over its brutal tactics and refusal to obey orders to confine its activities to Iraq. It became even more extreme amid the bloody 3-year civil war in neighbouring Syria, growing stronger to the point of being able to launch a lightning offensive across much of northern Iraq, routing security forces there and shooting down an Iraqi helicopter on Friday. The group has become known for filming and releasing footage of mass shootings it conducts, as well as beheading opponents and targeting religious and ethnic minorities in the areas it attacks.
The extremist group has been widely denounced by mainstream Muslim authorities.
Other foreigners are believed held by the Islamic State group. On Friday, the father of John Cantlie, a British photojournalist held by the group, appealed for his release in a video, saying he was a friend of Syria.
___
Lawless reported from London. Associated Press writers Lolita C. Baldor, Bradley Klapper, Josh Lederman and Matthew Lee in Washington contributed to this report.