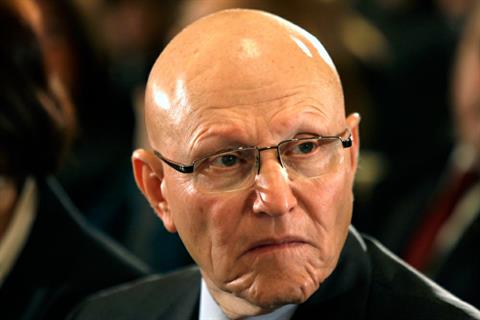 Salam Vows to Fight Terror, Free Troops as Mufti Says Won't Allow Anyone to 'Hijack Religion'
Naharnet /Prime Minister Tammam Salam on Tuesday stressed that the government and army will continue to fight "takfiri terrorism," as newly-inaugurated Grand Mufti Sheikh Abdul Latif Daryan underlined that Dar al-Fatwa will not "allow anyone to hijack religion" and described arms as the biggest problem in the country.
"In my capacity as prime minister and head of the Islamic electoral council, and in the name of Muslims, I declare Sheikh Abdul Latif Daryan the Grand Mufti of the republic," said Salam at an inauguration ceremony at the Mohammed al-Amin Mosque.
The event was attended by Lebanon's spiritual leaders and representatives of Arab and Western countries.
"It is a blessed day in which we gather to crown the achievement that was made at Dar al-Fatwa on August 10 through the election of Sheikh Daryan as a successor to Sheikh Mohammed Rashid Qabbani," Salam added.
He said Daryan's enthronement will launch a new era at Dar al-Fatwa, "which has a major challenge at the organizational level and at the level of running the affairs of Muslims."
"The Muslim community has full confidence in Dar al-Fatwa and hopes that its institutions will be fortified," added Salam.
He said all eyes are on Dar al-Fatwa and its national role in "boosting unity among Muslims, promoting Islamic-Christian dialogue, and keeping the channels of communication and dialogue open with everyone."
"Islam — the religion of love, moderation and tolerance — is nowadays facing a fierce assault from takfiri groups who are murdering, slaughtering, displacing children and women, destroying communities, and imposing practices and lifestyles that cannot be accepted by any religion or mind," the premier noted.
He said some members of takfiri groups, "which exploit people with weak minds and faith, have arrived in Lebanon," in reference to militants from the Islamic State and al-Nusra Front who stormed the Bekaa border town of Arsal on August 2.
"I stress that we will carry on with our efforts regarding the abducted troops and that we won't rest before they return safely to their families," said Salam, referring to around 28 troops and policemen who were abducted by the armed groups during the clashes.
"We in the government are confronting the phenomenon of terrorism with all our capacity and our armed forces are performing their duties in this regard, but the main responsibility in countering this takfiri ideology rests on the shoulders of Dar al-Fatwa," the PM pointed out.
He said amid the bloody events in the region, "our youths need someone who can guide them, because bigotry is the fuel of strife."
"Christians and Muslims are the owners of this land and we have equal rights and duties," added Salam, emphasizing that "the new Maronite Christian president of the Lebanese republic must be elected today before tomorrow."
He warned that the obstruction of the presidential vote "has caused major damage to Christians, not to mention its definite harm against Lebanon," urging "every keen Muslim to contribute to a quick solution to this painful situation."
The premier also called on Dar al-Fatwa to devise a roadmap to "defuse sectarian tensions.""Let us all, Muslims and Christians, commit to a real partnership … We either rise together or fall together and no group can accomplish its own project," he underlined.He noted that there can be no security for a country "in which some of its sons feel that their rights are incomplete.""We urge the political forces to abide by the spirit of dialogue and this can only happen through the election of a president," he added. Meanwhile, Mufti Daryan noted during the ceremony that the circumstances in the region "require a stance and a struggle in which the words of right and moderation rise up in the face of extremism."
"In less than five years, over half a million people were killed in our Arab world, most of them unarmed civilians. More than ten million others were displaced and have become without a home or shelter. These are among the most horrible crimes that humanity has known," Daryan said.
He stated that the Islamic world has a duty to "seek a way out of strife and tragedies."
The mufti noted that the situation is dire in Lebanon "because no agreement was reached on a way to control the country's borders and restore the state's esteem and prestige."
"We won't allow anyone to hijack the centrism of our religion, our country or the safety and security of our people," Daryan pledged. "We call for protecting religion, the state and the citizens, who have suffered and are still suffering from weapons and outlaw gunmen who violate the state's authority, coexistence and civil peace," he urged.
The mufti vowed that Dar al-Fatwa and all its bodies "will keep struggling for civil peace and for the welfare of Lebanon and its people."Strife will not break out and the blood of the Lebanese will not be shed in vain," he reassured.
On August 10, 61-year-old Daryan, head of the Sunni Sharia Supreme Court of Lebanon, was unanimously elected as the country's new Grand Mufti.
He received 74 votes as 9 others went to the Head of the Sunni Court in Baabda, Judge Sheikh Ahmad Darwish al-Kurdi. The settlement that led to Daryan's election ended a three-year rift between the Higher Islamic Council led by his predecessor Qabbani and a de facto council headed by his deputy Sheikh Omar Misqawi.