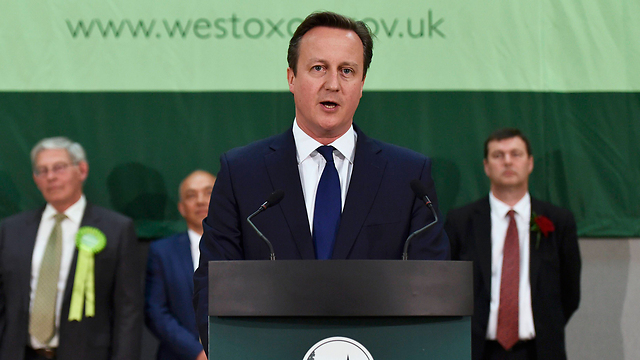 England/Cameron sweeps to unexpected triumph in British election


Reuters, AP/Latest Update: 05.08.15
Conservatives on course to win 325 seats in parliament, while opposition Labour Party takes a beating, mostly from Scottish nationalist in Scotland. Prime Minister David Cameron won an emphatic election victory in Britain, overturning predictions that the vote would be the closest in decades to sweep into office for another five years, with his Labour opponents in tatters. The sterling currency and share prices soared on a result that reversed expectations of an inconclusive "hung parliament" with Cameron jockeying for power with Labour rival Ed Miliband. Instead, Cameron was due to meet Queen Elizabeth before noon to accept a swift mandate to form a government.
Cameron's victory speech
But despite the unexpectedly decisive outcome, more uncertainty looms over whether Britain will stay in the European Union – and even hold together as a country. Scottish nationalists swept aside Labour, meaning that Scotland, which voted just a year ago to stay in the United Kingdom, will send just three representatives of major British parties to parliament and be all but shut out of the cabinet. That could revive calls for it to leave Britain. Cameron's victory also means Britain will face a vote which he has promised on continued membership in the EU. He says he wants to stay in the bloc, but only if he secures changes to its rules in negotiations that have not yet begun. With a few dozen seats yet to be declared in the 650-seat house, the Conservatives were on course for an overall majority to govern alone for the first time since 1992. They could also ask a small party to join them in government if they fall a few seats short.
Prime Minister Benjamin Netanyahu congratulated Cameron on Friday. "Congratulations to David Cameron on an impressive victory and renewed mandate. I look forward to working with you on shared goals of peace and prosperity," Netanyahu wrote in a post on his Facebook page. The opposition Labour Party took a beating, mostly from energized Scottish nationalists who pulled off a landslide in Scotland.
Labour Party leader Ed Miliband all but conceded defeat on Friday morning, saying he was "deeply sorry" for a "very disappointing and difficult night". Miliband was widely expected to resign as party leader. The BBC reported he would do so soon. With Cameron's Conservatives on the cusp of winning a majority in the 650-seat House of Commons, the election result looked to be far better than opinion pollsters, or even his own party, had foreseen. The prime minister was beaming early Friday as he as announced the winner of his Witney constituency in southern England.
"This is clearly a very strong night for the Conservative Party," he said, stopping just short of declaring victory. Cameron sounded a conciliatory note, especially towards Scotland, likely to be his first immediate headache."I want my party – and, I hope, a government I would like to lead – to reclaim a mantle we should never have lost, the mantle of one nation, one United Kingdom," Cameron said, vowing to counter the rise of Scottish nationalism with more powers for Scotland and Wales.A majority would mean Cameron no longer needs the Liberal Democrats, with which he has governed since 2010. The centre-left party was crushed, perhaps reduced to single digits after winning 57 seats five years ago.
Labour Party routed out of Scotland
The opposition Labour Party, led by Ed Miliband, was routed in Scotland by the Scottish National Party, which took almost all of the 59 seats in Scotland.  "What we're seeing tonight is Scotland voting to put its trust in the SNP to make Scotland's voice heard, a clear voice for an end to austerity, better public services and more progressive politics at Westminster," party leader Nicola Sturgeon told the BBC. "The Scottish lion has roared this morning across the country," said former SNP leader Alex Salmond, who was elected in the seat of Gordon.  Scottish Labour leader Jim Murphy insisted he would not resign despite losing his seat but Miliband's grip on the leadership seemed more tenuous, as the party failed to make predicted gains against the Conservatives across the rest of Britain."This has clearly been a very disappointing and difficult night for the Labour Party," said Miliband. "In Scotland we have seen a surge of nationalism overcome our party."
The exit poll forecast it would get just 239 seats. If accurate, that would be the centre-left party's worst result in almost three decades. The scale of its defeat in Scotland at the hands of nationalists is likely to raise serious questions about its future direction and policies.
Opponents fear the Scottish National Party is preparing to use an emphatic win to renew its push for an independence referendum even though it lost such a plebiscite only last year. "We're seeing an electoral tsunami on a gigantic scale," said Alex Salmond, the party's former leader. "The SNP are going to be impossible to ignore and very difficult to stop," he said, saying such a result would strip Cameron of any legitimacy in Scotland where his Conservative Party would have only one lawmaker.
Poor showing for Liberal Democrats
Liberal Democrat leader Nick Clegg is expected to resign, after seeing the party humiliated as a response to his decision to join the Conservatives in government five years ago and abandon high profile election pledges.  "It is now painfully clear that this has been a cruel and punishing night for the Liberal Democrats," said Clegg, who held onto his own seat. He said he would discuss his future with colleagues later Friday. The UK Independence Party, which wants an immediate British withdrawal from the EU, was on track to get two seats at best amid speculation that Nigel Farage, its leader, would fail to be elected and therefore have to step down. The party easily secured the third most votes, but could not translate this to many seats under Britain's system, in which candidates stand for seats in individual districts and a party's overall vote tally is meaningless.
Meanwhile, George Galloway, who has declared his constituency an "Israel-free zone," has lost his seat in Bradford West to the Labour Party. The exit poll projected that the Conservatives would get 316 seats – up from 302 and far more than had been predicted – and Labour 239, down from 256. It said the Liberal Democrats would shrink from 56 seats to 10, while the Scottish nationalists would grow from six to 58. The anti-immigration, anti-Europe UK Independence Party was projected to win two seats. Based on interviews with 22,000 voters, the poll differed strongly from opinion polls conducted during the monthlong election campaign, which had put the Conservatives and Labour neck-and-neck.
As results rolled in overnight, the Conservative Party appeared to be in a commanding position to form the next government, either alone or by seeking partners from smaller parties. One result could be re-run of the Conservative-led coalition with the Liberal Democrats that has governed since 2010.
The chief exit pollster, John Curtice of Strathclyde University, said it looked as if Conservative and Labour gains had canceled each other out across England and Wales, and that Labour had lost much of its support in Scotland to the SNP.
"We now have to take seriously the possibility the Tories could get an overall majority" in Parliament, he said. The survey was conducted by pollsters GfK and Ipsos MORI for Britain's broadcasters and released as polling stations closed and the counting began.
Each of the 650 constituencies are counted by hand and the results follow a familiar ritual. Candidates — each wearing a bright rosette in the color of their party — line up onstage like boxers as a returning officer reads out the results.But if the form was familiar, the results were often shocking.
Among the early Scottish National Party winners was 20-year-old student Mhairi Black, who became Britain's youngest lawmaker since the 17th century by defeating Douglas Alexander, Labour's 47-year-old foreign policy spokesman and one of its most senior figures. Black is the youngest lawmaker since 13-year-old Christopher Monck entered Parliament in 1667.
The UK Independence Party ran third in opinion polls, but by early Friday had won only one seat because its support isn't concentrated in specific areas. Leader Nigel Farage said he would resign if he does not win the seat of Thanet South — an outcome that looked a distinct possibility.
Britain's economy — recovering after years of turmoil that followed the 2008 financial crisis — was at the core of many voters' concerns. The results suggest that many heeded Cameron's entreaties to back the Conservatives as the party of financial stability. Public questions at television debates made plain that many voters distrusted politicians' promises to safeguard the economy, protect the National Health Service from severe cutbacks and control the number of immigrants from eastern Europe.