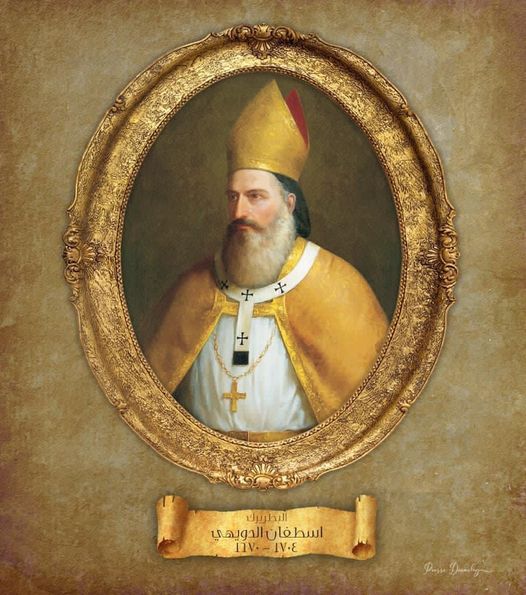 The Beatification of Maronite Patriarch Estephan Douaihy … A Testament of Faith for Lebanon
Elias Bajani/October 22, 2023
We thank the Lord for His spiritual gifts and blessings bestowed upon the Maronite believers, represented by the clergy and monks. We joyfully and reverently thank Him for the grace of beatifying Maronite Patriarch Douaihy in the Vatican on the past Thursday, October 19, 2023, adding him to the ranks of the saints in our Maronite Church. These saints include:
Saint Maron, the Father of the Maronite Church
Saint John Maron, the first Patriarch of the Maronite Church
Saint Jacob, a disciple of Saint Maron
Saint Simeon Stylites the Elder, a disciple of Saint Maron
Saints Cyra and Marana, disciples of Saint Maron
Saint Domnina, a disciple of Saint Maron
The 350 Maronite Saints
Saint Marina of Qannoubine
Saint Sharbel Makhlouf, the Lebanese Maronite monk
Saint Rafqa Al Rayess, the Lebanese Maronite nun
Saint Nimatullah Kassab, the Lebanese Maronite monk
Blessed Maronite Martyrs Francis, Abd El-Moati, and Raphael
Saint Charbel Makhlouf
Saint Thérèse
Saint Maroun
And many more.
The beatification of Patriarch Douaihy is a significant historical moment for our Church, our people, and our faith values. It symbolically affirms the sanctity of his life and his contribution to the Church and society, prompting the Maronite people to return to the wellsprings of faith and emulate the lives of the saints.
To understand the importance of beatification, one must recognize the role of saints in Christian teachings and traditions. Saints are individuals who lived exemplary Christian lives, and their sanctification is a recognition of their virtuous deeds and the examples they set for Christians.
Our Church believes that saints act as intermediaries between people and God, responding to prayers and requests made to them. We witness the wonders of Saint Charbel, which are countless in Lebanon and most parts of the world.
As a brief historical reminder, the Maronites trace their origins back to the 5th century when they separated from the Eastern Church and became an independent Church. The Maronite Patriarchate and the Maronites are integral to the fabric of Lebanese identity and heritage.
While the Maronite Church is a part of the Western Catholic Church, it retains its distinct traditions and rituals.
In conclusion, the beatification of Maronite Patriarch Douaihy is a tribute to the Maronite Church, a reflection of the rich history of the Maronites deeply rooted in the land of Lebanon, a testament to holiness and the saints.
Patriarch Douaihy's beatification elevates the status of the Maronite community and underscores the deep devotion of its followers. It is a moment of admiration and respect for every believer, emphasizing the importance of reevaluating Maronite Christian history, identity, and faith.
The beatification of Maronite Patriarch Douaihy brings hope, renewal, and a sense of purpose to the Maronites and all Lebanese, reminding them of the significance of dedicated service to faith, Christian values, Lebanon's essence, identity, history, and sanctity.