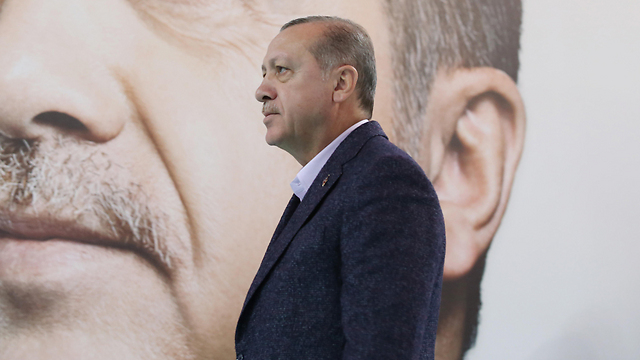 Netanyahu: 'We won't be lectured by Erdogan'/
نتنياهو يرفض مزايدات اردوغان حول القدس واردوغان يتهم إسرائيل بأنها دولة تقتل الأطفال

Ynetnews/Reuters/December 10/17
Speaking during a joint press conference with French president in Paris, Netanyahu says he won't take lectures on morality from a leader 'who bombs Kurdish villagers in his native Turkey and who jails journalists'; tells Macron 'just as Paris is the capital of France, Jerusalem is the capital of Israel.'
Prime Minister Benjamin Netanyahu said Sunday that Israel would "not take lectures" from Turkish President Recep Tayyip Erdogan, who over the weekend issued a tirade against Israel, accusing it of being a "terrorist state that murders children." Speaking in a joint press conference in Paris with French President Emmanuel Macron Sunday, Netanyahu was asked about Erdogan's comments on Israel, in which he also vowed to use "all means to fight" against the American recognition last week of Jerusalem as the country's capital. "Mr. Erdogan has attacked Israel. You ask what is my response. I'm not used to receiving lectures about morality from a leader who bombs Kurdish villagers in his native Turkey, who jails journalists, who helps Iran go around international sanctions and who helps terrorists, including in Gaza kill innocent peoplem" Netanyahu said. Netanyahu also said that the Palestinian acceptance that Jerusalem is Israel's capital will expedite the peace process.
"I offer to Mr. Abbas to sit and negotiate peace, nothing could be simpler," he said. "There is an effort to continually in UN forums in UNESCO and elsewhere to deny the millennial connection of the Jewish people to Israel. It's absurd…Where else is the capital of Israel but in Jerusalem?"
Listing the governmental institutions that are stationed in Jerusalem, including the Knesset and the Supreme Court, Netanyahu said "It's always been our capital. It's not in Be'er Sheva, it's not in Ashdod. It's always been out capital. It's never been the capital of any other people. "I think the sooner the Palestinians come to grips with this reality, the sooner we'll move towards peace."His comments come in the wake of an international outcry over US President Donald Trump's recognition last week of Jerusalem as Israel's capital. The Israeli prime minister also added that Iran was attempting to set up land, air and naval bases in Syria in an effort to fight and destroy Israel, something which he said "we will not tolerate.""I think in the Middle East there is not a country that stands as the vanguard of the values that France chooses, that identify France and fights for these values as the State of Israel. Moreover, he reiterated that Israel is in contact with countries in the Middle East that do not have formal relations with Israel.
Macron said that a freeze in Israel's settlement construction would be an important gesture for peace. While condemning all acts of terrorism against Israel, Macron said that he told Netanyahu that he was against Trump's decision, which was a "dangerous threat to peace." "I asked Prime Minister Netanyuhu to make some courageous gestures towards the Palestinians to get out of the current impasse," he said, suggesting that a freeze of settlement construction could be s first step. He reaffirmed that France believed that a two-state solution was the only viable option to end the Palestinian-Israeli conflict.
Later on, Erdogan's office issued a statement slamming Netanyahu's remarks in Paris. "We condemn in the strongest possible terms Israeli Prime Minister Netanyahu's remarks targeting the Republic of Turkey and President Recep Tayyip Erdoğan," a spokesperson said, adding that Israel, which disregards international law, has "occupied" the Palestinian people's hundreds-of-years-old homeland and systematically violates United Nations resolutions, must first account for its own actions.
Erdogan says Israel a 'terrorist state that murders children'


Ynetnews/agencies/December 10/17/In fiery speech, Turkish president vows to use 'all means to fight' against American recognition of Jerusalem as Israel's capital, says implementation of US decision won't be easy. Turkish President Recep Tayyip Erdogan referred to Israel Sunday as a "terrorist state that murders children" and vowed to use "all means to fight" against the American recognition of Jerusalem as the country's capital. "Palestine is an innocent victim. As for Israel, it is a terrorist state, yes, terrorist!" Erdogan said in a fiery speech in the central city of Sivas. "We will not abandon Jerusalem to the mercy of a country that kills children."Erdogan further said that decisions made at the approaching meeting of the Organization of Islamic Cooperation (OIC) would show that US recognition of Jerusalem as the Israeli capital would not be easy to implement. A spokesman for Erdogan on Wednesday had announced that the OIC would a hold an urgent meeting in Turkey on December 13 to coordinate a response to the decision by the United States. The OIC, established in 1969, consists of 57 member states with a Muslim majority or a large Muslim population. "We explained to all our interlocutors that the United States' decision does not comply with international law, diplomacy or humanity," Erdogan said at a Justice and Development Party (AKP) assembly in Sivas, referring to phone calls he made to leaders including French President Emmanuel Macron and the Pope. "With the roadmap we will create during the OIC meeting, we will show that the decision will not be easy to implement," he said, adding that Turkey considered US President Trump's Jerusalem announcement void. The Arab League, in a statement issued after an emergency session in Cairo on Saturday, called the announcement a "dangerous violation of international law" and said it would seek a UN Security Council resolution rejecting the US move. The Arab League, which consists of Arabic-speaking nations, currently has 22 active member states. Trump's announcement has also upset US allies in the West. At the United Nations, France, Italy, Germany, Britain and Sweden called on the United States to "bring forward detailed proposals for an Israeli-Palestinian settlement". Palestinians took to the streets after the US announcement. Demonstrations also took place in Iran, Jordan, Lebanon, Tunisia, Somalia, Yemen, Malaysia and Indonesia, as well as outside the US Embassy in Berlin.
AFP and Reuters contributed to this report.