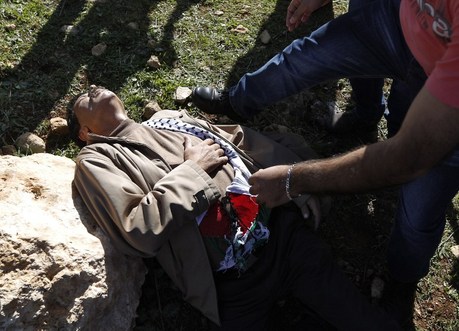 Palestinian Official Dies after Beating by Israeli Troops, Abbas Says 'All Options Open' in Response to Incident
Naharnet/10.12.14
A senior Palestinian official died Wednesday after he was struck by Israeli forces during a protest march in the West Bank, prompting international calls for an investigation into the incident.
The Palestinian leadership vowed to respond to what President Mahmoud Abbas called the "brutal assault" on Ziad Abu Ein, who was in charge of the issue of Israeli settlements for the Palestinian Authority (PA).
Abbas summoned an emergency session of the Palestinian leadership in Ramallah, amid speculation he could suspend longstanding security cooperation between the PA and Israel.
"All options are open for discussion and implementation," he said. "A decision will be made tonight."
Israeli Defense Minister Moshe Yaalon expressed regret for the death of Abu Ein and said an Israeli military inquiry had been launched.
"Security stability is important for both sides," he said in a statement.
European Union foreign affairs head Federica Mogherini said reports of excessive use of force by Israeli troops were "extremely worrying", and demanded an "immediate, independent" inquiry.
U.N. chief Ban Ki-moon called on Israel "to conduct a swift and transparent investigation into the circumstances of the brutal death," of Abu Ein.
A former PA deputy minister, Abu Ein, 55, was the most senior Palestinian official to die in a confrontation with Israeli forces in recent years.
His death was "a barbaric act that cannot be tolerated or accepted," Abbas said, declaring three days of mourning.
Neighboring Jordan condemned the incident as "a crime" and denounced "clear evidence of human rights violations by the Israeli army."
Israeli-Palestinian peace talks collapsed in April despite a concerted diplomatic drive by U.S. Secretary of State John Kerry.
Washington said Wednesday that Kerry would head to Rome on Sunday to meet Israeli Prime Minister Benjamin Netanyahu on issues including "recent developments in Israel, the West Bank, and Jerusalem and the region."
The confrontation erupted as Abu Ein took part in a march of about 300 Palestinians who intended to plant olive trees as a symbolic act of protest against Israeli settlements, an Agence France-Presse photographer said.
The group was confronted by Israeli soldiers and paramilitary border police in the West Bank village of Turmusayya. Tear gas was fired, three soldiers grabbed Abu Ein and he was struck in the chest, the photographer said.
Abu Ein fell and an Israeli army doctor rushed to treat him before he was taken to hospital where he was pronounced dead.
The Israeli military said it had proposed a joint investigation with the Palestinians.
A statement said Israeli forces had been confronted with "approximately 200 rioters."
"Forces halted the progress of the rioters… using riot dispersal means," the statement said.
It said an Israeli pathologist would be joining a delegation of pathologists from Jordan to examine the incident.
Amnesty International said Israeli forces had a long history of excessive force.
"The Israeli forces have an abysmal track record when it comes to policing protests and have frequently resorted to the unnecessary or excessive use of force against protesters in the West Bank, resulting in numerous unlawful killings," it said in a statement.
The Islamist movement Hamas, the de facto ruler in the Gaza Strip, issued a statement mourning Abu Ein's death and calling on the Palestinian Authority to cease security coordination with Israel.
"The time has come to rally all our forces in facing the criminal Zionist occupation and stop all sorts of security coordination with the occupation," a statement said.
Hours later, near Ramallah, Israeli troops shot and seriously wounded a 14-year-old Palestinian in the head during a clash at Jelazoun refugee camp, Palestinian security officials and medics said.
The officials said the clash erupted in response to the death of Abu Ein.
Abu Ein was extradited from the United States in 1981 over the killing of two Israelis in 1979 and sentenced to life in prison, but released in 1985 in a prisoner exchange.
Beside his role monitoring Israeli settlements, Abu Ein was a member of the Fatah Revolutionary Council and previously served as deputy Palestinian minister for prisoner affairs.
His death follows months of tensions between Israelis and Palestinians and a wave of unrest in the West Bank and Arab east Jerusalem.
Israelis are on edge after recent "hit-and-run" car attacks by Palestinians that killed five people, as well as an assault last month that saw two Palestinians burst into a Jerusalem synagogue, leaving four rabbis and a policeman dead.
The tensions have been heightened by Israeli announcements of new settlement construction in east Jerusalem and the West Bank.