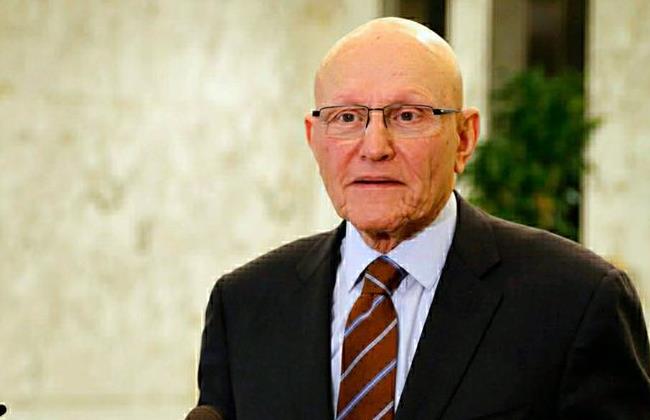 PM. Tamam Salam: Lebanon Needs more Help to Tackle Jihadist Threat


Naharnet/09.12.14
Lebanon needs more international help to fight jihadist forces that have launched a series of attacks against the army and kidnapped troops and policemen, Prime Minister Tammam Salam said in an interview with Agence France-Presse.
Salam, speaking ahead of a visit to France this week, welcomed French arms deliveries due "in the coming weeks," but said the Lebanese army needed more.
The army, which has around 70,000 troops and is recruiting 10,000 more, "has showed respectable defense capacity," Salam said.
But "we need a lot more aid for it," he said.
Salam said Lebanon was not in danger of falling to jihadists from the Islamic State group or al-Qaida's Syrian affiliate, al-Nusra Front.
He dismissed the possibility of "an Islamic caliphate in Lebanon" such as that declared by IS in parts of Syria and Iraq.
"The danger is that they will try to weaken Lebanon," he said.
Last December, Saudi Arabia pledged $3 billion to fund the purchase of French weapons to bolster Lebanon's military against jihadists.
Implementation of the deal has taken longer than expected, but Salam said the first arms deliveries were now expected within weeks.
"Things are moving — I'm very confident," he said, speaking from his office at the Grand Serail residence in downtown Beirut.
"All the deals have been signed… We're in agreement on 90 percent of the types of weapons. The delivery should begin in the coming weeks."
Salam said the deliveries would include "helicopters and the weapons necessary to help the army properly defend against incursions and attack from abroad, particularly those by terrorists."
– Hostage negotiations stalled –
Salam said Britain was also helping to bolster Lebanon's defenses, with a series of observation posts erected by British officers along part of the border with Syria.
The border posts went up several weeks ago near the northeastern town of Arsal, which was briefly overrun in August by IS and al-Nusra jihadists.
After days of clashes with Lebanese troops, the jihadists withdrew into the mountains along the border following a truce negotiated by Lebanese Sunni clerics.
But they took with them around 30 security personnel as hostages. Four have been executed and a fifth died of wounds sustained during the clashes.
The fourth execution, of policeman Ali al-Bazzal, was announced on Friday.
Qatari mediators have announced they are ending their efforts, local media said Monday.
"On this hostage affair, I've never said I was optimistic," Salam said, speaking a day after Bazzal's death was announced.
"It's a very difficult situation that requires a lot of effort by all the political factions, the people, the hostages' families, the security services and the media," he said.
Salam said 16 police and soldiers were still being held by al-Nusra, with another nine held by IS.
The jihadists "act in a savage manner, they kill whenever… they are imposing this terrorism on the Lebanese and it's difficult to know in advance what they will do," he added.
"We have tried to negotiate with them… but things are very difficult."
– Deal for new president needed –
Salam said efforts involving Turkey and Qatar had failed to yield results, and that negotiating directly with the kidnappers through Lebanon's security services was equally fruitless.
He also denied that authorities had arrested two women linked to jihadist leaders for use as "bargaining chips."
Last week, Interior Minister Nouhad al-Mashnouq confirmed the arrest of an ex-wife of IS chief Abu Bakr al-Baghdadi and the wife of another Islamist commander, Abu Ali al-Shishani.
But Salam said "they were being followed for some time" because of their ties to "networks of terrorist cells."
Salam said his three-day trip to France, which begins on Wednesday, would also involve talks about Lebanon's failure to pick a new president.
The post has been empty since May 25, when former president Michel Suleiman's term ended.
Regional divisions and political stalemate in the country's parliament have left lawmakers unable to agree on a replacement.
"The presidential vote in Lebanon is traditionally influenced from outside," Salam acknowledged, noting the formation of his own government "was facilitated by a regional and international deal."
"Why not have another deal to facilitate presidential elections?" he said.
Agence France Presse