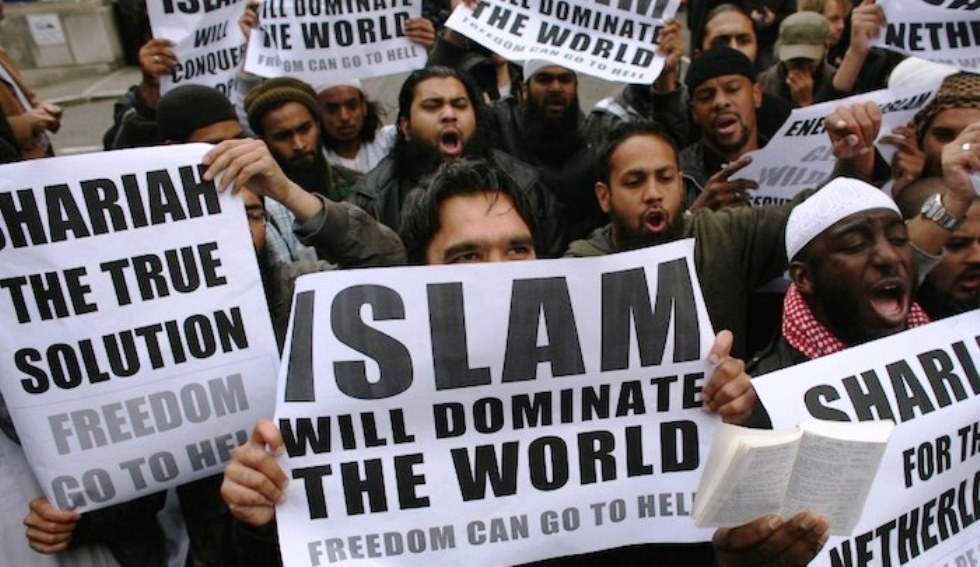 "There Was Blood All Over": Muslim Persecution of Christians, January 2021




Raymond Ibrahim/Gatestone Institute/March 01/2021
ريموند إبراهيم/معهد كايتستون: جدول بالتعديات وكل انواع الإضطهاد التي تعرض لها المسيحيون على أيد مسلمين خلال شهر شباط لعام 2021
The following are among the abuses inflicted on Christians by Muslims throughout the month of January, 2021:
Attacks on Apostates and Evangelists
Uganda: A Muslim man beat his 13-week-pregnant wife, causing her to miscarriage, after he learned that she had converted to Christianity. On Jan. 13, Mansitula Buliro, the 45-year-old woman in question and mother of seven, was preparing for Muslim evening prayers with her husband when she began to have Christian visions. On the following day she secretly visited a Christian neighbor, prayed with her, and put her faith in Christ. Right before she left, a Muslim man knocked on the Christian neighbor's door and said, "Mansitula, I thought you were a Muslim—how come I heard prayers mentioning the name of Issa [Jesus]?" Then, when Mansitula returned home her husband informed her that he had been told that she had become Christian. "I kept quiet," Mansitula later explained in an interview:
My husband started slapping and kicking me indiscriminately. I then fell down. He went inside the house and came back with a knife and started cutting my mouth, saying, 'Allahu akbar, Allahu akbar, Allahu akbar [jihadist slogan "Allah is greater"], I am punishing you to not speak about Yeshua [Jesus] in my house. This is a Muslim home.'
Her screaming caused her two youngest children (six and eight) also to start screaming, prompting neighbors to rush and stop the attack. "There was blood all over from my mouth," Mansitula said. "My in-laws arrived, and in their presence my husband pronounced divorce: 'Today you are no longer my wife. I have divorced you. Leave my house, or I will kill you.'" A neighbor took her by motorcycle to a nearby hospital. "I was examined, and they found that my fetus had been affected, and after four days I had a miscarriage…. It is now very difficult to reunite with my family. I am now Christian, and I have decided for Issa's cause."
Separately, on Dec. 27, around 7 pm, eight Muslims ambushed and beat Pastor Moses Nabwana and his wife, a mother of eight, as they were walking home from a church function: "They began by beating my husband, hitting him with sticks and blunt objects on the head, the back, his belly and chest," Naura, his wife, said. "I made a loud alarm, and one of the attackers hit me with blows and a stick that affected my chest, back and broke my hand." Christian neighbors rushed to their cries, prompting the assailants to flee. Due to the severe injuries they sustained, the wife was hospitalized for five days and her husband, Pastor Moses, was hospitalized for several more days. The assault came after area Muslims learned that an imam had converted to Christianity and joined their church; mosque leaders incited the attack. On that same night, "area Muslims demolished the roof, windows, doors and other parts of the[ir] church building that has a capacity for 500 people, leaving a heap of broken debris… Chairs, benches, musical instruments, amplifiers and other items were destroyed."
Then, around 4:30 am on Sunday, Jan. 24, while the pastor was still recovering at the hospital, three Muslims broke into their home, again beating his wife, Naura—who was still recovering from her first beating—as well as two of their eight children. "I heard loud noises and plates being broken," Naura recalled. "The children and I woke up. The attackers had broken the door and entered in. One started strangling me, while another threw one of my daughters outside through the window and broke the skin on her leg." The Muslims fled before inflicting more damage once they learned that her brother-in-law and his family were rushing over: "The assailants left behind a Somali sword," she said, "which I think they possibly had planned to use to rape and then kill me."
Naura's 10 year-old daughter suffered a deep cut on her knee, and her 12-year-old daughter suffered an eye injury. Atop all the injuries she suffered from her first beating, Naura's neck was injured: "I am still in great pain, and the doctor has recommended that my uterus, which is seriously damaged, needs to be removed," she said. "This will need a big amount of money." According to a church leader who visited Naura and her family in their thatched-roof dwelling the day after the attack, "She is still in pain and needs basic assistance in the absence of the husband, the bread-winner."
Iran: On Jan. 18, the Islamic Republic's "morality police" arrested Fatemeh (Mary) Mohammadi, a 22-year-old convert to Christianity and human rights activist, on the accusation that "her trousers were too tight, her headscarf was not correctly adjusted, and [that] she should not be wearing an unbuttoned coat." This is the third time officials arrest Mary. She did six months of prison time, after her first arrest, for being a member of a house church—which the regime recently labeled as "enemy groups" belonging to a "Zionist" cult; she also spent a brief time in jail after participating in a peaceful protest in April 2020. Officials have also pressured her employer, whom she always had a good relationship with, to prevent her from returning to work as a gymnastics instructor; and she was kicked out of her university on the eve of her exams. Reflecting on her travails, Mary wrote that:
Everything is affected… Your work, income, social status, identity, mental health, satisfaction with yourself, your life, your place in society, your independence…. And as a woman it's even harder to remain patient and endure, in a society so opposed to women and femininity, though crying out for them both.
Attacks on Christian 'Blasphemers' in Pakistan
Pakistan: On Jan. 28, hospital employees slapped and beat a Christian nurse who had worked there for nine years, after a Muslim nurse told them that she had said "only Jesus is the true Savior and that Muhammad has no relevance." A hospital member recorded and loaded a video of the attack on Tabeeta Nazir Gill, a 42-year-old Catholic gospel singer. It shows the woman surrounded by a throng of angry Muslims who slap her and demand she "confess your crime in writing." "I swear to God I haven't said anything against the prophet [Muhammad]," the Christian woman insists in the video. "They are trying to trap me in a fake charge." "Fortunately, someone called the police, and they promptly arrived on the scene and saved her life," Pastor Eric Sahotra later explained. After questioning the accused, police concluded, based also on the testimony of other co-workers, that "A Muslim colleague made the false accusation due to a personal grudge," continued the pastor:
Other hospital employees were misled into believing the allegation, so they also attacked Tabeeta…. News of the incident spread quickly through the social media, raising fears of mob violence outside the hospital and other areas.
A Muslim mob later descended on and besieged the police station; this prompted police to register a First Information Report against Gill under Section 295-C of Pakistan's blasphemy statues—which calls for the maximum death penalty for anyone who verbally insults Islam's prophet, Muhammad. Last reported, the woman's two young children were "in a state of shock since the time they saw the graphic video of their mother's beating," said the pastor. No legal action was taken against the Muslim nurse who fabricated the blasphemy accusation to instigate her coreligionists. The report adds that,
In Pakistan, false accusations of blasphemy are common and often motivated by personal vendettas or religious hatred. Accusations are highly inflammatory and have the potential to spark mob lynchings, vigilante murders and mass protests. Many of those accused of blasphemy never reach the courtroom; violence has killed 62 accused people since 1990, with few prosecutions.
Separately, hundreds of Muslims descended on the village of a 25-year-old Christian man, and threatened to behead him and torch his and adjoining homes, soon after it became known that he had shared a Facebook post critical of Muhammad. According to the Jan. 5 report, on first learning that Muslims were angry, Raja Warris apologized, pointing out that he had only shared the post "for academic understanding between Christians and Muslims and did not mean to offend any Muslims." The matter seemed to be closed after that; but then, and in the words of Rev. Ayub Gujjar, vice moderator of the Raiwind Diocese of the Church of Pakistan,
[W]e were informed by our congregation members in Charar that a huge mob had gathered in the locality on the call of a cleric affiliated with the extremist religio-political outfit, Tehreek-e-Labbaik Pakistan [TLP], and were demanding the beheading of the catechist. Fearing violence, hundreds of Christian residents fled their homes while around 400 anti-riot policemen were deployed in the area to thwart violence.
Rev. Gujjar and other Christian leaders rushed to the police station, which was quickly surrounded by Muslims who "chanted slogans against Christians," prompting police to insist that Warris be handed over. Police then registered a First Information Report under Section 295-A and Section 298-A of Pakistan's blasphemy laws, which call for up to 10 years imprisonment for blasphemers, and then showed it to the mob leaders, at which point they called off the siege and dispersed. Discussing this incident, Bishop of Raiwind Diocese Azad Marshall said that "Warris is an educated youth who loves to serve God." Even so,
Christians especially need to be more careful in sharing content, because any faith-based post could be used to instigate violence against the community… We need to understand that Islamic religious sentiments run high in our country, therefore it's important to carefully analyze the content before posting it online.
Slaughter of Christians
Pakistan: The bloated bodies of two Christian sisters, who had long rebuffed the advances of their Muslim employers, were found in a sewer in January 2021. Earlier, on November 26, the sisters, Sajida (28) and Abida (26), who were both married and had children, were reported as missing. The two Muslim men for whom they worked had regularly pressured them to convert to Islam and marry them. Even though the young women "made it clear that they were Christian and married, the men threatened them and kept harassing the sisters." Forty days after they were reported missing, on January 4, 2021, their decomposed bodies were discovered. Their Muslim supervisors, during their interrogation, "confessed that they had abducted the sisters," said Sadija's husband; "and after keeping them hostage for a few days for satisfying their lust, had slit their throats and thrown their bodies into the drain." The widower described the families' ordeal:
When police informed us that they had identified the two bodies as those of our loved ones, it seemed that our entire world had come crumbling down…. I still cannot fathom the site [sic] of seeing my wife's decomposed body.
Discussing this case, Nasir Saeed, Director of the Centre for Legal Aid Assistance and Settlement in the UK, said,
The killing of Abida and Sajida in such a merciless way is not an isolated case, but the killing, rape and forced conversion of Christian girls have become an everyday matter and the government has denied this and therefore is doing nothing to stop the ongoing persecution of Christians.
Unfortunately, such cases happen very often in the country, and nobody pays any attention – even the national media – as Christians are considered inferior and their lives worthless.
Nigeria: On Jan. 16, Muslim Fulani herdsmen opened fire on and killed Dr. Amos Arijesuyo, pastor of Christ Apostolic Church and a highly respected professor at the Federal University of Technology. "The university condemns in the strongest terms this senseless attack that has led to the untimely death of an erudite university administrator and counselor par excellence," the university said in a statement. "Dr. Arijesuyo's death is a big loss to FUTA, the academic community in Nigeria and beyond. It is a death that should not have happened in the first place…. Our prayers and thoughts are with the wife, children and family members of our departed colleague at this difficult period of unquantifiable grief."
In the two weeks before this murder, Muslim Fulani herdsmen killed 26 more people and wounded three in Christian majority regions. A separate report appearing in mid-January revealed that "More Christians are murdered for their faith in Nigeria than in any other country."
Finally, in a speech released in January, Abubakar Shekau, the leader of the Islamic terror group Boko Haram, made clear that, despite Western claims that his organization is motivated by secular interests, religion colors everything. According to the Jan. 28 report, Shekau called on the new Chief of Defense Staff, Lt. General Lucky Irabor, a Christian, to "repent and convert to Islam." He also told the new Chief of Army staff, Major General Ibrahim Attahiru, that, by going against Boko Haram, his behavior is "un-Islamic" and "he is no longer regarded as a Muslim."
Attacks on Churches
Sweden: Twice over the course of four days, an 800-year-old church in Stockholm was firebombed. First, on Sunday, Jan. 24, 2021, several Molotov cocktails were hurled at the twelfth century Spånga church, which is located in a Muslim majority area. According to the church's pastor, "the alarm was triggered when a window was smashed and flammable liquid thrown at the front gate and one of the windows. However, the fire was quickly put out by the police, who used a powder extinguisher." The same church had been fire-bombed just four days earlier, on Jan. 20, 2021: two explosives were hurled at and smashed through the church windows, and another was lobbed at the church gate. Moreover, according to one report,
Spånga parish has been subjected to attacks on several previous occasions. In December 2018, an explosive device was detonated in the same parish. No one was convicted for the blast.
Hailing from the 12th century, the Spånga Church is one of the oldest in the Swedish capital. It is located on the outskirts of Tensta and is flanked by Rinkeby, both notorious for their heavy presence of immigrants (about 90 percent of the population)… Both areas are dominated by immigrants from Muslim countries and are formally classified as "particularly vulnerable" (which many consider to be a palatable euphemism for a "no-go zone") due to failed integration and major problems including unemployment, rampant crime and Islamic extremism.
Attacks against churches have become a familiar sight in Sweden. Last year alone, a number of churches, mostly those in troubled suburban [i.e., heavily Muslim migrant] areas, were subjected to various types of attacks and vandalism, including those in Gottsunda, Uppsala and Rosengård, Malmö.
USA: Arsonists torched an Armenian church in San Francisco in a spike of anti-Armenian hate crimes believed to have been inspired by Armenia's recent clash with its Muslim neighbors, Azerbaijan and its Turkish supporter. According to the Jan. 6 report,
In the San Francisco Bay Area alone, there have been four hate crimes committed against the Armenian community over the last six months including a local Armenian School being vandalized with hateful and racist graffiti, which was followed by an arson attack on St. Gregory Armenian Apostolic Church. There are about 2,500 Armenian-Americans living in the San Francisco Bay Area, so these crimes per capita is a very high number given how small the community is. For a region of the country that prides itself on its progressivism, diversity and acceptance of all cultures, these latest attacks should be a warning sign that hate and violence can rear their ugly heads irrespective of where you may live…. The vandals at the Armenian School in San Francisco spray-painted the colors of the Azerbaijan flag and used threatening language in Azerbaijani. In many ways, these latest hate crimes, coupled with the resurgence of hostilities in the South Caucasus, are a continuation of the Armenian Genocide that is now finding its way to the San Francisco Bay Area. It is often said that those who fail to learn from history are doomed to repeat it. We are clearly seeing these prophetic words come to life for Armenians in the San Francisco Bay Area who have fought for decades for recognition of the Armenian Genocide. As victims of oppression, Armenians see these latest attacks as an extension of Turkey and Azerbaijan's denial of the 1915 Armenian Genocide and a threat to their very existence.
Philippines: An Islamic group consisting primarily of teenage Muslims opened fire on a church.
According to the Jan. 8 report, the Islamic State-linked Bangsamoro Islamic Freedom Fighters [BIFF], a terrorist group based in the southern Philippines, attacked a parish church after conducting a raid on the town's military and police outposts. After a 15-minute firefight, both the church building and a statue of the patron saint bore bullet holes. Police and military authorities said the BIFF had also plotted to set ablaze Sta. Teresita parish church and the church-run Notre Dame of Dulawan high school in the area. However, their attempt to burn the two church facilities was foiled by policemen and soldiers.
BIFF is an Islamic separatist organization operating in the Philippines; it swore allegiance to the Islamic State in 2014. Right before the church attack, dozens of gunmen from the Islamic group attacked the local police station and burned a police vehicle parked outside. The police attack came after two men connected with the group were arrested and is seen as a reprisal attack against police. Muslim terrorism has been on the rise in the Philippines, the population of which is 86% Christian. According to the report,
In August [2020], pro-ISIS terrorists blew themselves up in attacks that killed at least 15 people … and injured 80 others in the city of Jolo … in the far south of the country, whose population is majority Roman Catholic.
In 2019, terrorists set off two explosive devices at the Our Lady of Mount Carmel Cathedral, also known as the Jolo Cathedral, in the Mindanao region. The attack resulted in approximately 100 injuries and about 20 dead.
In August 2019, pastor Ernesto Javier Estrella of the United Church of Christ in Antipas, Cotabato Province, was shot and killed on the Island of Mindanao.
In June 2018, Catholic priest Richmond Nilo was gunned down in a chapel in Zaragoza town in Nueva Ecija province, at the altar where he was preparing to celebrate mass.
General Hostility for Christians and Christianity
Pakistan: On Jan. 5, a Muslim man severely beat his Christian employee because he had taken leave to attend a Christmas Day prayer service. Even though Ansar Masih had compensated for the missed day of work by working on the following Sunday, his manager was abusive. "When I argued with him, he called four other staffers to teach me a lesson for going to church and arguing with him," Masih later explained. "They abused Christians for their religious practices and said derogatory words when they came to know that I was busy praying at the church." The Christian man sustained several injuries during the assault and was taken to a local hospital. According to the report, as often happens in such cases, Police officials and the men that assaulted Masih are now putting pressure on his family to settle the matter out of court. Masih has submitted an application to police regarding the incident, but not action has been taken by officers against Masih's assailants.
Austria: According to a Jan. 5 report, approximately 40 Muslim migrants rioted and burned down a Christmas tree in Favoriten. On coming to extinguish the large tree, the fire brigade heard one of the migrants yelling: "A Christmas tree has no place in a Muslim district," even as the raging mob pelted the emergency service officials with projectiles to screams of "Allahu Akbar."
Raymond Ibrahim, author of Crucified Again and Sword and Scimitar, is a Distinguished Senior Fellow at the Gatestone Institute, a Shillman Fellow at the David Horowitz Freedom Center, and a Judith Rosen Friedman Fellow at the Middle East Forum.
About this Series
The persecution of Christians in the Islamic world has become endemic. Accordingly, "Muslim Persecution of Christians" was developed in 2011 to collate some—by no means all—of the instances of persecution that occur or are reported each month. It serves two purposes:
1) To document that which the mainstream media does not: the habitual, if not chronic, persecution of Christians.
2) To show that such persecution is not "random," but systematic and interrelated—that it is rooted in a worldview inspired by Islamic Sharia.
Accordingly, whatever the anecdote of persecution, it typically fits under a specific theme, including hatred for churches and other Christian symbols; apostasy, blasphemy, and proselytism laws that criminalize and sometimes punish with death those who "offend" Islam; sexual abuse of Christian women; forced conversions to Islam; theft and plunder in lieu of jizya (financial tribute expected from non-Muslims); overall expectations for Christians to behave like cowed dhimmis, or second-class, "tolerated" citizens; and simple violence and murder. Sometimes it is a combination thereof.
Because these accounts of persecution span different ethnicities, languages, and locales—from Morocco in the West, to Indonesia in the East—it should be clear that one thing alone binds them: Islam—whether the strict application of Islamic Sharia law, or the supremacist culture born of it.