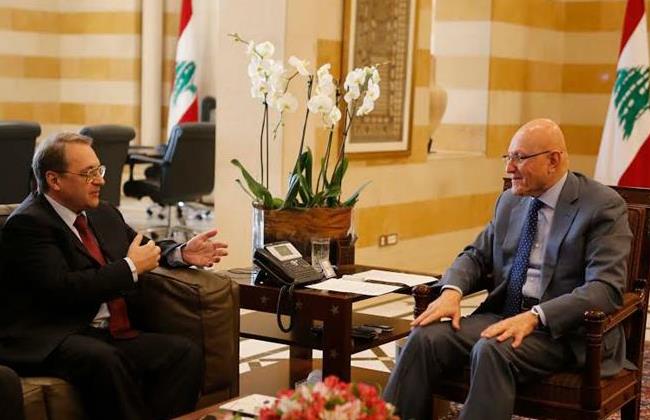 Russia backs Future-Hezbollah talks


Hussein Dakroub| The Daily Star/Dec. 07, 2014
BEIRUT: A high-ranking Russian official Friday voiced his country's support for the planned dialogue between the Future Movement and Hezbollah, as well as for the Lebanese Army in its battle against terrorism.
The remarks by Russia's Deputy Foreign Minister Mikhail Bogdanov following talks with top Lebanese leaders came as preparations have been intensified to launch a dialogue between Hezbollah and the Future Movement deemed crucial for defusing Sunni-Shiite tensions and facilitating the election of a consensus president.
They also came as the Army was locked in an open-ended battle against militant groups, who executed another Lebanese soldier Friday, in the latest fallout of the Syrian conflict into Lebanese territory.
Bogdanov arrived in Beirut late Thursday on a two-day visit to attend a ceremony marking 70 years since Lebanese-Russian diplomatic relations were established. He met Friday separately with Speaker Nabih Berri, Prime Minister Tammam Salam, Foreign Minister Gebran Bassil, former President Michel Sleiman, Hezbollah lawmakers, Army commander Gen. Jean Kahwagi and MP Talal Arslan to discuss bilateral relations and developments in the region.
Speaking at a ceremony at the UNESCO Palace marking the 70th anniversary of Lebanese-Russian relations attended by Bassil, Bogdanov said Russia was committed to supporting Lebanon's sovereignty, territorial integrity and the unity of its people, and opposed any external intervention in its internal affairs.
He voiced Moscow's support for an inter-Lebanese dialogue to resolve long-standing political problems. "Russia believes that all national issues should be settled in a legal framework as part of a dialogue among various political forces," Bogdanov said. He added that Russia also supported the Lebanese Army and security forces in their battle against terrorism which, he said, threatened peoples in the region.
The Russian official said his country was trying to arrange a meeting between the Syrian government and opposition groups without preconditions.
Asked about a reported Russian initiative to form a salvation government in Syria with the participation of the opposition, Bogdanov told reporters after meeting Berri at Ain al-Tineh: "This information is not accurate. We are in contact with the Syrian government and the opposition inside and outside [Syria]. Our mission is to arrange preliminary consultations for serious negotiations without preconditions so that the Syrians can meet together and begin talking on all issues under discussion."
He added that eventually it is the Syrian people, represented in both the government and the opposition, who have the final say in deciding the fate and future of Syria.
Russia has been the key ally of Syrian President Bashar Assad in the conflict, which is in its fourth year and where the situation on the ground has deteriorated as ISIS has seized large swaths of land.
The last round of talks between Syria and the opposition collapsed in February due to rifts over Assad's role in any transition out of the conflict. The main Syrian opposition in exile and its Western and Arab backers want Assad to step down.
Asked whether his visit to Lebanon was linked to the 6-month-old presidential deadlock, Bogdanov said after meeting Bassil: "That's a secret."
But speaking to reporters after meeting Sleiman, the Kremlin official said: "Russia shows interest in stability in Lebanon, it encourages the completion of the presidential election and appreciates the role of the Lebanese Army and security forces in fighting terrorism."
Lebanon has been without a president since Sleiman's six-year term ended on May 25, with Parliament being unable to meet to choose a successor over a lack of quorum as the factions remain divided over a consensus candidate.
Meanwhile, Nader Hariri, chief of former Prime Minister Saad Hariri's staff, left for Paris Friday after holding talks with Future Movement officials and Finance Minister Ali Hasan Khalil about the agenda for the dialogue with Hezbollah.
Khalil is a political aide to Speaker Nabih Berri, who is sponsoring the dialogue between the two rival groups. Berri said Thursday the Future-Hezbollah talks could begin next week.
Health Minister Wael Abu Faour, who met Berri at Ain al-Tineh, sounded hopeful about the outcome of the planned Future-Hezbollah dialogue.
"I can say the country is in general heading toward dialogue," Abu Faour said after the talks. "Although the discussion is still in a preliminary phase, it is a promising one. I think all political parties are convinced of the need for dialogue and the adoption of the dialogue logic."
He said Saad Hariri's recent positive approach and readiness for dialogue with Hezbollah was met halfway by the party and other political groups.
Abu Faour hoped that the Future-Hezbollah dialogue would lead to a comprehensive national compromise over all pending issues: the presidential election, a new electoral law and reducing tensions.
Ahmad Hariri, secretary-general of the Future Movement, said that what his party wanted from the proposed dialogue with Hezbollah was "to close the gates of evil opened by Hezbollah" with its military intervention in Syria.
"We want to discuss [in this dialogue] how to open the gates of good for the Lebanese and revive the genuine national partnership through which we can confront all dangers, on top of which is the danger of terrorism and extremism," he said, while representing Saad Hariri at a memorial ceremony in the Western Bekaa marking the passing of 40 days since former MP Ahmad Ftouh's death.