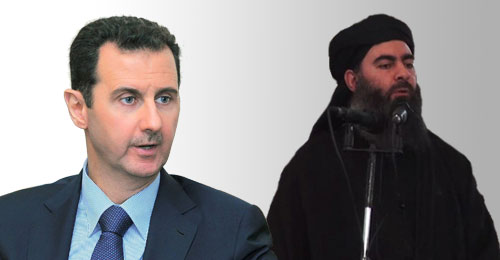 Source In Lebanon: DNA proves detainee is Baghdadi's wife


The Daily Star/Dec. 03, 2014 |
BEIRUT: DNA samples of ISIS leader Abu Bakr al-Baghdadi were matched Wednesday with three children who are currently being held by Lebanese authorities over the suspicion of being related to the jihadi chief. According to a source in the investigation, DNA samples, which were sent over by Iraqi authorities earlier this week, matched with samples taken from three children who were detained alongside Saja Hamid al-Dulaimi, allegedly a wife of Baghdadi. The DNA tests taken from Dulaimi also proved that she was the mother of the three children, which in turn allowed experts to assume that she is one of Baghdadi's wives, according to the source. Iraq's Interior Ministry said Wednesday that a woman detained by Lebanese authorities was not the wife of ISIS leader Abu Bakr al-Baghdadi, but the sister of a man convicted of bombings in southern Iraq. The suspect also continues to deny any relation to Baghdadi during interrogations. "The one detained by Lebanese authorities was Saja Abdul Hamid al-Dulaimi, sister of Omar Abdul Hamid al-Dulaimi who is detained by authorities and sentenced to death for his participation in … explosions," ministry spokesman Brig. Gen. Saad Maan told Reuters earlier Monday. "The wives of the terrorist al-Baghdadi are Asmaa Fawzi Mohammed al-Dulaimi and Esraa Rajab Mahel al-Qaisi, and there is no wife in the name of Saja al-Dulaimi," he said. According to The Daily Star's source, the Iraqi statement was based on the fact that official records revealed that Dulami was not listed as one of Baghdadi's wives None the less, the suspect in question may still be Baghdadi's wife even though she isn't officially registered as such, sources said. Security officials in Lebanon said Tuesday that the Lebanese Army had detained a wife and daughter of Baghdadi's as they crossed from Syria late last month. Dulami was detained in north Lebanon after the woman was found with a fake passport, officials said. Investigators are questioning her at the Lebanese Defense Ministry.
Iraq Official: Woman Arrested in Lebanon not IS Leader's Wife


Naharnet 03.12.14/ /An Iraqi official denied on Wednesday that a woman detained in Lebanon is a wife of Abu Bakr al-Baghdadi, the leader of the Islamic State group. The denial comes a day after Lebanese officials told media outlets that the authorities are holding a woman believed to be al-Baghdadi's wife.They said she was detained for traveling with a fake ID. The reports said the army arrested her more than 10 days ago at a checkpoint at al-Madfoun Bridge in the North. The driver of the car and her 4-year-old daughter and two younger boys were also arrested. The army has not issued a communique to confirm the arrests. Iraq's Interior Ministry spokesman Saad Maan Ibrahim told The Associated Press that the woman is Saja Hamid al-Dulaimi, an Iraqi national who traveled to Syria before arriving in Lebanon. Ibrahim said she is the sister of Omar al-Dulaimi, who is held in Iraq as a terror suspect. He added al-Baghdadi has two wives but neither is named Saja al-Dulaimi.