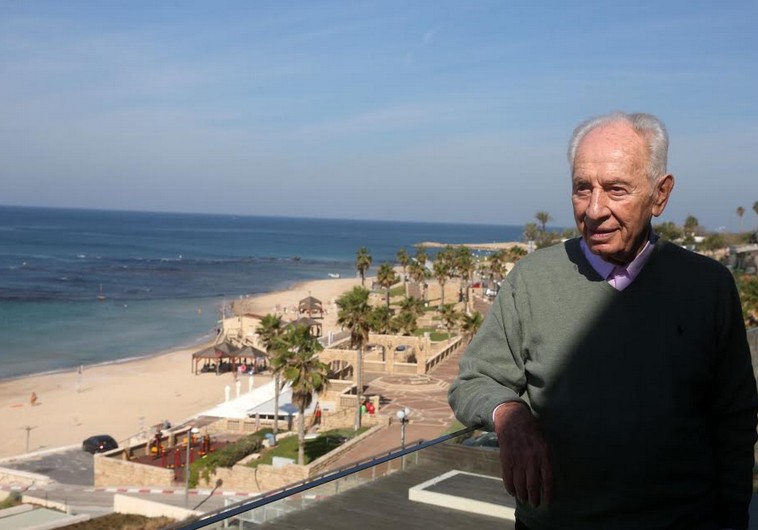 Peres: There will be no peace or security with Netanyahu


By DAVID BRINN/J.Post/12/03/2014
Unfettered by the office he held for seven years, former president Shimon Peres has lashed out at the policies of Prime Minister Benjamin Netanyahu, saying they have moved Israel further away from peace and security.
"Do you remember the slogan that Bibi used in the past [in the 1996 elections versus then prime minister Peres] that said something like 'since Peres does not deliver peace, does not deliver security, and brings us fear…we have to change Peres.' I suggest he reread what he said back then," Peres said in a recent interview with The Jerusalem Post ahead of his appearance next week at the Post's annual Diplomatic Conference in Jerusalem.
"The challenge that Israel faces is to understand that peace will not come to us. We have to go to peace. Muhammad did not come to the mountain. The mountains will not come to Muhammad.
We have to be the initiator of peace and not say 'since they don't do, I shall not do,' he added.
In the interview, the 91-year-old Peres hinted that he supported early elections by dismissing the idea that had been briefly raised in recent weeks of establishing a national-unity government to combat the wave of terrorism that has swept the country.
"In order to have a national-unity government you must have a united policy. With all due respect to the prime minister, asking other parties to enter his government and accept his ideas is not going to happen – it's as simple as that," he said.
"On that basis, you cannot make a national-unity government – you need a national policy. But you cannot build a national-unity government based on the policy of one party when there are different views," he added.
Last month, at the annual memorial for slain prime minister Yitzhak Rabin, Peres's partner in the Olso Accords, the former president made an only slightly veiled reference to Netanyahu's policies in regard to the uptick in violence and last summer's Operation Protective Edge.
"We have all sorts of so-called smart people who talk about 'managing the conflict' instead of peace. Take a look at what happened in Gaza over the summer and what is happening in Jerusalem as of late. That is what 'managing the conflict' looks like," he told the crowd.
In his interview with the Post, Peres said Netanyahu's declaration of support for a two-state solution with the Palestinians had to be backed up with action.
"We have to execute what we say. We cannot declare that we are for two states and not act accordingly," said Peres. "Clearly you cannot have a two-state solution without a territorial compromise."
Regarding whether PA President Mahmoud Abbas is still a partner for peace in his eyes, Peres referred to the assessment last month by Shin Bet (Israel Security Agency) head Yoram Cohen to the Foreign Affairs and Defense Committee that Abbas was not inciting Palestinians against Israel.
"Yoram Cohen doesn't have any other interest but to tell the truth. He is not in politics. He doesn't have alliances," Peres said.
"Abbas has said some things which have been provoking, and he is mistaken.
On the other hand, he has constantly fought against terror. He has a force and he gave them an order to prevent terror and to cooperate with us.
"So, okay, he is also in politics. But on the basic issues, I do believe that we could have achieved peace with him, and I still believe that we can achieve peace with him. I know maybe I am a minority. That doesn't change my mind. Between being a majority and being right, all my life I preferred to be right even if it makes me part of a minority."
Peres will be speaking at the Post's diplomatic conference along with President Reuven Rivlin, Foreign Minister Avigdor Liberman and Interior Minister Gilad Erdan.
The conference will be streamed live on www.jpost.com.