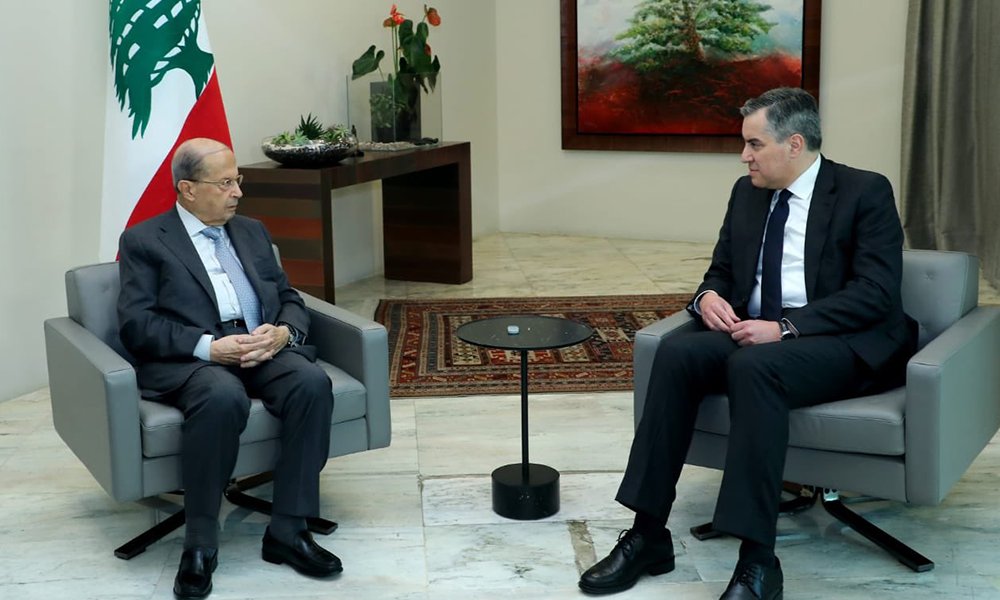 Adib's resignation compounds Lebanon's crisis, deals setback to France
The Arab Weekly/September 26/2020
الإسبوع العربي: استقالة أديب متفاقم أزمة لبنان وهي انتكاسة للمبادرة الفرنسية
Hezbollah is not ready to give up neither its influence nor its full control over the political institutions within the Lebanese state, even if that means dragging the country into a dangerous impasse.
BEIRUT –Lebanon entered a dark tunnel with no end in sight Saturday when Prime Minister-designate Mustapha Adib announced his decision to quit after trying for almost a month to line up a non-partisan cabinet.
Adib's departure dealt a severe blow to a French bid aimed at rallying sectarian leaders to tackle the worst crisis since the nation's 1975-1990 civil war. It also opened the door for all sorts of scenarios.
"I excuse myself from continuing the task of forming the government," Mustapha Adib said in a televised speech, apologising to the Lebanese people for his "inability to realise its aspirations for a reformist team" to save the country.
Under the French roadmap, the new government was to take swift steps to tackle corruption and implement reforms needed to trigger billions of dollars of international aid to fix an economy that has been crushed by a mountain of debt.
While announcing he was stepping down, Adib said Lebanon must not abandon the French plan or squander Macron's goodwill.
"I stress that this initiative must continue," he said after meeting President Michel Aoun, a Christian. He wished his successor well in the "hard task" of forming a government.
How the Lebanese street would react to the development, that remains to be seen, in a country spiralling towards becoming a failed state.
In October last year, desperation created the first sign of unity among the Lebanese people when civil protests erupted across the country.
Traditionally, protests were held by specific religious groups and frequently led by their corresponding parties, but in October, desperate civilians marched through Beirut as one, demanding change.
And then came the coronavirus pandemic, plunging Lebanon deeper into financial ruin.
Every session of government resulted in new taxes to try to curb the country's financial problems, further angering citizens already struggling to feed their families.
Just when it seemed like it could not get worse, the August 4 explosion tore through the capital, prompting the Lebanese people to take to the streets again and demand reform and accountability.
Former Prime Minister Saad al-Hariri, a leading Sunni politician, said in a statement Saturday anyone celebrating the failure of a French initiative to get Lebanon's fractious leaders to form a new government will regret wasting the opportunity.
"We say to those who applaud the collapse of French President Emmanuel Macron's initiative today, that you will bite your fingers in regret," he said in a statement.
Adib had sought to form a government of specialists in a nation where power is shared between Muslims and Christians and political loyalties tend to follow confessional lines.
Politicians had promised Paris they would have a government in place by mid-September. But Adib's efforts stumbled over how to make appointments, particularly the post of finance minister, who will have a key role in drawing up an economic rescue plan.
Talks with the International Monetary Fund on a vital bailout package stalled this year, and one of the cabinet's first tasks would have been to restart the negotiations.
A senior Lebanese political source said much now depended on whether the French would give up.
Paris' answer came quick. "It's a setback, but we're not giving up. These people need to realise that this is bigger than Lebanon," a French diplomatic source said after Adib's resignation.
France has so far demonstrated that it seriously doesn't want Lebanon to collapse, showing concerns about French interests there amid a struggle in eastern Mediterranean over the control of ports, water passageways, gas and oil.
Paris also fears Lebanon's 1.5 million Syrian refugees would seek to reach Europe if the situation deteriorates in the Arab country.
However, Lebanon's leaders have long resisted any serious attempt to introduce reforms, even as the country plunged further into poverty, with its banking system breaking down, its currency plummeting to record lows, inflation and unemployment skyrocketing.
Now with Lebanon's leaders refusing to take action and blocking efforts to form a new government, they can be sanctioned and blacklisted by the international community. This time, it is their personal wealth that will be targeted.
The most recent developments indicate that the struggle is not limited to the national scope. It is rather a battle between outside powers pushing for reforms to avoid the collapse of the country and a ruling elite resisting and refusing to take any serious steps in that direction, for fear of losing influence and control over state institutions.
Replacing political leaders, who have been controlling the country for more than 40 years, is no easy mission and Washington seems to have better knowledge of that than Paris, according to some experts.
In fact, the task to bring changes to the political scene in Lebanon has become more intricate in recent years after the Iran-backed Hezbollah movement became deeply embedded in Lebanese politics.
Unlike the French who say Hezbollah's elected arm has a legitimate political role, the United States has designated the heavily armed and politically powerful movement as a terrorist group since 1997.
Other European countries, particularly Germany and Britain, also consider the group a terrorist organisation, but French officials argue that ostracising it would make efforts to resolve the crisis impossible.
The role that Hezbollah played, along with its political ally the Shia Amal movement, following the August 4 explosion confirms Washington's better understanding of the political power-plays in Lebanon.
In short, Hezbollah is not ready to give up neither its influence nor its full control over the political institutions within the Lebanese state, even if that means dragging the country into a dangerous impasse, with compromise becoming elusive and dangers of new violence growing.
Following Adib's decision to quit, the French approach, of engaging Lebanese political leaders in a new process while threatening them with sanctions, has shown its limitations.
Worse, such an approach might give Lebanese political players, particularly Hezbollah, cover to stay in power, playing the cards of resistance and struggle against foreign meddling.
The cabinet formation hit a roadblock over a demand by Lebanon's two main Shia groups, Amal and the heavily armed Iran-backed Hezbollah, that they name several ministers, including finance, a position previously held by a Shia.
The two parties have refused to budge on their demand, a position analysts say is linked to recent US sanctions against a former minister from Amal, as well as Hezbollah-linked businesses.
Adib held several meetings with senior Shia politicians but failed to reach agreement on how the minister would be chosen.
Shia leaders feared being sidelined as Adib sought to shake up appointments to ministries, some of which have been controlled by the same faction for years, politicians said.
Mohanad Hage Ali of the Carnegie Middle East Center said Iranian-backed factions might have wanted to stall the cabinet formation to await the result of a US election on November 3.
US President Donald Trump, seeking re-election, has taken a tough line on Iran and its allies, and his administration imposed sanctions on Lebanese politicians who back Hezbollah.
In an attempt to contain the political and diplomatic damage that could be caused by Adib's resignation, Parliament Speaker Nabih Berri, who is the leader of the Shia Amal Movement, said his group would stick to the French initiative.