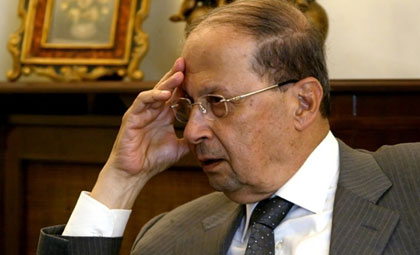 Aoun vows to stand his ground in presidency bid


Hasan Lakkis/The Daily Star/Nov. 29, 2014
BEIRUT: MP Michel Aoun vowed Friday to keep pushing for the presidential seat, defying former Prime Minister Saad Hariri's call for the election of a consensus candidate as the only solution to break the six-month-old presidential impasse.
The leader of the Free Patriotic Movement, who also heads the largest Christian bloc in Parliament, insisted that he was the most popular Christian candidate, and the only one who could win over March 14 votes.
He scoffed at local and foreign calls for rival Maronite leaders to agree on a consensus candidate for the country's top Christian post.
"Let them stop talking about an agreement among the Christians. There is one faction that could secure a two-thirds majority with March 14 and that is the Change and Reform bloc," Aoun told The Daily Star in a sit-down interview at his residence in Rabieh, north of Beirut.
The FPM enjoys the widest Christian following and Change and Reform is the largest Christian bloc in Parliament, he added, hinting that he was the only viable candidate for the presidency, which has been vacant for over six months.
"It is not easy to tell a person I want to negotiate with you in order to oust you. This is disrespect and insolence," Aoun said in a reference to March 14 calls for talks with the FPM leader over the presidency. "You cannot tell me I want to talk with you about the manner to oust you in order to search for another person in your place."
Aoun's comments came one day after Hariri said a consensus candidate was the only solution to end the presidential deadlock in the country. In an interview with LBCI TV at his Paris residence Thursday night, Hariri said Aoun could not be elected president because he was opposed by the March 14 coalition, which has nominated his Christian rival, Lebanese Forces chief Samir Geagea, for the presidency.
Officials from the FPM and Hariri's Future Movement have held several rounds of talks earlier this year to discuss the presidency.
Aoun, who had met Hariri in Paris, was seeking the Future Movement's support for his presidential bid.
During the talks with Hariri, Aoun said, "we did not sign any contract or agreement that promised me that I would become the president.'
Aoun, whose bloc along with that of Hezbollah and March 8 allies have thwarted a quorum in Parliament since April to choose a president, vowed not to facilitate the election of a successor to former President Michel Sleiman, whose six-year term ended on May 25.
"I am not stopping anyone to go to elect a president. But I will not join them. They have betrayed me five times in a row," he said.
Nonetheless, Aoun believed the Future-led March 14 could work with Aoun better than any other Christian leader.
He said that he would not let down the wide Christian backing he enjoys, lamenting that the presidency was taken from him in 2008 when the foreign ministers of Western countries allegedly told him he was their preferred candidate.
Aoun claimed that foreign ministers from the United States, the United Kingdom, France and Italy, as well as then-French President Nicolas Sarkozy, had all told him that they wanted to see him as president.
However, Sleiman was chosen as president instead, he said, because the decision was made that "Christian and Sunni representation needed to be harmonized."
Aoun, who claimed that Saudi Foreign Minister Prince Saud al-Faisal had vetoed his candidacy for the presidency, blamed "people trusted by the kingdom" for the minister's stance.
He refused to disclose the sources for the alleged Saudi veto. However, the FPM leader said he did not rule out a change in the Saudi stance on his candidacy. "I did not harm anyone and I want the Saudis' friendship wherever I am. I am not in discord with anyone in Saudi Arabia," he added.
Aoun, whose bloc has filed a challenge with the Constitutional Council against the extension of Parliament's mandate for two years and seven months, described the council's rejection of the appeal as "a catastrophe."
"This council will face a historic verdict and a national verdict [because it did not annul the extension]," he said.
The 10-member Constitutional Council Friday unanimously rejected the challenge against the extension of Parliament's mandate, saying its decision was designed to prevent further vacuums in state institutions.
Aoun called for respecting the Constitution, saying this did not exist as constitutional amendments had been made in the past for presidential election purposes.
"Violating and amending the Constitution have taken place in several stages. With the election of Michel Sleiman, they violated the entire Constitution," he said. He added that he only demanded a constitutional amendment that allowed the election of the president directly by the people.
Aoun rejected calls by his political opponents to become a key voter in the presidential election and withdraw from the race as part of Plan B.
"If they wanted this, I am not Hariri. The same criteria should be applied to the president of the republic, the Parliament speaker and the prime minister," he said.
He added that the country could not move forward when Najib Mikati was named prime minister in 2012, replacing Hariri, "because he was besieged internally and externally."
"Representation should be given to all sects. … We are aware of the situation. But this is the second time in which they try to strike me as I was deprived during the mandate of a president to whom I granted a Christian cover," Aoun said. "Their previous promises were a conspiracy against me. Based on this, once bitten, twice shy."
On the planned dialogue between Hezbollah and the Future Movement, Aoun said: "I believe in the freedom of meetings. Everyone works for his interests. If there was an agreement between us and Hezbollah, it is because we consider that the country needs security. The security we achieved in the country was more consensual than official security. There was a different balance of power. There was a security consensus and we blended the will with force."
Asked to comment on his call for "existential integration" with Hezbollah, Aoun said: "I have explained this word and it was shameful to interpret it differently. They want me to stay away from Hezbollah so that I can be accepted. Those have forgotten what happened to the Kataeb in 1975. Besieging any party that has power might [cause an explosion]."
Aoun rejected charges that he was against the Sunni community in Lebanon, saying he spoke only about two Sunni employees whom he accused of violating the law.