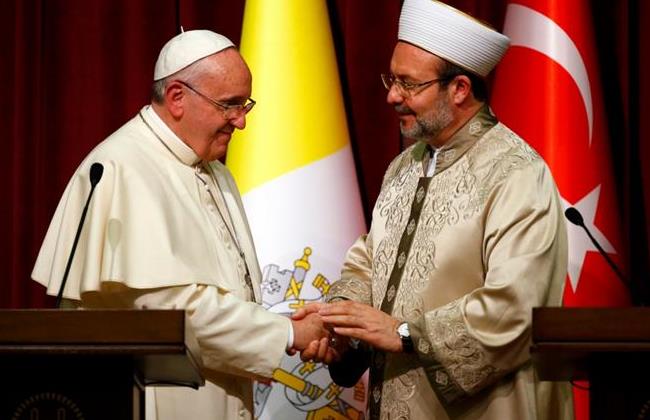 Pope Francis  urges more Muslim opposition to ISIS in Turkey


Nicole WinfieldSuzan Fraser| Associated Press
Nov. 28, 2014
ANKARA: Pope Francis condemned ISIS' assault on Christians and other religious minorities in Iraq and Syria, as he arrived Friday in Turkey to encourage Muslim leaders to take a stronger stand against extremists who twist religion to justify terrorism.
Francis sought to offer a balanced message as he met with Turkish officials upon his arrival in Ankara, his second trip to the Middle East this year. He reaffirmed that military force was justified to halt the extremists' advance, but called for greater dialogue between Christians, Muslims and people of all faiths to end fundamentalism.
"Fanaticism and fundamentalism, as well as irrational fears which foster misunderstanding and discrimination, need to be countered by the solidarity of all believers," Francis told Turkish officials at President Recep Tayyip Erdogan's massive new presidential palace.
Francis praised Turkey's welcome of some 1.6 million refugees and said the international community had the "moral obligation" to help Ankara provide for them.
The three-day visit comes at a sensitive moment for the Muslim nation, as it weighs how to respond to the ISIS advance amid U.S. calls to get more engaged with the international coalition fighting the extremists.
Turkey has accused the Islamic militant group of casting a shadow over Islam and has said Muslim countries have a duty to stand up against the group's radical views. Turkey is still negotiating with the United States over helping the coalition: Turkey has been pressing for a safe haven and a no-fly zone along the Syrian border with Turkey and also wants the coalition to go after Syrian President Bashar Assad's regime.
In his remarks to Francis, Erdogan complained about rising Islamophobia in the West and said prejudices against Muslims were helping fuel radical Islamic groups in the Middle East and Africa.
"Those who feel defeated, wronged, oppressed and abandoned … can become open to being exploited by terror organizations," Erdogan said.
He said he hoped Francis' visit would strengthen ties between Christians and Muslims, but the pope's visit was met largely with indifference in the Muslim nation.
"I don't know what a Catholic leader is doing in a Muslim country," said Akay Incebacak, an Istanbul resident ahead of Friday prayers at the Sisli Mosque. "We need to discuss whether our religious leaders are welcome or met with that much respect abroad."
The pope was greeted at Ankara's Esenboga Airport by a line of Turkish dignitaries, headed by Foreign Minister Mevlut Cavusoglu, as he descended the steps of his plane. He inspected and greeted Turkish honor guards before heading to the mausoleum of the Turkish republic's founder, Mustafa Kemal Ataturk, where he laid a wreath.
"My wish is that Turkey, which is a natural bridge between the two continents, is not just a point of intersection, but at the same time a point where men and women belonging to all cultures, ethnicity and religion live together in dialogue," Francis wrote in a guest book at the mausoleum.
Beyond the geopolitical issues, the three-day visit will give Francis a chance to reach out to Turkey's tiny Christian community – less than 1 percent of Turks are Catholic – and visit with the spiritual leader of the world's Orthodox Christians, Ecumenical Patriarch Bartholomew I.
Francis will tour two of Istanbul's most impressive sites, the Hagia Sophia – the Byzantine church-turned-mosque that is now a museum – and the nearby Sultan Ahmet mosque, Turkey's most important place of Muslim worship. The Vatican's plans call for him to pause in the mosque for a moment of "reflection."
The Vatican added a speech to Francis' itinerary Sunday at an event in which some Syrian refugees are expected to attend. The absence of any meeting with a group of refugees had raised eyebrows given that Francis had met with refugees in Jordan and in the Palestinian territories and has made welcoming refugees a major thrust of his papacy.
Security was tight: Turkish media reports said some 2,700 police officers would be on duty during the Ankara leg of the trip alone, and that a court had issued an order allowing police to stop and search cars and carry out random identity checks on people along routes used by the pope.
Francis waded into some local controversy when he became the first head of state to be received by Erdogan at his huge new palace in Ankara, a 1,000-room complex on once-protected farmland and forest that dwarfs the White House and other European government palaces.
Francis, whose Spartan living conditions are well-known, met with the president and prime minister and delivered a speech to Turkish dignitaries and diplomats at the $620 million White Palace.
The Vatican dismissed a request by the Ankara branch of the Turkish Chamber of Architects to boycott the meeting, saying Francis would be received wherever the government chose to receive him.