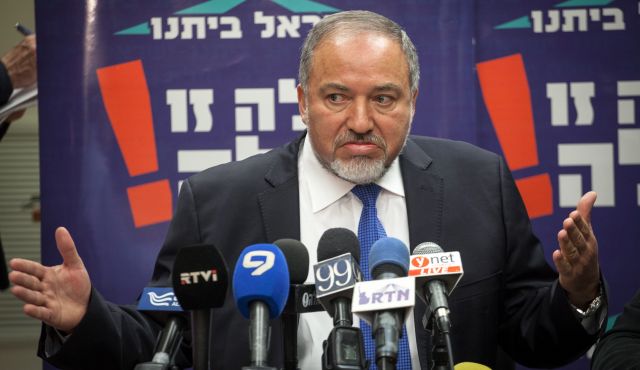 Lieberman's 'peace plan': Pay Israeli Arabs to move to Palestinian state


By Barak Ravid/Haaretz
Nov. 28, 2014
Foreign minister publishes new party platform, says Israel should offer Arabs 'economic incentives' to leave in order to help resolve the 'duality and divided loyalties from which they are suffering.'
Foreign Minister Avigdor Lieberman on Friday published an updated platform for his party, Yisrael Beiteinu, which includes a "peace plan" that calls on the government to encourage the transfer of Israeli Arabs to a Palestinian state by offering them "economic incentives."
The platform, which may be another sign that Knesset elections are forthcoming, was published on the Yisrael Beiteinu website and reiterates declarations the foreign minister has made over the past year. The diplomatic portion of the platform, or its "peace plan," does not include clear positions on issues such as Israel's borders, the status of Jerusalem or settlement construction and the future of existing Israeli settlements.
The only subject that the plan addresses in detail is that of Israel's Arab citizens. Lieberman repeated his proposal for land and population swaps between Israel and a future Palestinian state, but took it a step further by encouraging Israel to pay Arabs from Jaffa or Acre to move.
"As for Israeli Arabs, any agreement must include a plan for territorial and population exchange," Lieberman writes in the platform. "An arrangement of this kind with the Palestinian state will allow Israeli Arabs who do not identify with the State of Israel to become part of the Palestinian state. This will, first of all, resolve the problem of Arabs in the Wadi Ara triangle, adjacent to the Palestinian territories, who will be able to become citizens of the Palestinian state without leaving their homes."
Lieberman emphasized that his plan would allow Arabs from other parts of Israel, such as Jaffa and Acre, "who feel that they are part of the Palestinian people, to resolve this issue of duality and divided loyalties from which they are suffering. Israel should even encourage them with economic incentives."
He said that while he is not giving up on the dream or the principle of Greater Israel, he realizes Israel will have no choice but to reach a territorial compromise. "In the argument over the unity of the land versus the unity of the people – the latter takes precedence," Lieberman writes. "There can be no compromise over the unity of the people and we will never be able to recover from the loss of this unity."
At the same time, Lieberman claimed that peace with the Palestinians and the establishment of a Palestinian state can only be achieved as part of a comprehensive peace agreement with Arab states. The foreign minister presented this view in a speech he gave several months ago; however he has yet to outline how to attain such a deal.
Lieberman claims that left-wing politicians believe Israel should achieve peace with the Palestinians first and then reach an agreement with other Arab states. However, he writes, this formula has failed to yield results for more than 20 years, and also leads the Palestinians to believe they don't have to compromise on any of their demands.
In addition, Lieberman claims, achieving peace with the Palestinians won't solve the "problem" of Israeli Arabs' loyalty to Israel, nor will it end the conflict between Israel and Arab nations or bring Israel the political and economic gains that a comprehensive peace agreement would.
"Unlike the obsessive position of other parties, Yisrael Beiteinu understands that the State of Israel's conflict is not just a territorial one with our Palestinian neighbors, but a three-dimensional conflict: the Arab states, the Palestinians and Israeli Arabs," Lieberman writes. "That is why any agreement with the Palestinians must be part of a comprehensive agreement, including peace agreements with Arab countries and territorial and population exchanges with Israeli Arabs."
Lieberman did not elaborate on how to reach a comprehensive agreement, but said it is possible because, "Many people now understand that the Palestinian problem is not the main problem facing the Middle East, nor is it the main cause of violence."
"The events of the Arab Spring in Tunisia, Libya, Egypt, Syria, Iraq, Yemen and elsewhere prove this," he writes. "Moderate Arab countries also understand that the main threat to them today is not from Israel or from Zionism, but from radical Islamic organizations like Isis, Jabhat al-Nusra, the Muslim Brotherhood, Hamas, Islamic Jihad and Hezbollah. For the first time, therefore, we can now reach a comprehensive agreement, the terms of which are reasonable and acceptable to Israel."