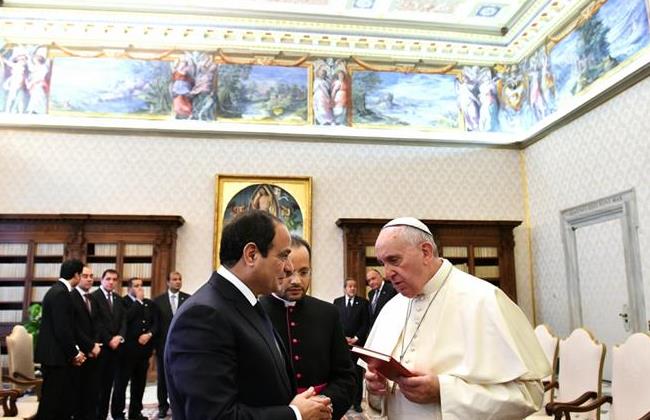 Pope Francis urges Sisi to ensure peace during Egypt transition


Agence France Presse/Nov. 25, 2014
VATICAN CITY: Pope Francis urged Egyptian President Abdel-Fattah al-Sisi Monday to ensure peace during his country's political transition and called on Egypt to embrace its diplomatic role in the troubled Middle East.
Sisi met the 77-year-old Francis at the start of his first European trip since ousting his Islamist predecessor and overseeing a crackdown that has killed hundreds.
During what the Vatican described as "cordial" talks – the first between an Egyptian leader and the pope at the tiny city state in eight years – the pontiff stressed "the closeness and solidarity of the Church to all the people of Egypt during this period of political transition."
The Vatican statement expressed hope that Egypt's constitutional safeguards on human rights and religious freedom "may be strengthened."
The pope also told Sisi he hoped "the path to inter-religious dialogue may continue to be pursued," it said.
The pair also discussed Egypt's role in the promotion of peace and stability in the Middle East and North Africa.
"It was reiterated that dialogue and negotiation are the only options to put an end to the conflicts and to the violence that endanger defenseless populations and cause the loss of human lives," the Vatican said.
Sisi's visit was celebrated by hundreds of Egyptian supporters in Rome's city center, where they danced draped in the national flag to music at a street party, holding up banners with the president's face.
Sisi, while army chief, ousted president Mohammad Morsi, the country's first freely elected leader, in July 2013, prompting a wave of deadly violence between security forces and Morsi's supporters that drew rebukes from Europe and the United States.
But boosted by its increasingly central role in combating Islamist militancy, Egypt has come in from the cold since Sisi won a presidential election in May after crushing both Islamist and secular opponents.
Egyptian officials said Sisi's four-day tour, which will also take in France, is aimed at securing European investment in the Egyptian economy, which has been battered by political turmoil since the Arab Spring uprising of 2011.