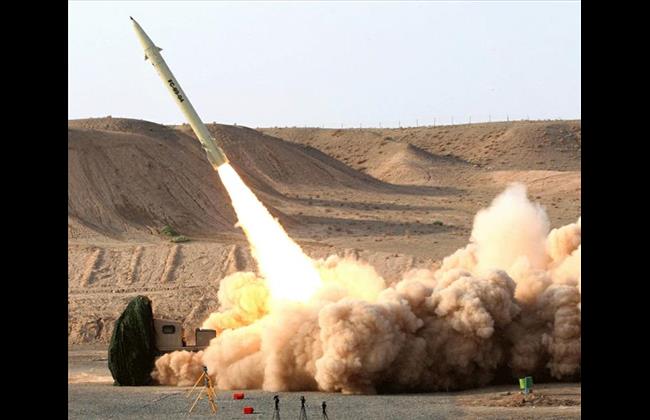 Hezbollah stockpiling more efficient, advanced missiles


Nicholas Blanford/ The Daily Star/Nov. 24, 2014
BEIRUT: Hezbollah has acquired advanced Iranian missiles with "pinpoint accuracy" that provide a "real deterrence" to Israel, Sheikh Naim Qassem, Hezbollah's deputy secretary-general, revealed Sunday.
His comments to Iran's Tasnim news agency came on the eve of a deadline in knife-edge nuclear talks between world powers and Iran amid waning hopes a deal can be struck in time.
"They [the Israelis] are well aware that Hezbollah is in possession of missiles with pinpoint accuracy, and thanks to the equipment Hezbollah acquired, and with the Islamic Republic's support and Hezbollah's readiness for any future war, [the next] war will be much tougher for the Israelis," Qassem was quoted as saying.
The timing of Qassem's interview appeared to be connected to the climax of negotiations between the so-called P5+1 of leading world powers and Iran in Vienna. Israel has warned that it could bomb Iran's nuclear facilities if the talks fail and Tehran proceeds with its nuclear agenda.
Qassem's comments also seemed to confirm a report two weeks ago in which a senior Islamic Revolutionary Guard Corps officer said that Iran had provided Hezbollah with advanced Fateh class short-range guided ballistic missiles.
"Considering the range of their [Hezbollah's] missiles, they are able now to attack targets from southern to northern parts of the occupied territories [Israel]," said Brig. Gen. Seyyed Majid Moussavi, the IRGC's air defense commander, according to a Feb. 12 report by the Iranian Fars News Agency.
"Based on what has been announced so far, their operational missile capability includes a fully vast, but of course hidden, [number and variety] of Fateh class missiles, and this missile capability can be used and has been organized," Moussavi added.
The Israeli media and some Gulf newspapers belatedly picked up the Fars report over the weekend, adding that Hezbollah's Fateh missiles carry a 500 kilogram warhead, have a range of between 250 to 350 kilometers and could strike Israel's nuclear reactor at Dimona in southern Israel. The English-language version of the Fars report carried none of the details of the Fateh missile's capabilities published by the Israeli media. Nevertheless, the quoted specifications conform to the fourth-generation Fateh A-110 introduced in 2012 and considered by defense experts to be the most advanced of Iran's Fateh family of short-range guided ballistic missiles.
Dimona lies 225 kilometers south of the border with Lebanon which means that at the quoted maximum range of 350 kilometers, the Fateh rockets could be launched from Hezbollah's bases in hills west of Baalbek in the Bekaa Valley and still strike Israel's nuclear facility deep in the Negev desert.
The Fateh A-110 missile, the first version introduced in 2002, is among several rocket systems that Hezbollah is believed to have acquired since the end of the monthlong war with Israel in 2006. The fourth-generation version was first tested in August 2012. It has a range of 300 kilometers and a warhead weight of 650 kilograms. Iranian engineers may have reduced the warhead size to 500 kilograms in order to increase the range to 350 kilometers. A fifth version of the Fateh, known in Iran as the Khalij Fars, was developed as an anti-ship ballistic missile.
In early May 2013, Israeli jets attacked targets near Damascus on two separate occasions that reportedly contained advanced weapons systems destined for Hezbollah, including Fateh A-110 missiles.
Iran and Syria embarked several years ago upon a collaborative program in missile development and production. The Syrian M600, or Tishreen, missile, which also is believed to be in Hezbollah's possession, is thought to be a variant of the Fateh-A110 with an improved GPS guidance capability that allows it to strike with 500 meters of its target at a maximum range of 250 kilometers.
"The missile production plants in Syria have been built by Iran and the missiles designed by Iran are being produced there," Brig. Gen. Amir Ali Hajizadeh, the IRGC's air force commander, said earlier this month.
Israel believes Hezbollah also has acquired a "few dozen" Scud D missiles with a range of 700 kilometers stashed in the northern Bekaa, according to diplomatic sources. However, the Scud D is a logistical headache for Hezbollah compared to other rocket systems. Scuds are liquid-fueled which makes for a lengthy, complicated and potentially hazardous launching process compared to solid-fueled alternatives. They also require dedicated truck-sized launch platforms that are harder to smuggle into Lebanon, hide and employ without being spotted. The solid-fueled Fateh A-110s and M600s, on the other hand, are thought to be launched from converted shipping containers mounted on the backs of trucks. The roof of the shipping container flips open allowing the launch rail to be raised and the missile fired.
Most targets in Israel worthy of Hezbollah's attention are found in the northern half of the country where the bulk of the population lives and where most of Israel's military facilities, businesses and industries are located. There is relatively little worth striking in Israel south of a line drawn between Ashdod and Jerusalem, a distance of 143 kilometers from the Lebanese border, which puts the main target bank well within reach of the M600s, let alone fourth-generation Fatehs.
The one exception south of the Ashdod-Jerusalem line is Israel's nuclear reactor at Dimona. If Israel were to launch an attack against Iran's nuclear facilities, a retaliatory Scud strike by Hezbollah against Dimona may have been suitably reciprocal and possibly worth the logistical challenges posed by the missile. But if Hezbollah really has acquired the fourth-generation Fateh missile, the party would seem to no longer require the cumbersome Scuds for the purpose of attacking Dimona.