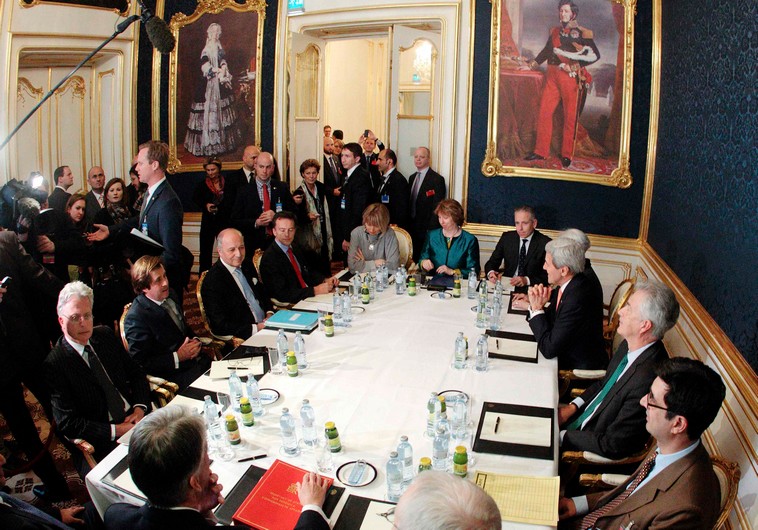 Iran nuclear talks: The narcissism of minor differences the EU and US


By BENJAMIN WEINTHAL/11/23/2014/J.Post
 With the negotiation process to end Iran's illicit nuclear weapons program about to enter the final stretch, nuanced differences still exist among the Western powers toward Tehran.
Nevertheless, the rift has significantly shrunk since the Geneva interim accord last November. To invoke Sigmund Freud's famous phrase, the narcissism of minor differences among the US, Germany, France and the UK will not be a deal breaker.
"There are few substantive differences between the EU and American positions at this stage. During the Obama administration, Ashton has been very careful to follow Washington's policies. The US as well as the main European players – Germany, France, and the UK – clearly want an agreement and are ready to make major concessions on enrichment, as well as allowing Tehran to cover up its illegal weapons development," Prof. Gerald Steinberg of Bar-Ilan University told The Jerusalem Post on Saturday.
 Profound differences existed last November.
France tossed a wrench into the Geneva process, with its foreign minister, Laurent Fabius, saying his country did not want to be part of a "fool's game." Fabius – and French officials in charge of the Iran nuclear file – remain the most distrustful of Iran's claim to be seeking peaceful nuclear energy.
However, a soggy French economy, coupled with competition with the highly advanced capitalist countries of Western Europe, seem to be changing attitudes in France. Didier Billion, deputy director at Paris-based think tank IRIS, said: "I think Fabius, who has pushed for a new economic diplomacy, knows that we are potentially losing a very big market that will open to the world."
Steinberg, a prominent political scientist, gleaned a similar small-scale clash between the US and Europe.
"The Europeans have been much quicker than the US in restoring the trade infrastructure with Iran, following the easing of sanctions and anticipating an agreement that will eliminate these barriers. This behavior is similar to the Russian and Chinese policies, which see Iran primarily as a market with important growth potential. The rush to sign contracts further undermines Europe's negotiating leverage with the regime."
Germany has ramped up its overtures to Iran's captains of industry. A mere day before the expiration of the Iran nuclear talks on November 24, a large Iranian business delegation is slated to begin a visit to Hamburg, Berlin and Hannover. Germany's powerful business community is determined to regain its multibillion Euro export trade to the Islamic Republic. The Iranian economic delegation consists of representatives from the gas and oil sectors as well as petrochemicals and financial branches.
Last month, London hosted The 1st Europe-Iran Forum. Hundreds of eager businesspeople met to hear former foreign secretary Jack Straw and Iranian tycoons promote investment.
While economic engines may drive short-term gains for France, Germany and the UK, it remains difficult to fathom that Iran's regime will abandon decades of work building a nuclear weapons device. It is worth recalling that the Bundesnachrichtendienst, Germany's foreign intelligence agency, concluded in a 2008 report that "development work on nuclear weapons can be observed in Iran even after 2003."
This helps to partly explain why nuclear proliferation experts expressed shock on Twitter on Saturday that Western powers are willing to gut their demand for full disclosure about Iran's nuclear weapons development. According to Reuters, a senior Western official said there is a need for a "creative" solution to the transparency crisis because it is neither realistic nor expected that Iran will own up to its work on nuclear weapons devices.
Former British prime minister Margaret Thatcher said of former Soviet president Mikhail Gorbachev: "I like Mr. Gorbachev, we can do business together." The Western powers believe Iran's President Hassan Rouhani is a kind of Persian manifestation of Gorbachev.
It is an odd – perhaps incurably naive – posture toward Rouhani. After all, Rouhani boasted that his diplomatic team created a divide-and-conquer strategy to peel away Europe from the US.
Desperation diplomacy and severe fatigue among the Western powers have led to a narcissism of minor differences that might, just might, create a very bad deal for global security.
Benjamin Weinthal reports on European affairs for The Jerusalem Post and is fellow at the Foundation for Defense of Democracies.