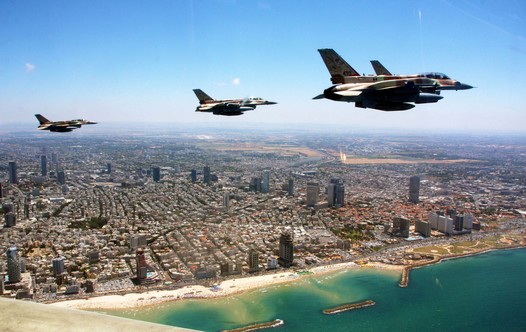 Exclusive: Cornered but unbound by nuclear pact, Israel reconsiders military action against Iran
By MICHAEL WILNER/J.Post/ 11/22/2014/
 WASHINGTON – Historic negotiations with Iran will reach an inflection point on Monday, as world powers seek to clinch a comprehensive deal that will, to their satisfaction, end concerns over the nature of its vast, decade-old nuclear program.
 But reflecting on the deal under discussion with The Jerusalem Post on the eve of the deadline, Israel has issued a stark, public warning to its allies with a clear argument: Current proposals guarantee the perpetuation of a crisis, backing Israel into a corner from which military force against Iran provides the only logical exit.
 The deal on the table
World powers have presented Iran with an accord that would restrict its nuclear program for roughly ten years and cap its ability to produce fissile material for a weapon during that time to a minimum nine-month additional period, from the current three months.
Should Tehran agree, the deal may rely on Russia to convert Iran's current uranium stockpile into fuel rods for peaceful use. The proposal would also include an inspection regime that would attempt to follow the program's entire supply chain, from the mining of raw material to the syphoning of that material to various nuclear facilities across Iran.
Israel's leaders believe the best of a worst-case scenario, should that deal be reached, is for inspections to go perfectly and for Iran to choose to abide by the deal for the entire decade-long period.
But "our intelligence agencies are not perfect," an Israeli official said. "We did not know for years about Natanz and Qom. And inspection regimes are certainly not perfect. They weren't in the case in North Korea, and it isn't the case now – Iran's been giving the IAEA the run around for years about its past activities."
"What's going to happen with that?" the official continued. "Are they going to sweep that under the rug if there's a deal?"
On Saturday afternoon, reports from Vienna suggested the P5+1 – the US, United Kingdom, France, Russia, China and Germany – are willing to stop short of demanding full disclosure of any secret weapon work by Tehran.
 Speaking to the Post, a senior US official rejected concern over limited surveillance capabilities, during or after a deal.
"If we can conclude a comprehensive agreement, we will have significantly more ability to detect covert facilities – even after its duration is over – than we do today," the senior US official said. "After the duration of the agreement, the most intrusive inspections will continue: the Additional Protocol – which encompasses very intrusive transparency, and which Iran has already said it will implement – will continue."
But compounding Israel's fears, the proposal Jerusalem has seen shows that mass dismantlement of Iran's nuclear infrastructure – including the destruction, and not the mere warehousing, of its parts – is no longer on the table in Vienna.
"Iran's not being asked to dismantle the nuclear infrastructure," the Israeli official said, having seen the proposal before the weekend. "Right now what they're talking about is something very different. They're talking about Ayatollah Khamenei allowing the P5+1 to save face."
 Officials in the Netanyahu government are satisfied that their ideas and concerns have been given a fair hearing by their American counterparts. They praise the US for granting Israel unprecedented visibility into the process.
 But while those discussions may have affected the talks at the margins, large gaps – on whether to grant Iran the right to enrich uranium, or allow it to keep much of its infrastructure – have remained largely unaddressed.
"It's like the chemical weapons deal in Syria," the official said. "They didn't just say: Here, let's get rid of the stockpile and the weapons, but we will leave all the plants and assembly lines."
'Sunset clause'
 Yet, more than any single enforcement standard or cap included in the deal, Israel believes the Achilles' heel of the proposed agreement is its definitive end date – the sunset clause.
"You've not dismantled the infrastructure, you've basically tried to put limits that you think are going to be monitored by inspectors and intelligence," said the official, "and then after this period of time, Iran is basically free to do whatever it wants."
The Obama administration also rejects this claim. By e-mail, the senior US administration official said that, "'following successful implementation of the final step of the comprehensive solution for its duration, the Iranian nuclear program will be treated in the same manner as that of any non-nuclear weapon state party to the NPT – with an emphasis on non-nuclear weapon."
"That has in no way changed," the American official continued, quoting the interim Joint Plan of Action reached last year.
But the treatment of Iran as any other signatory of the Nuclear Non-Proliferation Treaty –189 countries are members, including Iran – would allow Tehran to ultimately acquire "an industrial-sized capability," the Israelis say. "The breakout times [to a nuclear weapon] will be effectively zero."
 Israel and world powers seek to maximize the amount of time they would have to identify non-compliance from a nuclear deal, should Iran choose to defy its tenets and build a bomb.
But in the deal under discussion in Vienna, Iran would be able to comply with international standards for a decade and, from Israel's perspective, then walk, not sneak, into the nuclear club.
"You've not only created a deal that leaves Iran as a threshold nuclear power today, because they have the capability to break out quickly if they wanted to," the Israeli official contended. "But you've also legitimized Iran as a military nuclear power in the future."
 From the moment this deal is clinched, Israel fears it will guarantee Iran as a military nuclear power. There will be no off ramp, because Iran's reentry into the international community will be fixed, a fait accompli, by the very powers trying to contain it.
 "The statement that says we've prevented them from having a nuclear weapon is not a true statement," the Israeli official continued. "What you've said is, you're going to put restrictions on Iran for a given number of years, after which there will be no restrictions and no sanctions. That's the deal that's on the table."
Revisiting the use of force
 Without an exit ramp, Israel insists its hands will not be tied by an agreement reached this week, this month or next, should it contain a clause that ultimately normalizes Iran's home-grown enrichment program.
 On the surface, its leadership dismisses fears that Israel will be punished or delegitimized if it disrupts an historic, international deal on the nuclear program with unilateral military action against its infrastructure.
 By framing the deal as fundamentally flawed, regardless of its enforcement, Israel is telling the world that it will not wait to see whether inspectors do their jobs as ordered.
"Ten, fifteen years in the life of a politician is a long time," the Israeli said, in a vague swipe against the political directors now scrambling in Vienna. "In the life of a nation, it's nothing."
Prime Minister Benjamin Netanyahu has threatened the use of force against Iran several times since 2009, even seeking authorization from his cabinet in 2011. Iran's program has since grown in size and scope.
According to his aides, the prime minister's preference is not war, but the continuation of a tight sanctions regime on Iran's economy coupled with a credible threat of military force. Netanyahu believes more time under duress would have led to an acceptable deal. But that opportunity, in his mind, may now be lost.
Whether Israel still has the ability to strike Iran, without American assistance, is an open question. Quoted last month in the Atlantic magazine, US officials suggested that window for Netanyahu closed over two years ago.
 But responding to claims by that same official, quoted by Jeffrey Goldberg, over Netanyahu's courage and will, the Israeli official responded sternly: "The prime minister is a very serious man who knows the serious responsibility that rests on his shoulders. He wouldn't say the statements that he made if he didn't mean them."
"People have underestimated Israel many, many times in the past," he continued, "and they underestimate it now."