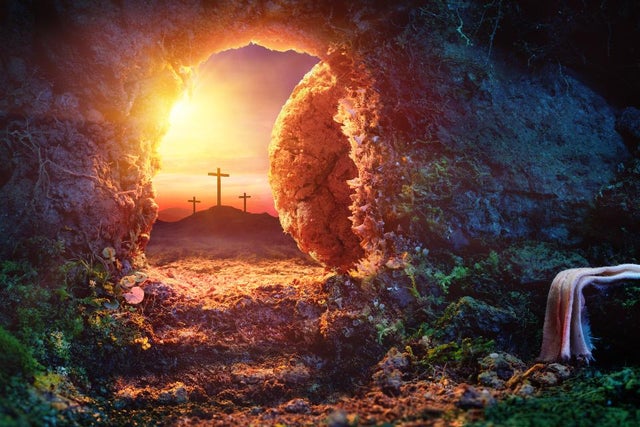 Halleluiah! Jesus Has Risen! Indeed He Has Risen


Elias Bejjani/April 12/2020
Don't be amazed. You seek Jesus, the Nazarene, who has been crucified. He has risen. He is not here (Mark 16/05)
Do not be afraid, "Don't be amazed", with these reassuring and soothing words The Angel spoke to Mary Magdalene, Mary the mother of James, and Salome.
They had came to the tomb on Sunday morning to mummify and anoint Jesus' Body as the Jewish tradition required. They thought death had defeated Jesus and ended His life as it does to every human being.
On their way, they were sadly thinking and wondering who will roll for them the stone away from the tomb's entrance so they can get in and perform the mummifying and anointing process.
While halfway from the tomb, they saw that the enormous stone had been rolled away. When they entered the tomb they found that Jesus' body was not there. They found only the shrouds that His body was wrapped with on His burial after the crucifixion.
Christ is the Way, Christ is the Truth, and Christ is the actual eternal life that we long for. We strongly believe with full conviction that Christ dwells in His Holy Church, and exists in its Mysteries (Sacraments).
He is always present in the Holy Eucharist that we receive during every mass. Christ at all times is ready, willing and delighted to help us in our burdens when we call on Him and ask for His mercy.
"Come to me, all you who labour and are heavily burdened, and I will give you rest. Take my yoke upon you, and learn from me, for I am gentle and lowly in heart; and you will find rest for your souls. 11:30 For my yoke is easy, and my burden is light." (Matthew11:28-29)
The miracle of resurrection is the cornerstone of our Christian faith. This pivotal liturgical fact was strongly stressed by Saint Paul in his First Letter to the Corinthians, (15/12-26):
Through Crucifixion and resurrection, Christ has overcome death, broke its thorn, and granted us His eternal forgiveness from the original sin.
With His death and resurrection, death in its traditional earthly human concept has been abolished forever and Sin since then has become the actual death that leads the sinners to Gahanna into the unquenchable fire. When our bodies die, we sleep in the hope of resurrection.
On Jesus' return on the Day of Judgment, the dead will be the first to rise and escort Him. "Behold, I tell you a mystery. We will not all sleep, but we will all be changed, in a moment, in the twinkling of an eye, at the last trumpet. For the trumpet will sound, and the dead will be raised incorruptible, and we will be changed", (Paul's First Letter to the Corinthians 15 / 51-52).
Easter Sunday is a holy feast of love, humility, forgiveness, brotherhood, tolerance and repentance.
Religiously we are not to participate in any of these feast prayers or make any offerings or receive the Holy Communion unless we replace hatred with love, grudges with forgiveness, rejection of others with tolerance, arrogance with humility, greed with contentment, deception with transparency, and evil with righteousness.
If we do not learn how to tame our selfishness, anger, hatred and forgive others for whatever evil deeds they commit against us and reconcile with them, than we do not qualify to be called Jesus' followers.
Our prayers will not be heard or responded to, if we do not practice the grace of forgiveness as did He who was crucified for our salvation.
"If therefore you are offering your gift at the altar, and there remember that your brother has anything against you, leave your gift there before the altar, and go your way. First be reconciled to your brother, and then come and offer your gift". (Matthew 5/23-24).
Meanwhile our true faith in Jesus and in His Sacrifices won't be complete unless we adopt in our thinking, deeds and language the pure components of sacrifice, honesty, truth, self respect, meekness and decency.
"Let no corrupt speech proceed out of your mouth, but such as is good for building up as the need may be, that it may give grace to those who hear. Don't grieve the Holy Spirit of God, in whom you were sealed for the day of redemption. Let all bitterness, wrath, anger, outcry, and slander, be put away from you, with all malice. And be kind to one another, tender-hearted, forgiving each other, just as God also in Christ forgave you. (Ephesians 4/29-32)
For our prayers to be looked upon and heard by Almighty God, we are required to reconcile with ourselves and with all others on whom we have inflicted pain and injustice, and treated with an evil manner.
To please the Lord we are required to genuinely, heartily and overtly perform all required acts of repentance for all our mischievous conducts and wrongdoings.
Mark 11/24-26: "Therefore I tell you, all things whatever you pray and ask for, believe that you have received them, and you shall have them. Whenever you stand praying, forgive, if you have anything against anyone; so that your Father, who is in heaven, may also forgive you your transgressions. But if you do not forgive, neither will your Father in heaven forgive your transgressions"
Almighty God has endowed us with His love talent, (minas) and expects us to faithfully invest it in helping others who are in need. He expect us to observe all the teaching of His Bible so that He will reward us on the Day of Judgment and put us on His Right Side.
On this Holy Day of Resurrection, we are ought with faith and hope to be aware that Jesus' Holy blood was shed on the Cross for our sake. Meanwhile remembrance of His death and resurrection is a Godly consignment that we are entrusted with. It's up to us either to honour this trust or betray it. Halleluiah! Jesus has risen! Indeed He has risen.