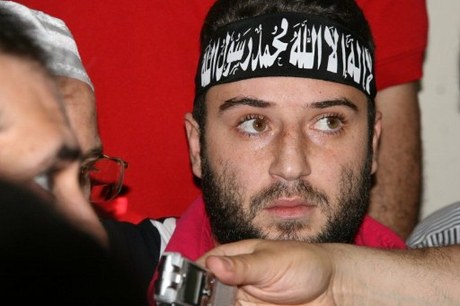 Takeri Fugitives Shadi Mawlawi and Osama Mansour are in Ain al-Hilweh camp: security sources


Misbah al-Ali|/The Daily Star
Nov. 22, 2014
TRIPOLI, Lebanon: Fugitives Shadi Mawlawi and his partner Osama Mansour are believed to be hiding in the southern refugee camp of Ain al-Hilweh, security sources told The Daily Star.
Their refuge in the camp was facilitated by the militant group Jund al-Sham, which is allied with the Nusra Front, the sources said. Both groups are linked to Ansar al-Shariah, one of the first jihadi organizations to declare loyalty to Al-Qaeda in Iraq under the leadership of Abu Musaab al-Zarqawi, who was killed by U.S. forces in the country in 2006.
That Mawlawi was able to enter the camp indicates that he is able to move openly and freely across Lebanon and is not confined to the north, the sources said.
Meanwhile, security services are hoping to obtain key logistical information about jihadi activities from ISIS militant Ghali Hadara, whose arrest was announced on Nov. 1
They hope that he can provide intelligence that will lead to the to dismantling of sleeper cells in the north.
Hadara was the second in command to Ahmad Salim Mikati, who led an ISIS sleeper cell in Asoun, north Lebanon.
In the neighborhood of Asoun where Mikati rented an apartment for weeks prior to the clashes, residents are still afraid to talk about the incident.
"The owner of a hunting shop later reported that 150 pump-action rifles were sold in Sir-Dinnieh [around the time Mikati's sleeper cell was operating in Asoun]," one resident revealed.
Intelligence indicates that whoever bought the rifles has disappeared, but perhaps more troubling is that security forces have so far been unable to recover the weapons.
After Army units raided the Asoun apartment on Oct. 24, Mikati's supporters, together with the Mawlawi-Mansour group, triggered clashes in Tripoli Souks.
In response to this, more clashes sprung up in the Tripoli neighborhood of Bab al-Tabbaneh, and residents there now speculate that the fighters were trying to break through to the Tripoli Souks, to form one united front with Mikati's men.
In both areas, the Army was able to put down the clashes.
The incidents saw fighters as young as 22 attacking Army positions. They were backed by Syrian fighters embedded in sleeper cells.
Weeks after the clashes, many questions remain, such as the whereabouts of extremist preacher Sheikh Khaled Hablas, who had called for Sunnis to defect from the Army and whose fighters clashed with the Army in Minyeh while battles were raging in Tripoli. Had Mikati's goal of creating an Islamic emirate in the north materialized, the Salafist sheikh from Minyeh would have been a key link in the chain connecting Akkar, Dinnieh and Tripoli.
Neighbors of Sheikh Hablas said that they were surprised by the quantity of arms the sheikh had in storage, and the size of his militia.
"The plan was to start going to the streets, take control of the international road and isolate the north," said one of Hablas' neighbors, who preferred to remain anonymous. "Almost 50 fighters from Minyeh, most relatives of Hablas, helped him, along with 200 Syrian fighters with advanced fighting skills.
"Hablas' speeches on the last night [before the clashes] indicated that he was cooperating with other groups trying to take over the north.
"For this reason, [Hablas] prepared trucks carrying diesel, in order to spill it along the main roads and obstruct the Army's supply routes – because he didn't want to confront the Army, but wanted to restrict its movements.
"One truck spilled diesel at the crossing of Al-Seddik bakery, which led a number of military tanks to lose control and go off the road."
Security forces are still trying to pinpoint where Hablas is hiding. Intelligence indicates that he withdrew his militia toward Oyoun al-Samak, a vast and rugged area in the north that is inaccessible by cars and boasts many caves.
Oyoun al-Samak is close to Nahr al-Bared. It's very similar to Arsal's outskirts, except that it's not as high in altitude and it doesn't snow there. The area is considered ideal for long-term refuge.
Hablas' neighbors in Minyeh said that he was kind, honest and faithful. He had a good reputation, so nearly everyone expressed surprise when they found out he was working to destabilize Lebanon.
"He is an example of a moderate preacher, and he was influenced by the secretary-general of Dar al-Fatwa in Tripoli Sheikh Mohammed al-Imam, who was known for his tolerance and modesty," one of the neighbors said.
"Hablas disappeared while in debt. He was always very poor and that's what made him popular."
Hablas, who is in his 40s, grew up an orphan.
His troubled family life led him to study Islamic law and to become committed to religious teaching. He taught at al-Imam al-Bukhari Institute for a long time before becoming the imam of the Haroun Mosque.
For other Salafist sheikhs with militant ambitions, Hablas' story serves as a cautionary tale. They now see that battling the Army can only lead to a bad end or make room for Hezbollah's hegemony. With this in mind, many are now looking to the Army to provide them with security and cover.