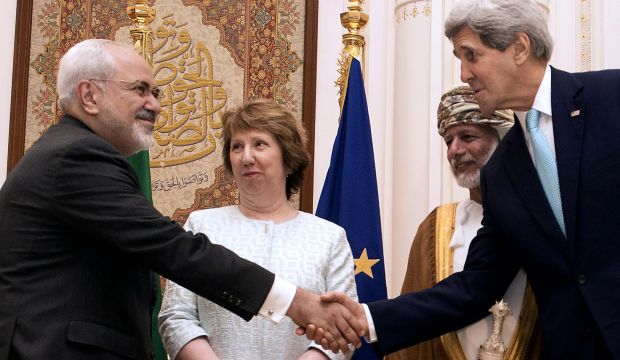 With four days left on clock, Kerry to meet Zarif to try to clinch nuclear deal


By REUTERS /11/21/2014 /J.Post
VIENNA – Iran and the United States on Friday intensified efforts to overcome deep divisions in talks on Tehran's nuclear program days ahead of a deadline for agreement.
With the deadline for a deal to defuse a 12-year stand-off over Iran's nuclear ambitions due to expire on Monday, US Secretary of State John Kerry and Iranian Foreign Minister Mohammad Javad Zarif unexpectedly met for a second time in Vienna on Friday evening.
The United States, Britain, France, Germany, Russia and China began a final round of talks with Iran on Tuesday, looking to clinch a pact under which Tehran would curb its nuclear work to help ensure it cannot be diverted to bomb-making in exchange for a lifting of economically crippling sanctions.
But officials close to the negotiations in Vienna said at mid-week the two sides remained deadlocked on key issues, were unlikely to secure a definitive accord by Nov. 24, and might need to extend the deadline.
Russian Foreign Minister Sergei Lavrov and Kerry agreed that "additional efforts" were needed to reach a deal by the self-imposed deadline, Russia's Foreign Ministry said.
"The sides did not rule out the possibility of holding a ministerial meeting of the parties to the talks on Iran's nuclear program, if the prospect for progress appears," the ministry said in a statement.
British Foreign Secretary Philip Hammond said after separate meetings on Friday with big power peers in Vienna: "These are complex issues and there are still significant gaps between the parties. We're all going away to have technical discussions with our experts and we'll resume again over the … weekend."
Western powers suspect Iran has aimed to covertly acquire a nuclear bomb capability from its enrichment of uranium. Iran says the programme is for producing civilian energy only. The lingering dispute has raised fears of a wider Middle East war.
Zarif cancelled announced plans to return to Tehran for top-level discussions with the deadline looming, Iranian media reported. The reason for his reversal of course was not immediately known.
"The talks have not reached a stage that necessitates Zarif to go to Tehran," an unnamed senior member of the Iranian delegation told the IRNA and ISNA news agencies. "Therefore he is not going to Tehran and the talks will continue."
US and French officials said earlier that Kerry and French Foreign Minister Laurent Fabius would return to Paris later in the day for consultations. US officials said Kerry would still travel to Paris after his meeting with Zarif. Both Kerry and Fabius were expected to return to Vienna during the weekend.
Kerry spoke on the telephone with Lavrov on Friday and the two men agreed that "additional efforts" were needed to secure a deal by Monday, Moscow's Foreign Ministry said.
A source close to the talks told Reuters that Zarif had received a document from the powers that outlined the main principles of a possible agreement on removing sanctions on Tehran in exchange for limits on its nuclear program.