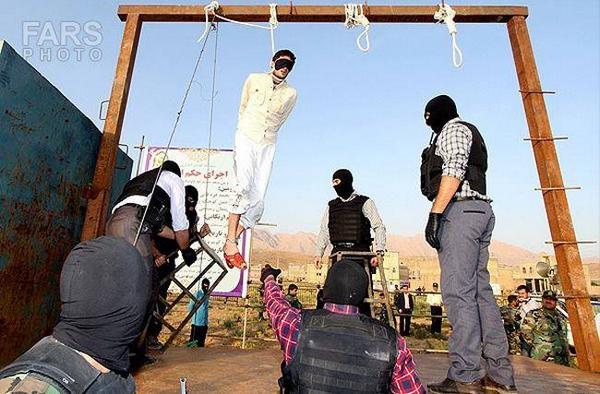 Iran's hidden prisoners
DAVID HAYES /Open Democracy
21 November 2014
Those arrested in Iran after the presidential election of June 2009 join the detainees from earlier moments of repression. The blogger and openDemocracy author Hossein Derakhshan is one of the latter. The anniversary of his incarceration is being marked by efforts to publicise his case, reports David Hayes.
(This article was first published on 30 October 2009. Hossein Derakhshan was released from prison on 19 November 2014)
The wave of arrests in Iran that followed the presidential election of 12 June 2009 means that many more Iranians are now experiencing the brutal treatment already endured by thousands of their fellow citizens. For the repressive response to the civic uprising that followed the shocking declaration of Mahmoud Ahmadinejad's landslide victory has many precedents in the thirty-year history of the Islamic Republic of Iran (as of its imperial predecessor).
The capacity of the Iranian regime to render its prisoners invisible and voiceless is one of its most potent weapons. In turn, the dissemination of reliable information on individual cases is a hugely valuable resource for those on the outside – the families, colleagues and friends of those incarcerated, and the justice and human-rights groups working to make Iran a state of law.
Iranian citizens with western connections can often be among the most vulnerable to sudden detention, usually in times of internal political crisis and/or tension between Iran and the west (especially the United States). For example, Iranians who have dual citizenship or who work for foreign broadcasters or think-tanks have been a favoured target. At the same time, such connections also mean an opportunity to organise publicity about their fate and campaign for their freedom (see Reza Fiyouzat, "Saberi is free: How about all the others?", OnlineJournal, 12 May 2009).
This has in recent times been the experience of, for example, the scholar Haleh Esfandiari; the journalist Parnaz Azima; the journalist Roxana Saberi; the businessman and peace activist Ali Shakeri; the diplomatic aide Hossein Rassam; and the Newsweek journalist Maziar Bahari. The current haul of detainees includes the scholar Kian Tajbakhsh, whose case is an instructive example of the psychology animating Iran's hardline core (see Karim Sadjadpour, "The New Hostage Crisis", Foreign Policy, 23 October 2009).
The pioneering blogger Hossein Derakhshan, who was arrested in Tehran on 2 November 2008, also belongs to this melancholy pattern; though, as do all the above examples, his case has its unique and individual characteristics.
A singular journey
Hossein Derakhshan (widely known as "Hoder") earned a place in internet as well as Iranian history when – by combining Unicode with Blogger.com's tools to enable Persian characters – he created the first Persian-language blog in Canada in September 2001. He had moved there from Iran in 2000 after writing about technology and the internet for two newspapers: Asr-e Azadegan, and Hatay-e No (for which he wrote a column, Panjere-i roo be hayaat [A Window to the Yard]).
His early blog soon gained a large following; at its high-point, and until Iran's cyberpolice was able in 2004 to jam it, it received 35,000 page-views per day. Editor: Myself was in time supplemented by an English-language version, allowing him to reach an audience eager for insight about Iran via a new medium of exciting potential.
Hoder's writing extended to other media, including (in 2004-06) five articles for openDemocracy. He became involved in Stop Censoring Us, a record of internet censorship in Iran. He made two visits to Israel in 2006-07, and in 2007 registered for a master's degree at London's School of Oriental and African Studies (Soas).
Hoder returned to Iran in October 2008, and reputedly was positive about his early experiences there. The news of his arrest on 2 November could not be confirmed for several weeks; but on 30 December 2008, a week before Hoder's 34th birthday, Ali Reza Jamshidi – spokesman of the revolutionary court, which oversees cases related to national security – announced at a news conference in Tehran that he was being charged with "insulting religious figures".
The accusation, a variant of the familiar range of post-facto off-the-shelf charges in the authoritarian's litany, was not supported by any known evidence; and almost a year on, there is no sign that any progress in actually examining it or bringing it to court has been made. Instead, Hoder is confined in Tehran's Evin prison – a place almost always qualified by the term "notorious" – from where only the most meagre reports of what he is going through have emerged.
The respected collective known as Human Rights Activists in Iran (HRA) published a brief account of Hoder's incarceration on 17 October 2009. It says:
"HRA has received reports which suggest that the blogger, Hossein Derakhshan, who was arrested on 2 November 2008, has spent the first eight months of his detention in solitary confinement and different wards of the Evin prison upon his return to Iran. During that time he has been subjected to various physical and psychological pressure tactics and multiple transfers.
He has been beaten repeatedly and has been forced to do squats in cold showers. His interrogators have threatened to arrest his father and his sister unless he confessed to espionage charges.
With the start of the massive arrests after the presidential election, and as a result of cell shortages in Evin prison, Derakhshan was transferred to Ward 2A of the IRGC [Iranian Revolutionary Guards Corps] prison, where he shared his cell with newly arrested people.
Derakhshan has been given false promises of his release on multiple occasions: during the Fajr celebrations and Nowrooz. Despite all the promises he is still being held on a temporary detention-order. His detention-order has been renewed several times, the last of which expired on 10 October 2009. Derakhshan reportedly intended to start a hunger-strike if his situation remained unchanged after this date. HRA has no information as to whether he has started the hunger-strike.
During his detention, Derakhshan has been pressured by his interrogators to collaborate and confess to the charges brought up against him. In September 2009 he was taken to court to sign documents granting permission to his lawyer to represent him. He told the judge that all his confessions had come under pressure. According to the reports received by HRA, Derakhshan had agreed to televised confessions under pressure, but the matter was cancelled after one recording."
A family matter
The lack of hard information about what had happened to Hossein Derakhshan after his return to Iran meant that the attention to his case was more limited than to other comparable situations. The fact that an unusual intellectual-political trajectory had seen him gradually express a degree of support for the government of Mahmoud Ahmadinejad – and vehement criticism of some of its Iranian critics in the west – probably also contributed to this relatively low-key response.
But as awareness of his arrest spread, several initiatives calling for Hoder's release began to appear. They include the strong letter from a group of Iranian bloggers; the "free Hoder" blog and a Facebook group; and efforts by several media organisations and networks (such as Internet Sans Frontières) to highlight his ordeal and keep it in the public eye.
The approaching anniversary of his detention has now led his family in Iran to take the decision to speak out on his behalf. His younger brother Hamed, in an interview with the Canadian Broadcasting Corporation (CBC), criticised the Canadian authorities for their inaction in the case, said that his parents had been able to see Hossein only twice during his incarceration, and explained why the family was only at this stage seeking to draw attention to the case. "My father believed it was better to use the connections, prove that he is loyal to them, work within the system" (see John Nicol, "Iranian-Canadian blogger's family pleads for help", CBC News, 29 October 2009).
Hossein's father has written a letter to Ayatollah Amoli Larijani, the head of Iran's judiciary department, which the reformist newspaper Salaam published on its website on 21 October 2009. The California-based journalist, Cyrus Farivar, provides an English translation of the letter on his blog:
"To the Presence of Ayatollah Amoli Larijani, the Respected Head of the Judiciary:
Greetings and respect to you. One year has passed since the day that my son was arrested.
In all these months, days, and hours, my family, my wife and I were hoping that in the arms of Islamic law and the mercy of the Islamic judiciary, Hossein's case will be dealt with in the way it deserves.
There is no need to mention the numerous times that we refused the requests of foreign media to explain Hossein's situation.
Even when we heard the worst gossip about his treatment in semi-official media, we were silent and in fact, no government organisation has ever denied this worrisome news, not just to calm our very worried hearts down, but at least to respect the independence of judiciary about this case.
During this entire time, our son has had just two short meetings with us for only a few minutes. Please imagine that for every six months we just saw him for very few minutes. We have no information about his legal situation.
No court has been held yet and we don't even know which institution or security organisation Hossein is under the control of. Many times, from many different ways, we tried to get some precision about his situation, but we couldn't. Does a detainee's dignified manner deserve such treatment?
Many times, my son admitted in his writings and conversations that he would love to serve his country. And he came back to Iran on his own to answer his accusations. Does such a person who has come back to his country and his beliefs, deserve such a welcome?
Our complaint is not because you are exercising the law, but to the contrary, because of its suspension, lack of information and disrespecting of the law. The accused have rights, the family of the accused has some rights, and we know that the ruler of society has some rights as well, and that rules and regulations are valuable.
We are certain that you'd agree that one year of a brutal arrest of a person who has come voluntarily and on his own to the bosom of Iran and dear Islam, is not an appropriate welcome.
I, my wife and our family are still looking forward to your just treatment.
With respect,
Hassan Derakhshan".
A case to answer
The cycle of arrests, show-trials, incarcerations and violations in Iran continues. The state's internal-security apparatus, emboldened by its ability to contain and then beat back the challenge to its rule following the stolen election, remains unbending.
But there is multiple evidence too that the regime's behaviour since the election has resulted in a critical loss of legitimacy in the eyes of Iran's people. Their resourceful search for new and creative forms of opposition is vividly conveyed in a number of openDemocracy articles (see Asef Bayat, "Iran: a green wave for life and liberty" [7 July 2009], and R Tousi, "Iran's ocean of dissent" [28 October 2009].
Those imprisoned in Iran on account of their peaceful protest, their criticism of the authorities, or merely because they represent a convenient target to unaccountable power, need to be freed in order that they can resume their lives and speak in their own voices. An end to their confinement will be the beginning of the new era of respect for human rights and civic freedoms that Iranians more than ever deserve.