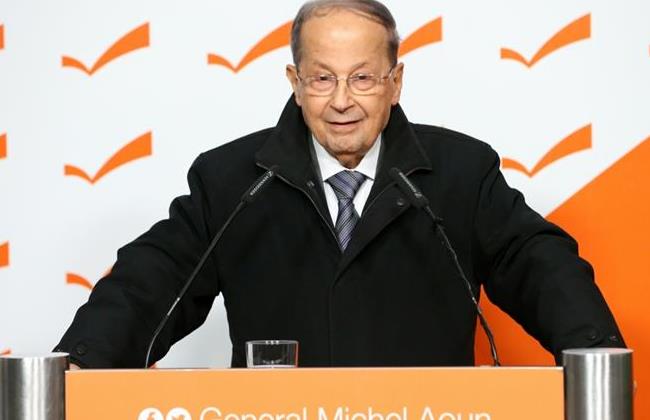 Aoun offers to take on Geagea in presidency race
BEIRUT: MP Michel Aoun said Wednesday he was ready to face off with his Christian rival, Lebanese Forces chief Samir Geagea, in a presidential vote in Parliament if there was no third candidate, an unexpected stance that was quickly rebuffed by MP Walid Jumblatt. Jumblatt said he would not withdraw his party's candidate, Aley MP Henri Helou, from the presidential race as demanded by Aoun to attend a Parliament session to elect a president. "I respect Gen. Aoun's opinion, but we have the right to a democratic competition," Jumblatt said on his Twitter account. Aoun, the head of the Free Patriotic Movement, also demanded that rival parliamentary blocs pledge that there would be no deal behind the scenes over the presidential election as a condition to challenge Geagea over the country's top Christian post.
"I am ready to go to Parliament to fight the presidential battle against Geagea provided that all [blocs] pledge that there will be no deal under the table," Aoun said in an interview with MTV station Wednesday night.
"If the presidential battle is confined to me and Geagea, I will go to Parliament," he said. "The offer I made includes Geagea only because he has been challenging me. I want guarantees the presidential vote will take place and the [Parliament] session will not be turned into a party." Aoun's remarks came shortly after Parliament failed Wednesday for the 15th time since April to elect a president over a lack of quorum, prompting Speaker Nabih Berri to postpone the session to Dec. 10.
Lawmakers from Aoun's parliamentary Change and Reform bloc and Hezbollah's bloc and its March 8 allies have thwarted a quorum with their persistent boycott of parliamentary sessions to elect a president, demanding an agreement beforehand with their March 14 rivals on a consensus candidate for the country's top Christian post. Earlier Wednesday, Geagea lashed out at Aoun and Hezbollah, blaming them for scuttling the vote with their boycott of Parliament sessions.
While Geagea is the March 14-backed presidential candidate, Hezbollah leader Sayyed Hasan Nasrallah earlier this month named Aoun as the March 8 coalition's candidate. Helou is also the candidate of Jumblatt's Progressive Socialist Party. With neither the March 8 bloc, nor the March 14 coalition being able to muster majority votes to win the presidency, Jumblatt, with his 11 MPs, is seen as the kingmaker whose support for any of the two coalitions can tip the balance in its favor. Aoun charged that all Maronite presidents had been appointed by outside powers."
I want the Christian position to represent the Christians … I have proposed a solution through the election of the president directly by the people," he said. Aoun, whose bloc has filed a challenge with the Constitutional Council against the extension of Parliament's mandate earlier this month for two years and seven months, said he was waiting for the council's decision. The council will meet Friday to look into the FPM's appeal against the extension of Parliament's term. Despite Wednesday's failed bid to elect a president, Berri said Wednesday he was still optimistic about breaking the presidential deadlock. He also said he was still making efforts with Jumblatt to open channels of communication between Hezbollah and the Future Movement, whose strained ties have raised sectarian tensions in the politically divided country. Berri was quoted by MPs during his weekly meeting with lawmakers at his Ain al-Tineh residence as saying that he still sees "positive signals over the presidential election issue." Meanwhile, Geagea accused Aoun and Hezbollah of derailing the presidential vote with their boycott of Parliament sessions. "The Change and Reform bloc and Hezbollah are responsible for the situation in which we are living today because of their obstruction of the presidential election. The time has come to hold them accountable, or let them attend the electoral sessions," Geagea told a news conference at his residence in Maarab, north of Beirut.He scoffed at the March 8 argument that Aoun can be a strong president if elected."Aoun has been obstructing the electoral sessions on the pretext of imposing two choices: either a vacuum or the election of a strong president. This logic is unacceptable," Geagea said. He implicitly accused Aoun of recklessness. "In our eyes and the eyes of others, Aoun is not a strong president because neither recklessness nor anarchism can lead to a strong presidency."