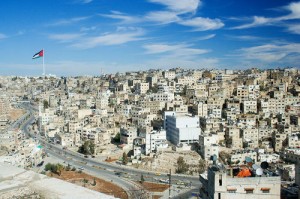 Jordanian Parliament Holds Moment of Silence – for Synagogue Terrorists
November 19, 2014
Dave Bender/Algemeiner
In an unprecedented gesture of hostility towards Israel, the Jordanian Parliament on Wednesday opened a cabinet meeting with a moment of silence for the two Palestinian terrorists who slaughtered five Israelis in a Jerusalem synagogue a day earlier, Israel's NRG News reported.
Lower House Speaker, Atef Tarawneh, then went on to recite a prayer in memory of the "martyrs," Uday and Rassan Abu-Jamal, killed by Israeli police as they shot and hacked to death four rabbis at prayer and a police officer who later succumbed to his wounds.
Along with the sixty second memorial, one MP demanded the governing body compose a letter condemning what he called "the Zionist attacks on Jerusalem and its inhabitants after a 'heroic act' committed by the two east Jerusalem residents."
The attackers rampaged through the small hall, one opening fire at point-blank range on the gathered men, while the second hacked at them with a butcher's meat cleaver, as they stood wrapped in religious garments and deep in silent prayer.
MP Assaf Shoubaki moved to congratulate members of the Spanish parliament, who, on Tuesday – just hours after the attack – decided in a symbolic vote, to recognize an independent Palestinian state.
Spain's ruling Popular Party rejected unilateral recognition of Palestinian statehood and insisted that recognition could only come through peace talks with Israel.
The resolution was put forward by the opposition Socialist Workers' Party last month.
Shoubaki asked the European Union and the United Nations to join the decision, stand by the Palestinian people, and to strengthen ties with them.
The Spanish vote followed similar declarative gestures by the British, Irish and Swedish parliaments, calling on Israel and the Palestinians to work towards a two-state solution. Meanwhile, the French National Assembly is expected to vote on a similar proposal at the end of the month.
On Nov. 13, Israeli Prime Minister Benjamin Netanyahu met in Amman with King Abdullah and American Secretary of State John Kerry in a failed bid to quell violence in Jerusalem.
On Nov. 5, Jordan recalled its ambassador, in the first such move since its 1994 peace treaty with Israel, in the wake of protests by thousands of Jordanians, who called for abrogating the agreement over what they claimed were Israeli "violations" on the Temple Mount complex.
"Why are you keeping the embassy of the Jews? It should be demolished with everyone in it," opposition Muslim Brotherhood chief, Sheikh Hamam, said at the rally, according to Haaretz.
Netanyahu and Abdullah also met secretly in Amman on Nov. 3, in hopes of finding a way to lower tensions between Arabs and Jews in Jerusalem.