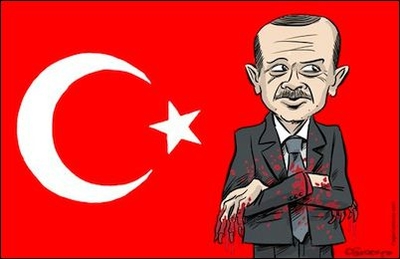 Condemnations of synagogue attack pour in, even from Bahrain and Turkey


By HERB KEINON /11/18/2014 /J.Post
 Leaders from around the world – including the foreign minister of Bahrain – strongly and immediately denounced Tuesday's terror attack in Jerusalem, even as Israeli leaders slammed the world for ignoring the Palestinian incitement that preceded the murders.
US President Barack Obama said there could be "no justification for such attacks against innocent civilians." Three of the four men killed held US citizenship.
 "This is a tragedy for both nations, Israel and the United States," Obama said "Too many Israelis have died. Too many Palestinians have died."
"At this sensitive moment in Jerusalem," the president said, "it is all the more important for Israeli and Palestinian leaders and ordinary citizens to work cooperatively together to lower tensions, reject violence, and seek a path forward towards peace."
Prime Minister Benjamin Netanyahu said the attack was a direct result of incitement led by Hamas and Palestinian Authority President Mahmoud Abbas, and that this incitement was 'irresponsibly" ignored by the international community.
 Foreign Minister Avigdor Liberman echoed this sentiment, saying the world must denounce the anti-Semitic pronouncements of Abbas, which included saying that "impure" Jews must be prevented by all means from desecrating the Temple Mount.
Netanyahu mentioned the Palestinian incitement in a conversation shortly after the attack with US Secretary of State John Kerry, who was in London. Netanyahu met Kerry and Jordanian King Abdullah II last week in Amman, where they discussed ways to ease the tension in Jerusalem.
 Speaking before a meeting with British Foreign Secretary Philip Hammond, Kerry characterized Tuesday's attack as an act of "senseless brutality" that "simply has no place in human behavior."
"People who had come to worship God in the sanctuary of the synagogue were hatcheted and hacked and murdered in their holy place in an act of pure terror and senseless brutality."
He called on the Palestinian leadership to "begin to take steps to restrain any kind of incitement that comes from their language or from other people's language and exhibit the kind of leadership that is necessary to put this region on a peaceful path," he said.
French President Francois Hollande went a step farther than most leaders, not only condemning the attack, but also condemning those who "dare to praise" the attack. He expressed concern over the recent violence "in Jerusalem, Israel, and in the West Bank."
New EU foreign policy chief Federica Mogherini followed suit, roundly condemning the attack as well as "all statements calling for or praising such attacks."
Mogherini added that "the lack of progress towards the two-state solution will systematically ensure the next round of violence. The time has come for both sides to make compromises, promote stability and ensure long-term security for both Israelis and Palestinians. The absence of a credible political framework is used instrumentally and leads to further hardening of ideological and religious stands. It is the responsibility of both parties, with the help of the international community, to urgently work on resuming the talks."
German foreign Minister Frank-Walter Steinmeier issued a statement saying he was "shocked to the depth of my soul" by the attack.
He said the fact that a place of worship was turned into a scene of murder constituted the crossing of a "horrible red-line in a situation that is already extremely tense."
"I visited Jerusalem just a few days ago and and could feel the tension in the atmosphere," he said. "What happened now is a tragedy. I hope it will be a wake-up call. The tension can quickly turn into a violent outburst."
Steinmeier said that unresolved political questions alongside a religious component gave "a new dangerous dimension to a conflict that is already very serious."
The foreign ministers of Canada, Britain, Italy and other countries also denounced the attack, with Canada's John Baird denouncing "statements of incitement," saying that "leaders who regularly issue them cannot plead ignorance or look the other way when terrorist attacks like today's occur."
Among the condemnations from more unlikely sources were ones issued by Turkey and Bahrain.
Turkey, which routinely slams Israel with extreme rhetoric, condemned the attack, with Foreign Minister Mevlut Cavusoglu saying "it's not possible for us to approve attacks against holy places, regardless of which religion it belongs to."
According to the daily Hurriyet, Cavusoglu – during a press conference in Ankara with visiting Finnish Foreign Minister Erkki Tuomioja, said that "negative moves from Israel continue, but there is no excuse to attack a synagogue."
 And Bahrain's foreign minister Khalid Bin Ahmed Al Khalifa took to his Twitter feed to condemn the attack, adding that "the murder of innocents in the synagogue will not be worth the price paid for it, (which will be) more collective punishment of the Palestinian people and more injustice and aggression."
 In a related development, the Foreign Ministry issued a directive to its delegations around the world calling on them to immediately protest to media outlets distorting reports about the attack.
 The directive followed a number of examples of what the ministry said was poor reporting, including a CNN ticker that read, "4 Israelis, 2 Palestinians dead in Jerusalem," and a headline in the French daily Le Monde that read "Six killed in Jerusalem," giving a distorted picture of what happened by lumping the perpetrators with the victims.
Following a protest from the embassy in Paris, Le Monde changed the headline to read that four Israelis and "two Palestinian attackers" were killed. CNN, meanwhile, issued a statement saying that "as CNN updated its reporting on the terrorist attack on the synagogue in Jerusalem earlier today, our coverage did not immediately reflect the fact that the two Palestinians killed were the attackers. We erred and regret the mistake."
 Foreign Ministry Spokesman Emmanuel Nachshon said that from Israel's perspective, "tendentious reports and lies are meant to distort the reality, to defame Israel and in practice (if not always by intent) give a back-wind to terror."
*Michael Wilner contributed to this report