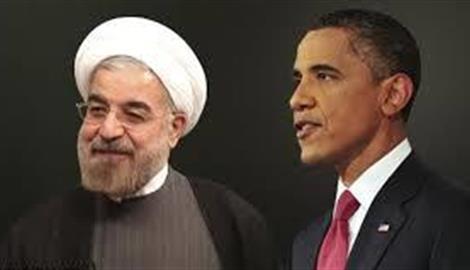 Netanyahu: Iran compromise over Islamic State is to win battle, lose war


Attila Somfalvi /Ynetnews
Latest Update: 11.16.14/ Israel News
 Prime minister reiterates support for Obama's fight against IS, repeats warning over Iranian nuclear threat.
Prime Minister Benjamin Netanyahu expressed support Sunday for the US fight against Islamic State militants, but cautioned against any softening toward Iran: "To defeat ISIL but leave Iran as a nuclear threshold state is to win the battle and lose the war and we cannot afford to lose this war, Netanyahu said.
 Meeting with visiting German Foreign Minister Frank-Walter Steinmeier, Netanyahu stressed that Iran's missile program is "intended for Europe and the United States, and their only purpose is to carry a nuclear payload."
 Netanyahu also slammed the Palestinian President Abbas for what he called ongoing incitement against Israel. According to Netanyahu, despite working with Jordan and the US to maintain the status quo in Jerusalem, "Palestinian Authority media, controlled media, called for what they called 'a day of rage' in Jerusalem, which further incites violence."
 Netanyahu rejected the Palestinian's attempts to gains statehood through international recognition, and said nations recognizing the Palestinian state are damaging peace chances. "I think that the calls that have been coming from European countries, from European parliaments, to unilaterally recognize a Palestinian state pushed peace backwards because they don't tell the Palestinians that they have to make their peace with a nation-state for the Jewish people. They just give the Palestinians a nation-state. They don't tell the Palestinian Authority that they will have to make genuine compromises."
 Earlier, in an interview with CBS Face the Nation, Netanyhu commented on past tensions between Israel and the White House, but also reiterated Israel's committment to the fight agianst the Islamic State group, while warning against Iran: "We want them both to lose. The last thing we want is to have any one of them get weapons of mass destruction/"
 His comments came shortly after IS claimed the beheading of another Western hostage, US aid worker Peter Kassig, along with that of 18 men described as Syrian soldiers.
In an undated video, a masked black-clad jihadist seen standing above a severed head says: "This is Peter Edward Kassig, a US citizen of your country."
 Netanyahu expressed support for US President Barack Obama's leadership of a coalition against IS and said "we're with all the American people who understand the savagery that we're all up against." IS "has to be defeated and it can be defeated," he said.
But Netanyahu portrayed the situation as a "global conflict" against militant Islam, not just Sunni-based IS and al-Qaeda but also Shiite Iran-backed Hezbollah.
 "We want them both to lose," he said, insisting: "Iran is not your ally. Iran is not your friend. Iran is your enemy."
Netanyahu also weighed in on the recent diplomatic clash in US-Israel relations, which reached its zenith when an unnamed official in the White House referred to Netanyahu as a "chickensh*t" in an Atlantic article.
 "Look, I'm not going to deal with anonymous sources that issue all sorts of critical statements. I think that's not appropriate. I will say this: I think the relationship between Israel and the United States is very, very strong. I mean, there is bipartisan support for Israel, which we appreciate. And not only that, I think support for Israel among the American people is at an all time high," Netanyahu said.
"People instinctively understand that Israel is America's best ally in the Middle East. The best ally of the United States. And you know, in Israel we think America is our best ally too. There's a very, very strong bond there," he added. "Yes, we can have disagreements between governments. That happens in the best of families, but we are one family."
The United States and other Western powers have been negotiating with Iran to limit its nuclear program, with a November 24 deadline for a deal fast approaching.
 Netanyahu reiterated Israel's opposition to any agreement that leaves Iran with a residual capacity to enrich uranium, and urged tougher sanctions on Tehran as an alternative to a deal.
 "The alternative to a bad deal is not war. The alternative to a bad deal are more sanctions, tougher sanctions, that will make Iran dismantle its capacity to make nuclear bombs," he said.
AFP contributed this report/First Published: 11.16.14,