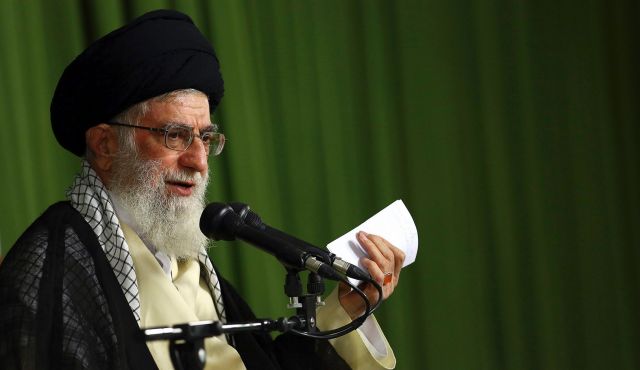 Iran's conservatives turn up heat on nuclear deal as deadline approaches


Ali M. Pedram /Asharq Al Awsat
Thursday, 13 Nov, 2014
 Sources in Tehran told Asharq Al-Awsat that "Shamkhani's sharply worded comments can be viewed as an indirect reaction of the supreme leader to recent negotiations in Muscat and difficult decisions Iran has to make to finalize the deal."
 US, EU, and Iranian officials have been meeting this week in the Omani capital in an attempt to thrash out a deal on Iran's nuclear program before a November 24 deadline. Although Iran insists that its nuclear activities are peaceful, the US and its allies are seeking rigorous safeguards to prevent any nuclear material being diverted to a possible atomic weapons program.
Shamkhani, who served as Iran's defense minister under reformist President Mohammad Khatami between 1997 and 2005, is widely-regarded as a moderate and close to both President Hassan Rouhani and former President Hashemi Rafsanjani.
 During a briefing for members of staff at Iran's Supreme National Security Council, Shamkhani reiterated the official Islamic Republic's policy towards the nuclear issue and regional crises by referring to "disastrous US Middle Eastern foreign policy" as a root cause.
Shamkhani, who is one of two representatives of the supreme leader on Iran's National Security Council, also lambasted "the paradoxical US foreign policy in the region, and in particular towards Iran, that only serves Israel's interests."
 However, Shamkhani also acknowledged that Iran has cooperated with the P5+1 and the International Atomic Energy Agency (IAEA) by giving inspectors access to Iran's nuclear and military facilities, in order to refute any doubts about Iran's "peaceful nuclear intentions," according to the website Iranian Diplomacy.
 Shamkhani's comments mark the first time an Iranian official has confirmed that international inspectors have been given access to Iranian military bases.
After three days of intensive negotiations between Iranian Foreign Minister Mohammad Javad Zarif and the US Secretary of State John Kerry in Muscat this week, Iran's top leadership is mulling over details of the American offer to close the nuclear dossier.
It is understood that the US is ready to accept Iran retaining the capacity to enrich uranium under stringent monitoring measures. Although the level of enrichment acceptable to the US is likely to be lower than that desired by Iran, it nevertheless represents a compromise on the part of the US and Washington's eagerness to reach a deal.
 On the Iranian side, the issue of Iran's right to enrich uranium has lost some of its previous importance, given the US acceptance of a domestic Iranian enrichment capacity. However, the timing and extent of the removal of economic sanctions on Iran has now moved center stage, and is seen as the key factor to be resolved to seal a deal.
Iranian Foreign Minister Mohammad Javad Zarif and his team are mandated to conduct the negotiations with the P5+1, and in particular with the US government, for two clear goals: to preserve Iran's existing nuclear program and ease the sanctions that have taken a serious toll on the Iranian economy.
 The negotiations have now entered a critical stage in which any proposed agreement must be accepted by domestic hardliners in both Iran and the US.
Ironically, the Iranian government under President Rouhani is now acting as a broker between Western powers and Iran's strong conservative faction, closely associated with Supreme Leader Ayatollah Ali Khamenei, with its political survival at stake.
 Prior to arriving in the Azerbaijani capital Baku on Wednesday, Iranian President Hassan Rouhani told reporters that a "one-sided deal will not last."
A Tehran based political analyst told Asharq Al-Awsat that Rouhani's comments indicate that Rouhani is committed to reaching a deal for both political and economic reasons.
"However, if the deal is not seen as favorable for Iran in terms of the lifting of economic sanctions, Rouhani's conservative and radical opponents within Iran will again attempt to unseat [him] in the next election, and replace his government with another version of Ahmadinejad's government, a similar scenario that triggered the fall of Khatami and reform movement in Iran in 2005," he said.
 In a sign of how sensitive the nuclear talks are within the Iranian political system, Iran's conservative parliamentary speaker Ali Larijani mocked Obama's most recent letter to Ali Khamenei by saying: "when one writes a love letter, he ought not to be bullying too."
 Larijani added: "On the nuclear issue, Iran has been acting very rationally throughout the negotiations, but the Western powers are sabotaging [them]," according to the ISNA news agency.
A deal between Iran and the US and its allies will also leave the issue of relations with neighboring states to be resolved.
"Now Iran is keen to strike a direct and clear deal with the US over the nuclear issue in return for the sensible removal of sanctions. However, Iran is keen to enter sub-regional negotiations with regional states and actors to address multilateral security concerns after the nuclear deal," an Iranian official told Asharq Al-Awsat on condition of anonymity.