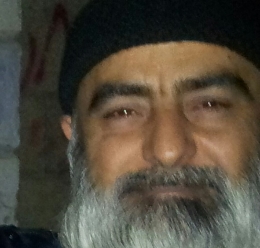 Salafists struggle as radicals tarnish reputation of sect


Nov. 12, 2014
Elise Knutsen/The Daily Star
TRIPOLI, Lebanon: Despite his formidable stature, Fawaz Zouq tries to avoid driving alone in Tripoli. It's not the recent paroxysms of violence in Lebanon's second city that have Zouq on edge. As a Salafist who began growing his beard in the wake of the Sept. 11, 2001, attacks in America, Zouq says that unless his wife or children are in the car with him, he is treated with suspicion by security forces. "I'm a peaceful man," he told The Daily Star. "But if I pass a barrier [checkpoint] they will take me to the side because of my look and ideology."
Salafists in north Lebanon say that while just a handful of their co-religionists are involved in militant activities, many believe that Salafism is inherently intolerant and violent.
The reality is much more complex, say both Lebanese Salafists and academic experts.
 "Very often, people … think Salafists are [similar] to violent militants, to the jihadi brand of Islam, which is untrue," said Zoltan Pall, a professor at the National University of Singapore who is currently working on his second book about Salafism in Lebanon.
Modern Salafism was born in Saudi Arabia in the late 18th century when Mohammad ibn Abd al-Wahhab, an Islamic preacher, sought to rid Islam of religious and cultural innovations introduced as Islam expanded throughout the world.
Wahhab promoted a return to the original texts of Islam: the Quran and hadith, the traditions and sayings of the Prophet Mohammad passed down from his contemporaries. He forged a pact with a local chief, Mohammad bin Saud, and together they worked to create a religio-political entity that would eventually become the modern Saudi Arabia.
 Salafism was brought to Lebanon in the 1940s by Sheikh Salem al-Shahhal, who maintained close ties to the Saudi ruling family.
While holding some common beliefs, Salafists in Lebanon today are not homogenous. Today, there are three distinct schools of thought among Salafists in Lebanon, according to Robert Rabil, a professor at Florida Atlantic University and author of the recently published book "Salafism in Lebanon: From Apoliticism to Transnational Jihadism."
 The delicate interplay between religion, politics and jihad is what differentiates the groups.
Some Salafists, who Rabil calls "quietists," are largely apolitical and seek to unite Muslims under the banner of pure Islam.
Hasan Shahhal, a Salafist scholar has long been a proponent of inter-confessional dialogue, and spearheaded a memorandum of understanding with Hezbollah in 2008.
He roundly opposes Muslims who consider non-Muslims or even Muslims who do not share their ideology as apostates. "I'm against takfriri ideology," he said. "I do not accept that anyone who says the shahadatayn [declaration of faith] would be considered an apostate," he said.
"I am a staunch supporter of dialogue [between sects], and even with atheists on the condition that all sides remain objective and avoid fanaticism," he added. Others, the activist or "Haraki" Salafists, work within Lebanon's confessional political system to engender social change and promote their ideology. From his elegant home atop a hill near Tripoli, Sheikh Salem al-Rafei explains that his followers cooperate with the political powers that be.
 "We believe in working with the government," he said. The soft spoken sheikh is convalescing from a bullet wound suffered near Arsal when he was attempting to negotiate a cease-fire between Islamist groups and government forces last August.
Rifai, who was expelled from Germany in 2005 for his inflammatory speech, said he unsuccessfully tried to dissuade a more radical Salafist, Sheikh Khaled Hablas, from attacking the Army several weeks ago.
"On two occasions we met, and I said 'Don't do it … our problem is not with the Army, it's with Hezbollah.'"
"Any time we have a problem with the Army it benefits Hezbollah."
 But Hablas, along with militant Tripolitans like Shadi Mawlawi and his ilk, is aligned with the radical strain of Salafist jihadism. Many who follow this brand of Salafism are intolerant and fanatical, calling for retribution against those who do not abide by their ultra-orthodox creed.
The Salafist jihadis have gained a toehold, if not popular support, in Tripoli. "We have a few extremist leaders here," Rafei said. "They are naive about religion. That's why they are becoming radical."
According to Pall, some sheikhs in Tripoli are concerned about the expansion of the Salafist jihadi ideology. "Some sheikhs told me … that Salafist jihadism is spreading among the young generation," he said. "One of them even told me that a new generation of jihadis might emerge."
Still, militant Salafist jihadis in Lebanon are few.
 Sheikh Zakaria Masri, who Rabil classifies as an activist Salafist, said he was concerned that the environment in Tripoli was pushing some Salafists toward violence.
Several prominent Salafist sheikhs, including Omar Bakri and Hussam Sabbagh, have been imprisoned. Others, like Dai al-Islam al Shahhal, have fled the country.
If security forces constantly tell Salafists they are terrorists, the prophecy will fulfill itself, Masri warned. "Security bodies in general are treating Salafists unfairly in the north. Some Salafists are being humiliated, cursed and arrested at checkpoints," he added.
"Pressure leads to explosion. And so maybe some Salafists when faced by all this pressure could resort to violence. We pray to God that they will not do so because we believe that they should use reason." – Additional reporting by Wassim Mroueh