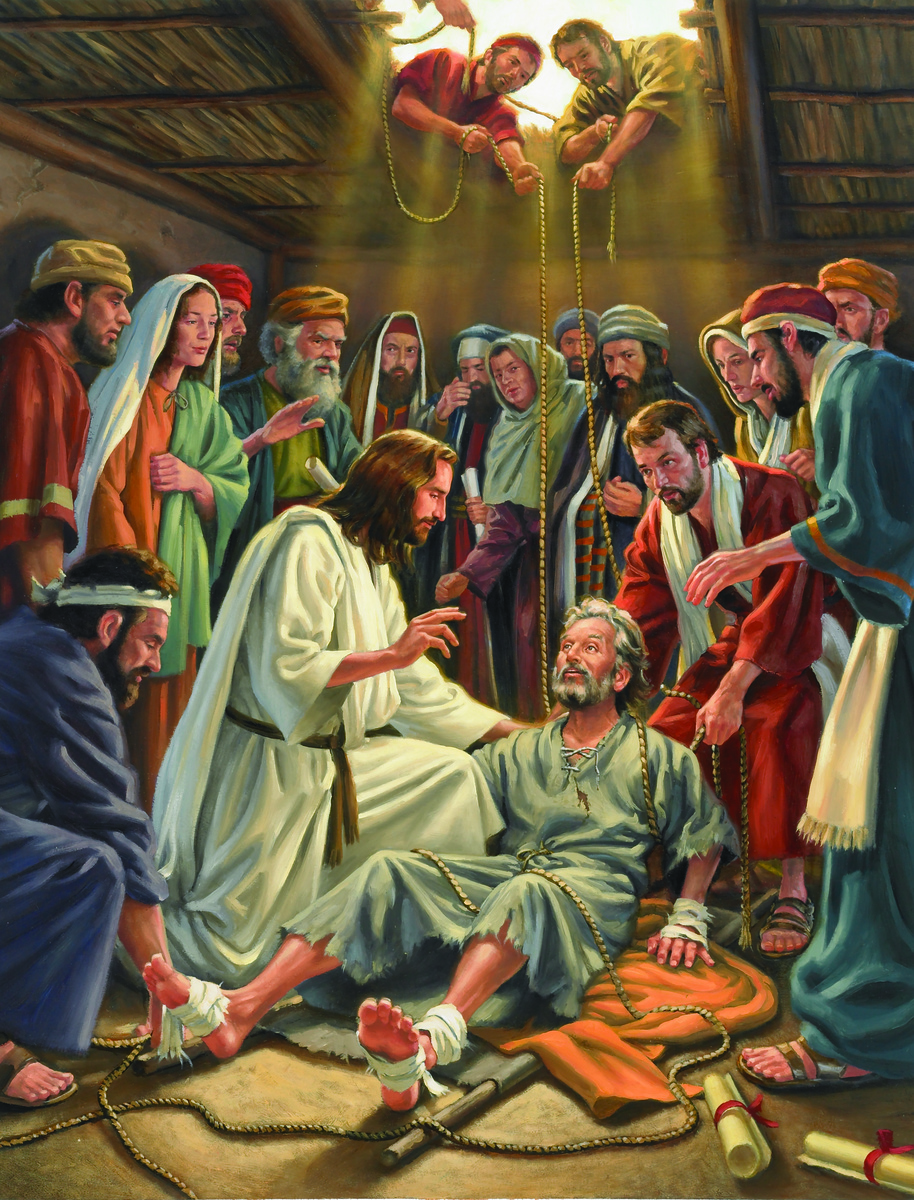 The Healing Miracle of the Paralyzed Miracle & The Significance Of Praying For Others




Elias Bejjani/March 19/2023
الياس بجاني: عجيبة شفاء المخلع وأهمية الصلاة من أجل الآخرين
أهمية عجيبة شفاء المخلع أنه لم يطلب من يسوع أن يشفيه، بل أن يسوع استجاب لطلب الذين حملوه على فراشه واتوا به إليه.. مما يعني أن الصلاة من أجل الآخرين أحياء كانوا أم أموات يستجيب الرب لها وكذلك هو يستجيب لطلب شفاعة العذراء والقديسين.
On the fifth Lenten Sunday the Catholic Maronites cite and recall with great reverence the Gospel of Saint Mark ( 02/1-12): "The Healing Miracle of the Paralytic"
This great miracle in its theological essence and core demonstrates beyond doubt that intercessions, prayers and supplications for the benefit of others are acceptable faith rituals that Almighty God attentively hears and definitely answers. It is interesting to learn that the paralytic man as stated in the Gospel of St. Mark, didn't personally call on Jesus to cure him, nor he asked Him for forgiveness, mercy or help, although as many theologians believe Jesus used to visit Capernaum, where the man lives, and preach in its Synagogue frequently. Apparently this crippled man was lacking faith, hope, distancing himself from God and total ignoring the Gospel's teaching. He did not believe that the Lord can cure him.
What also makes this miracle remarkable and distinguishable lies in the fact that the paralytic's relatives and friends, or perhaps some of Jesus' disciples were adamant that the Lord is able to heal this sick man who has been totally crippled for 38 years if He just touches him. This strong faith and hope made four of them carry the paralytic on his mat and rush to the house where Jesus was preaching. When they could not break through the crowd to inter the house they climbed with the paralytic to the roof, made a hole in it and let down the mat that the paralytic was lying on in front of Jesus and begged for his cure. Jesus was taken by their strong faith and fulfilled their request. Jesus forgave the paralytic his sins first ("Son, your sins are forgiven), and after that cured his body: "Arise, and take up your bed, and walk".
Like the scribes many nowadays still question the reason and rationale that made Jesus give priority to the man's sins. Jesus' wisdom illustrates that sin is the actual death and the cause for eternal anguish in Hell. He absolved his sins first because sin cripples those who fall in its traps, annihilates their hopes, faith, morals and values, kills their human feelings, inflicts numbness on their consciences and keeps them far away from Almighty God.
Jesus wanted to save the man's soul before He cures his earthy body. "For what does it profit a man, to gain the whole world, and forfeit his life?" (Mark 08:/36 & 37).
Our Gracious God does not disappoint any person when he seek His help with faith and confidence. With great interest and parental love, He listens to worshipers' prayers and requests and definitely respond to them in His own way, wisdom, time and manner.
"Ask, and it will be given you. Seek, and you will find. Knock, and it will be opened for you. For everyone who asks receives. He who seeks finds. To him who knocks it will be opened". (Matthew 07/07 &08)
Is any among you suffering? Let him pray. Is any cheerful? Let him sing praises. Is any among you sick? Let him call for the elders of the assembly, and let them pray over him, anointing him with oil in the name of the Lord, and the prayer of faith will heal him who is sick, and the Lord will raise him up". (James 05:15)
In this loving and forgiving context, prayers for others, alive or dead, loved ones or enemies, relatives or strangers, are religiously desirable. God hears and responds because He never abandons His children no matter what they do or say, provided that they turn to Him with faith and repentance and ask for His mercy and forgiveness either for themselves or for others. " There are numerous biblical parables and miracles in which Almighty God shows clearly that He accepts and responds to prayers for the sake of others.
Jesus cured the centurion's servant on the request of the Centurion and not the servant himself. (Matthew 08/05-33 )
Jesus revived and brought back to life Lazarus on the request of his sisters Mary and Martha. (John 11/01-44)
Praying for others whether they are parents, relatives, strangers, acquaintances, enemies, or friends, and for countries, is an act that exhibits the faith, caring, love, and hope of those who offer the prayers. Almighty God, Who is a loving, forgiving, passionate, and merciful Father listens to these prayers and always answers them in His own wisdom and mercy that mostly we are unable to grasp because of our limited human understanding.
"All things, whatever you ask in prayer, believing, you will receive." (Matthew 21/22)
Almighty God is always waiting for us, we, His Children to come to Him and ask for His help and mercy either for ourselves or for others. He never leaves us alone. Meanwhile it is a Godly faith obligation to extend our hand and pull up those who are falling and unable to pray for themselves especially the mentally sick, the unconscious, and the paralyzed. In this realm of faith, love and care for others comes our prayers to Virgin Mary and to all Saints whom we do not worship, but ask for their intercessions and blessings.
O, Lord, endow us with graces of faith, hope, wisdom, and patience.
Help us to be loving, caring, humble and meek. Show us the just paths.
Help us to be on your right with the righteous on the Judgment Day.
God sees and hears us all the time, let us all fear Him in all what we think, do and say.
N.B: The above piece was first published in 2012/It Is Republished with minor changes
"The Healing Miracle of the Paralytic
Gospel of Saint Mark ( 02/1-12): "The Healing Miracle of the Paralytic": "When he entered again into Capernaum after some days, it was heard that he was in the house. Immediately many were gathered together, so that there was no more room, not even around the door; and he spoke the word to them. Four people came, carrying a paralytic to him. When they could not come near to him for the crowd, they removed the roof where he was. When they had broken it up, they let down the mat that the paralytic was lying on. Jesus, seeing their faith, said to the paralytic, "Son, your sins are forgiven you." But there were some of the scribes sitting there, and reasoning in their hearts, "Why does this man speak blasphemies like that? Who can forgive sins but God alone?" Immediately Jesus, perceiving in his spirit that they so reasoned within themselves, said to them, "Why do you reason these things in your hearts? Which is easier, to tell the paralytic, 'Your sins are forgiven;' or to say, 'Arise, and take up your bed, and walk?' But that you may know that the Son of Man has authority on earth to forgive sins"— He said to the paralytic— "I tell you, arise, take up your mat, and go to your house." He arose, and immediately took up the mat, and went out in front of them all; so that they were all amazed, and glorified God, saying, "We never saw anything like this!"