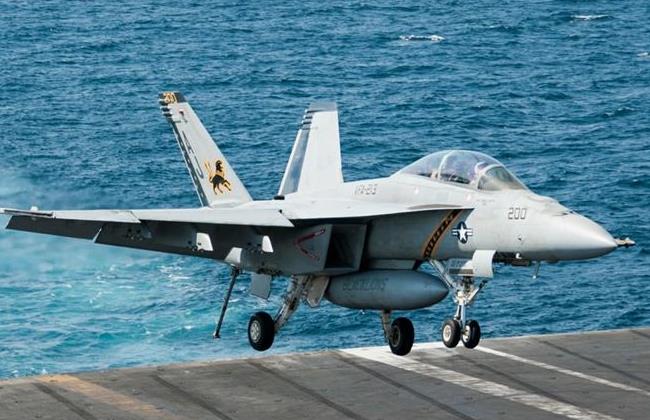 U.S. airstrikes target al-Qaeda faction in Syria
By Karen DeYoung, Liz Sly and Missy Ryan November 6/14/Washington Post
U.S. warplanes launched airstrikes in northwestern Syria near the Turkish border early Thursday, targeting a group other than the Islamic State for only the second time since the air campaign in the country began and threatening to draw Washington deeper into Syria's multilayered conflicts.
The U.S. Central Command said five strikes were conducted specifically against the al-Qaeda-linked Khorasan group using manned aircraft and drones. There were unconfirmed reports that a French bombmaker with the group was among those killed.
Khorasan is the term used by U.S. intelligence to refer to an al-Qaeda cell said to be embedded within Jabhat al-Nusra, a Syrian militant group that is fighting both President Bashar al-Assad and U.S.-backed moderate opposition forces of the Free Syrian Army, or FSA.
But rebel fighters and opposition activists near the strikes, close to the Bab al-Hawa border crossing in Idlib province, said it appeared that known Jabhat al-Nusra bases were the intended targets and that some of the bombs went far afield. It was not possible to verify either version of the strikes.
In the complicated web of relationships among the many groups fighting in Syria, the FSA sometimes collaborates with Jabhat al-Nusra, al-Qaeda's main affiliate in Syria. Last weekend, however, extensive clashes between the two resulted in Jabhat al-Nusra's seizing significant territory from the FSA in Idlib. The Pentagon did not respond to repeated FSA calls for airstrikes, opposition leaders said.
Early this week, however, U.S. officials weighed using airstrikes to prevent a Jabhat al-Nusra takeover of Bab al-Hawa, one of two strategic crossings on the Turkish border that are used by the United States and other supporters to funnel military and humanitarian supplies to the FSA.
In an unusual statement announcing the Thursday air attacks, CENTCOM said that "these strikes were not in response to the Nusra Front's clashes with the Syrian moderate opposition, and they did not target the Nusra Front as a whole."
CENTCOM's commander, Gen. Lloyd J. Austin III, speaking at the Atlantic Council think tank in Washington, said, "There were no strikes conducted against the al-Nusra Front."
Austin said he did "not want to speculate on the effectiveness" of the strikes. "We're still in the assessment phase," he said.
The CENTCOM statement said that "initial indications" were that several Khorasan vehicles and buildings — believed to be "meeting and staging areas," along with training and bombmaking facilities — were destroyed or severely damaged.
Intelligence officials declined Thursday to specify whether there had been a new threat from the Khorasan group, which the Obama administration in September said was "actively plotting" an attack against the United States.
Austin declined to confirm media reports that French national David Drugeon, an alleged Khorasan official and bombmaking expert, had been killed. "He is clearly one of the leadership elements and one of the most dangerous elements in that organization, and so any time that we can take their leadership out, it's a good thing," Austin said.
One U.S. official, who was not authorized to divulge information about the strikes, said that a vehicle in which Drugeon was believed to be traveling was hit but that it was unclear whether he had been killed.
CENTCOM said that all of the strikes were against Khorasan targets in the vicinity of Sarmada, Syria, close to the border crossing.
In their version of events, rebels and activists said that, in addition to Jabhat al-Nusra bases, a headquarters of the Islamist group Ahrar al-Sham, which is loosely allied to both Jabhat al-Nusra and the FSA, was hit and that two of its fighters were killed. The group, unlike Jabhat al-Nusra, is not on the U.S. list of terrorist organizations, and allegations that one of its bases was on the target list stirred further suspicions that the U.S. air campaign is intended indirectly to support the Assad regime.
Another strike in the border town of Harem killed four children, according to the Local Coordination Committees, a network of civic groups that has been at least partially supported by U.S. funds. The committees posted a video of the bloodied bodies of two of the children said to have been killed, wrapped in a red blanket.
Abdullah Jadaan, a resident of Idlib and journalist for the Syria Live News Network, said a strike that apparently targeted the Islamic sharia court in Sarmada missed and hit a nearby Internet cafe instead.
As U.S. and Arab warplanes have launched a steady stream of attacks against Islamic State militants, FSA leaders have lamented that President Obama has lost interest in helping them overthrow Assad.
Despite FSA clashes with Jabhat al-Nusra, Thursday's attacks angered many Syrians in Idlib and other parts of the country where the Islamic State — which has taken over much of northern and eastern Syria — has no presence and where Assad is seen as the chief enemy.
As moderate groups seen to be U.S. allies are held responsible, their already weak position has worsened.
"The airstrikes are killing civilians and children," Jadaan said. "The people support Nusra and Ahrar al-Sham. . . . These groups are fighting the regime, so people don't want them to get hit by airstrikes."
Charles Lister, who monitors Syria for the Brookings Doha Center in Qatar, indicated that the Thursday strikes may have far-reaching effects for the longer-term U.S. strategy of strengthening the moderate fighters. "The U.S. may now have lost Syria," Lister said in a comment posted on Twitter.
"This will support the belief that the U.S. does not want an overall solution and that they want to consolidate Assad's position on the ground," said Abdurrahman Saleh, a spokesman for the Islamic Front, an umbrella group to which Ahrar al-Sham belongs.
Monzer Azbik, an adviser to the head of the U.S.-backed Syrian political opposition, said the United States needs urgently to address opposition concerns about its strategy.
"It is very complicated now," Akbik said. "If the Syrian people's grievances with the Assad regime are not taken into consideration, this will jeopardize the whole campaign."
In its statement, CENTCOM emphasized that Khorasan was not focused "on overthrowing the Assad regime or helping the Syrian people." Instead, the statement said, "these al-Qaeda operatives are taking advantage of the Syrian conflict to advance attacks against Western interests."
*Sly reported from Beirut. Hugh Naylor in Beirut contributed to this report.
*Karen DeYoung is associate editor and senior national security correspondent for the Washington Post.
*Liz Sly is the Post's Beirut bureau chief. She has spent more than 15 years covering the Middle East, including the Iraq war. Other postings include Africa, China and Afghanistan.
*Missy Ryan writes about the Pentagon, military issues, and national security for The Washington Post.