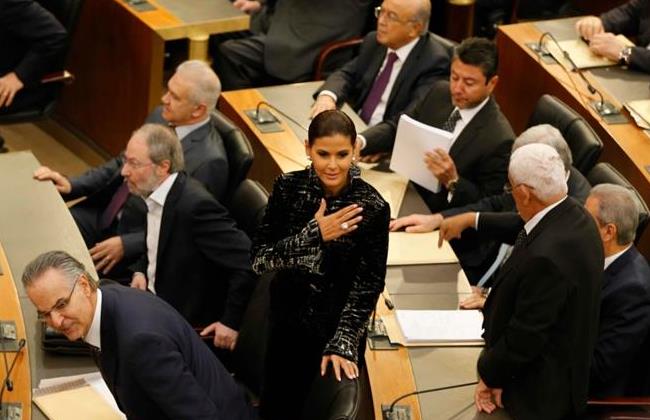 Lebanon's Parliament extension will not hasten presidential vote


Nov. 06, 2014
Hussein Dakroub/The Daily Star
BEIRUT: The extension of Parliament's mandate will not help accelerate the election of a new president, an issue that largely depends on a Saudi-Iranian consensus which seems to be far-fetched, given renewed tensions between the two regional heavyweights, political analysts said Wednesday.
They also predicted a prolonged deadlock as long as Riyadh and Tehran remained at loggerheads over a host of regional conflicts, namely in Syria, Iraq and Yemen.
Hilal Khashan, a professor of political science at the American University of Beirut, said the extension of Parliament's term for two years and seven months would not spur a major change in the complicated political landscape or help break the 5-month-old presidential stalemate.
"After the Parliament extension, I don't think we are heading for the election of a new president because this requires a regional consensus, mainly between Saudi Arabia and Iran," Khashan told The Daily Star. "The next move is for the rival factions to continue to talk about the election of a new president."
He added that the presidential vote also depended on the warring factions in both Syria and Iraq, ravaged by sectarian violence, reaching a peace settlement.
Khashan noted that since Lebanon's independence from France in 1943, Parliament has never elected a president but endorsed him as a result of a regional agreement. "The Lebanese Parliament has never elected a president. It only rubber stamps a president following a regional agreement on him," he said.
Sami Nader, a professor of economics and international relations at Universite St. Joseph, echoed a similar view, saying the extension of Parliament's mandate would not hasten the election of a successor to former President Michel Sleiman, whose six-year tenure ended on May 25.
"The extension, the second time in more than a year, is a blow to democratic practice and constitutional principles," Nader told The Daily Star. "Following today's move, the country is taking a downhill slide with regard to the Constitution and institutions."
Nader, also the director of the Levant Institute for Strategic Affairs (LISA), a Beirut-based think-tank, stressed that a Parliament that had failed to agree on a new electoral law last year and elect a new president in the past six months does not deserve to have its mandate extended.
"With the new extension, Parliament was seeking to consecrate and legitimize its failure," Nader said.
Referring to the two extensions of Parliament's mandate, he said: "This is the only achievement they [lawmakers] are capable of."
Amid protests by civil groups and political activists who rallied in Downtown Beirut early in the morning to denounce the extension, Parliament voted Wednesday to extend its mandate, which expires on Nov. 20, until 2017, citing security concerns linked to the war in Syria.
Ninety-five out of 97 MPs present voted for the extension bill, while two opposed. The vote was boycotted by MP Michel Aoun's bloc and the Kataeb Party lawmakers.
In what appeared to be a conciliatory gesture to placate critics of the vote, the extension law was coupled with a provisional clause promising a parliamentary vote after the election of a president, in which case Parliament's term would be shortened.
Maronite Patriarch Beshara Rai, who has blasted the MPs for failing to choose a president, dismissed the extension of Parliament's term as "illegitimate and unconstitutional."
Because Saudi Arabia and Iran back opposing sides in Lebanon, Khashan predicted a prolonged presidential impasse. Saudi Arabia backs the Future Movement-led March 14 coalition, while Iran supports the Hezbollah-led March 8 alliance.
"The regional environment is not conducive to the election of a new president," Khashan said. "Therefore, the presidential deadlock will persist. The Lebanese have put themselves in a situation where they depend on foreign powers to resolve their domestic problems."
Khashan scoffed at the idea that Lebanon's democracy was dealt a blow with the extension of Parliament's mandate. "Lebanon is not a democracy. It is an accommodationist political system," he said.
Nader, the USJ professor, said a Saudi-Iranian deal held the key to resolving Lebanon's prolonged political crisis.
"The country, which is taking a downward slide, can only be saved through an Iranian-Saudi deal. Unfortunately, this deal does not seem to be on the horizon," he said.
Nader rejected the argument held by some parliamentary blocs which voted for the extension of Parliament's term that the move was essential to avert a new vacuum in the legislative branch of power after the vacuum in the presidency.
"I can't say this [extension] is justifiable. It is not constitutional or acceptable," he said. He added that had the lawmakers elected a new president, there would have been no need to extend Parliament's term.
Shafik Masri, a professor of international law at the Lebanese University and the American University of Beirut, concurred that a Saudi-Iranian détente was key to defusing the Lebanese political crisis and speeding up the election of a president.
But he said the internal crisis in Yemen, namely the Houthi rebels who swept into Sanaa in September, has complicated attempts to achieve a Saudi-Iranian reconciliation.
"Following the extension of its mandate, Parliament now has two urgent issues: to amend an electoral law and elect a president. However, the election of a president is more linked to regional developments, especially a Saudi-Iranian consensus, than local factors," Masri told The Daily Star. "The extension has provided Parliament with a new chance to agree on a new electoral law."
Though Parliament got a new mandate to elect a president, he said: "In the absence of a Saudi-Iranian consensus, the presidential election will be placed on the back burner."
Asked to assess where Lebanon was heading following the extension of Parliament's term, Masri said: "The country has a functioning government and its Parliament can now legislate after its mandate has been extended. The Army has been granted carte blanche to crush the sleeper and active terror cells. Yet, Lebanon is waiting for propitious regional circumstances to allow the election of a president."
He said regional and international factors had always influenced positively or negatively the presidential election process in Lebanon. "Therefore, the presidential vote has never been throughout Lebanon's history a purely local issue," he said.
A long-awaited rapprochement between Riyadh and Tehran is seen as a key factor in defusing sectarian tensions and long-simmering conflicts in the region, particularly in Lebanon, Syria, Iraq, Yemen and Bahrain.
Signs of a thaw in strained Saudi-Iranian ties emerged in September when Saudi Foreign Minister Prince Saud al-Faisal met with his Iranian counterpart Mohammad Javad Zarif on the sidelines of the U.N. General Assembly in New York. "This is a new page in relations between the two countries," Zarif said.
Prince Saud has said Iran is a neighboring state that can contribute to stability in the region. But the fast-moving developments in Yemen have apparently stalled Saudi-Iranian reconciliation attempts.