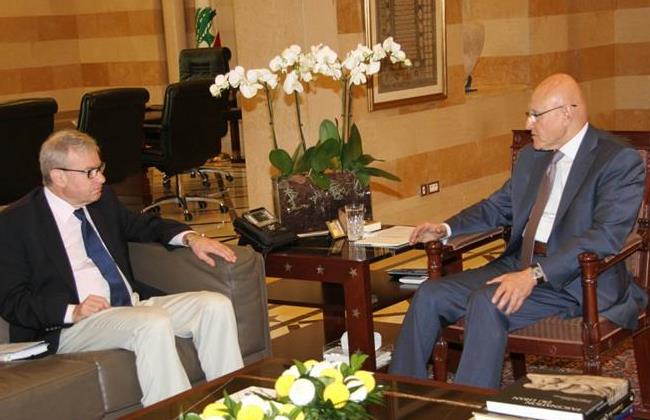 French envoy to Lebanon Patrice Paoli: France backs Lebanon power-sharing system


Nov. 06, 2014/The Daily Star
BEIRUT: France strongly supports the Lebanese state and Army in the fight against terrorism and is keen on preserving Lebanon's existing power-sharing system as stipulated in the Taif Accord, French envoy to Lebanon Patrice Paoli said Thursday.
"I wanted to reaffirm (France's) attachment to the Lebanese institutions and stress the importance of reactivating regular work in these institutions," Paoli told reporters after a meeting with PM Tammam Salam.
"The election of a president of the republic is the priority of all priorities and should reinstate normal operations in (public) institutions," Paoli said, a day after Parliament extended its mandate for more than two and a half years, citing the presidential vacuum, security conditions and the lack of agreement over a new election law.
Paoli said he briefed Salam on progress in implementing the Saudi-funded $3 billion French arms deal for the Lebanese Army to beef up its ability in combating jihadist groups who have been emboldened by the war in Syria.
"We are moving forward with the implementation of assistance to the Lebanese Army at a time the country is facing big threats on its security, and it is involved in the battle against terrorism," Paoli said.
"Paris will begin practical steps to supply the Army with weapons in line with the Saudi grant," Paoli added.
Paoli said his country backed the Army's crackdown on jihadist militants in Tripoli and other parts of the north last month which killed more than 40 people, including 11 soldiers and eight civilians.
"We support the authorities, and we support the Army in the battle (against terrorism) and express our sympathy and solidarity with all the Lebanese," Paoli said.
"I came to reaffirm these facts and to stress France's attachment to the Taif peace pact which is the Lebanese constitutional reference as far as we are concerned," Paoli said, denying allegations that Paris did not mind an amendment of the accord which had redefined power sharing among Lebanese sects, ending Lebanon's 1975-1990 civil war.
The comments appear to be in response to remarks made by Foreign Minsiter Gebran Bassil Wednesday in which he said France sought amendments to the power-sharing formula stipulated in the accord.
"It should be very clear that France is committed to the balance (of powers) stipulated under the Taif agreement," Paoli added.
Lebanon, whose sectarian divisions have been exacerbated by the war in Syria, has said it needs more resources and better hardware to deal with the instability and encroaching fighters.
The Lebanon arms deal signed Tuesday between Saudi Arabia and France will involve about 20 French companies and cover a mix of land, sea and air equipment, including armored vehicles, heavy artillery, anti-tank missiles, mortars and assault weapons.