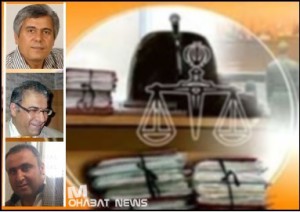 Islamic Republic of Iran: Christian preachers get 18 years prison and exile


Robert Spencer/Jihad Watch/Nov 5, 2014
behnam-irani-3-irThey were convicted of "acting against national security and organizing a group to over-throw the regime," which is absurd — although the Iranian regime no doubt considers the very practice of Christianity to be a threat to its power as the guardians of an Islamic Republic.
"Iranian Court Sentenced Three non-Trinitarian Preachers to 18 Years in Prison and Exile," Mohabat News, November 3, 2014 (thanks to The Religion of Peace):
A Revolutionary Court in Karaj, capital of Alborz province, sentenced three members of a non-Trinitarian group to long term imprisonment and exile. The length of this sentence has shocked many of these men's fellow group members.
This is an initial ruling, meaning convicts, Messrs. Behnam Irani, Reza Rabani and Abdolreza Ali Haghnejad have 20 days to appeal. Their sentence translates into 18 years in jail and exile to Zabol and Minab, in southern Iran.
Behnam Irani had already been sentenced to one year in prison and also had a suspended five year prison term from an earlier court. In addition to these, he was convicted of a new charge and received another six year sentence. The ruling states that he has to spend the six year term in Zabol prison.
Mr. Irani had been arrested in 2006 and a court gave him a suspended five year prison term for "action against national security". Later, in 2009, he was sentenced to one year in prison for "propagating against the regime". He has already served this one year prison term and is currently serving his suspended five year term. If the appeals court approves this new sentence, he will serve a total of 12 years in prison.
He has been in prison since 2010.
Reports state that Seyyed Abdolreza Ali Haghnejad (Matias), and Reza Rabani (Silas), were each sentenced to six years in prison as well.
Abdolreza Ali Haghnejad was arrested on August 18, 2011 and Reza Rabani was arrested in December 2013, both for evangelism. They are currently in custody in Rajaei-Shahr prison in Karaj.
Knowledgeable sources report that according to their sentence, they will be serving their prison term in Minab, a small town in Bandar Abbas.
The trial of these three was held on September 31, 2014, in the Revolutionary Court of Karaj. Legal activists believe that during their trial, the judiciary procedural code was not observed at all.
Although the trial began with charges of "enmity with God and corruption on earth" against these three men, by the end, the court convicted them of "acting against national security and organizing a group to over-throw the regime". The judge, Mr. Asef Al-Hosseini, based his ruling on article 498 of the Islamic penal code….