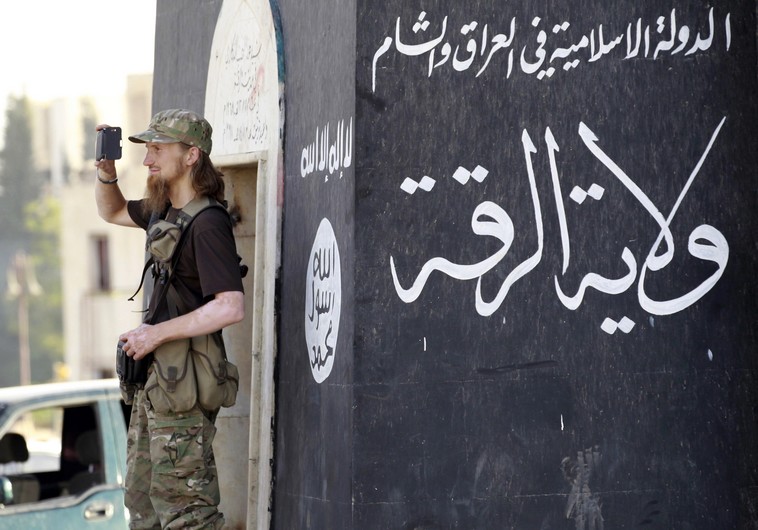 Our World: Obama and the definition of 'Islamic' 
By CAROLINE B. GLICK/J.Post/11/04/2014 00:40
In his speech on September 11 announcing that the US would commence limited operations against Islamic State, US President Barack Obama insisted, "ISIL, [i.e. Islamic State] is not Islamic. No religion condones the killing of innocents, and the vast majority of ISIL's victims have been Muslim."
To be sure, it is hard to see how any human faith can countenance IS's actions. For the past several months, on a daily basis, new videos appear of IS fighters proudly, openly and wantonly committing crimes against humanity. This week for instance, a video emerged of an IS slave market in Raqqah, Syria, where women and girls are sold as sex slaves to IS fighters.
Despite the glaring contradiction between divinity and monstrosity, the fact is that IS justifies every single one of its atrocities with verses from the Koran.
IS referred to its sex slave market in Raqqah for instance as the "Booty Market… for what your right hands possess."
The phrase "what your right hands possess" is a Koranic verse (4:3) that permits the sexual enslavement of women and girls by Muslim men.
Whether it is mainstream Islamic jurisprudence or not to embrace the enslavement of women and girls as concubines is not a question that Obama – or any US leader for that matter – is equipped to answer. And yet, Obama spoke with absolute certainty when he claimed that IS is not Islamic.
Obama speaks with similar conviction whenever he refers to Iran as "The Islamic Republic of Iran."
Obama's consistent deference to the Iranian regime, exposed by his studious use of the regime's name for itself whenever he discusses Iran indicates that at a minimum, he is willing to accept the regime's claim that it is an Islamic regime. In other words, he is willing to accept that everything about the Iranian regime is authentic Islam.
And that the Islamic Republic then, in keeping with his assertion that "no religion condones the killing of innocents," similarly does not condone the killing of innocents.
Of course, there is a problem here. In fact, there are two problems here.
First, in its treatment of its own people, the Iranian regime condones and actively engages in the killing of innocents, the vast majority of whom are Muslims. The Islamic regime of the Islamic Republic of Iran invokes the Koran to justify its killing.
Likewise, the political imprisonment, torture and general repression of Iranians from all faiths are justified in the name of Islam.
Consider two recent examples.
On October 25, 27-year-old Reyhaneh Jabbari was hanged for allegedly killing a man who was trying to rape her. Jabbari was imprisoned for seven years prior to her execution.
Although her suffering was a cause celebre for advocates of human rights in Iran, the regime didn't care. In contempt of the international community, it murdered her a week ago.
As her attorney Mohammed Mostataei explained at a conference held by UN Watch in Geneva last week, Jabbari was tried under Islamic law – the law of the land in the Islamic Republic of Iran. And under Islamic sharia law, intent in adjudication of criminal offenses is irrelevant. As a consequence, once regime inquisitors force a person to confess, he or she is doomed.
Forced confessions are the stock in trade for Iranian investigators.
Last month, 25 women in Isfahan, Iran's tourist capital, were reportedly victims of acid attacks.
The women had acid thrown in their faces while they were driving in their cars.
The public immediately suspected that they were targeted because their faces were not covered sufficiently to satisfy Islamic goon squads that drive around the city seeking – with the tacit if not open support of the regime – to terrorize the public into obeying their repressive, inhumane interpretation of Islam.
On October 22, human rights activists in Iran held demonstrations against the acid attacks outside the judiciary building in Isfahan and outside the Iranian parliament in Tehran. In both instances, protesters insisted that there is no difference between the repression inherent in the radical Islam propagated by IS and that practiced by the Iranian regime.
In both cities, demonstrators were attacked by regime forces with tear gas. Many were arrested.
After the acid attacks were first reported, the Iranian parliament passed measures to strengthen the authority of the regime's Basij shock troop squads to enforce repressive, misogynist Islamic dress codes on women and enforce other socially repressive aspects of the regime's Islam.
As Baron Alexander Carile of Barriew, a member of the British House of Lords and expert on terrorism explained last Friday in The Washington Times, "In essence, the regime responded to the acid attacks that have seriously injured 25 people so far by legitimizing the motives of their attackers."
According to the UN, Iran executed 852 Iranians for various offenses from July 2013 through June 2014.
This of course is just the tip of the iceberg. The vast majority of the regime's killing is carried out by its proxies.
IS's persecution of those who have had the misfortune to fall under its control is a blight on the human race. And so is the persecution committed by Iran's puppets – the Assad regime in Syria, and its Lebanese terror army Hezbollah.
Since the Syrian civil war began three years ago, the Iranian-controlled regime has killed somewhere between 120,000 and 200,000 people.
According to the Syrian Observatory for Human Rights, nearly 10,000 of the dead are children, another 6,000 are women. Other groups place the number much higher.
More than 2.14 million Syrians are now refugees in neighboring countries. Half of the refugees are children. Another 4.25 million Syrians are internally displaced.
If it hadn't been for Iran's support for the regime, the vast majority of the victims of Syria's civil war would still be alive and living in their homes.
Thanks to Iran and its Hezbollah army, Lebanon is on the brink of sharing Syria's fate.
Hezbollah has played a major role in the war in Syria, and over the years, with Iran's total backing, it has murdered thousands of people in Lebanon, Israel and throughout the world.
Hezbollah has trained sister Iranian supported or commanded terrorist groups like Islamic Jihad and Hamas. With the blessing, and often acting on direct orders from the Islamic Republic, these groups have killed hundreds of innocents. Like Hezbollah, Assad and the mullahs in Tehran, they have also repressed their own people in the name of their Islamic devotion.
And this brings us back to Obama and his insistence that IS is not Islamic, but the Iranian regime is Islamic. How are we to understand this seeming anomaly? Throughout his tenure in office, Obama has gone out of his way to mainstream Muslim extremists.
This has taken the form of granting senior appointments to people aligned with the Muslim Brotherhood. For instance, amid a Congressional investigation into suspected leaks, Mohamed Elibiary, a senior fellow at the US Department of Homeland Security Advisory Council, resigned his position.
Just before his resignation, Elibiary tweeted that the rise of the caliphate is "inevitable." In 2004 he spoke at a conference in Dallas celebrating the legacy of Iranian dictator Ayatollah Khomeini. As Robert Spencer has reported, the conference was titled, "A Tribute to a Great Islamic Visionary."
Moreover, Obama had befriended radical Islamic leaders who openly support terrorism, including Turkish dictator Recep Tayyip Erdogan and the emir of Qatar, Hamad bin Khalifa Al Thani.
And of course, as we see more and more clearly each day, the centerpiece of Obama's foreign policy has been appeasing the Islamic Republic of Iran in the hope of achieving détente with the nuclear weapons pursuing state sponsor of terrorism.
The likes of IS, with its love of the video camera, discredit Obama's narrative that radical, terror- supporting Muslims are peaceful. Since IS is openly evil, it is un-Islamic.
On the other hand, despite the fact that it is nearly as barbaric as IS, the Iranian regime is Islamic, because as far as Obama is concerned, it is good. And it is good because he wants to make a deal with the mullahs.
In other words, Obama is neither an expert on Islam, nor a man moved by moral indignation.
He opposes IS because IS makes it hard for him to defend Islam from bad public relations. And he coos about the "Islamic Republic of Iran" because he is dedicated to his mission of whitewashing and mainstreaming the regime born of an Islamic revolution.